Fusion-Inspired Classics
Enliven simple favorites, like all-American hot dogs, with colorful and flavorful toppings and sides
Written by Angela Johnson
Photography by STEVE HENKE; Styling by LARA MIKLASEVICS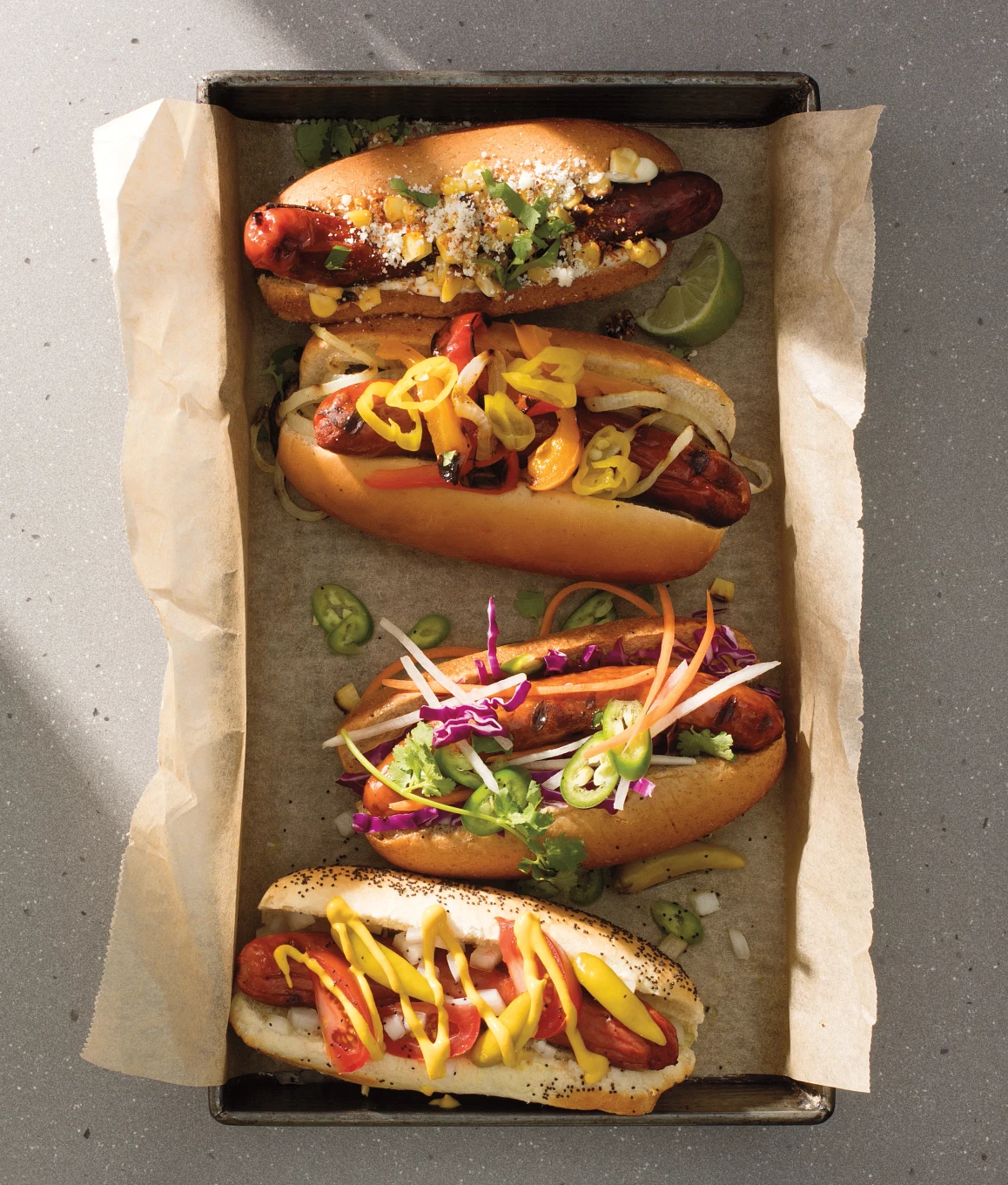 Cambria design shown: Chicago Tower Matte™*
AN ITALIAN-AMERICAN HOT DOG
Top with grilled onions and bell peppers, ketchup, and pepperoncini.
---
THE WISH WE WERE IN MEXICO HOT DOG
Top with grilled corn, cotija cheese, cilantro, and mayo.
A BANH-MI-INSPIRED HOT DOG
Add a little Sriracha mayo, jalapeño, pickled carrots, and cilantro.
---
A GOOD OLD CHICAGO-STYLE DOG
A beloved throwback with pickled peppers, diced tomatoes, yellow mustard, and chopped onions.
---
Pair Like A Pro | LESLEE MILLER, certified sommelier of Amusée, recommends: "Any way you shake it, a deliciously frothy dry pink is just the answer for any one of our gorgeously crafted dogs! And I'm sending you right in to the Italian section with this dry Lambrusco. Made of grasparossa and pinot noir and hailing from the oldest Lambrusco house in Italy, Cleto Chiarli's fresh, strawberry, cherry, and raspberry lifted sparkling pink will pair nicely alongside bright spice. Yet it also cuts through rich proteins like these scrumptious dogs!"
SUMMER SLAW WITH PEACHES AND PARSLEY
Adapted from WITHFOODANDLOVE.COM
INGREDIENTS
4 cups red cabbage shredded
½ cup fresh parsley, minced
½ cup raw sunflower seeds
2 Tbsp. olive oil
2 Tbsp. apple cider vinegar
½ tsp. fine sea salt
¼ tsp. black pepper
1 peach, thinly sliced
DIRECTIONS
Combine cabbage, parsley, and sunflower seeds in a mixing bowl and toss to combine. In another small mixing bowl, whisk together the olive oil, apple cider vinegar, salt, and pepper until the salt is dissolved. Pour the vinaigrette over the cabbage mixture and toss to combine well. Then add in the peaches and gently toss once more to combine altogether.
---
Pair Like A Pro | Leslee Miller recommends: "A wine that brings me directly to peach paradise and the perfect accompaniment to this summery slaw is Marisco Vineyards' 'The Ned' pinot gris from Marlborough, New Zealand. Delightfully aromatic and featuring bright florals and ripe aromas of white peach and honeydew with hints of baking spice, this yummy delicious white wine is a gem."
MIXED FRUIT GALETTE
Adapted from COOKING.NYTIMES.COM
INGREDIENTS
1 premade dessert galette pastry 8 oz. (about 1½ cups) mixed berries or berries and cherries
1 lb. apricots, pitted and quartered or sliced
½ tsp. almond extract
2 Tbsp. honey
¼ cup almond powder
2 Tbsp. apricot jam
1 Tbsp. raw brown sugar
¼ tsp. cinnamon
1 egg beaten with 1 tsp. milk, for egg wash
DIRECTIONS
Remove premade pastry from the freezer and place it on a baking sheet lined with parchment. Leave it to thaw while you prepare the fruit, but don't keep it out of the freezer for too long. You want it just soft enough that you can manipulate it. Combine the berries, apricots, almond extract, and honey in a large bowl and gently toss together. Sprinkle almond powder over the pastry, leaving a 2- to 3-inch border all around and top with apricot jam. Place the fruit on top of the jam. Fold the edges of the dough in over the fruit, pleating the edges as you work your way around to form a free-form tart that is roughly 9 inches in diameter. Place in the freezer on the baking sheet for 45 minutes to an hour.
Meanwhile, preheat oven to 350 degrees. Remove the galette from the freezer. Brush the pastry with the egg wash. Combine the sugar and cinnamon and sprinkle over the fruit and the crust. Place in the oven and bake for 1 hour until the fruit is bubbly and the juice is running out and caramelizing on the parchment. Remove from the oven and cool at least 15 minutes. Serve hot or warm.
---
Pair Like A Pro | Leslee Miller recommends: "Galettes with rosé just seems appropriate—am I right? Pair up your galettes with the Domaine MasLauris 'Les Terres de Maslauris' Cinsault + Grenache rosé. This selection is elegant with hints of exotic fruit and berries. It's balanced with wonderful acidity and the finish is luscious and expressive. I'm excited for you to try these two together!"
Please call 1-866-CAMBRIA (1-866-226-2742) to confirm design availability.
*Gensler Product Design Consultant