Fun And Festive Tablescapes
A mix of bold colors, hand-painted patterns, and plenty of sparkle and shine: that's the perfect-for-any-occasion recipe for a fun and festive table. A few well placed accents will show off your own unique personality and sense of style.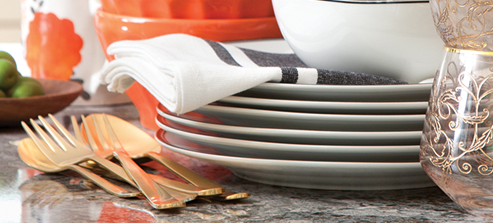 Here are six tips for creating fun & festive tablescapes this summer:
Patterned pieces. As pretty on the inside as they are on the outside. Patterned pieces make emptying a cup or bowl twice as nice.
Patterns & white. Show off brightly colored or richly patterned accents against simple white stoneware.
Glassware makeover. Not ready to update your dishes? Splurge on new glassware for a quick style infusion.
Accent dishes. Spice up your existing settings with special accent dishes, such as an exotic olive plate.
Dress it up with a tablerunner. No need for a new tablecloth—a runner is an easy way to dress your table up or down.
Gold flatware. Gold flatware makes every meal special, from casual lunch to an evening occasion.