Fried Egg Sandwich
Take lunchtime to a new level of deliciousness with a tried-and-true classic that features a surprise twist
Written by AMANDA LECKY
Photography by STEVE HENKE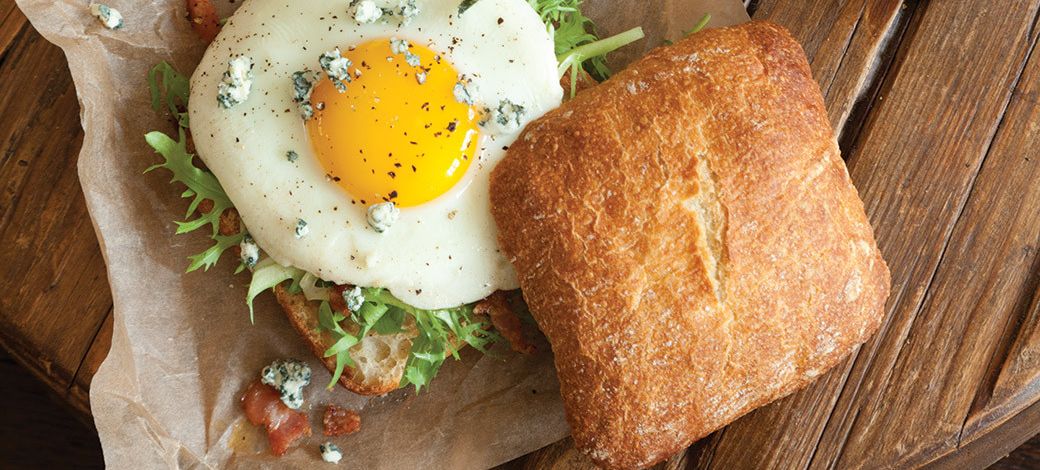 INGREDIENTS
2 ciabatta rolls
1½ cups frisée, torn into bite-size pieces (about 2 ounces)
1 bacon slice, preferably thick-cut, cut into ¼-inch wide lardons
1 tablespoon minced shallot (from 1 small)
4 teaspoons red wine vinegar
1 teaspoon smooth Dijon mustard
Salt and freshly ground black pepper
¼ cup crumbled blue cheese, or other sharp, crumbly cheese
1 to 2 teaspoons unsalted butter, divided
2 large eggs
DIRECTIONS
Split your rolls and put them in to toast. Place the frisée in a medium bowl.
In a small heavy skillet, cook the bacon over moderate heat until crisp. With a slotted spoon, transfer the bacon to paper towels, reserving the bacon fat in the skillet. Add the shallot and cook for 1 minute, stirring. Add the red wine vinegar and let it hiss and bubble for 20 to 30 seconds, then remove the skillet from the heat and whisk in the Dijon. Immediately pour the hot dressing over the frisée and toss with the lardons, salt and pepper. Heap a generous amount of salad between each toasted ciabatta bottom. Top each salad pile with 2 tablespoons of blue cheese.
Reheat the skillet over medium-high heat. Add some butter and swirl it to coat the pan. Crack 1 egg into the skillet, season with salt and pepper, and reduce the heat to medium. Cover with a small lid to help egg cook quickly and evenly. In one minute, you should have a perfect sunny-side-up egg. To keep egg from running off the sandwich, flip the egg and cook for 20 to 30 seconds. Top the bacon-frisée salad with the egg.