Fresh Start Smoothies
When it comes to smoothies, it's anything goes—as long as your combo is heavy on fresh produce and protein, and low on sugar. Need ideas? Try one of these bright blends.
Written by AMANDA LECKY
Photography by STEVE HENKE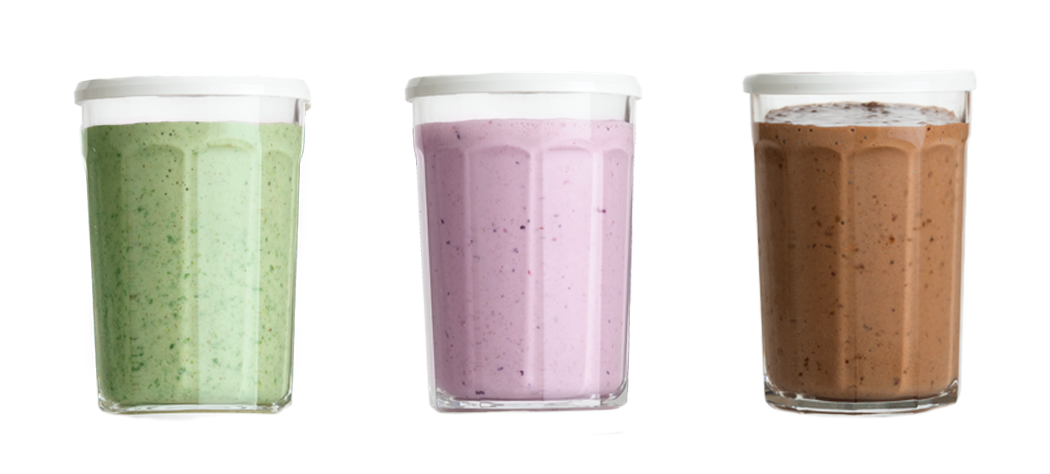 FRESH-START SMOOTHIE DIRECTIONS
For each recipe, place all ingredients in a blender. Cover tightly and pulse until ingredients are blended and ice is chopped. Purée until smooth. Taste and adjust flavors, adding more fruit and honey for sweetness and more liquid if the mixture is too thick. Pour into glasses and serve immediately. Store any leftovers in a covered container in the fridge for up to 24 hours.
INGREDIENTS
Makes 1 smoothie
1 cup (about 3½ ounces) kale leaves, packed and chopped
1/2large, ripe pear, chopped
1/2large, ripe banana, chopped
1 Tbsp. almond butter
1 cup plain soy milk
DIRECTIONS
Place kale, pear, banana, and almond butter in an airtight container or freezer bag and freeze until ready to make the smoothie. Recipe courtesy of Christine Byrne and Terri Restaurant.
BERRY OAT BREAKFAST SMOOTHIE
INGREDIENTS
Serves 2
½ cup frozen blueberries, raspberries, blackberries, strawberries, or a combination
½ cup old-fashioned rolled oats
3 Tbsp. honey
1 cup almond or other milk
1/3 cup vanilla yogurt or plain Greek yogurt 
1/4 cup ice, preferably crushed
Recipe adapted from LECREMEDELACRUMB
CHOCOLATE PEANUT BUTTER BANANA SMOOTHIE
INGREDIENTS
Serves 1 generously
1 large ripe banana, previously peeled, sliced, and frozen
2 Tbsp. natural peanut butter
1– 2 sticky dates, pitted
1 Tbsp. unsweetened cocoa powder or cacao powder
1–1½ cups almond or other milk
½ cup ice
OPTIONAL
Top smoothies with a spoonful of coconut whipped cream, a drizzle of dairy-free chocolate sauce, or a sprinkling of cacao nibs, flax seeds, or hemp seeds. Recipe adapted from MINIMALIST BAKER.