French Onion Soup
Photography by STEVE HENKE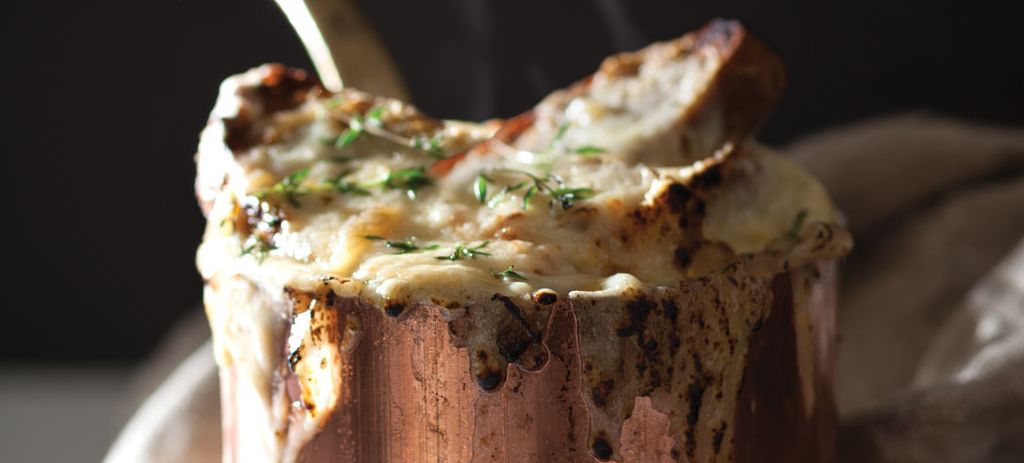 INGREDIENTS
Serves 4
3 Tbsp. butter or bacon fat (if available)
1 Tbsp. olive oil
4 large Vidalia onions, halved, thinly sliced
Salt and pepper to taste
1 Tbsp. raw sugar
1 1/2 cup dry white wine
6 cups beef broth
1 small bunch fresh thyme, tied
1 bay leaf
1 loaf Sullivan Street Bakery Bread, sliced and halved (two half slices per bowl) SEE RECIPE
1 1/2 cup Gruyère cheese, shredded
Fresh thyme, for garnish
DIRECTIONS
In a large Dutch oven, melt butter and olive oil over medium heat. Add the onions, salt, and pepper. Cook onions until softened, stirring occasionally, about 15 minutes. Lower heat, sprinkle sugar over onions, cook, stirring occasionally, until onions are deep golden brown, 35 to 45 minutes more. Meanwhile, heat the broiler to high.
Brush sliced bread with olive oil, arrange on a baking sheet, and broil until crisp but not browned, about one minute per side. Set aside. Add the wine to the onions and raise heat to high. Cook until almost all the liquid has evaporated, 8 to 10 minutes. Add broth, thyme, and bay leaf; bring to a boil. Reduce heat and simmer until broth has thickened, about 20 minutes.
Place oven-safe bowls on a rimmed baking sheet; divide soup among bowls. Top each serving of soup with two toasts. Sprinkle shredded Gruyère evenly over toasts and soup. Carefully transfer baking sheet to oven and broil until cheese is melted and bubbling, 4 to 8 minutes. Serve warm, garnished with fresh thyme.
CUSTOMIZE IT
Make it vegetarian: Omit the bacon and use a rich vegetable stock in place of beef broth.
Make it vegan: Use vegan butter instead of bacon and dairy butter to sautée the onions; replace beef broth with vegetable broth; opt for vegan cheese instead of Gruyère (or skip the cheese and sprinkle the top of the soup with nutritional yeast for a cheesy flavor).
Make it gluten-free: Replace Sullivan Street Bakery bread with toasted slices of a gluten-free peasant-style loaf.
PAIR LIKE A PRO
Certified Sommelier of sip better, an online tasting club, shares her favorite pairing.
Domaine La Manarine 'Le Carignan'
Berry flavors explode from the glass with this Rhone Carignan. It's sturdy enough to stand up to the rich onion broth, and has just enough spice to add its own layers of interest.