Inspiration and Innovation Across Four Cambria Designs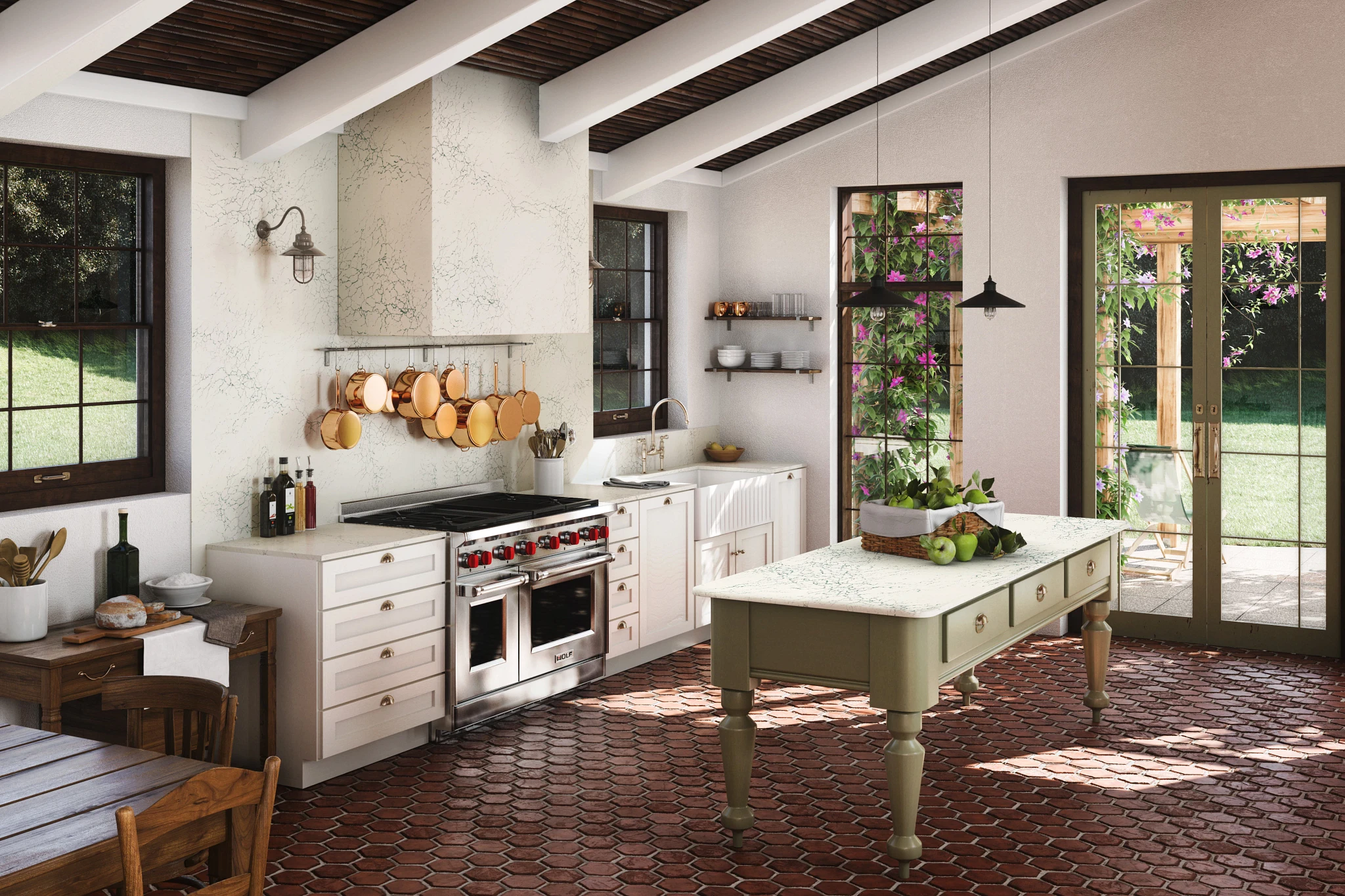 A complement to our expansive industry-leading design palette, these four Cambria designs offer both beauty and function along with the unparalleled strength and durability that Cambria is known for.
The four designs—Ruxley, Ivybridge, Kendal, and Blackbrook—feature subtle greens, surprising teals, and high-contrast black and white, and they each deftly balance warm and cool tones, making them uniquely versatile and elegantly sophisticated.
Along with Cambria's other new releases, such as bookmatching and a 6mm thickness, these four designs create powerful possibilities and expand design options.
Here, find inspiration for your next project with a look at the latest from Cambria.
Meet Ruxley
Inspired by the ongoing shift toward warmer and softer interiors—in contrast to the bold movement of years past—the Cambria Ruxley design features subtle emerald green veining (decreed by experts as de rigueur for 2021) set against a creamy white background.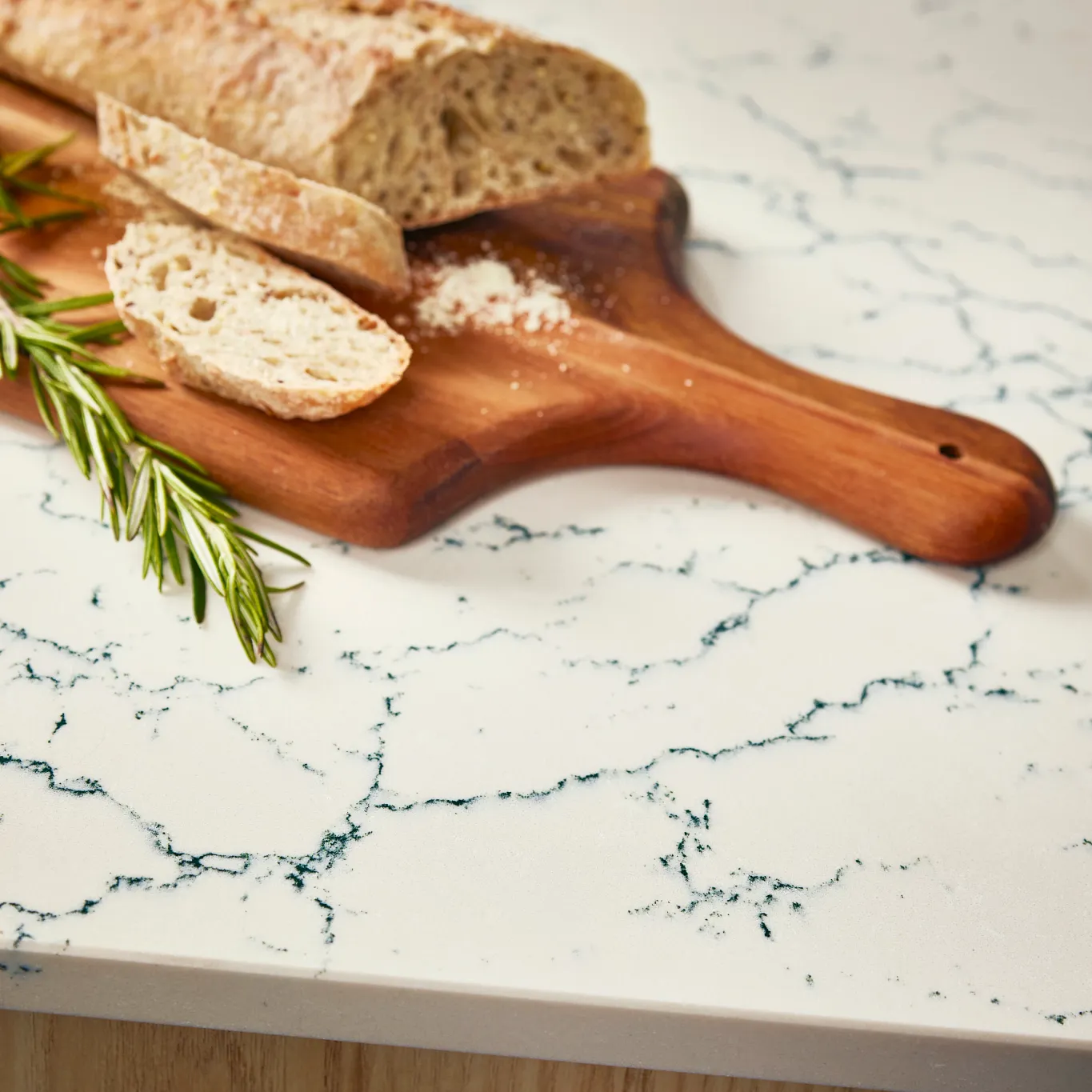 Take a closer look at Ruxley featured above.
In the world of color science, green plays well with everyone. And after years of all white and shades of gray, we are collectively craving color, something more soothing while still fresh and modern. Green has thus become a go-to.
The green hue in Ruxley functions like a chameleon, adding a delicate dash of color that is at once both forgiving and versatile, no matter the surrounding aesthetic. It pairs well with natural materials like linen and jute along with of-the-moment brass and bronze. A fabricator-friendly design, the passage of the veining crisscrosses across the spectrum of the design to ensure a cohesive pattern in each and every run.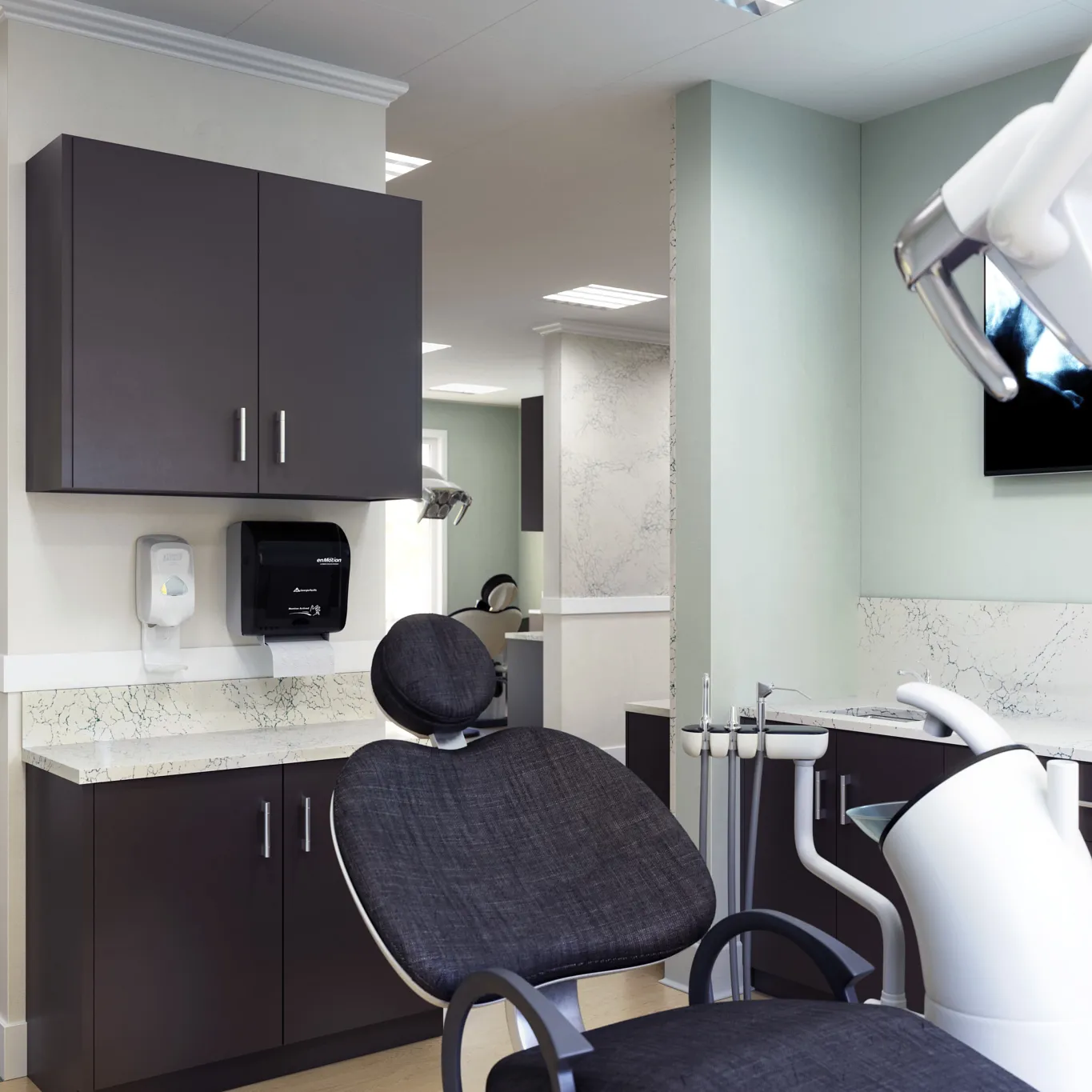 Durable, hygienic, and maintenance free, Cambria Ruxley adds a touch of calm to this chic dental office.
Cambria EVP of Design Summer Kath adds, "We strategically sprinkled in just a few cool white veins, interspersed throughout, that will complement cooler elements in an existing design, like a subway tile backsplash, without overdoing it."
Meet Ivybridge
A new direction for Cambria, we introduced diagonal veining that seemingly streaks across the Ivybridge design with compelling movement.
The dramatic diagonal veining in Cambria Ivybridge draws the eye from the island countertop to the fireplace surround in this open-concept living space.
The pattern, in a dark teal shade, creates depth and adds dimension to the stark white background, and the captivating mid-tone has the ability to bridge the gap between warm and cool colors while being uplifting on its own.
Cambria combed the world for color inspiration through fashion, art, aspirational travel destinations, interiors, and global cultural influences to land on the unique hue. The process entails thoughtful consideration and trend analysis and is a culmination of macro-level color trend forecasting and research.
Bold green cabinetry highlights the dark teal pattern in the complementary Cambria Ivybridge countertops and backsplash.
Added to the diagonal veining is a micro gold shimmer that lends a slight and captivating sparkle to the overall design. "People are hungry for something a bit bolder," says Kath. "But only if not too much."
Meet Kendal
Cambria designs stand out thanks to the commitment to innovation inherent within the brand. While the design team is still loving marble-like looks, Cambria found a way to differentiate with the modernized Kendal design that features a smooth, soft teal palette (à la Benjamin Moore 2021 Color of the Year Aegean Teal) swirled against a cool white background.
The versatile teal hue in Cambria Kendal helps keep this standout fireplace design from overpowering an otherwise calm and neutral space.
The teal shade teams beautifully with neutrals, like warm beiges and soft cream hues, while the subtle undertones ensure spaces retain a sophisticated and super smart feel. The amount of natural light it receives will change the color, too, switching from a fresh, cool hue in bright light to a richer, muted blue-toned gray in moodier spaces.
Inspired by the work of contemporary artists, the Cambria team added barely-there soft and elegant black veining to Kendal with sparkly opalescent crystals baked-in that create depth and visual interest.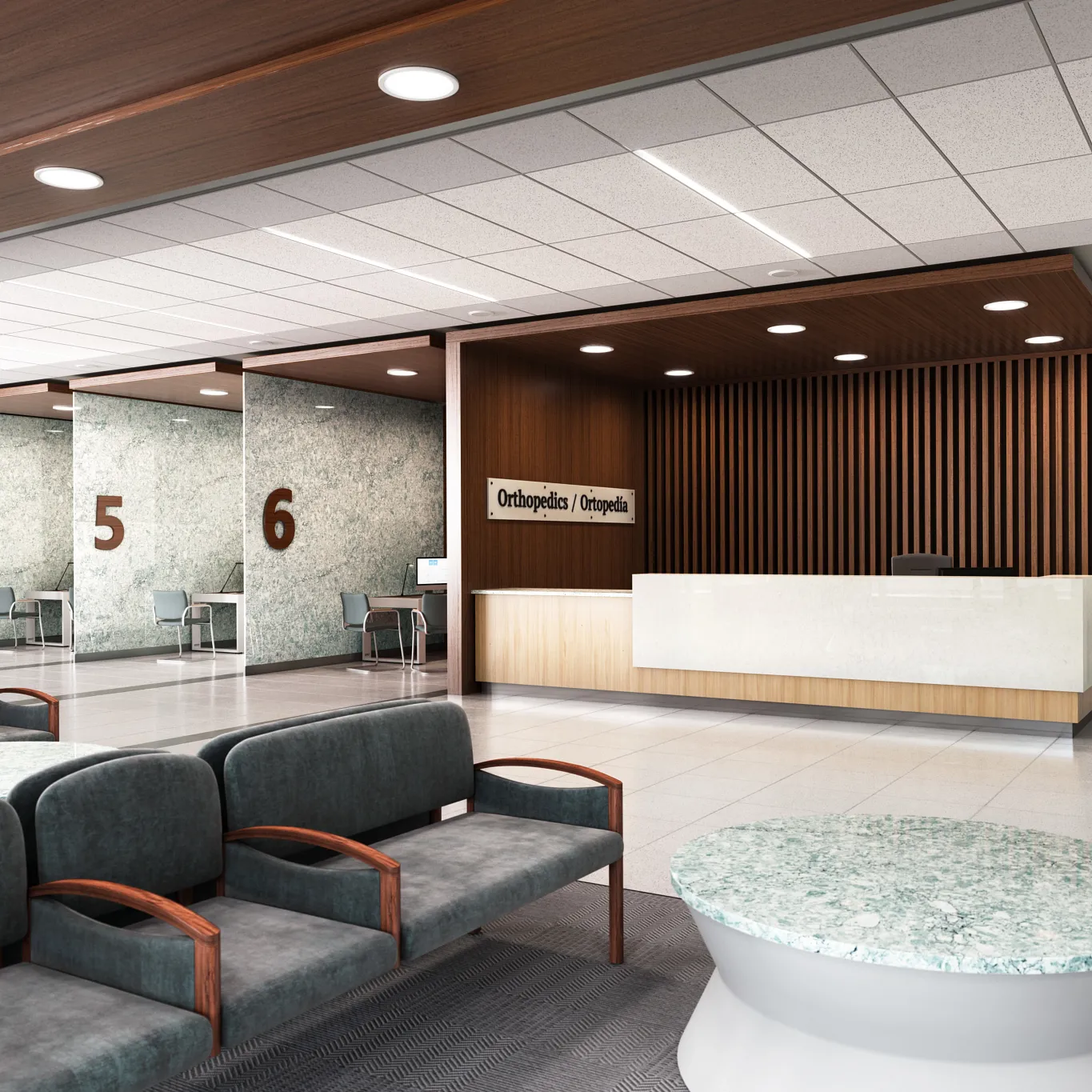 Cambria Kendal lends dimension to this office design, adding subtle contrast that plays well with conservative accents.
"Black cabinets, accessories, and fixtures are trending, so the subtle black veining will help tie-in those materials without having an all-black countertop," says Kath.
Meet Blackbrook
Sleek and timeless, the pairing of black and white stands the test of time with high-contrast design only becoming increasingly favored in recent seasons. Together, the subtle equilibrium of opposing elements creates a stunning effect that's greater than the sum of its parts.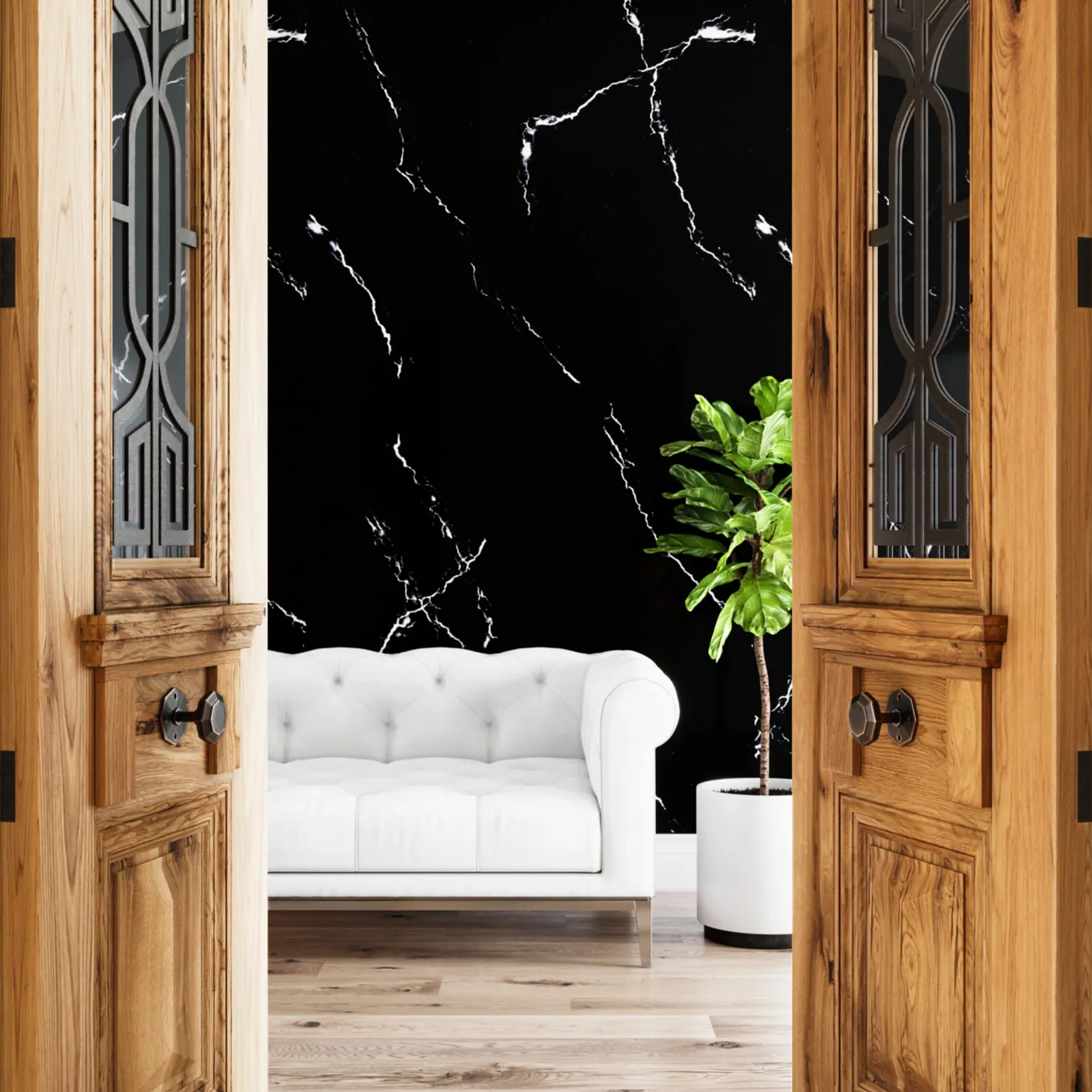 Floor-to-ceiling Blackbrook creates a stunning and dramatic backdrop in this entryway.
Whether in a living room or dining room, bedroom or bath, the serenity of white serves as a perfect complement to the bold drama of black details, a visual reminder of the power of negative space. Beyond the symbolic resonance, black-and-white interiors are effortlessly chic—they rarely go out of style.
Lovers of this sophisticated, achromatic trend will rejoice in the Cambria Blackbrook design, which features a modern black background topped with stark white lightning-like veins that lends itself to endless possibilities from subdued to statement-making.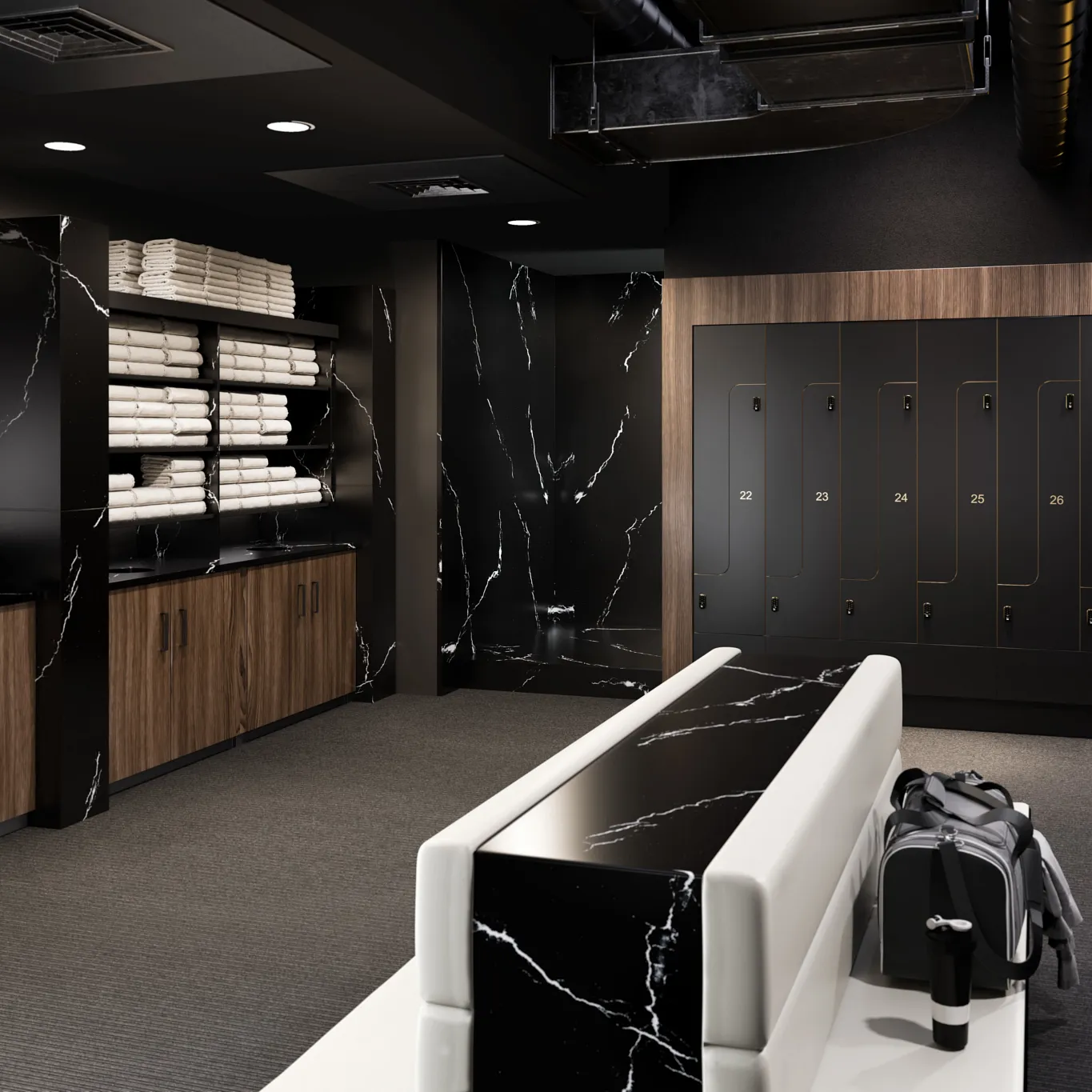 Blackbrook helps elevate the design of this gym locker room with its effortlessly chic pairing of black and white.
"Blackbrook offers versatility both commercially and residentially with its simple, smooth, and elegant design," says Kath.
Featured designs