The Forest and the Trees
Zosia Mamet and Evan Jonigkeit's Hudson Valley, New York, getaway pairs rustic charm with cool, contemporary comfort
Written by Thomas Connors
Photography by GIEVES ANDERSON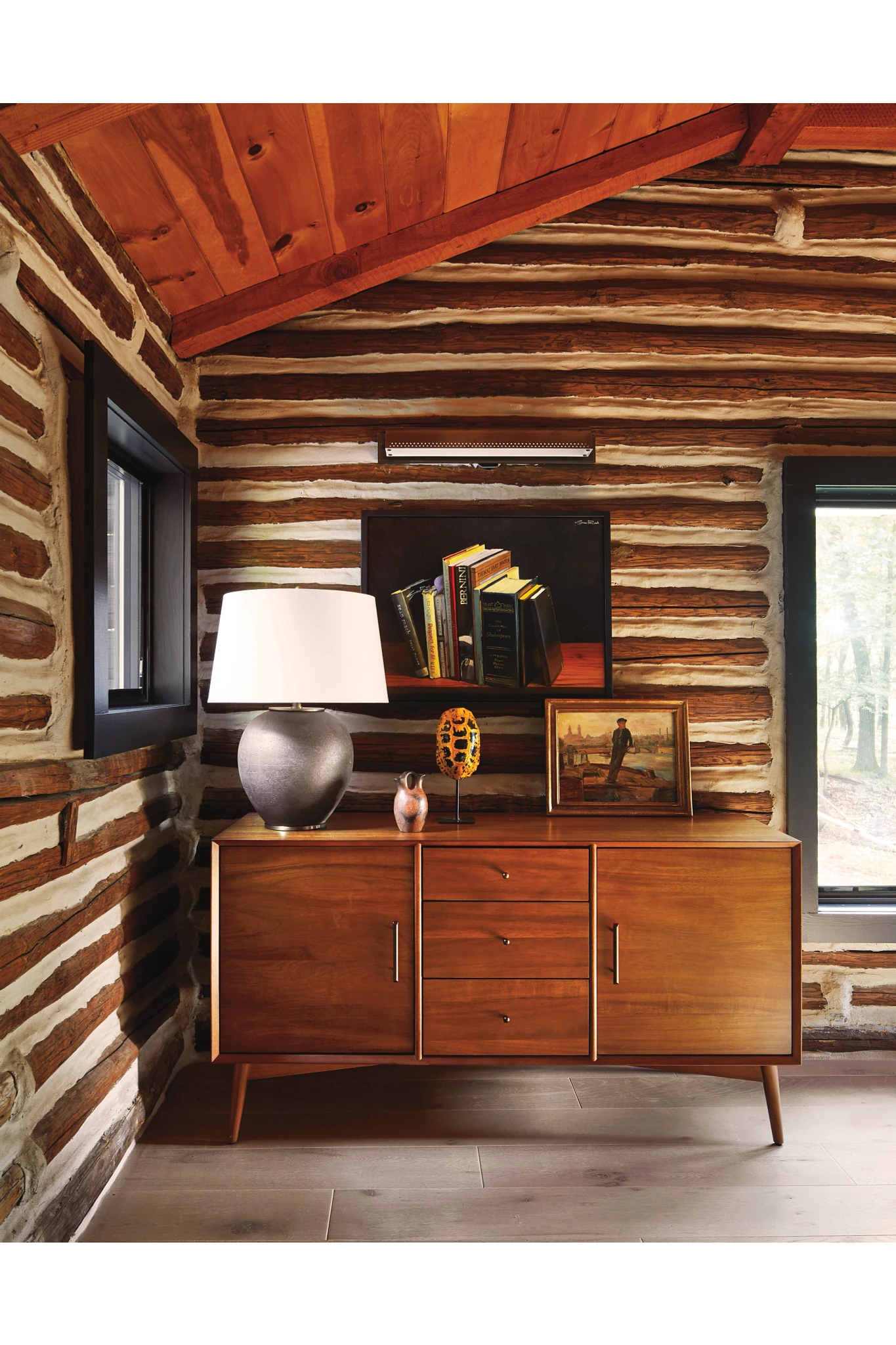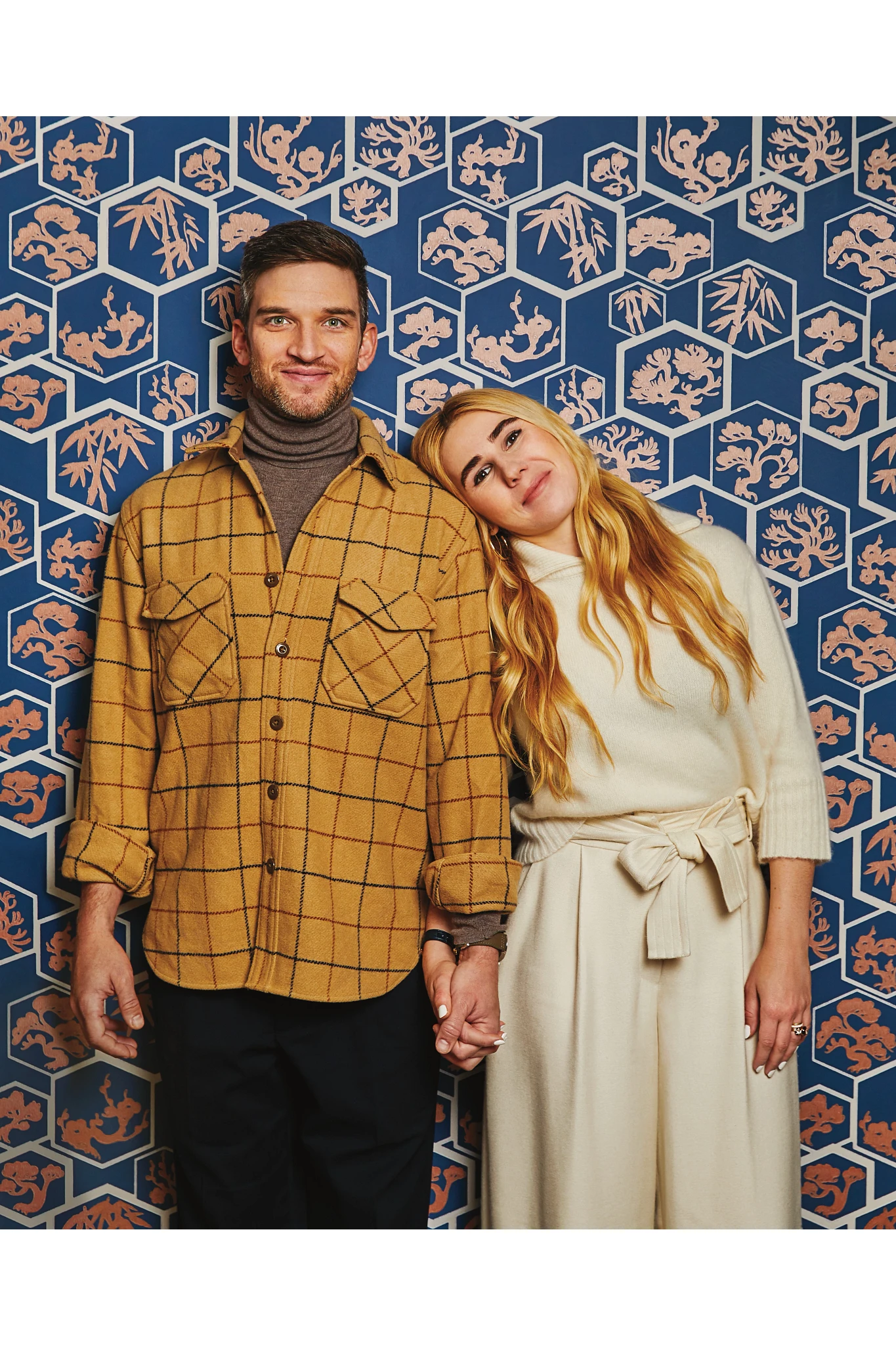 Henry David Thoreau might have been happy with his little hut in the woods, but when most of us head to the country, we want some creature comforts. Yet hitting that sweet spot between home and away takes some doing. Fuss too much with a place and the only change of scenery you'll enjoy is outside. Leave things as they are and you might find yourself asking, "What are we doing here?"
HBO Girls and current The Flight Attendant star Zosia Mamet and her husband, Evan Jonigkeit, have enjoyed their Hudson Valley getaway for several years. They love the simplicity of the place—a log cabin overlooking a lake, built in the 1920s. But something wasn't quite right: the kitchen. The tight, L-shaped floor plan wasn't cutting it. It was hard enough for the two of them to cook at the same time, much less welcome in friends and family. Luckily, a friend introduced the couple to Texas-based designers Brett and Kara Phillips of HIGH STREET HOMES, and they were off and running. "They have such an ease about how they work, and we count them as friends 'til this day," shares Jonigkeit.
While the remodeling extended throughout the house, the kitchen was the launching pad for making this much-loved house an even better home away from home. "Zosia and I are both cooks, and we spend a great deal of time in the kitchen," says Jonigkeit. "We wanted the space to reflect the life we live now. The changes we made centered around our desire to entertain."
"This kitchen was teeny tiny and not functional for multiple people to be in the space," says Brett. "Therefore, we pushed back and opened walls and embraced the vaulted ceiling to maximize interest and make the room feel larger. Additionally, we created a large wall of pantry storage, so the kitchen could remain clutter free, and added a work island for function and gathering around." Simple, Shaker-style cabinets outfitted with sleek contemporary hardware anchor the space, while the Cambria countertops add a complementary layer of eye-pleasing detail. "The soft veining of the ELLA countertops feels timeless but gives the kitchen the sleek appeal we were after," remarks Brett. While still a relatively compact space, the kitchen allows for more than one cook at a time, and with two good-size windows, feels far bigger.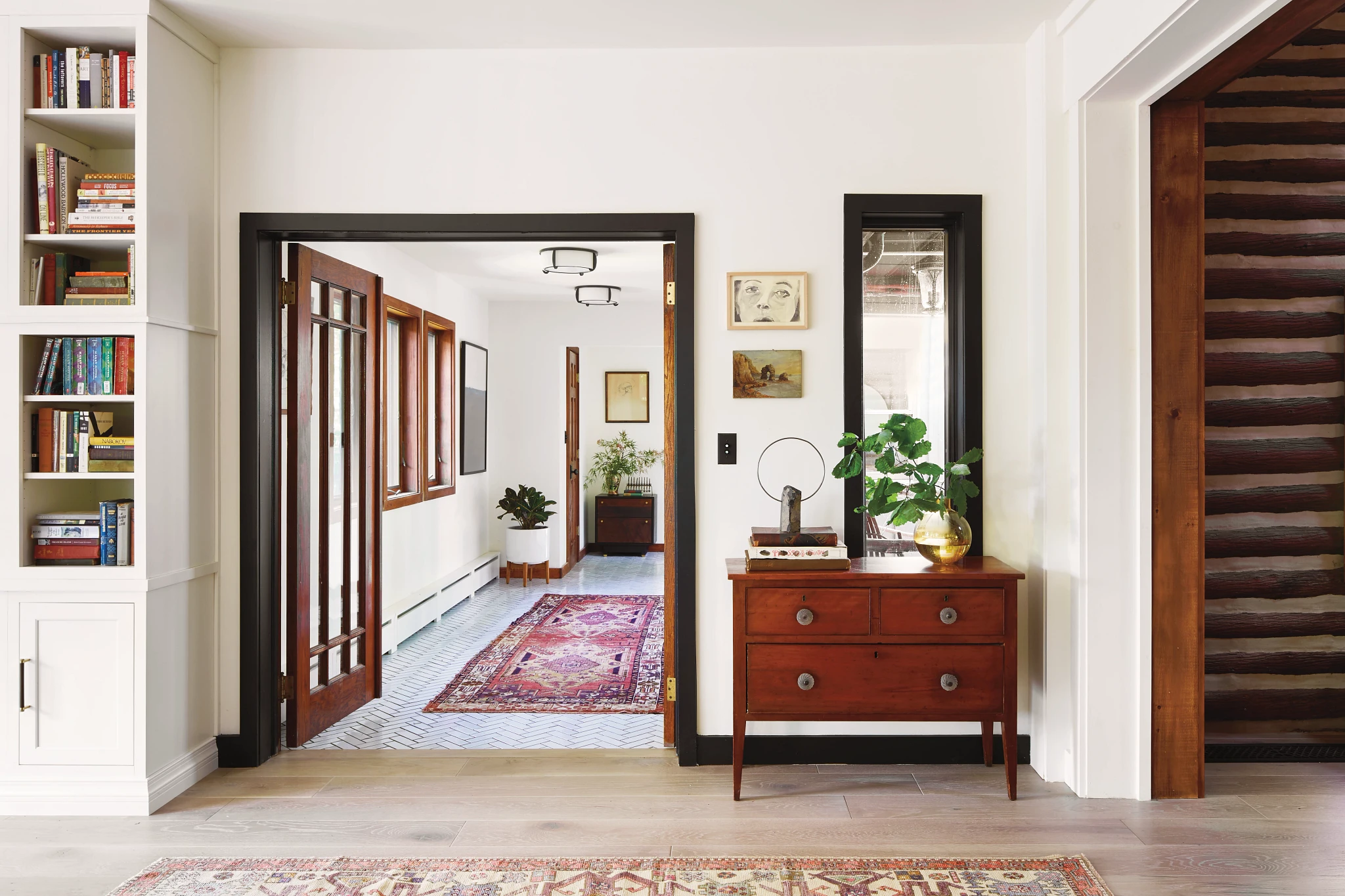 This woodland retreat had been subjected to piecemeal additions over the years, so creating a pleasing wholeness was a key part of the larger design plan. "Since it felt a little disjointed, we really wanted to bridge the spaces to make them feel cohesive, while making sure we preserved the original character," says Jonigkeit. "We focused on weaving together new and old elements," explains Brett, "celebrating the logs, for example, while lightening the space with painted tongue and groove paneling. And a new white oak floor created cohesion throughout the spaces."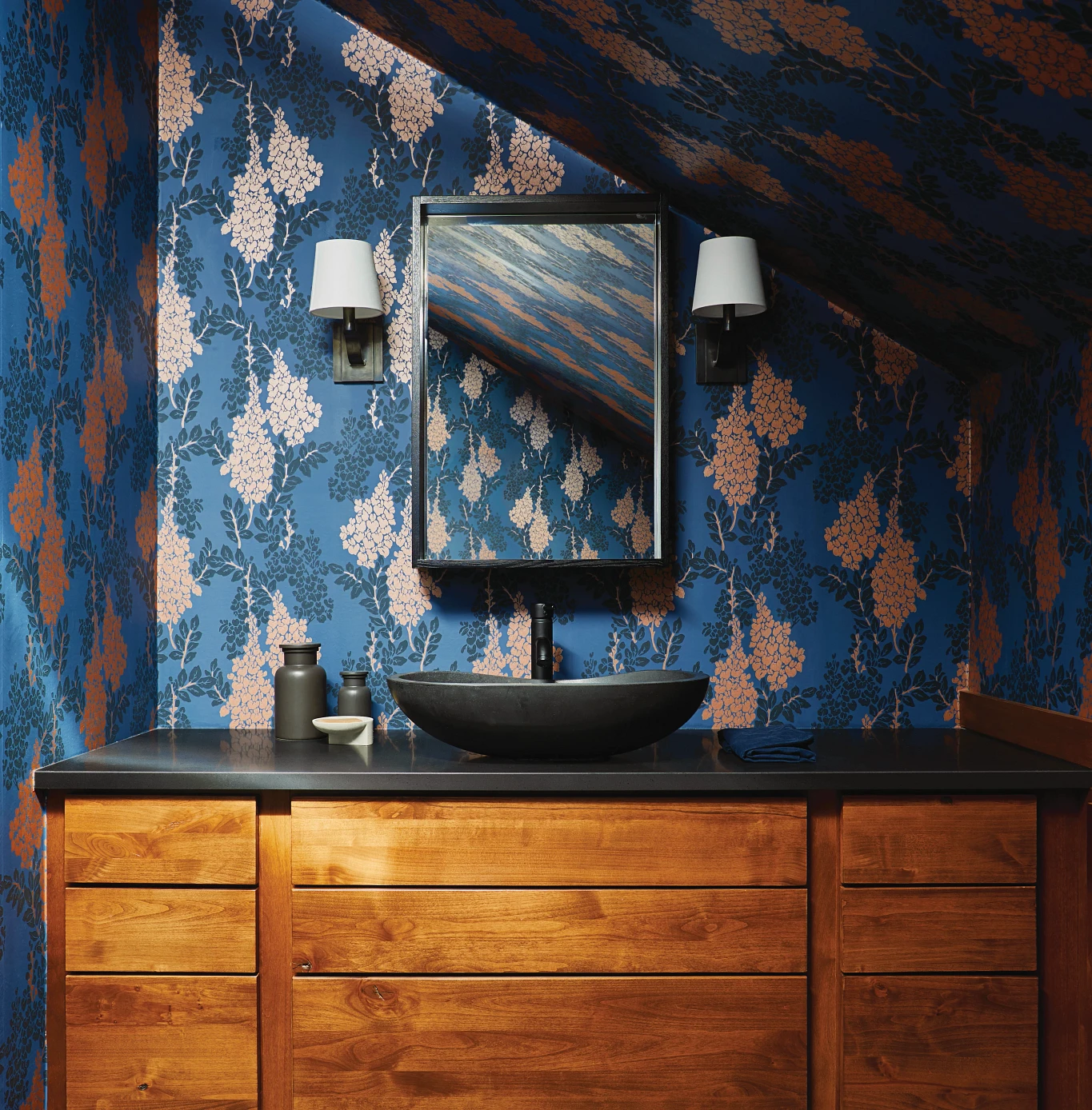 A far from countrified combo—Farrow & Ball's Wisteria wallpaper and hexagonal tiles from California's Fireclay Tile—create a wonderful visual tension in this bathroom. Cambria design shown: Montana Midnight™ (Gensler Product Design Consultant)
A mix of antiques, Persian rugs, and mid-century pieces give the home a very composed, but far from formal, air. Here and there, Brett and Kara introduced boldly patterned Farrow & Ball wallpapers that add an unexpected visual pop. A panoply of vintage Hudson Valley postcards Jonigkeit collected is a playfully engaging nod to the history of the area. Zosia and Evan's update included adding an infrared sauna, installing a 12-foot sliding glass door to better orient the interior to the outdoors, and transforming a garage into a media room. But with such details as the exposed chinking of its log walls and a wood-clad ceiling, the home remains very much true to its origins as a humble shelter in the woods.
Please call 1-866-CAMBRIA (1-866-226-2742) to confirm design availability.