5 Major Kitchen Transformations To Give You An Idea Of What Your Kitchen Could Be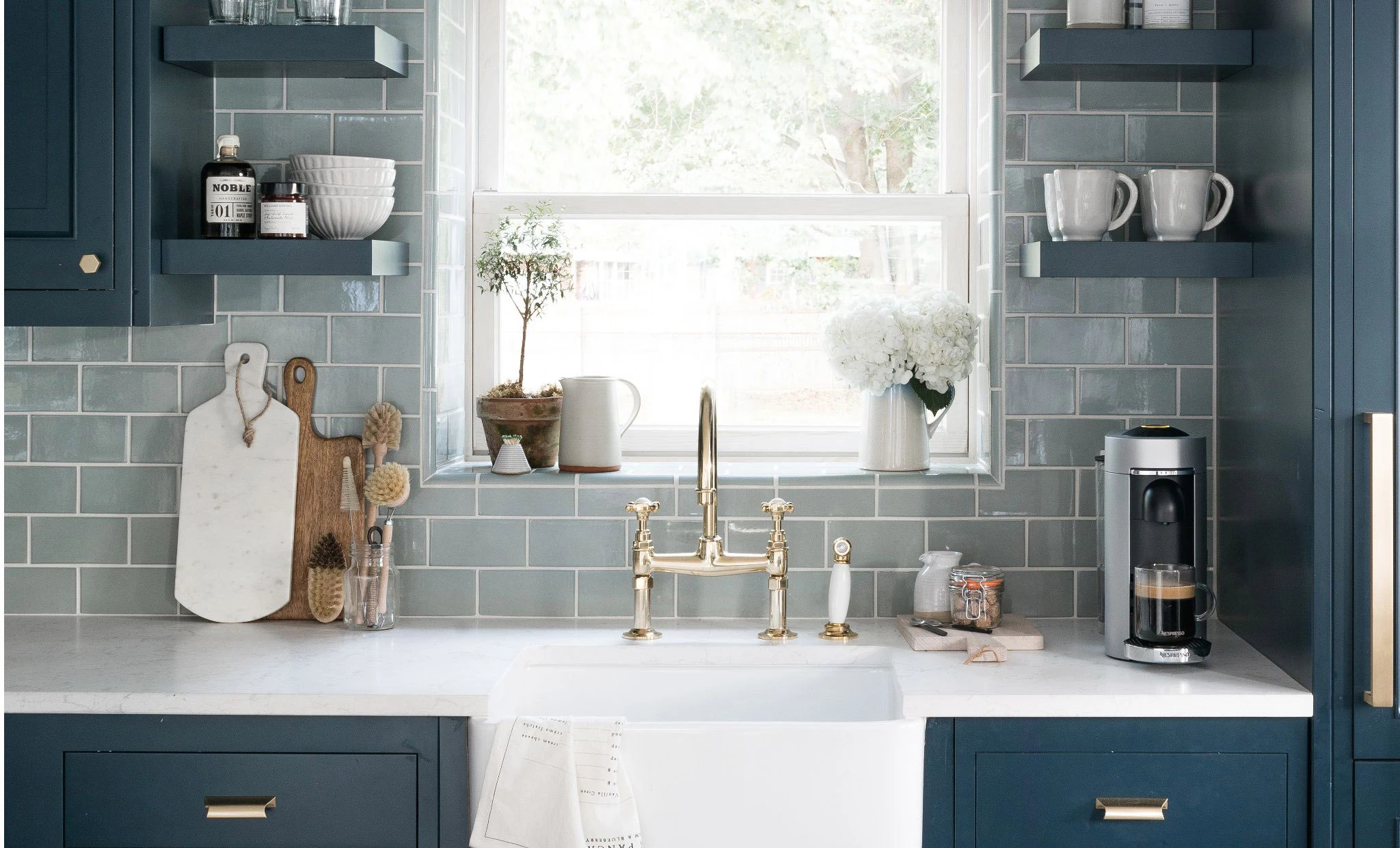 We love when a kitchen before-and-after makes us do a double-take, so we've handpicked five kitchen makeovers that deliver the wow factor in spades. Whether you're dreaming of a down-the-road project or in the thick of planning your kitchen renovation, these kitchen transformations are sure to inspire.
1. Upgrade your kitchen surfaces for beauty and function
Blogger Maria Vizuete made smart swaps for a gorgeous kitchen renovation, including Brittanicca Warm as a stunning waterfall-edge island and sweeping backsplash. She wanted a high-performing marble alternative for a fuss-free space that worked for her family, including a husband who loves to cook and dogs who hang out in the kitchen. "We kept coming back to Cambria because their designs were beautiful and their quality was unmatched," she says. Replacing the dark granite countertops with these white quartz countertops created a glam look that's both current and timeless. Refacing the honey oak cabinets allowed for an airy, white palette with crown molding above the upper cabinetry. Other updates include glass pendant lights, a farmhouse sink, and new appliances. See more of the kitchen renovation on her blog, MiaMiaMine.
Goodbye granite! A Brittanicca Warm™ waterfall island and backsplash transform an outdated kitchen to light, bright, and glam.
Love the look? Explore installs featuring Brittanicca, a cooler toned design with similar movement, and others spaces featuring Brittannica Warm, Brittanicca, and Brittanicca Gold Warm™.
2. Play with a rich color palette
Infusing bold color into your kitchen is a trend-forward way to transform a space. Painted kitchen cabinets in rich hues like navy, cobalt blue, or deep green pair beautifully with white countertops for chic contrast. We love how style blogger Will Taylor of Bright Bazaar perfected a coastal look for his beach cottage kitchen renovation. "I love how the Cambria Torquay Matte countertops contrast with the rich navy cabinetry," he says. "Plus, the countertops are 100% nonporous so there are no stains if I spill my wine." Adding a peninsula island to the kitchen layout added more surface space for a stylish breakfast nook featuring cool gray cabinetry. Custom cabinetry panels over the appliances give the small kitchen a streamlined look and make it feel more spacious. The navy, gray, and white kitchen palette is complemented with woven rope barstools, apron sink, oak hardwood floor, brass hardware, and pendant island lights.
Torquay Matte™ countertops and two-toned cabinetry.
Blue not your color? Take a look at our ideas for kitchens with green cabinets and advice for designing a gray kitchen.
3. Combine design styles for a custom look
In her kitchen renovation, Kate Arends of Wit & Delight wanted to maximize the space and showcase her style sensibilities while still preserving the character of her home. By incorporating modern accents into a traditional design, she achieved the perfect "old-meets-new" vibe. Her new kitchen features traditional cabinetry (in Narragansett Green, Benjamin Moore), contemporary lighting, floating wood shelves, subway tile backsplash, and Cambria Ella. The countertops were a big decision for her remodel. "My ultimate goal was to figure out what countertops will be hardworking enough to handle all of the spills and chaos that go into food preparation, but still work within the design aesthetic I wanted," she says. "While I love the look of marble, we made the right decision going with quartz from Cambria…Ella has a clean, simple design that paired nicely with the rest of the kitchen." She also likes the benefits of Cambria countertops: "Our new countertop doesn't stain or scratch…and quartz is completely nonporous, unlike some of the other materials we were considering (granite and concrete), which means no worries about bacteria." See the full farmhouse renovation on Wit & Delight.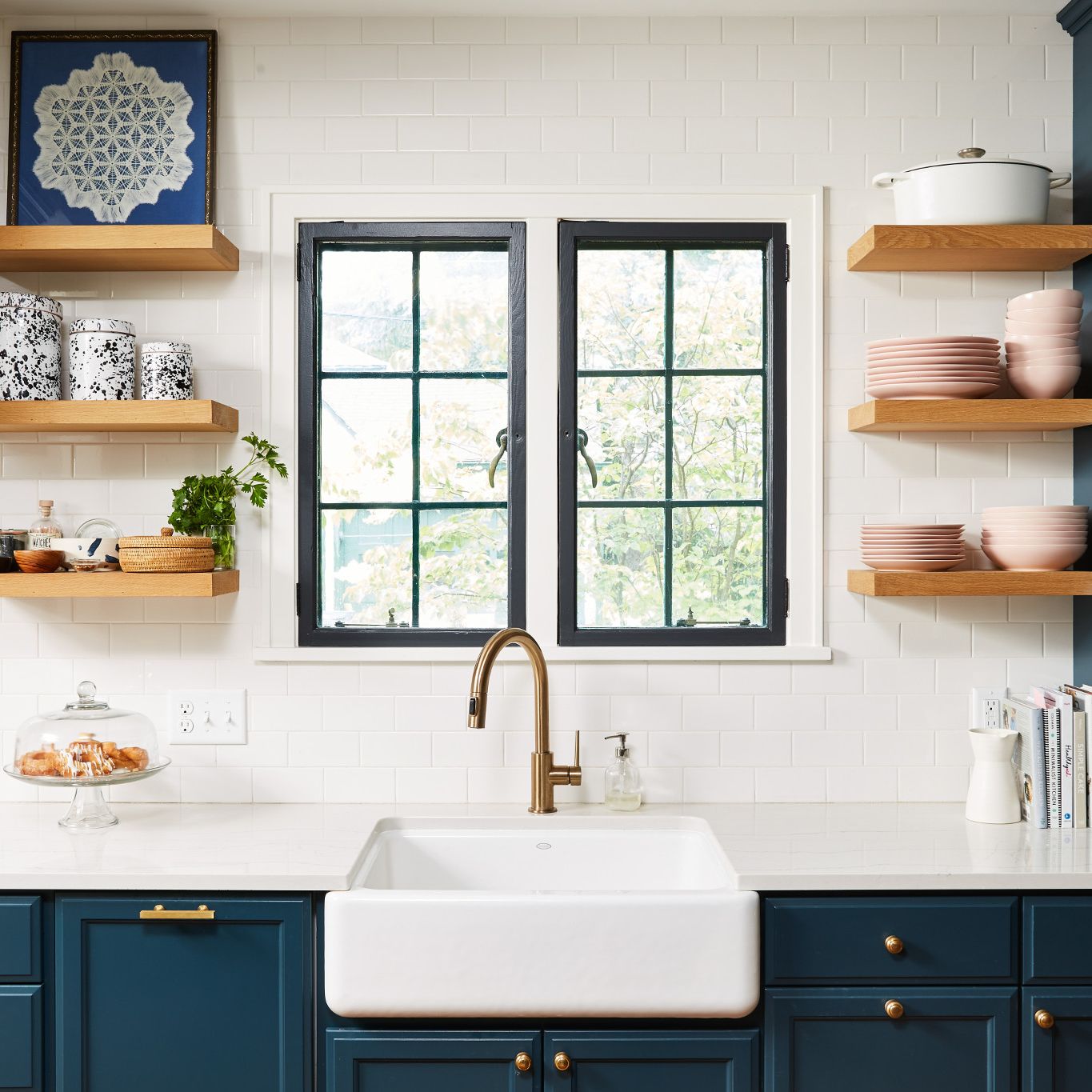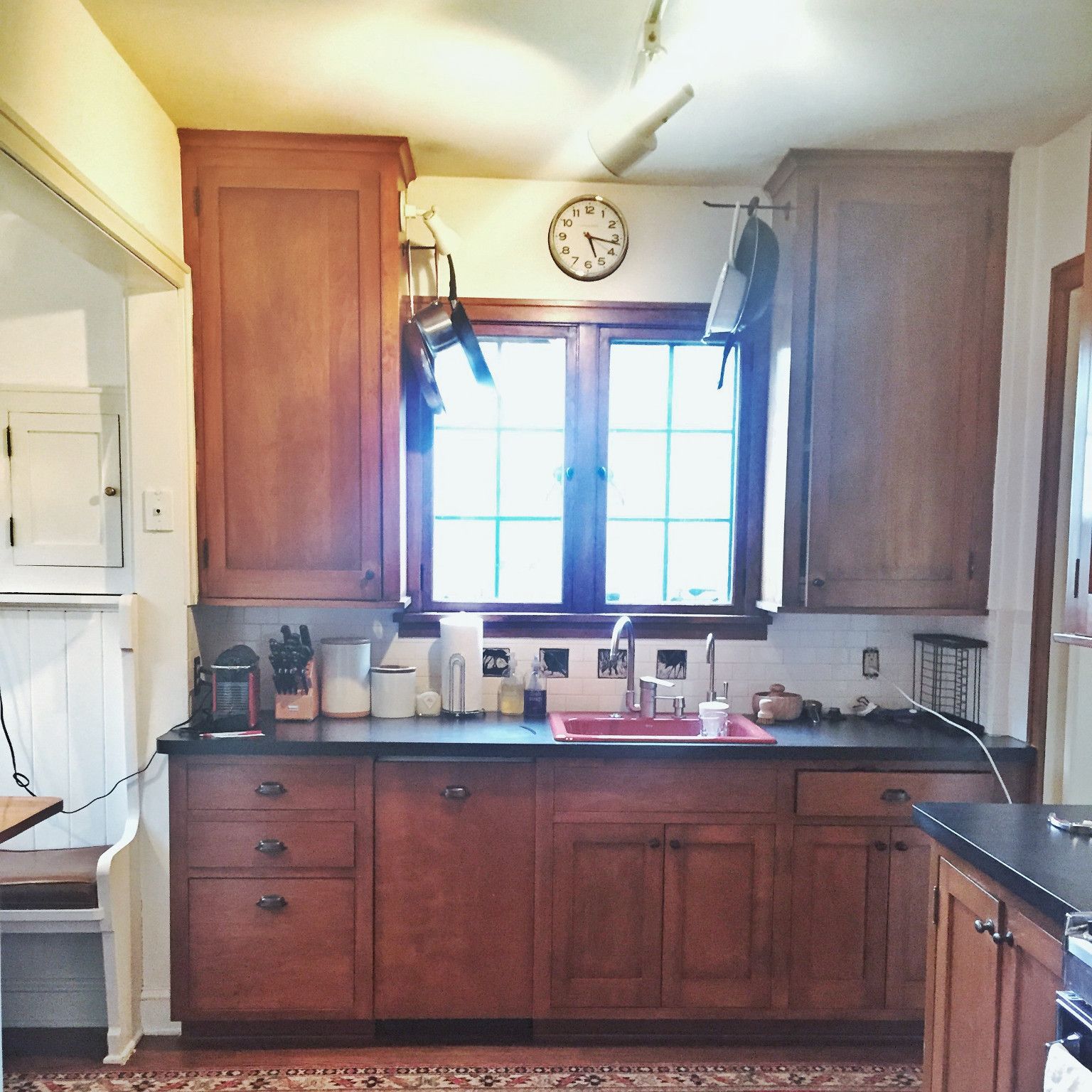 Craving more Cambria Ella countertops? See more here. Loving the black-and-white kitchen look? Discover how to plan a space with high-contrast style here.
4. Get inspired by the history of your home
In this barn kitchen conversion, the homeowners of the 100-year-old residence discovered an original stone wall. This inspired a rustic-industrial kitchen remodel, featuring contemporary cabinetry and sleek Brittanicca countertops paired with the stone wall backsplash focal point. The two-toned gray and white cabinets visually heighten the space while a beautiful Brittanicca island creates more prep and dining space. While the original look was outdated, dark, and lacking character, the new design brings the history of the home to the forefront for a one-of-a-kind space.
5. Let in the light for an airy white kitchen renovation
It's common to see dark kitchens renovated to be white and bright, but it's not often you see a white kitchen needing a complete overhaul. This white kitchen from blogger Cute & Co. got a major upgrade with a kitchen island layout, Torquay countertops, hexagon tile backsplash, glass pendants, and modern appliances. "I wanted marble but it's not practical in a kitchen," she says. She was able to achieve the sophisticated marble look with Torquay. The original white kitchen still managed to feel dark, with a dropped ceiling, closed-off layout, and small window. Opening up the layout, removing the dropped ceiling, and making room for a larger window allowed for an airier feel with plenty of natural light. Get all the kitchen renovation details on Cute & Co and explore more Cambria Torquay kitchen looks here.
A new layout, Torquay™ countertops, and large kitchen window let the light into this white kitchen renovation.