First Dance
Emma Slater and Sasha Farber roll back the carpet in their new home and begin the first of many dances as they begin their life together
Written by CAROL LINN
Photography by GEORGE HOLZ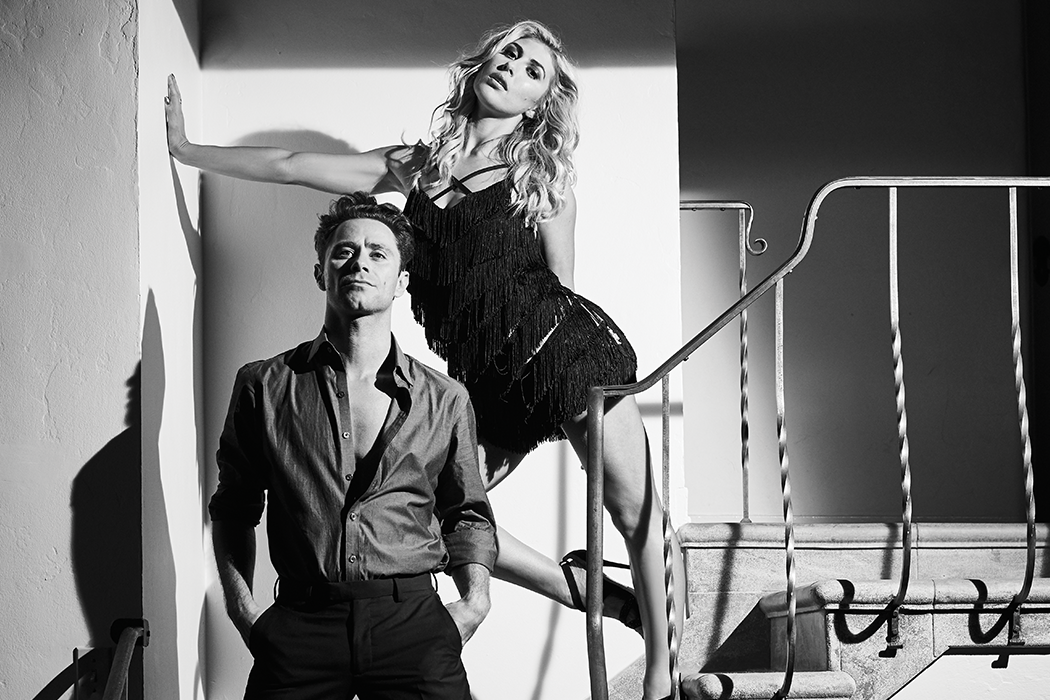 Last year, Dancing with the Stars professionals Emma Slater and Sasha Farber drove deep into a Los Angeles canyon, went up a long and winding road, and fell in love with a house. It looked like something from a fairytale: a magical (if somewhat neglected) 1930s cottage with a big garden, on a lot full of towering trees. "To me," recalls British-born Emma, "it was as if it had come out of the heart of England. I knew there was nothing I wouldn't do to get that house."
They bought the place and in July 2016 moved in. In October, Sasha stunned the DWTS audience—and a gasping Emma—when on live TV he dropped to one knee before her, saying "Babe, I love you so much, will you marry me?" In November, with a wedding date still in the indefinite future, the couple finished the home's structural upgrades. Then, with the help of Cambria and celebrity interior designer Kelli Ellis, they transformed a cramped dark kitchen into what Sasha calls "our favorite room of the house." The two are thrilled with the home they call "our retreat," and the neighborhood, which Sasha describes as "almost like being up in the mountains." For Emma, owning her own home is a childhood dream come true. But the canyon's long, winding road mirrors the journey both had to travel to get there.
Both Emma, 27, and Sasha, 33, fell in love with dancing while they were young and, as a result, they've spent much of their lives on the move. Sasha was born in Russia then emigrated with his family to Australia as a teenager. There, he twice won the Australian youth Latin Dance Championship, performed in the closing ceremony of the 2000 Sydney Olympics, and danced in Australia's version of DWTS. He was an original cast member and lead dancer in the worldwide production of the immensely popular live dance show Burn the Floor, and in 2009, moved again, to New York, to join the Broadway and American tour productions of the show.
Emma grew up in Tamworth, about 100 miles northwest of London, and took her first dance lessons at age 5. By 15, she'd been ranked in the world's Top 20 in Latin dance and appeared in a George Michael video (although she says she had to lie about her age in order to perform). She won both the UK and British youth Latin American championships, and at 16 was touring the UK with the hit theater show Simply Ballroom.
Afterwards came a role on South Africa's Strictly Come Dancing (a British version of DWTS), theater productions in London's West End, and a 2007 appearance in the film version of the popular musical Mamma Mia. In late 2009, she joined Burn the Floor in New York, where she also met Sasha.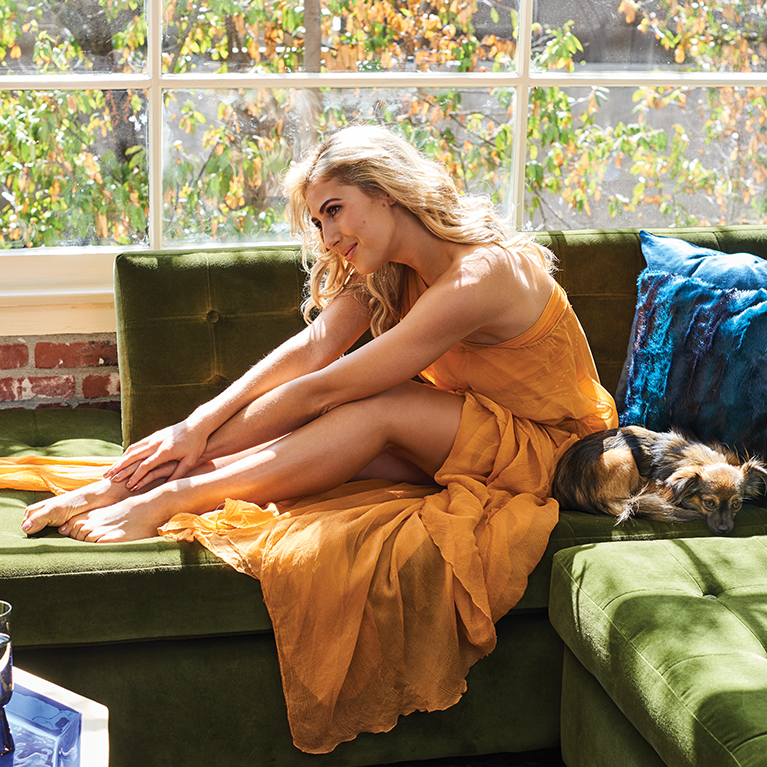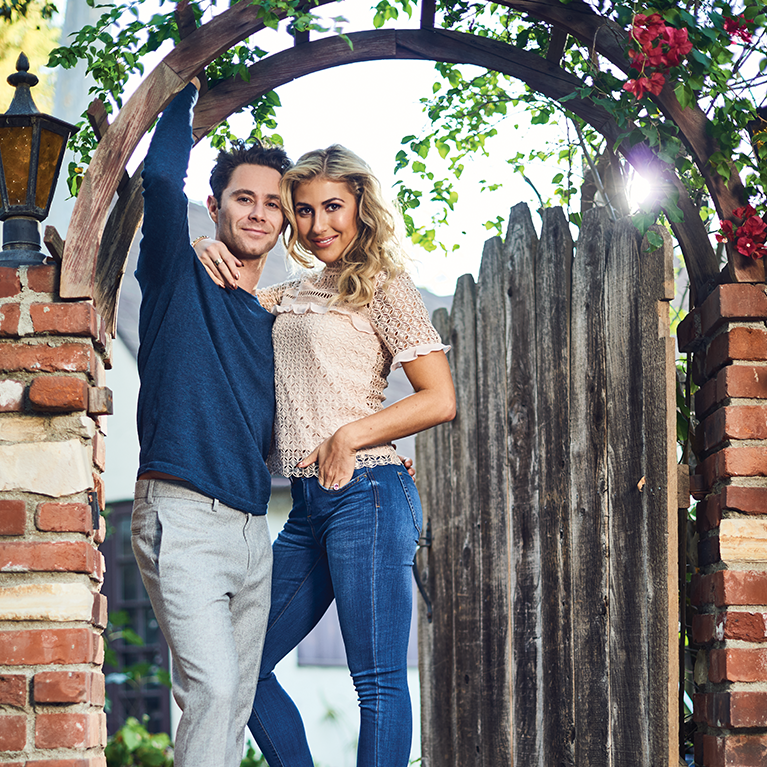 The relationship took its own twisting, turning path. Emma, a slender blond with brown eyes and an impossibly wide smile, and Sasha, impishly handsome, were not only involved with others at the time, they were what Emma calls "polar opposites." She's perennially bubbly; he's more reserved; she likes vintage style and he modern; they even favor different movies and cars. But they quickly became best friends, says Emma, and a few years later, after both had ended other relationships, the pair realized that they "had feelings that we were more than friends." They'd barely begun to enjoy being a couple when Sasha, who had previously auditioned for Dancing With the Stars, got the call and had to move to Los Angeles. They survived that separation, which ended when Emma joined the show—like Sasha, she began as a member of the dance troupe then moved up to be paired with a celebrity contestant. Then came another breakup, which she now calls "unexplainable, because we still lived together." But that breakup had a silver lining, Emma says now. "It made us look at what life would be like without each other, and made us appreciate that while we will always be different, we do not want to change each other. When we got back together, things were better than ever. We really are made for each other."
Their renewed commitment led Emma and Sasha to adopt a rescue dog they named Ruby, a Papillon-Chihuahua mix adorable enough to have her own Twitter and Instagram followers (@rubythecreature). "She's completely changed our lives," Emma says. "I know that's a dramatic thing to say about a dog, but she's our first family member." According to the plan, Ruby was just the start. "We're thinking of beginning a family in a few short years," Emma says, which is why it was time to settle down and find a home.
The quiet, leafy canyon house is a welcome respite from where Emma and Sasha had been living, in LA's urban center. "We heard sirens and police helicopters constantly at night," Emma recalls. Yet if their new home's bones were good and its vintage details appealing, the old-fashioned kitchen was not, especially for two foodies who love to cook and entertain. As they embarked on a renovation, the two came across Cambria stone for the first time at a showroom.
Emma took one look at Cambria's Ella™ (Marble Collection™), clean white with soft beige and black veins and was smitten. "That fresh pristine look was exactly what I wanted! And easy maintenance was important. I love the fact that Cambria is nonporous and even tea won't stain," says Emma, who like many Englishwomen really likes her daily cuppa and often, notes Sasha, leaves tea-puddles on the counter. In fact, Emma's enthusiasm for Cambria stone led her to the company, and a great collaboration. Cambria brought in celebrity designer Kelli Ellis, whose work has been featured on the TLC, HGTV, and Bravo Channels, to help with the kitchen remodel. (See Cambria Style, June 2015, to read how Cambria and Kelli created a dream kitchen for E! News host Maria Menounos). "Kelli immediately suggested we tear out the overhead cabinets and substitute open shelves," Emma explains. "Ripping them out instantly opened up the kitchen. Cambria made us custom floating shelves that flank the windows, also in Ella, the same thickness as the countertop. The look is absolutely seamless! We've added all our favorite things to the shelves and it's a lovely way to showcase them. Kelli came up with great ideas and Cambria made turning them to reality so easy."
Both Emma and Sasha were thrilled as well by the professional way in which their kitchen was installed. "The Cambria staff was so lovely and professional that I feel like I've made a family friend," Emma says. "They told me exactly how to care for the product and it was great not to have any worries or stress. This was definitely the best experience I've had as we renovate this house."
What comes next? Emma's in no hurry to schedule a wedding because "I really love having a fiancé." But when the time comes, she says she plans to include all their friends and family. "When we say our vows and turn around we want to see everyone we love, who will help celebrate our love for each other." Sasha jokes that he has no idea what his next career move will be. "I've been so busy I can't tell you what's coming up this week much less in a few years." Neither has any plans to leave DWTS, though Sasha admits he would love to go back on stage, "in my own show." Emma's goal is to "host more often; I'd love to expand and move into the hosting world." Starting in December, Emma joins a three-month DWTS tour. Vacations are a fantasy at this point. "We like to go on road trips and be quite active," Emma says, adding wistfully, "but to be honest, we haven't had time off together for a really long time." Meanwhile, it's enough just to come home. "It feels great settling down with the one you love," says Sasha.
"I want to bring up children in a beautiful happy space full of great memories," Emma says. "This feels like a house that's always had lots of love in it."
There's no question they're keeping that tradition: the couple's joy lights up the room. When Sasha returns from taping one afternoon and frets about a dance routine that isn't going quite right, Emma steps in. She peers at a video on his phone, then holds out her arms.
"What if you tried this?..." she says, and then the two are twirling around their new kitchen to music only they can hear. In their magical house, at the top of the hill, at the end of a long and winding road, they dance.
CHEEK TO CHEEK
"Dancing is a whole new way to communicate—through your body, not your words," says Emma. "It's a way to get to know someone on a very different level. Motion is emotion." Why don't more couples give it a try? Intimidation maybe. But you don't have to be a pro, say Emma and Sasha—or even a talented amateur—to have a good time on the dance floor. Their tips:
MAKE TIME TO DANCE
Whether that means going out or just turning on some good music at home.
ADJUST YOUR ATTITUDE
Toss out your insecurities and your competitive spirit. "There's no such thing as a mistake when you're doing something to have fun together," Emma says. "So what if you don't know dance steps that well? Do your own interpretation."
"Enjoy the experience and the steps will come," adds Sasha. "The second you put pressure on yourself is when things tend to fall apart."
SEEK OUT DIY HELP
YouTube can be a beginning dancer's best friend, says Emma. "You'll find every kind of dance tutorial, free and yours at the touch of a button. Find a clip you like, then grab your partner and have a bit of a laugh. Don't forget to make eye contact."
MAKE DANCE PART OF YOUR SOCIAL ROUTINE
"Social dance classes at a studio will have a solid syllabus so you will never feel lost; it can be really fun going every week, practicing and climbing through the levels with your partner," says Sasha. He grins. "And if you want to become a good dancer, don't forget to listen to your teacher."