Fashion Forward
A style-savvy makeover gave fashion designer Rebecca Minkoff's Brooklyn home a chic—but family friendly—new attitude
Written by Thomas Connors
Photography by CLAIRE ESPARROS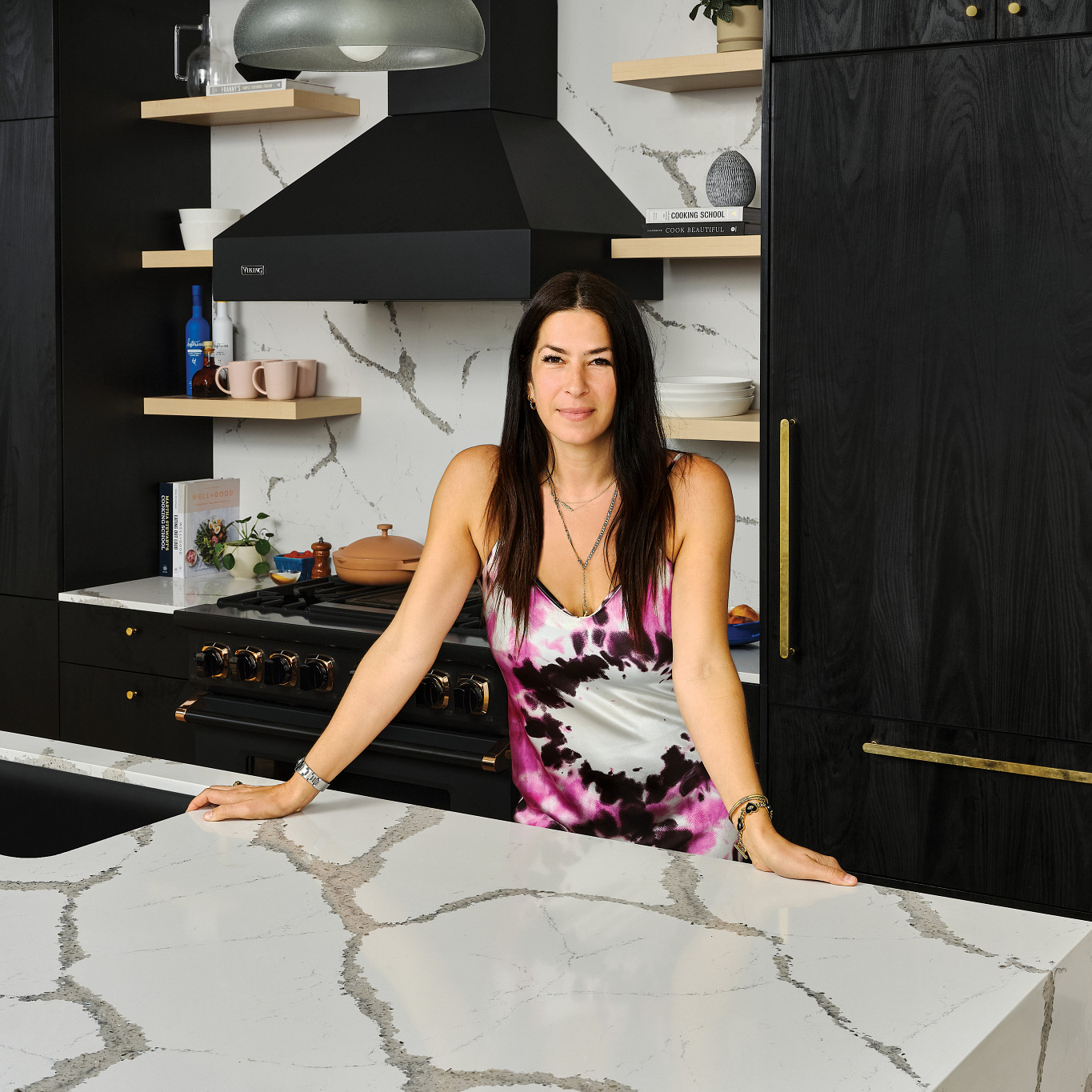 Minkoff in her kitchen, where brass hardware and the jewel-like sparkle of the veining in Cambria's Queensbury™ lend an elevated glamour.
"Before you leave the house, look in the mirror and take one thing off" fashion icon Coco Chanel is said to have declaimed. That oh-so-sensible rule springs to mind when looking at the Brooklyn home of designer REBECCA MINKOFF. Like one of her signature handbags, this spacious spread is subtly stylish—very put together, but not showy.
"We wanted a space that would have great design, but also not have it be too precious," shares Minkoff. Minkoff worked with interior designer STEPHANIE GAELICK to achieve this enviable look. When Minkoff and her husband, producer/director Gavin Bellour, acquired the apartment, it needed considerable attention. "It's a huge space with high ceilings and gets great sun, but it was in rough shape," says Gaelick. "We completely gutted the kitchen and all the bathrooms, lightened up the floors, and integrated the living areas to really make them the family-friendly center of the home."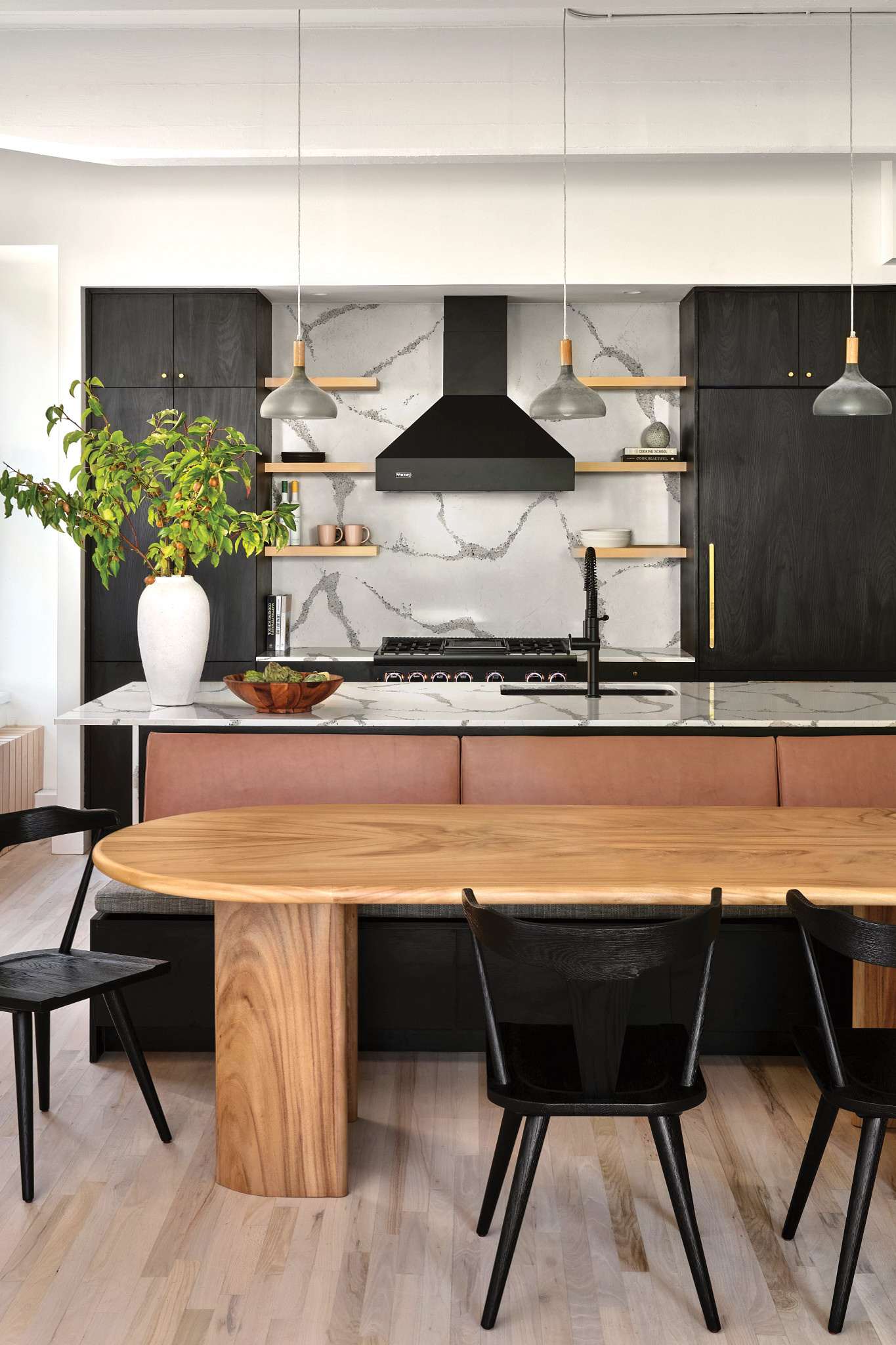 A sleekly simple table in acacia veneer and oak chairs stained an inky black partner with a custom banquette to create a chic but easygoing dining area. Cambria design shown: Queensbury™
The kitchen, of course, got some serious love, especially as Minkoff enjoys cooking for her family, which includes three young children. The open plan is anchored by an island topped in CAMBRIA'S Queensbury. "It's not too busy, but still bold, with sparkly veining that looks like you've cut open a geode," notes Gaelick. "I was playing with the idea of dressing the space, and that sparkly detail in the veining—like the brass hardware on the cabinets—gives it a kind of glam feeling."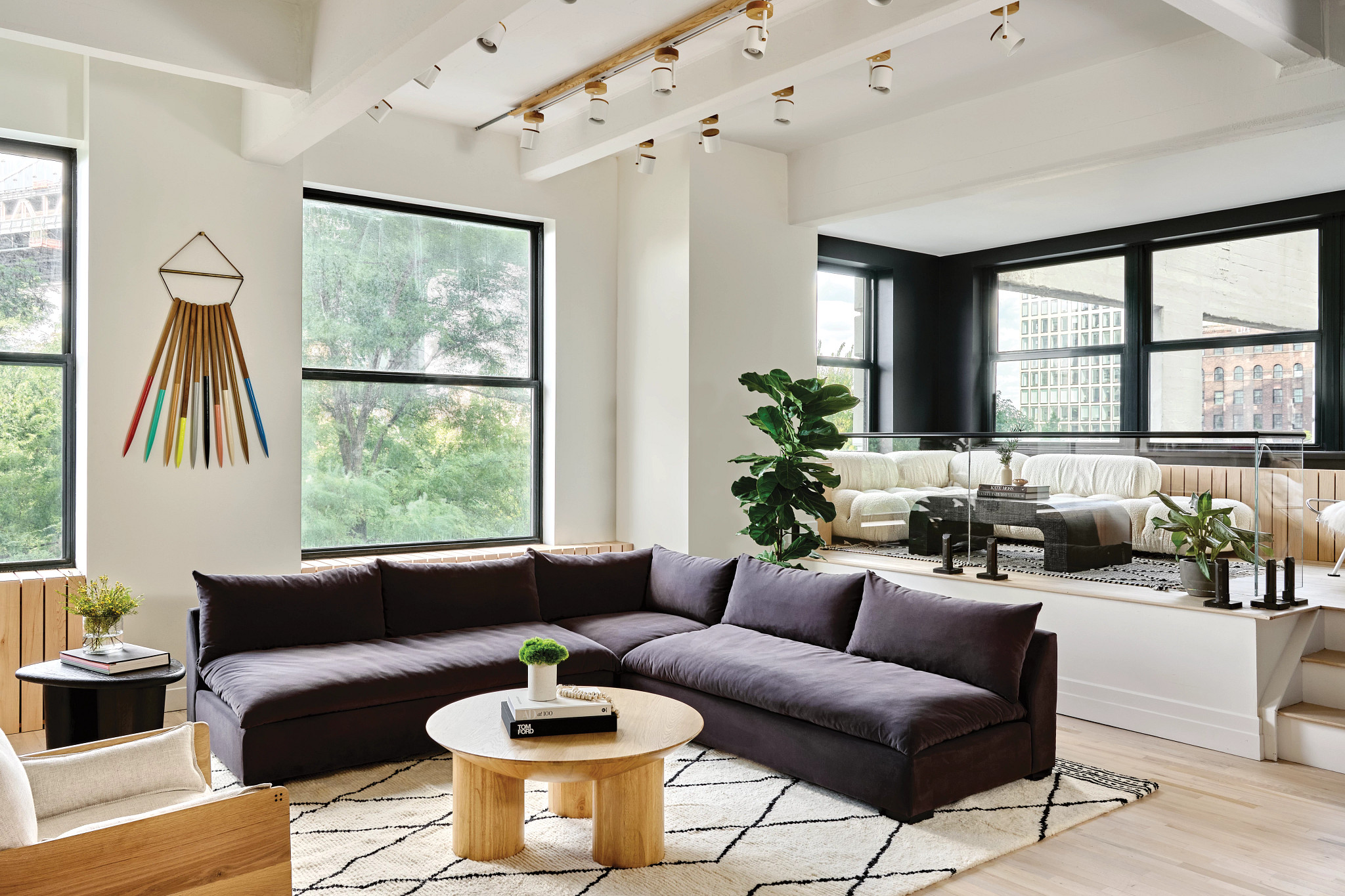 Previously, the dining area was oriented more toward the living room than the kitchen. Gaelick corrected that by transforming it into a laid-back lounge and creating a space adjacent to the kitchen that is perfect for weekday meals or a dinner party. A leather-backed custom banquette is nestled under the island and paired with a dining table and chairs from Lulu and Georgia. In contrast to the simplicity of the dining table and the hominess of its companion chairs, the furniture in the living room and lounge strike a chic but comfortable note, especially the classic mid-century Mario Bellini sofa upholstered in white bouclé.
Although black and white are key to the color palette here, so too are warm earth tones. The flooring is whitewashed red oak and white oak open shelving punctuates the wall above the kitchen. "We love the idea of using a lot of wood but didn't want you to walk in and notice a million different wood colors," says Gaelick. "So, we went with the whitewash for a warm undertone, then layered in slightly darker oak tones."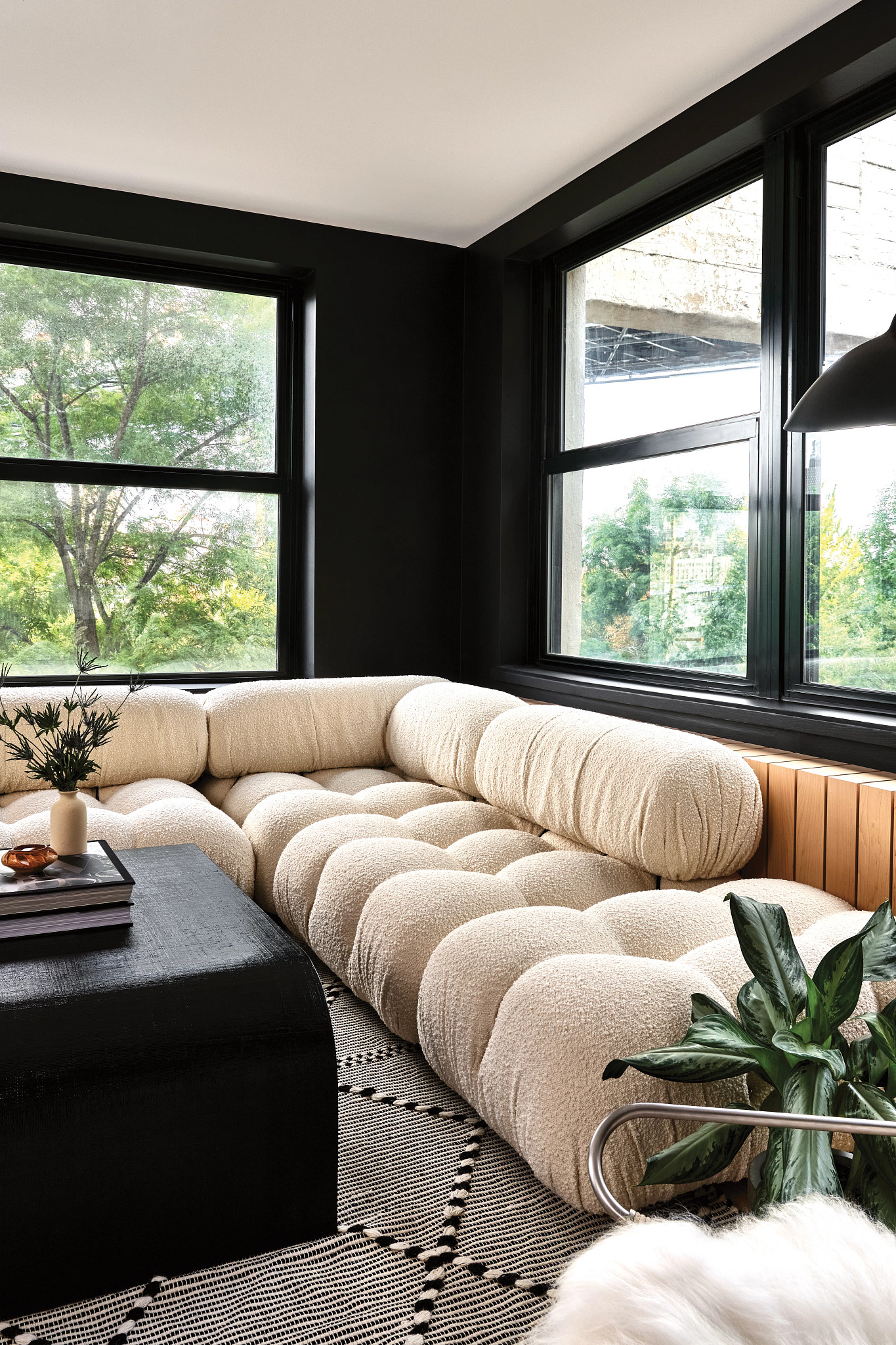 What was once a dining area is now a lounge-like nook, outfitted with an iconic Mario Bellini sofa upholstered in white bouclé.
One of Gaelick's favorite aspects of the project is the sort of thing many designers wouldn't think twice about: how to handle the radiators? A common eyesore in New York's older buildings, these unsightly but necessary elements can really play havoc with a design scheme. Determined not to let them undo all she had done in the unit, Gaelick created handsome covers crafted from solid whitewash maple. "I think they are one of the more special things we did. They really add a special character." Sexy? Maybe not. But combine her carefully considered details with Cambria's glam and sparkle, and the warmth of the woods, and they all marry together to make this one well-dressed home.
See more Approachable Luxury.