Explore Sustainable Design
Net-zero home showcases elegance in environmentally conscious living
Written by Angela Johnson
Photography by Paul Moore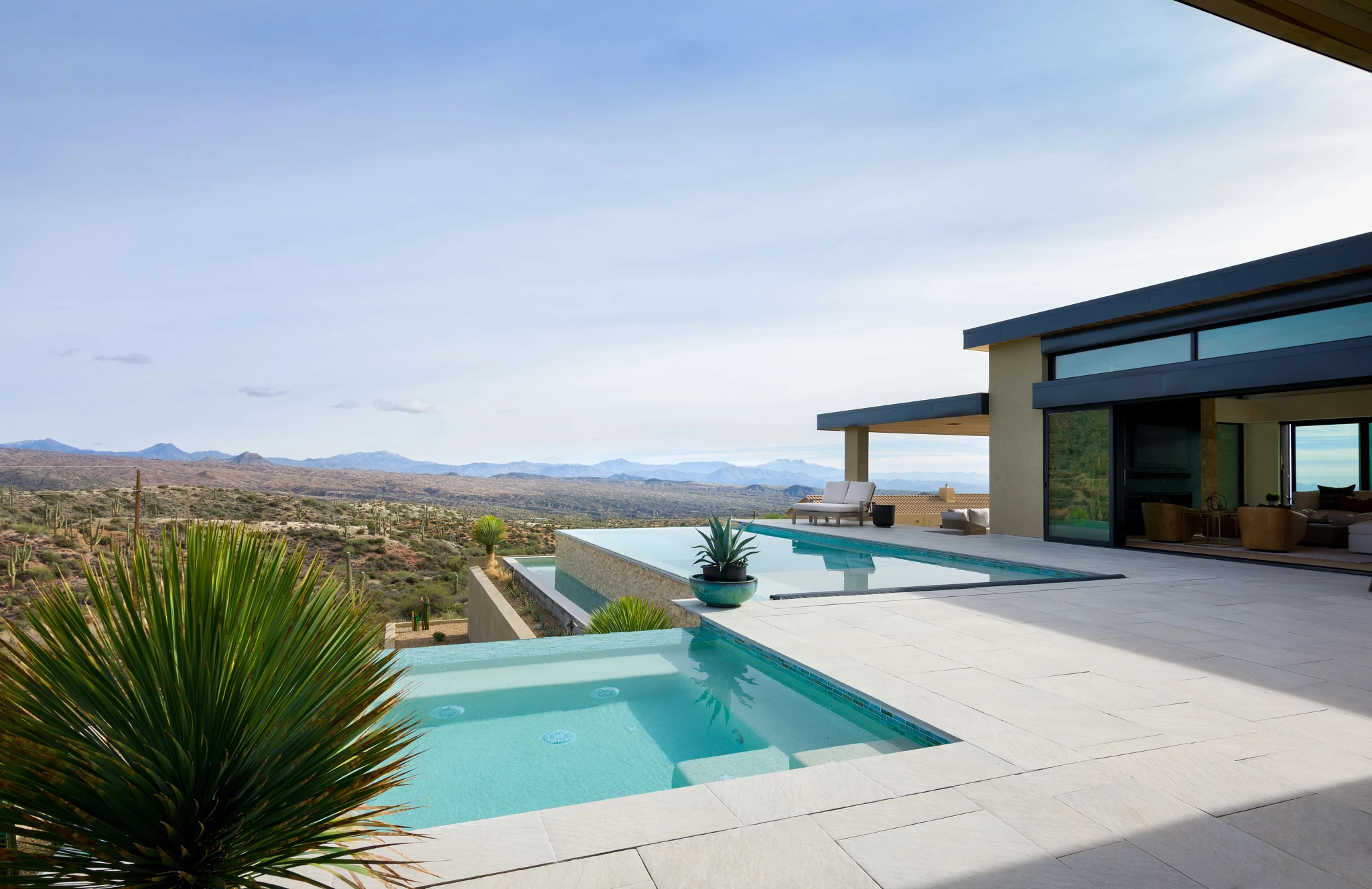 For over 50 years, April 22 has been celebrated as Earth Day, a holiday centered on inspiring people to participate in and promote environmentally conscious efforts. At Cambria, we are committed to the well-being of our customers, our team, our community, and the environment. And we share in the desire of homeowners to live out environmentally responsible values in their own homes on Earth Day and every day—homes that are not only beautifully designed, but are specifically designed, sourced, and built by companies passionate about conservation, renewable energy, and sustainability.
So, join us in celebrating Earth Day with a tour of this Desert Comfort Experience in Cave Creek, Arizona—a 3,000-square-foot NET-ZERO HOME intentionally built using processes and products meant to reduce negative impacts on the environment. A NET-ZERO HOME is one that is so well-insulated and energy efficient, that it produces as much renewable energy as it consumes annually. Bonus! This net-zero home is also stunning in its layout and design with modern architecture and spaces that are aesthetically beautiful and superbly appointed with environmentally conscious products like Cambria's quartz surfaces.
This Desert Comfort Experience was a collaborative effort by CONSTRUCTION INSTRUCTION, COSAN STUDIO, REFINED GARDENS, and A FINER TOUCH CONSTRUCTION (AFT). With extensive experience in insulated concrete form (ICF) building, AFT President Brad Leavitt says this home is strikingly uncommon with the amount of glass that allows for tons of natural light and spectacular desert views. ICF means the concrete slab and walls, as well as the ceiling and trusses are foam insulated. Combine that with triple-paned glass, and they've created an "ice cream sandwich" of insulation that, even with many windows, makes this home so efficient, it requires far less air conditioning than a typical Arizona home. It's also designed around the sun—oriented north to avoid the excessive desert heat with any south- and west-facing portions, including the entrance, protected by large overhangs with adjustable louvers.
Visitors are greeted by an impressive 9-foot-wide glass pivot door illustrative of the home's geometric-style architecture. Once inside, you can virtually feel any tension leaving your shoulders in the uncluttered spaces designed by K&Q INTERIORS that create a harmony between beauty and function. The great room and open-concept kitchen are flanked by walls of windows that have automated shades neatly tucked into overhead shade pockets. A fireplace and peaceful seating area at one end of the great room is bookended at the opposite end by a tranquil kitchen with painted and natural oak cabinetry. Cambria's Brittanicca Warm™ design cascades over a 5-foot by 11-foot waterfall island and is clad on the wall between the stovetop and range hood. Cambria's quartz surfaces blend beautifully into the simplicity of this modern home with the natural look of stone. The choice also fits the ethos of eco-friendly product selection since Cambria's quartz surfaces are American made, which requires no overseas transport, reducing emissions related to shipping.
A butler's pantry works as additional storage and includes amenities such as a custom coffee bar, microwave, and wine refrigeration. This trend of dedicated out-of-site prep space helps keep kitchens tidy. And when it comes to cleanliness and environmental impact, Cambria's nonabsorbent surfaces mean no bacteria growth and no need for any harsh chemicals for sealing or cleaning. Only a soft cotton cloth, warm water, and a mild soap if desired are ever necessary for keeping these counters hygienically clean.
Cedar-planked ceilings and natural oak cabinetry are found throughout the home including in some of the bathrooms where you'll also find luxurious Cambria counters with modern integrated sinks. Transom windows provide light in smaller bathrooms, and in the primary suite, a floor-to-ceiling window with an endless view beckons a relaxing soak in a free-standing tub. The forward-thinking designers also made sure the showers provide a luxury experience with multiple KOHLER showerheads. Additionally, the showers have wheelchair accessible flush transitions, making the home suitable for aging in place. This is exactly the planet-friendly, long-term thinking that also places emphasis on products that are long-lasting—making the selection of Cambria with its transferable Full Lifetime Warranty even more relevant to those who care about durability, longevity, and superior performance.
Grown children and out-of-town guests can enjoy a little privacy in an oasis suite appointed with homey creature comforts. And a separate home office is outfitted with a murphy-bed should the house fill up at holidays or family staycations.
Cleanup is convenient in a spacious laundry and mudroom with tons of extra storage, a hanging rack, and sink. The importance of water conservation means selecting high-efficiency appliances, but also choosing Cambria countertops since Cambria recycles 100 percent of any water used during the manufacturing of its quartz surfaces.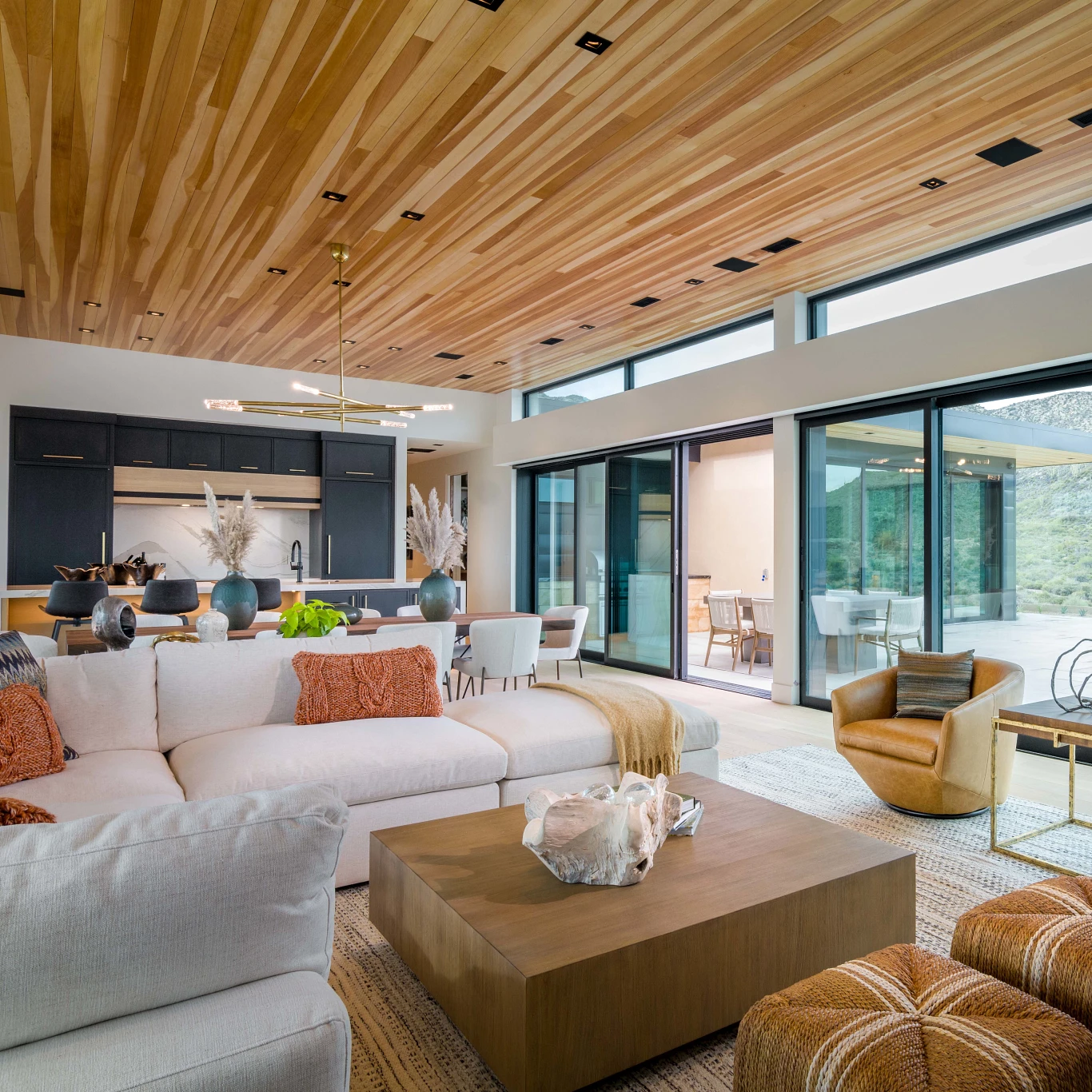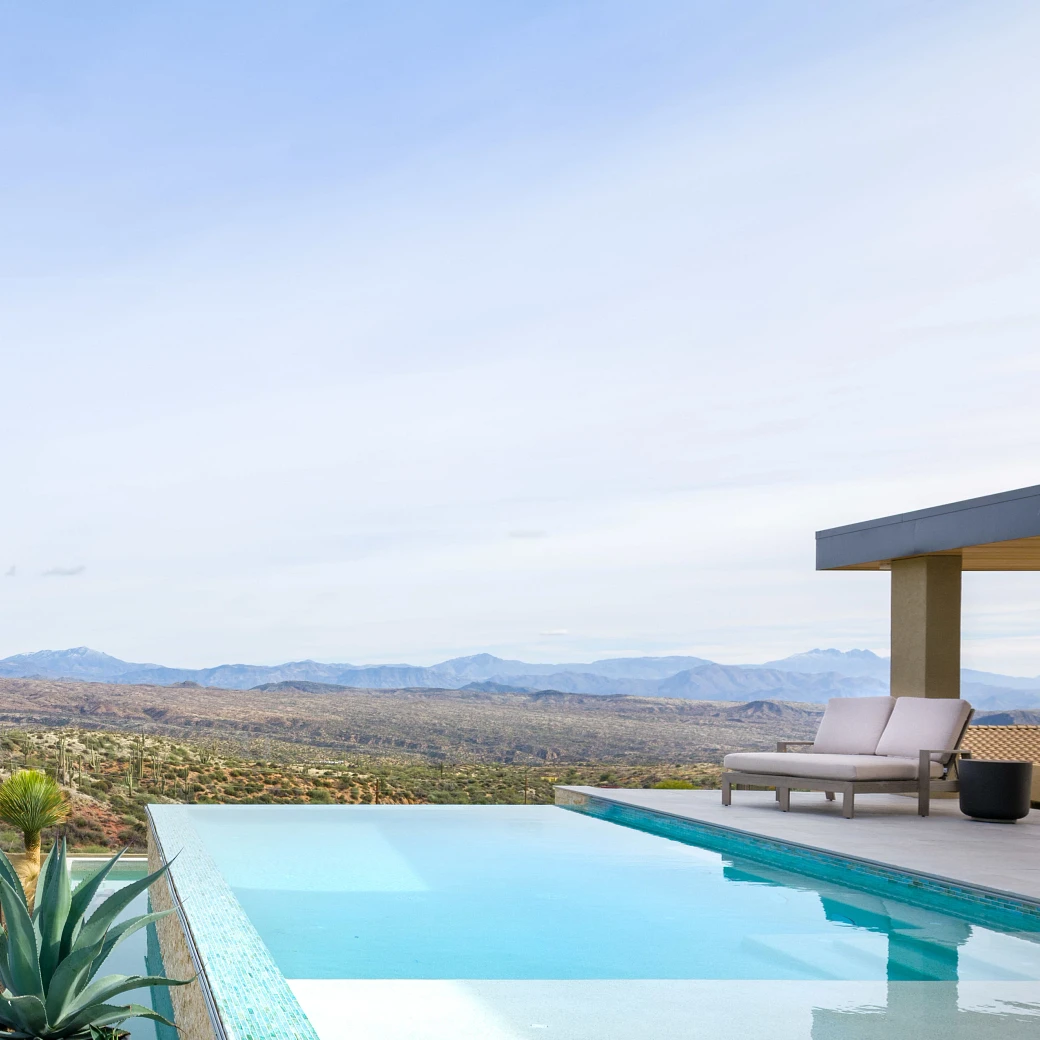 The overall experience of being in nature transcends this Desert Comfort Experience with the blending of indoor-outdoor living. Much of the triple-pane glass in the great room slides open onto a patio where an inviting pool and hot tub await just beyond an outdoor grilling and dining space. The views facilitate mindfulness and reinforcement of the importance of caring for our planet.
View Cambria's entire design palette, including several designs crafted with recycled content.