Tour Emily Henderson's Mountain House Kitchen Remodel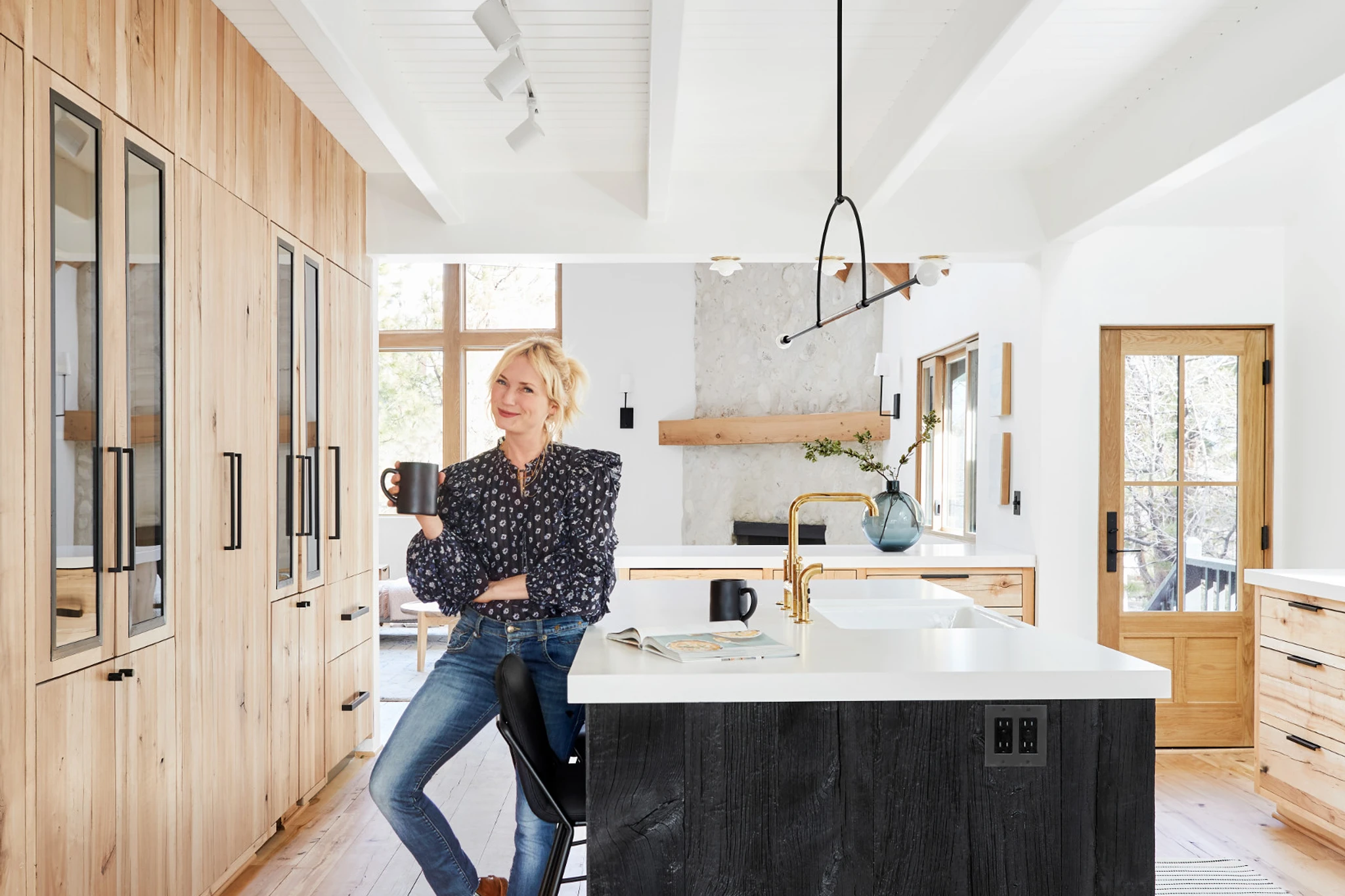 About This Stunning Mountain House Kitchen Remodel
We called it: In our 2020 design forecast, we anticipated that spaces would move away from the popular bright white rooms of years past in favor of a modern Scandinavian look with pale wood cabinetry and flooring that brings a design into the light.
New York Times best-selling author, TV personality, stylist, and interior design blogger Emily Henderson did just that—in 2019, no less, as she's a trendsetter—with what she describes as the rustic-modern-Scandinavian-contemporary-minimalist kitchen remodel in her 1960s Lake Arrowhead A-frame vacation home.
The final result—a bright and airy space with 200-year-old reclaimed beechwood cabinetry and flooring by Ross Alan, Cambria White Cliff Matte countertops, matte black and brass accents, and more—took a full year for completion.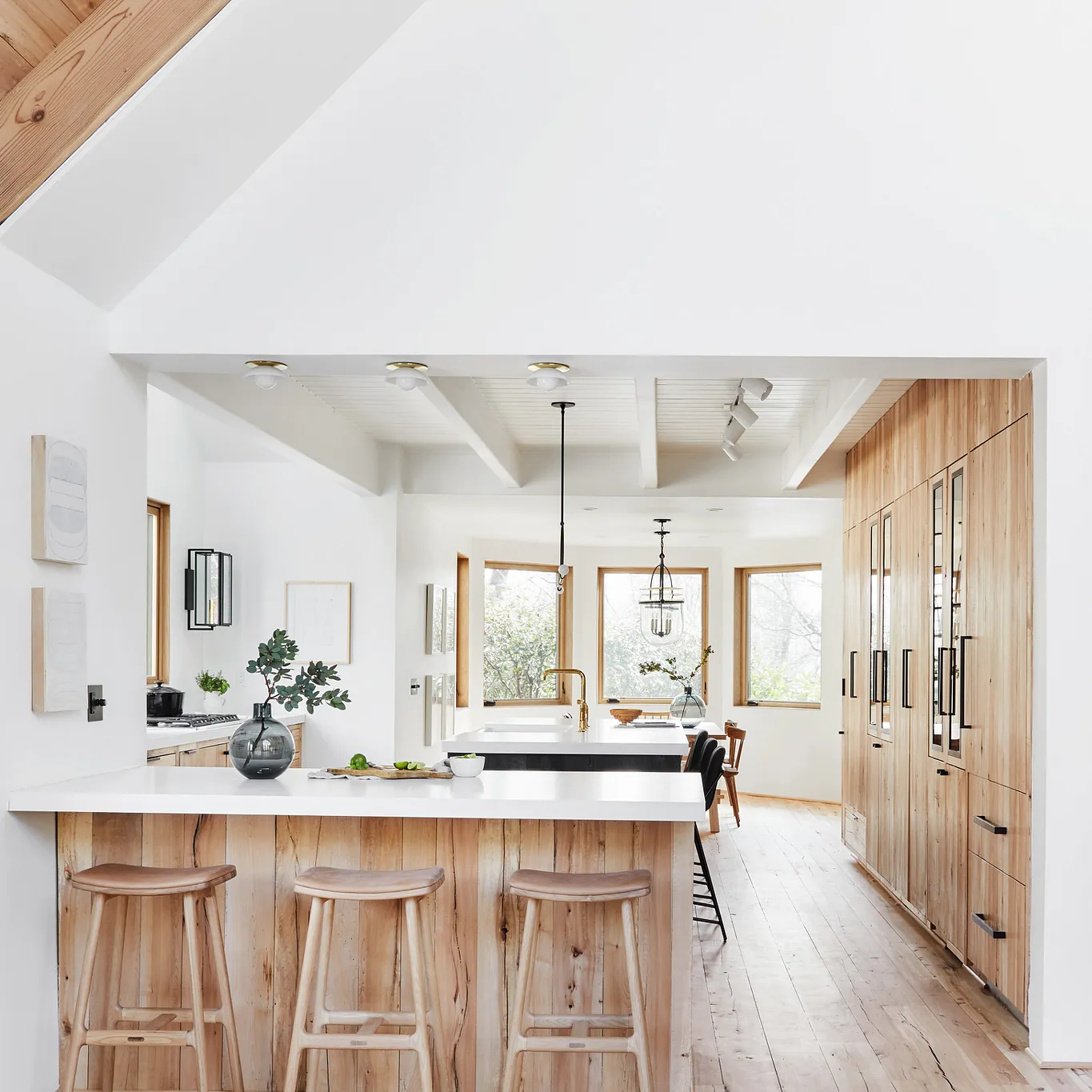 The Lake Arrowhead kitchen remodel looks bright and airy.
"I walk into this room and breathe a larger breath than I thought my lungs could hold," writes Henderson in this blog post on the renovation. "Nothing is perfect in life but, when you get close to it, you would be remiss to not recognize how lucky you are."
Here, learn more about Henderson's design inspiration.
A Dreamy Design
For her mid-century mountain kitchen, Henderson wanted a space that felt like it had character and one fit for both her family and their guests.
To accomplish that, Henderson installed real reclaimed barnwood from Ohio on the cabinets and flooring and paired the blonde shade with white countertops and black and brass fixtures. For the island, she stained the wood ebony to add another layer of dimension to the space.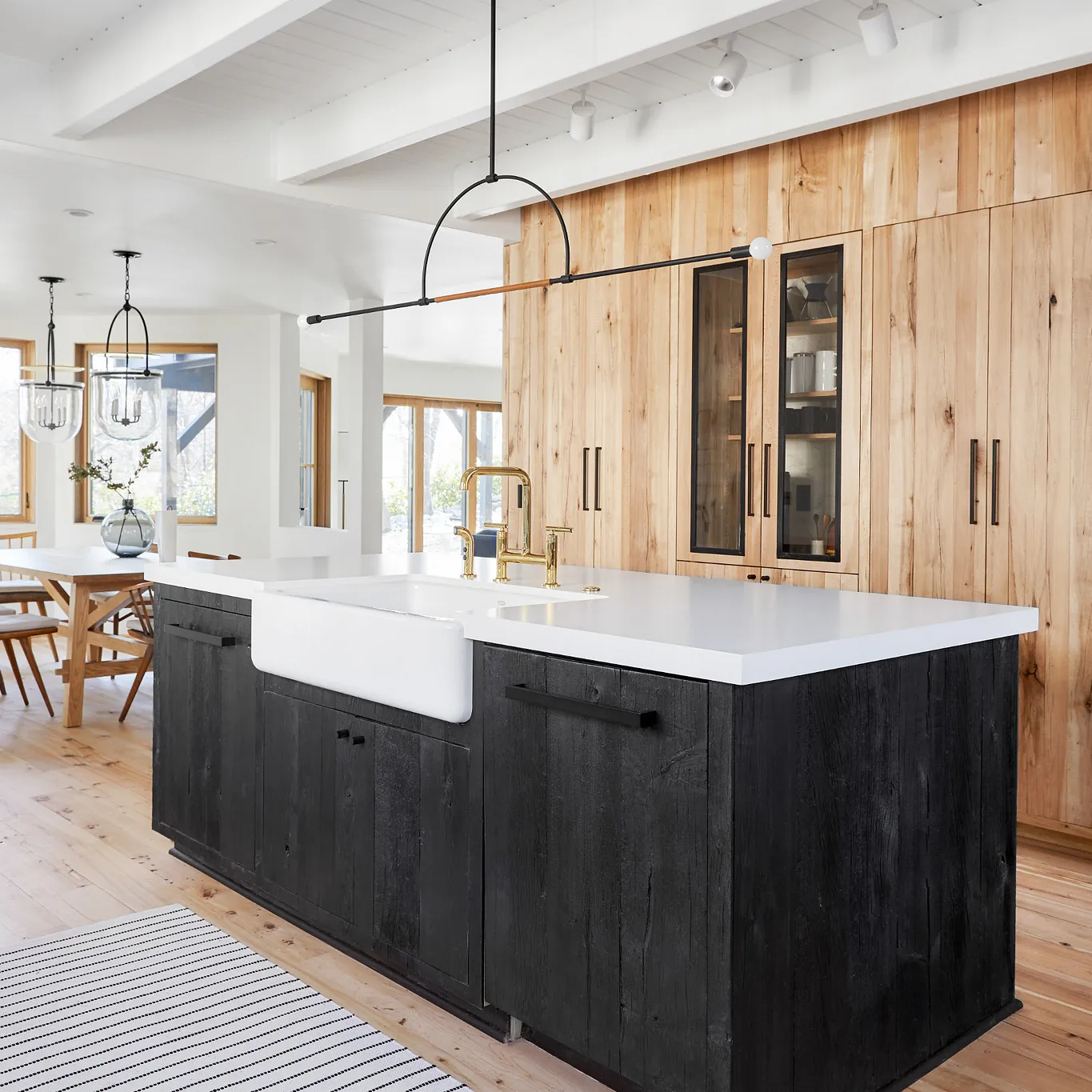 Henderson stained the reclaimed wood on the island an ebony hue to contrast with the White Cliff Matte countertops.
Storage and Appliances
Throughout the kitchen, both with the wood and countertops, Henderson favored a matte finish with no shine to let the beauty of the natural materials take center stage.
"The wide planks are full of texture and character—I wish you could see how great they are in real life—but in all black, juxtaposed with the lighter beechwood throughout, makes it so special and modern," writes Henderson.
She also added custom storage solutions to hide unsightly appliances and tools. Countertops are precious real estate, and not every appliance needs to be on display.
We love Henderson's clever kitchen organization trick: a platform that tucks away for storage and raises for extra work space when you need it. She uses this smart storage solution for a stand mixer, creating additional work space beyond the Cambria countertops. Ease of access is provided by matte black cabinet hardware.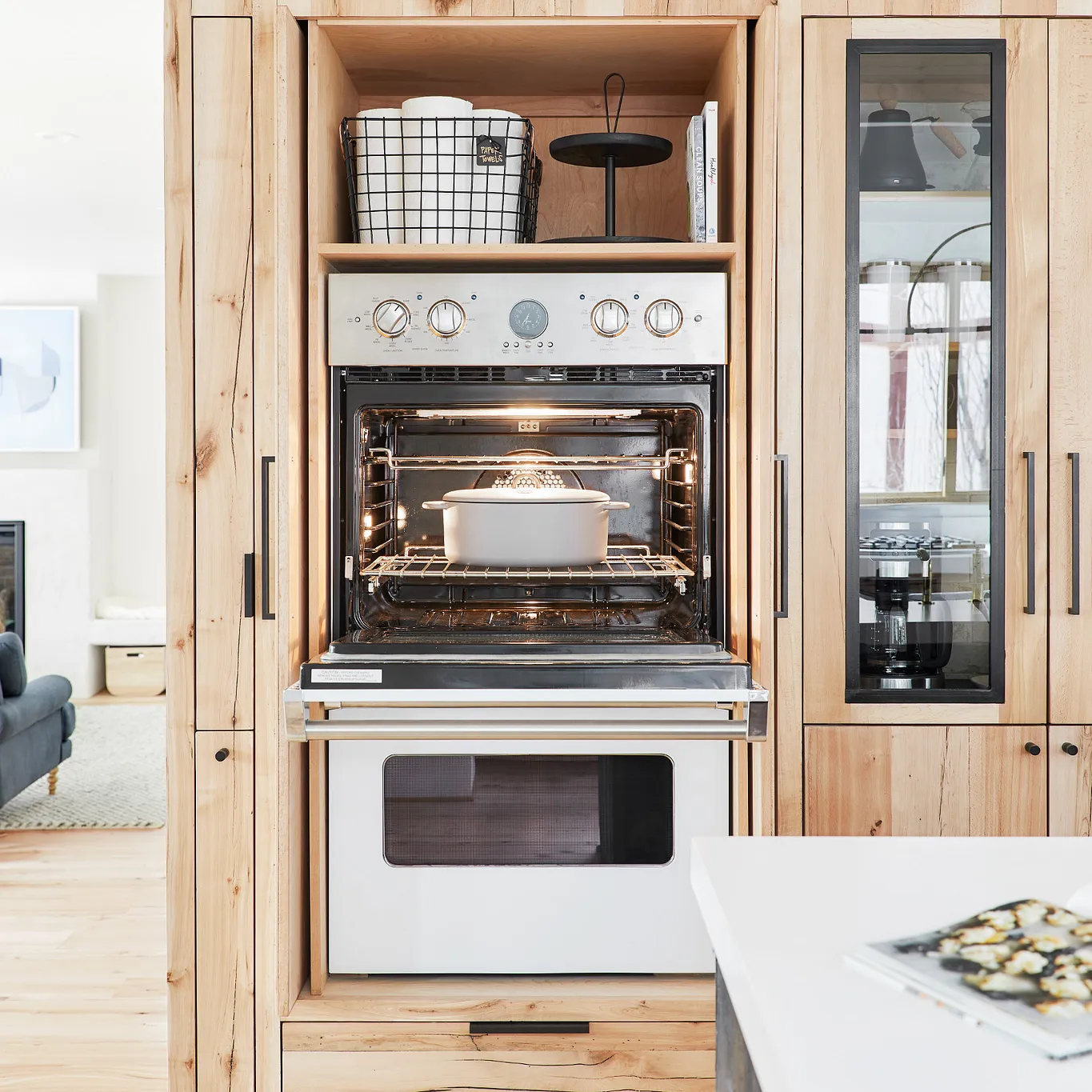 Custom storage solutions help hide appliances and keep countertops free from clutter.
"We used a combination of small and large handles, knobs, and ledge pulls that we sourced through Schoolhouse," writes Henderson. "They are all in the same matte black finish and the mix makes it feel so custom, special, and still streamlined."
Two skylights and white oak Marvin windows add an abundance of natural light.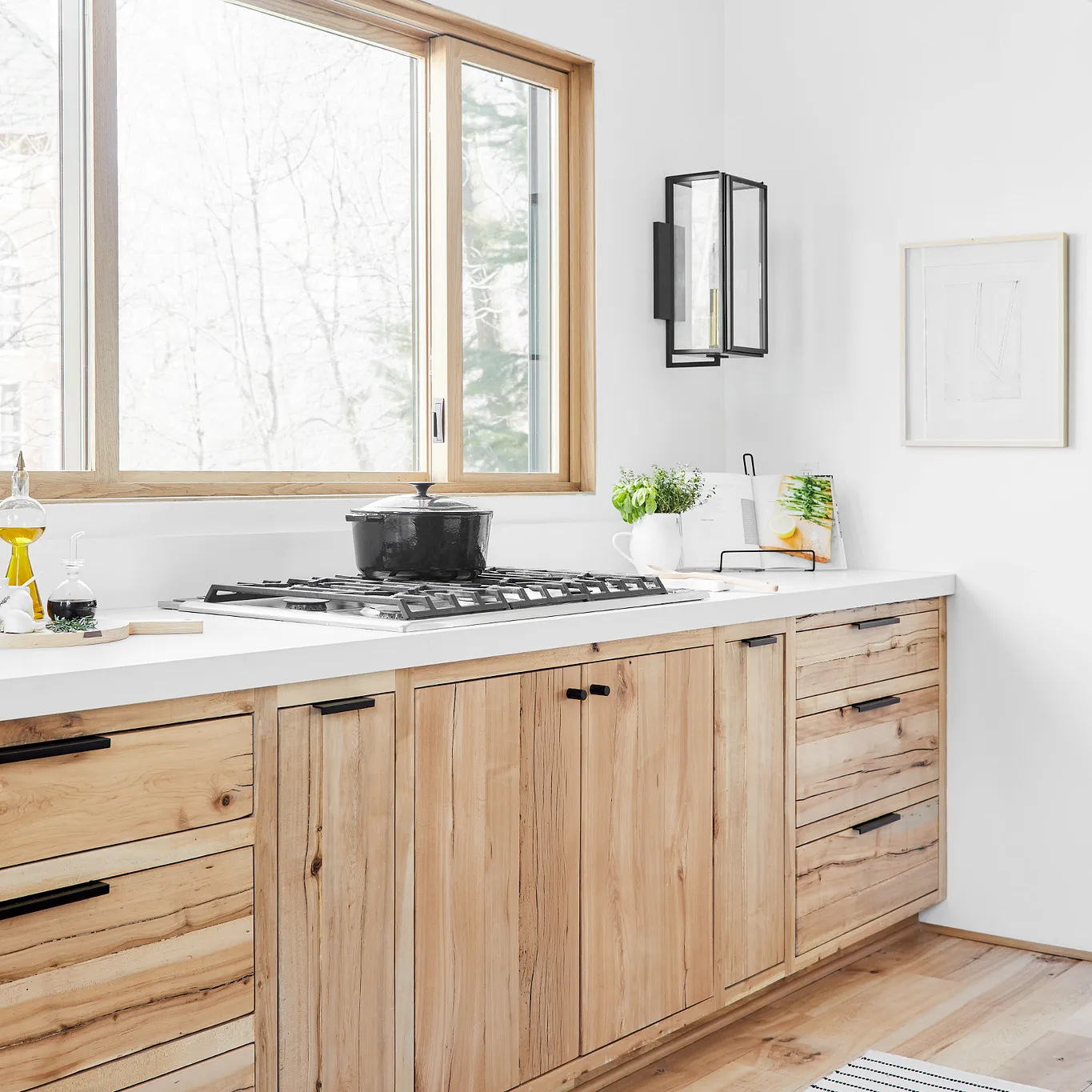 Natural light streams in through custom Marvin windows.
"This kitchen is a warm, modern dream of a room and I feel utterly unworthy to be cooking soup in it," writes Henderson.
Why Cambria
A longtime fan of Cambria—see more of Henderson's work with Cambria natural quartz here and here—Henderson installed Cambria's White Cliff Matte design on the kitchen countertops. A neutral and bright white, the design lets the wood's texture and color be the stars of the show.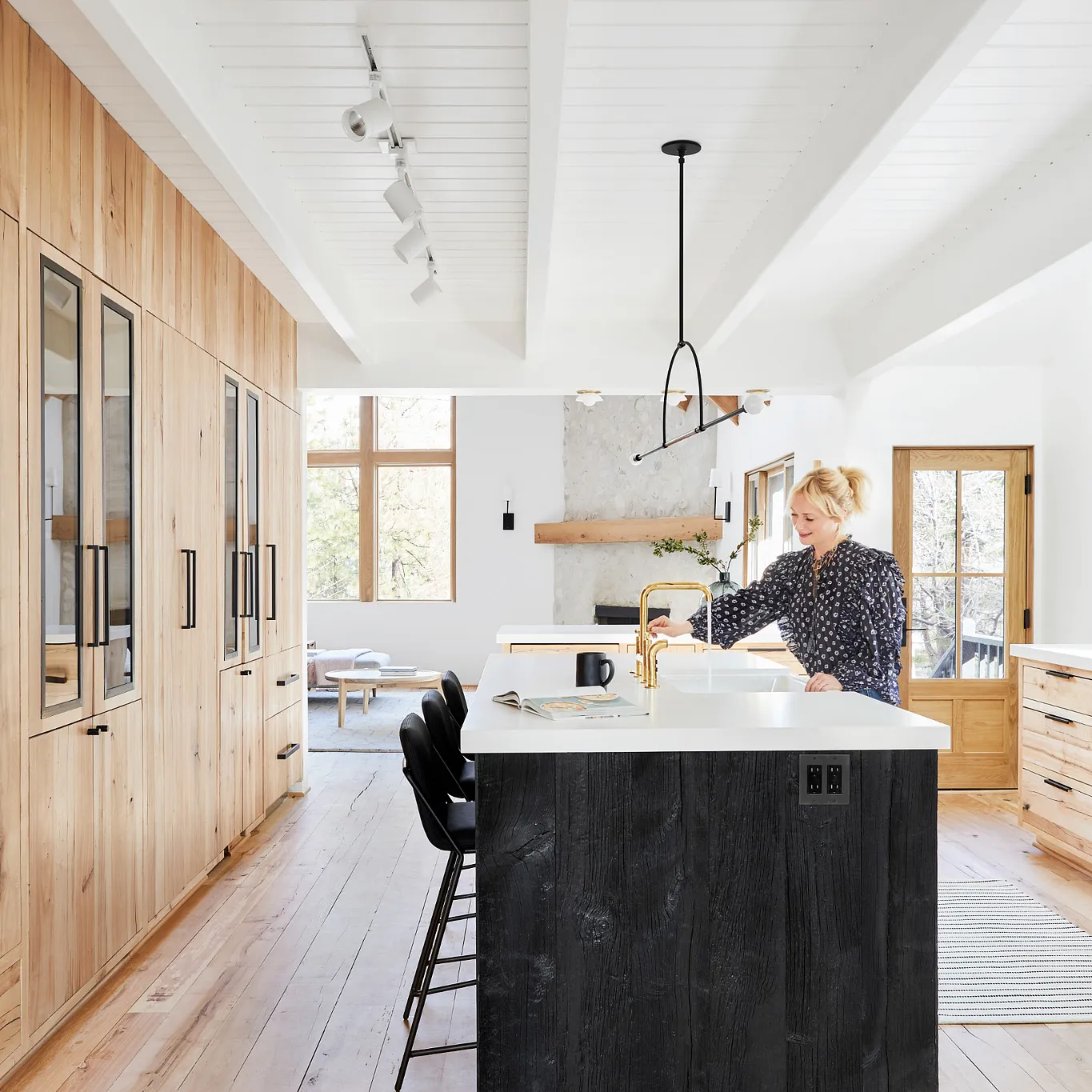 The Cambria countertops do not compete with the other standout elements in the space.
"We had a marble all picked out when we thought we were going to have shaker painted cabinets but, once we went to this reclaimed wood, we felt that we had enough texture so we switched to Cambria and I literally couldn't be happier," writes Henderson. "I know that real marble is a lifestyle choice and it's one that we made for our LA house, but I'll say it again: things that age look better in older style homes unless you have a full staff to maintain and clean up after you. So, for this house, which feels mid-century/brand new, going with a lower-maintenance quartz felt like the better move."
Cambria surfaces are made of pure, natural quartz and feature unparalleled strength and durability. They're nonporous, nonabsorbent, and NSF-51 certified, so they're food safe; are scratch and stain resistant against common household items like coffee and wine; and they're maintenance free—perfect for Henderson's two young kids. You can literally just wash with warm water and mild soap. Plus, Cambria backs everything with a transferable Full Lifetime Warranty.
"White Cliff Matte is so beautiful and far more durable than a natural high-maintenance marble," writes Henderson. "Plus, it looks so clean and refined."
See more of Henderson's mountain home renovation in House Beautiful.
Get the Look
Follow Cambria on social media with #MyCambria for more standout designs.
For more information on Cambria, including performance data, product specifications, and certifications, see our Professional Resources.
Interested in creating a showstopping design project with Cambria? Buy a sample, find a dealer, or call 1-866-CAMBRIA (1-866-226-2742) to be connected with a market representative in your region. Or visit our website to set up a virtual design consultation.