Elevate Your Space
You can shape a space that is designed to stay organized—with a bit of strategy
Just as an orderly office improves productivity, well-organized kitchen and laundry areas can help you accomplish chores with ease. But the key to preventing clutter from clustering later is establishing organizational systems while building or remodeling. Eric Price of Bearded Builders says that these systems change with each person, depending on how you plan to use the space. And Ashley Dupert of Omorfia Designs notes that a good organizational plan can allow you to inhabit even the most hectic spaces in a more peaceful manner. She points out that when life seems to be moving quickly you'll be glad to know where to reach for your next tool—rather than digging through random drawers. Price and Dupert shared plenty of helpful tips on shaping these spaces for maximum efficiency.
NEXT-LEVEL STORAGE
Keeping things tidy need not be tedious. This kitchen's organizational touches transform it into a playground where climbing ladders or playing hide-and-seek also help keep things looking sleek.
GO VERTICAL  Want a large island—like this one in Cambria Clovelly—but still need more room for storage? Look up. "Our client wanted a ladder," Dupert says. "Now, she has complete and total access all the way up to the very top."
CREATE HIDEAWAY WORK SPACE  Dupert fashioned hidden storage for frequently used kitchen tools, e.g., a secret mixing station. "It gave her a place to be able to shut the doors on her creative area, without having to put it back in a cabinet."
DESIGNATE SPACE  If each tool has a spot, it's easier to maintain organization, says Dupert. "We went through the kitchen, and we put sticky notes on every drawer and door to make a plan."
ELEVATE STORAGE  Find yourself constantly running out of room to put things away? Consider adding floor-to-ceiling cabinetry in lieu of uppers over a countertop. This streamlines the look, adds significantly more storage space, and invites you to add fun and functional rolling ladders to access it all.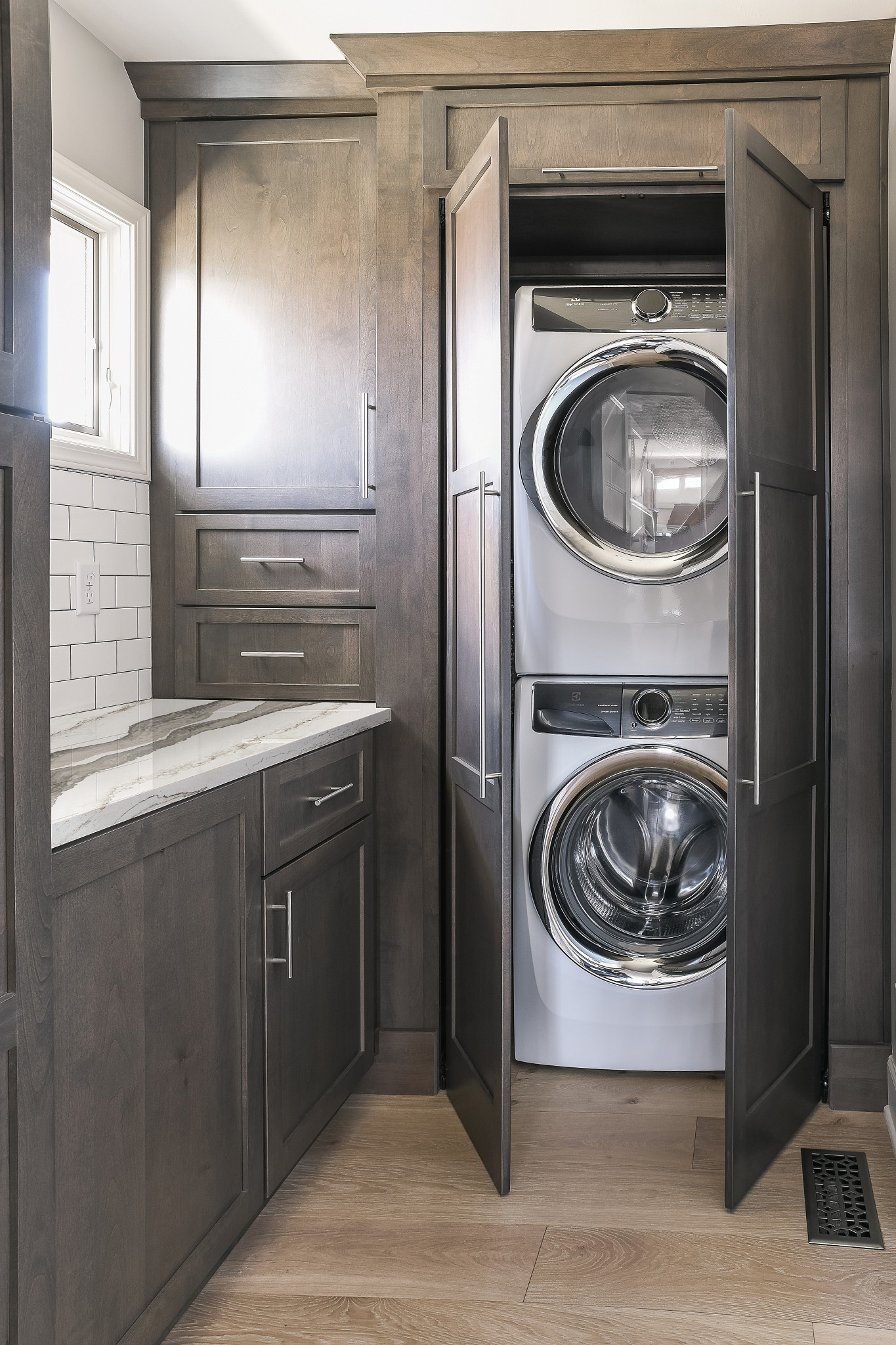 Pro Tip: Short on space in the laundry area? Stacking the washer and dryer cuts your appliance footprint in half, creating additional room for folding, hanging, or storage. Cambria design shown: SKARA BRAE™  Photography by Mandy McGregor
REDESIGN BUSY AREAS FIRST  Laundry rooms are often the last to receive a refresh because they are perpetually in use, which is the reason why they are one of the spaces that need it the most. "Increase efficiency by tackling those high-traffic areas," says Price, "It's vital for quality of life to have well-functioning spaces you use daily."
MAKE THE MOST OF IT  "Maximize the space, no matter how small," says Price. Even hard-to-reach nooks and crannies can be designated to store items you only use periodically. On a related note, don't choose furnishings that appear attractive but will ultimately eat up space. "It's essential to incorporate your taste without compromising function."
KNOW HOW YOU'LL USE IT  Mapping out how you work can cut down on annoyances like hunting for tools in hard-to-reach places. Price explains that you can easily increase productivity in a laundry room by creating specific, properly stocked stations for each task.
CONSOLIDATE TO CREATE UNIFORMITY  "If you're going to be spending a few hours a week in a space, then why not make the space beautiful?" says Price. In this laundry room, he consolidated everything from appliances to storage behind cabinetry to create a sense of order. This, in turn, opened up new work space. Note how Price found room for a beautiful folding area—in Cambria Skara Brae—to the left of the washer/dryer closet.
"When you have a plan from the very beginning stages of a design," says Dupert, "it removes all the guesswork." That means not trying to add bells and whistles that require reorganization mid-renovation. "It allows you to make a home."