Eclectic Meets Craftsman
Boutique remodeling contractors describe their design style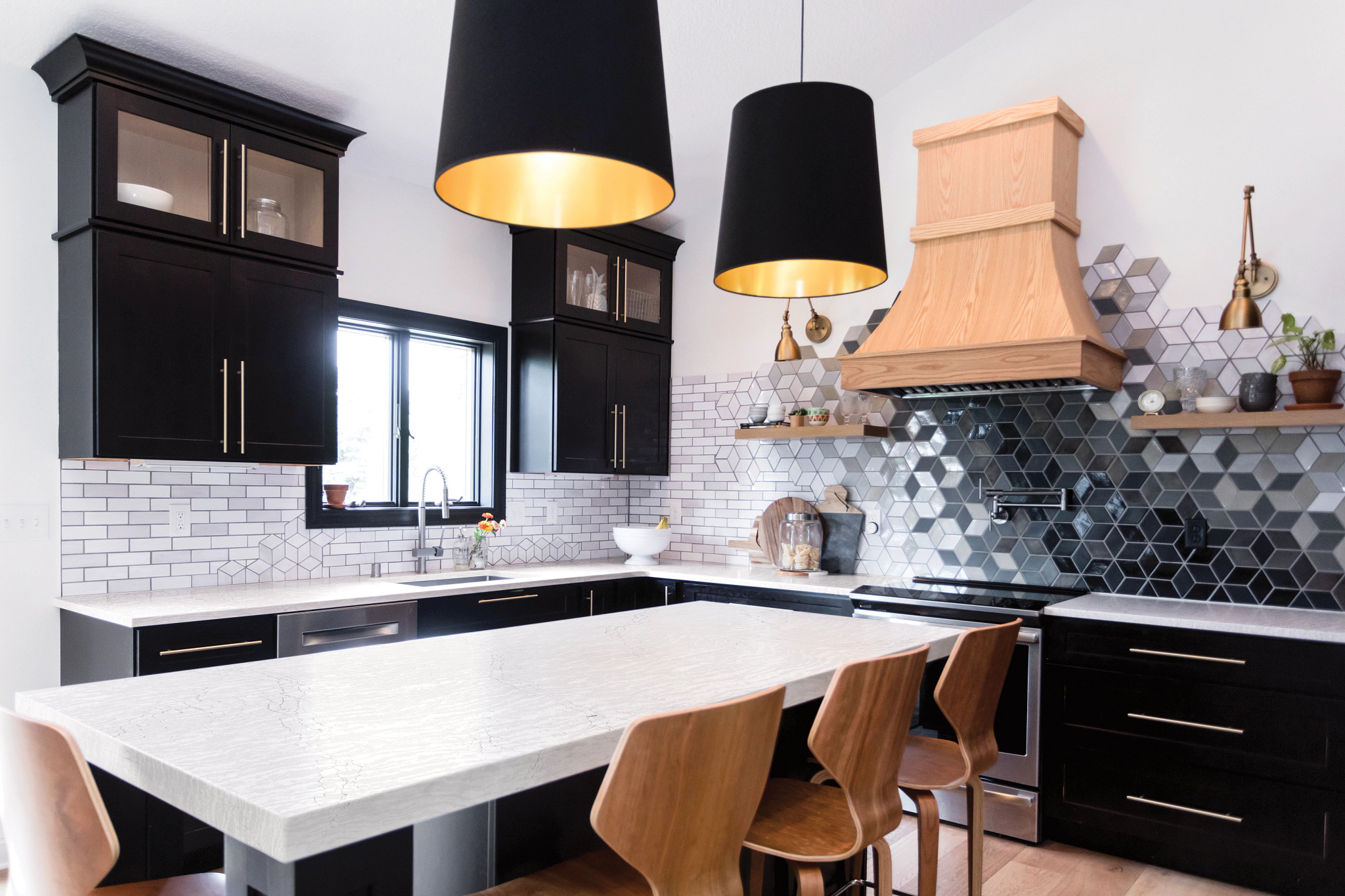 The simplicity of black and white helps more creative design elements not overwhelm a space. Cambria design shown: DELGATIE MATTE™; Photography by Chelsie Lopez Production.
It wouldn't be a stretch to say that designer and contractor duo, and founders of CONSTRUCTION2STYLE, Jamie and Morgan Molitor, thrive on the rush of starting and completing a project—then doing it all over again. Their work is a family affair, with Jamie taking the reins to custom build and remodel homes, while Morgan envisions how to make the house a home with her creativity and innovative interior design ideas. The couple was recently featured in a Cambria Style TREND REPORT, and we followed up for their thoughts on a home renovation that is particularly close to their hearts—their own.
Cambria Style: What is your favorite room in your home?
Morgan Molitor: Our kitchen is our happy place! Since we spend so much time in the kitchen, from being a family of five to working from the island most days, we wanted it to inspire us daily. And that is exactly what we created.
CS: Jamie studied carpentry in college and is known for his stellar custom furniture. How important is it to construction2style to support local craftsmen?
MM: We always try to support local as much as we can, which meant for [our kitchen project], incorporating Cambria [DELGATIE MATTE] countertops, handmade MERCURY MOSAICS tile, and BELLACOR statement lighting. Then we wanted it to be a statement piece. Wood cabinets are making a comeback, so we jumped in and started there. However, we wanted it to be a light and bright kitchen, so we had to challenge ourselves a bit to figure out how to get that overall look with dark wood grain cabinetry. Our goal was to create a statement piece and movement that would inspire our clients and readers and that is exactly what we did [with the tile work].
CS: How would you describe your design style?
MM: We like to say it's "eclectic meets craftsman." We appreciate too many design styles to like just one. And being the carpenter that Jamie is, he admires anything with craftsmanship detailing.
CS: Where do you find inspiration for your design and décor ideas?
MM: With any of our personal projects, we like to think outside the box and challenge ourselves to go big and bold to share with our readers and clients just how they can do it too. And with any room we design, we want it to have purpose and meaning. Whether that is supporting local vendors, handmade artisans, incorporating family heirlooms, or partnerships from brands that we admire and value … anything that tells a story that is meaningful to the homeowner.
CS: Dark and light contrast, like this kitchen, is so beautifully dramatic. Do you have any tips for readers who are considering implementing a similar look and style?
MM: Jamie was adamant that we had dark cabinets that showed the wood grain, and I wanted a light and bright kitchen, so our first challenge was to balance that. Being that the cabinets were dark and would be a large portion of the overall design, we went light and bright for the countertops. Then for the backsplash, we incorporated a combination of eight different colors that created a variation of light and dark. My advice would be to work closely with a designer, contractor, or a brand that is committed to ensuring that the end result is exactly what you imagined. With every product/brand we brought in, we went into detail with the selections that had already been finalized to ensure their product would complement the rest and flow.
CS: Balancing black and white can be tricky, but your kitchen feels light and airy. How'd you do it?
MM: If you're wanting to create a combination of light and dark, first make sure the cabinets versus the countertops are opposite. If one is dark, go light for the other. Then for your backsplash, tie in the two tones to complement both.
CS: How important is a backsplash to bring a kitchen together for a cohesive look?
MM: I always look at the backsplash as the glue that will tie all of the design elements within the space together. Paint is another thing that is often overlooked. I always appreciate white in kitchens, and then bring in the tones and textures through the other elements in the kitchen design.
For more Cambria Style designer profiles and trends, check out MURAL, MURAL ON THE WALL and 2022 TREND REPORT.