Dining Room Design Ideas with Tips and Top Designs
Dreaming of dining in style? Learn how to create an inviting space to treat your family and friends to generous helpings of comfort and style with these dining room design tips.
Dining Room Design for Daily Use
Gone is the era of the formal dining room used only on special occasions. "If my clients decide to include a dining room—and most of them do—they want it to be a room they'll actually enjoy," says design-build contractor Ramsin Khachi, of Khachi Design Group in Oakville, Ontario. San Francisco-based interior designer Will Wick agrees. "Square footage is at a premium in so many markets, it's just not an option to have a room that's rarely used," he says. But making the dining room an integral part of the home takes careful planning. "If you don't want your dining room to sit empty while everyone hangs out in the kitchen, you have to make it not just beautiful but comfortable, and inviting," says Wick. "You have to create a space that will draw you in." Here are some designer secrets for how to do just that.
Advanced Placement
There's only one good place for a dining room, according to the experts we interviewed: close to the kitchen. "If the dining room is too far away from the kitchen, you'll never use it," says Khachi. Since you (or your caterers) will be carrying dishes from one space to the other, the dining room and kitchen should be connected by a door or a pantry.
"Having a butler's pantry or servery between the kitchen and dining room is really the ideal situation," says Khachi. "And, remember when planning spaces and elements to support the dining room—like a butler's pantry or even a sidebar—to select beautiful, but hard-working materials, like Cambria. Your goal is to create a space that's as great looking as it is easy to spend time in."
A streamlined butler's pantry with White Cliff countertops makes for an elegant and clean prep space.
If your home has an open floor plan, Khachi advises against including both a breakfast table and a dining table in the same flowing space. "We see that a lot, and it's really a waste—you don't need two tables within eyesight of each other," he says. If you want both formal and informal eating areas, he suggests planning a dining area with a large table and a kitchen island with barstools instead of a breakfast table.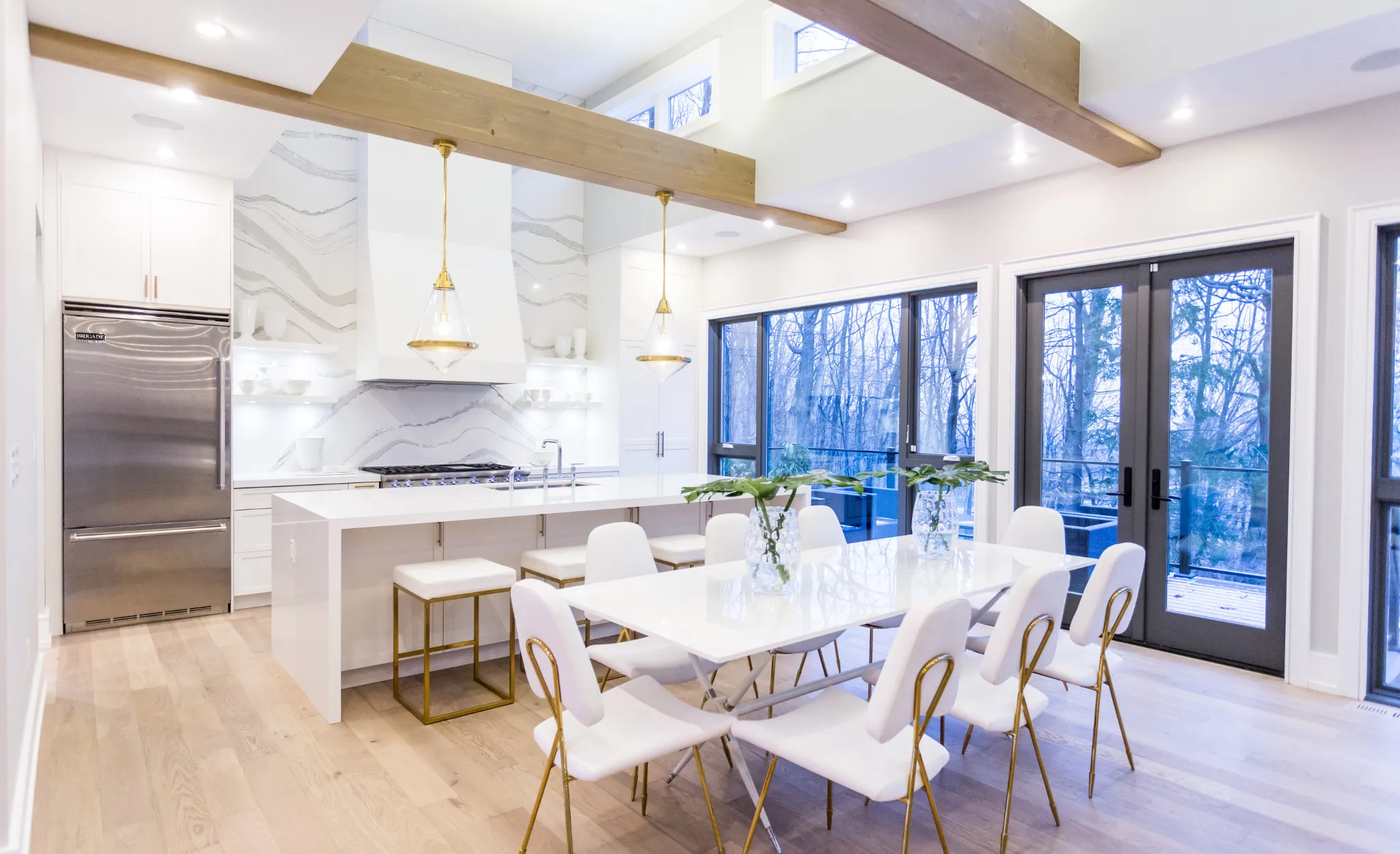 A sleek white dining table pairs beautifully with a White Cliff™ waterfall kitchen island and Brittanicca™ backsplash in this open-concept kitchen from Bryan and Sarah Baeumler.
Creating Comfort
Your dining room should reflect your style and your lifestyle—the way you live each and every day, says Chicago-based interior designer Hunter Kaiser. "We look at how often our clients entertain and on what scale, whether they'll eat in the space every day, who will use the room—we even look at their china and glassware," he says. Considering those same questions for your own space will help you make key decisions, like how long the table should be, what types of materials you use, and how much storage to include.
Dining Room Table Tips
When it comes to the table, keep in mind that it has to fit the space as you use it most. "My clients usually want a table that seats 10 or 12, but most of the time they're only eating there with four or five people," says Wick. "Choosing an extendable table gives them the seating they need a couple of times a year, but feels cozier the rest of the time." Wick favors narrower tables (about 36" wide) over larger ones because they feel more intimate, and will sometimes opt for a 60"-round style.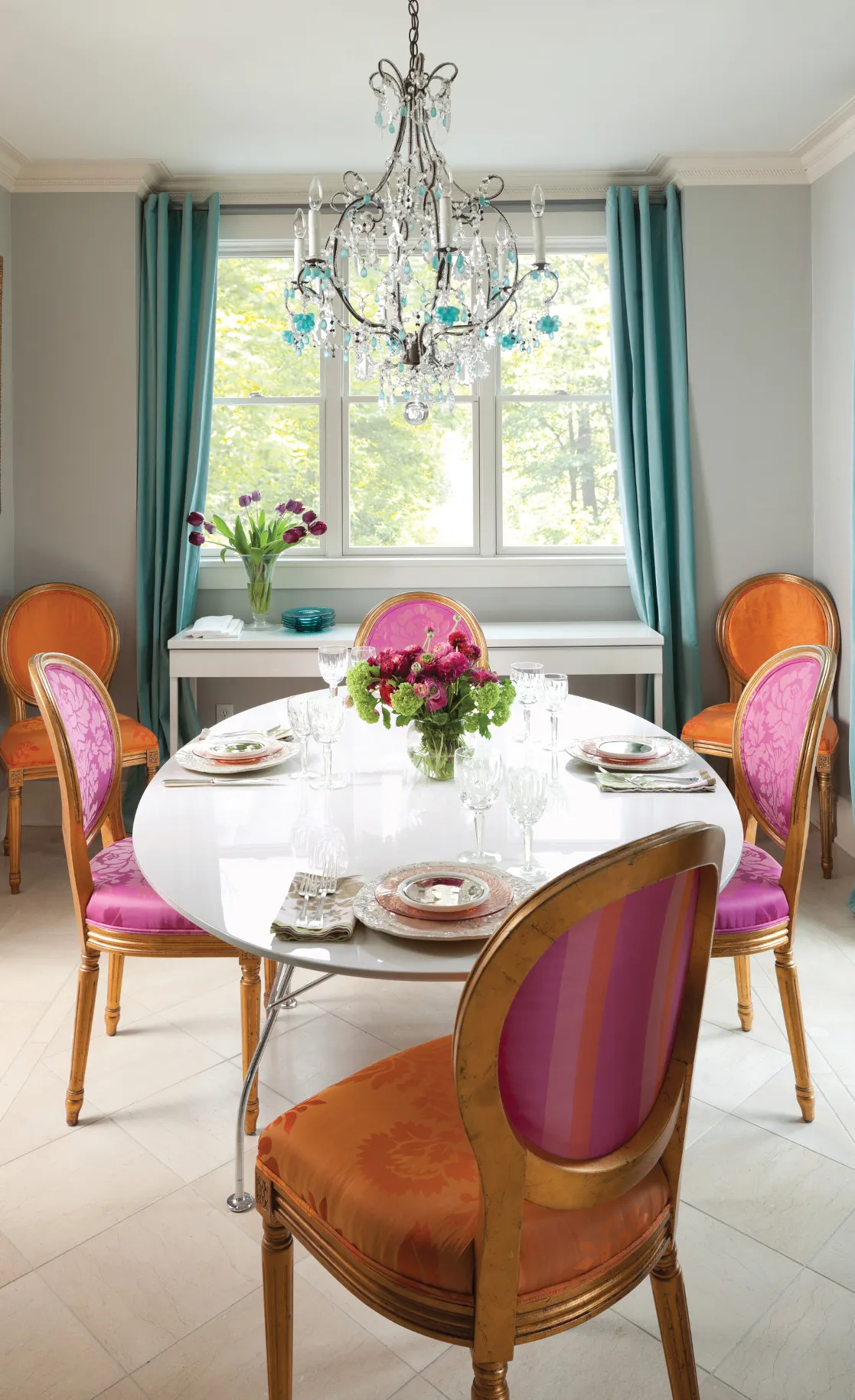 Vibrant upholstered chairs pair beautifully with an elegant, durable dining table crafted from White Cliff.
As you shop for dining chairs, look for comfortable upholstery your guests won't mind lingering in—and make sure they'll fit under the table. "Check the depth of the skirt on the table and the height of the arms if the chair has them," advises Kaiser. Also, choose a rug that's at least three feet wider than the table all around, so the chair legs won't get caught on the edge of the rug as guests pull back.
Be Storage Smart
Storage is a sometimes-forgotten but truly essential ingredient. "I don't favor big glass breakfronts, because the more display space you have, the more you tend to store there, and it just looks distracting," says Khachi. Instead, he says, plan mostly closed storage—hiding cabinets behind wall panels is a favorite storage tactic of his—and provide some open space, like on top of a console, so you can easily serve buffets. "Including a bar in the room is really convenient," says Kaiser. "Some dining rooms have bay windows, and that's a perfect place for a freestanding bar cart," says Khachi.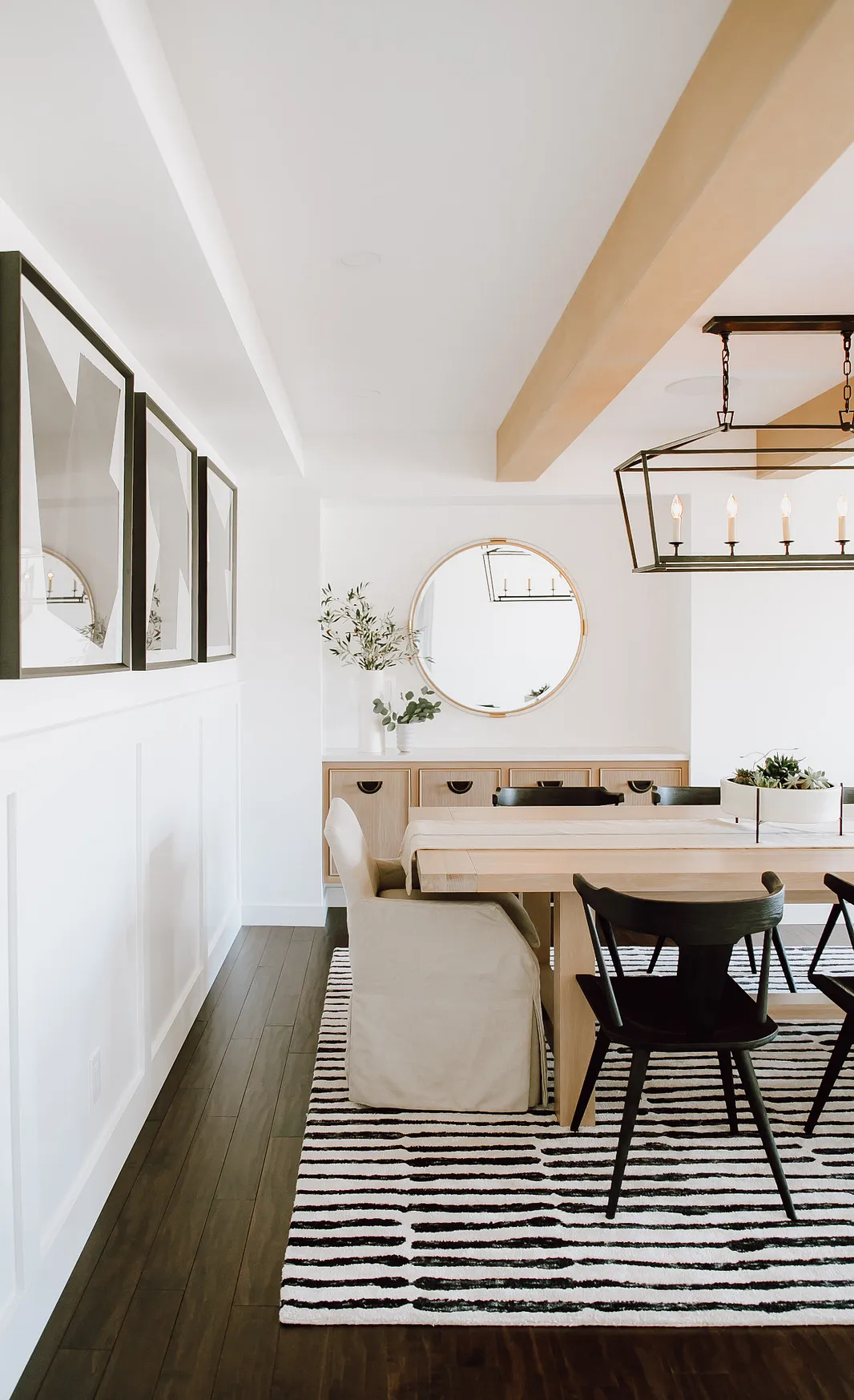 Spend Wisely on your Dining Room
Make some smart dining room decisions with these tips:
· It doesn't have to be a "room"
You can create a refined and welcoming dining space in a great room or open kitchen layout. See a beautiful great room in this home tour from Jaclyn Peters Design and this spotlight on Brittanicca countertops.
· Pick premium paint
A high-quality paint will give you better color, coverage, and longevity than a bargain brand. Find paint colors to complement every Cambria design with this Paint Match Tool and explore paint ideas on our Perfect Pairings Pinterest Board.
· Add moldings
Wall or ceiling moldings can add a high-end look at a budget-friendly price.
Adding Atmosphere
Perhaps more than any other room in the house, the dining room is, as Khachi puts it, "an opportunity to serve up an experience." As such, it's important to consider everything from the upholstery materials to the window treatments to the wall colors with an eye to the kind of atmosphere they'll create.
Lighting is one of the most important factors in the ambiance equation, say the designers. Khachi suggests creating layers of light with a mix of recessed ceiling fixtures, chandeliers, and wall sconces, all on dimmers so you can raise and lower the levels according to the occasion. When choosing a chandelier, use the size of the table as a guide. "There should be about 10 to 12 inches from the sides of the chandelier to the edges of the table," says Wick. "If you have a really long table, it can look better to use two or three smaller fixtures instead of one big one."
And finally, don't forget the soundtrack. "Music is so important for entertaining," says Khachi. "Integrated speakers come in a number of styles—some are actually invisible, others are as small as two inches by three inches—so it's very simple to work a sound system into any design."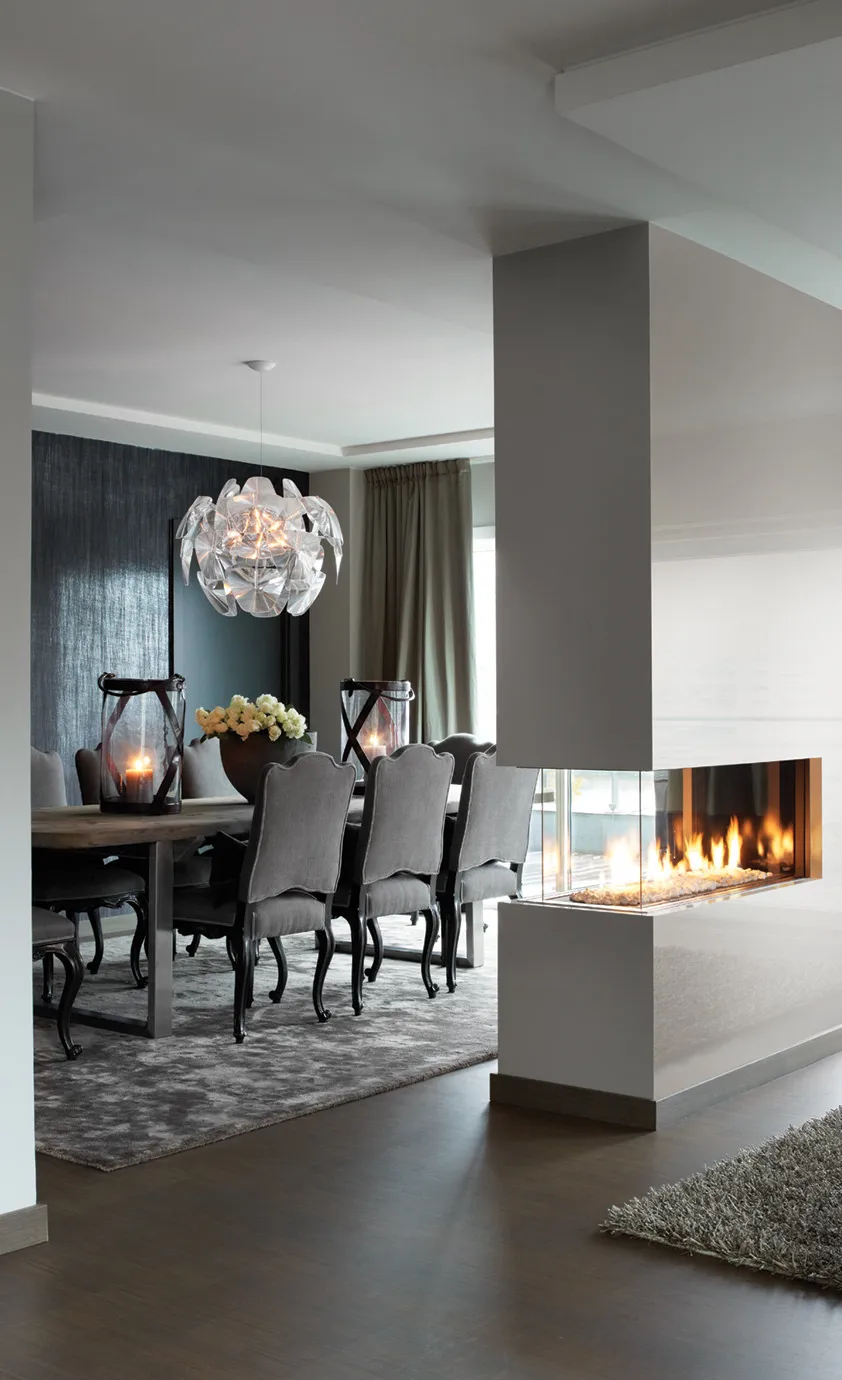 A Dunmore™ fireplace and sculptural chandelier add ambiance to this dining room that blends traditional and contemporary styles.