Designed for Wellness
Sleek, modern lines and a mix of materials chosen for their calming style, easy maintenance, and sustainability create a space that enhances the well-being of its inhabitants
Written by DIANE CONRAD
Photography by AMY BARTLAM
Planning the kitchen of a showcase home with a wellness theme was right up Laura Muller's alley. The principal of Los Angeles–based FOUR POINT DESIGN BUILD makes her clients' wellness the foundation of every project. "We all need spaces that make us feel good physically, emotionally, mentally," she says. "In this kitchen we worked very hard to tick all those boxes through design."
Job number one was creating a layout that made the most of this kitchen's fairly compact footprint. That involved stealing some space from an adjoining garage and moving a wall—but perhaps even more important were the cabinet choices. You'll notice there are no upper cabinets, a decision that might seem counterintuitive given the limited square footage, but one that was absolutely intentional.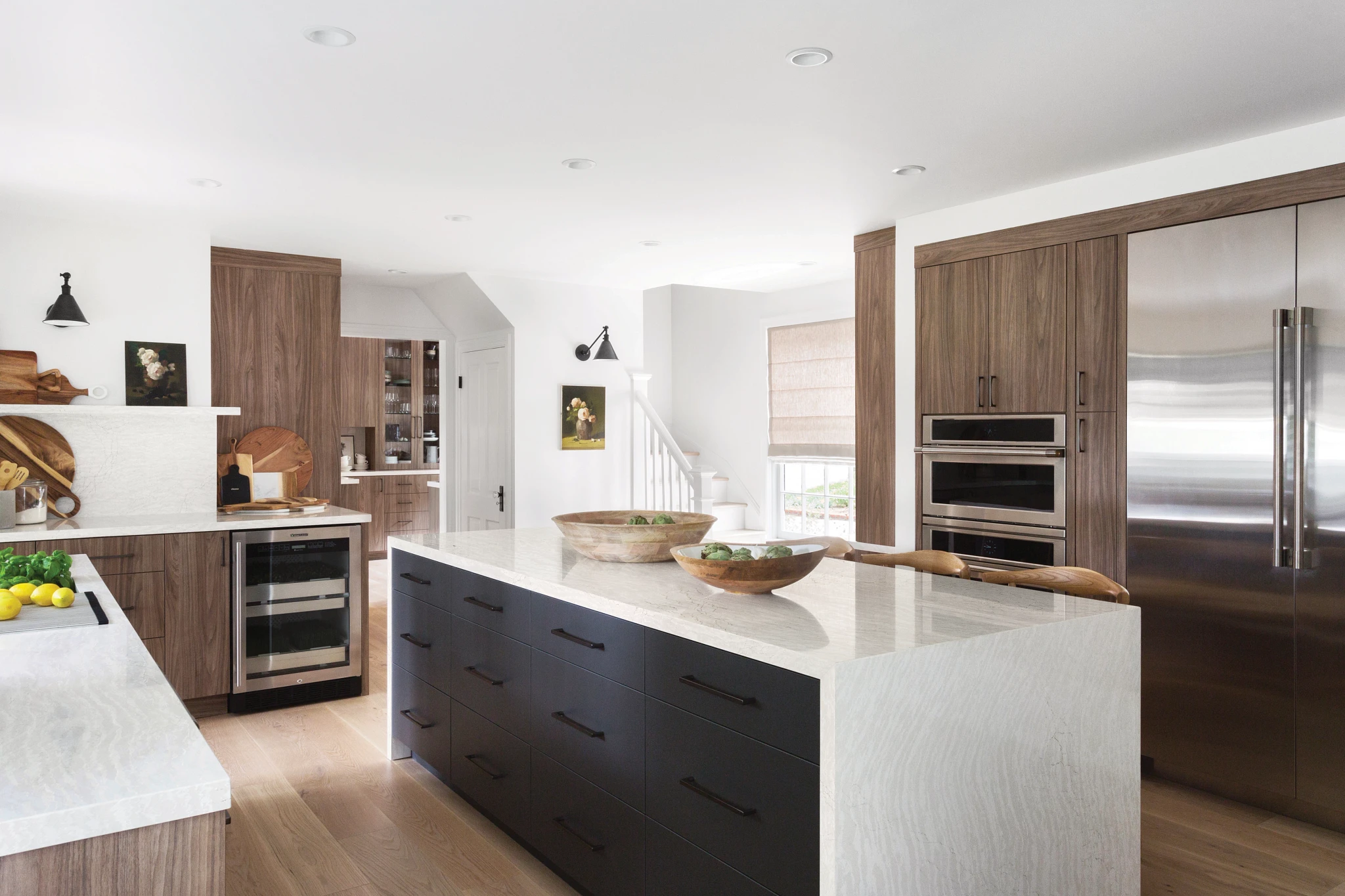 Cambria Delgatie waterfall edges on the island look modern and dramatic but also offer peace of mind for homeowners, standing up to wear and tear better than a wood surface.
"It can be hard to even imagine a kitchen without upper cabinets, but eliminating them creates clear sight lines across the room, for a more open experience that's very soothing," says Muller. "And people of all heights and mobility can usually access drawers and lower cabinets more easily." To ensure plenty of stowaway space, the designer lined an entire wall with floor-to-ceiling pantry cabinets and packed more storage into the island and perimeter base cabinets.
Next, Muller outfitted the space with materials chosen with a number of criteria in mind. Of course, they had to be beautiful. They also had to be easy to clean and super durable, attributes the designer believes help remove day-to-day stress and long-term anxiety. She says, "If you're not worrying about keeping something clean, or about keeping your kids or pets from destroying something, you can relax and enjoy your life a lot more—and that's one of the keys to wellness." The final wellness ingredient was a commitment to sustainability, wherever possible choosing products with recycled material and always selecting products manufactured with responsible practices, making Cambria's DELGATIE, Cleaf walnut cabinets, and Lauzon Canadian oak flooring thoughtful, functional, and beautiful choices.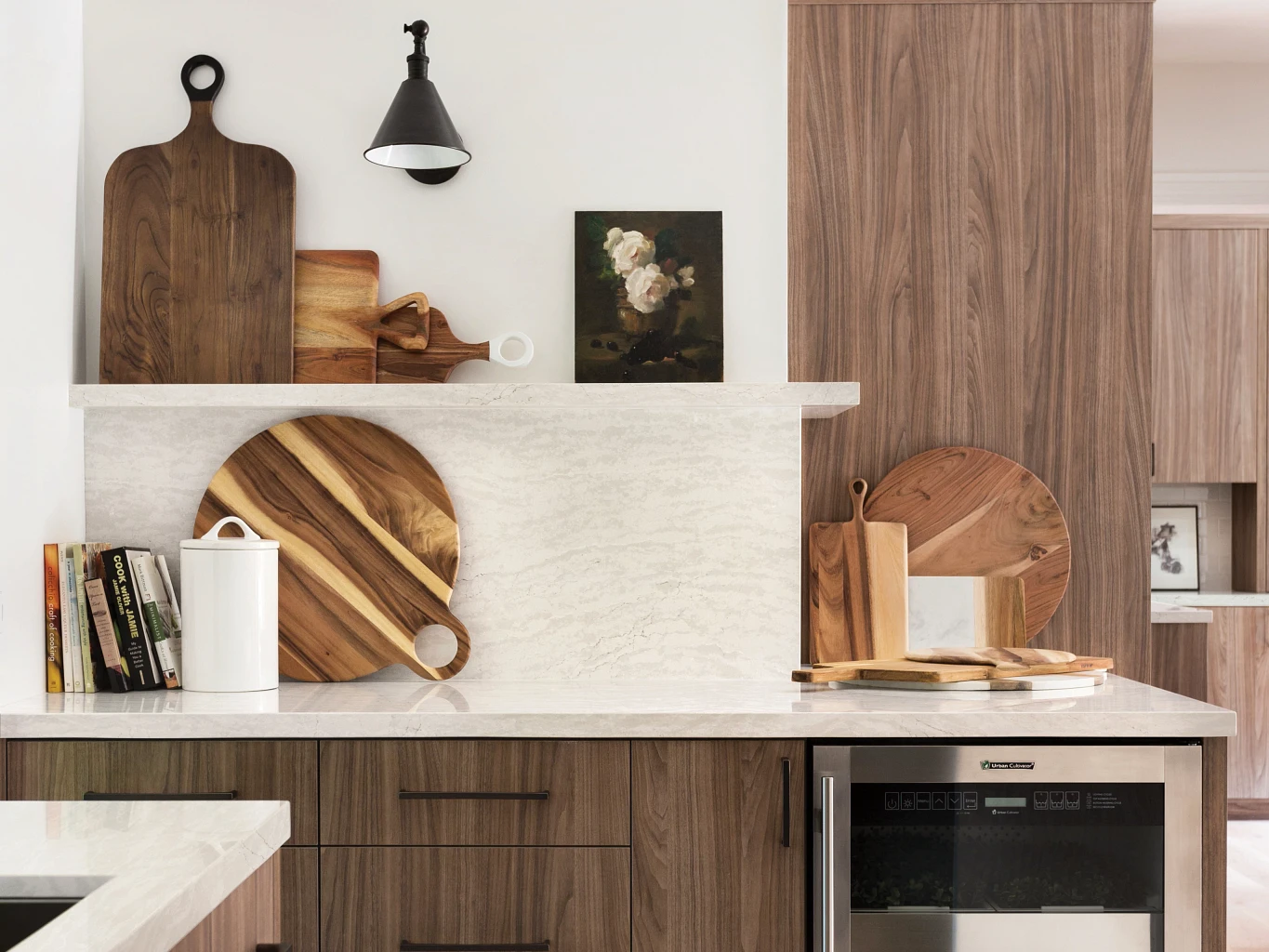 Deep banks of drawers lend plenty of under-counter storage. Cambria Delgatie extends from the counters to the walls and even the shelving, for a sleek, seamless look.
Muller's attention extended to details users might not even notice, at least not consciously. All selected materials have matte finishes that are smooth to the touch, a soothing accommodation for people with high-touch sensitivity. There are no pendant lights over the island, allowing for easy sightlines for people of all heights. (According to the designer, tall people often end up looking right into a bare bulb, or having their view blocked by a fixture.) The aisles between the island and perimeter elements are wide, to allow for better traffic flow and to accommodate wheelchair access. Even the cooktop was chosen with special care: an induction model that offers fast performance but stays cool to the touch, except when cookware is in place during use, making it safer than regular electric or gas models.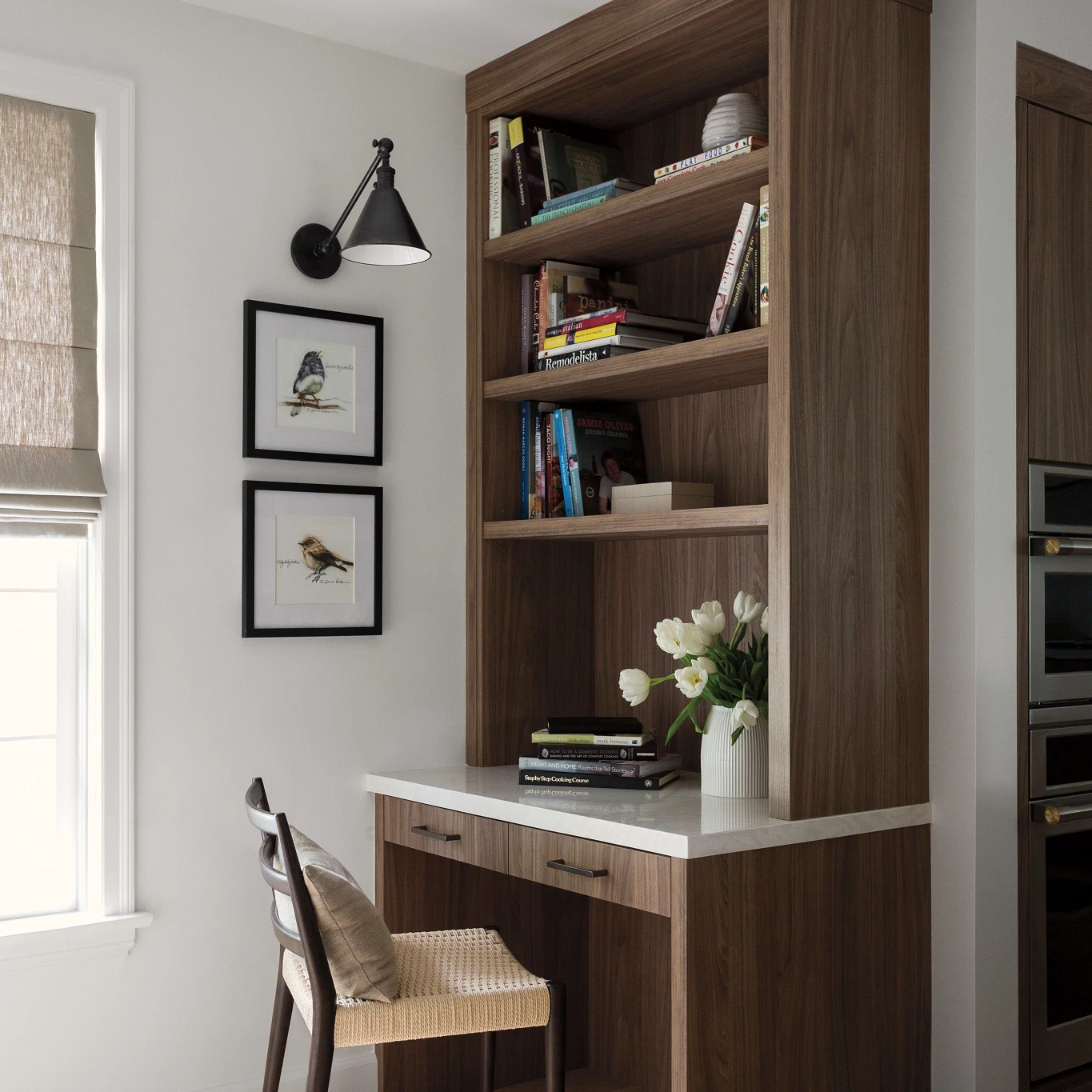 A small desk is just the right size for a laptop—a convenience for busy, professional, multigenerational families. Cambria design shown: Delgatie
At every turn Muller also created special, delightful "moments," because she believes happiness is a very important element of wellness. A built-in pizza oven is a foodie's dream, and also a great way to create family closeness with a shared activity; a floating shelf fabricated from Cambria Delgatie displays favorite accents; in the butler's pantry, a coffee station and wine fridge make relaxation rituals easy. The overall result is a space that looks like a contemporary luxury kitchen—and it is—but it's also one that works behind the scenes to support the health and well-being of those who enjoy its amenities.