Design Spotlight: Swanbridge White Quartz Countertops in Spaces to Swoon Over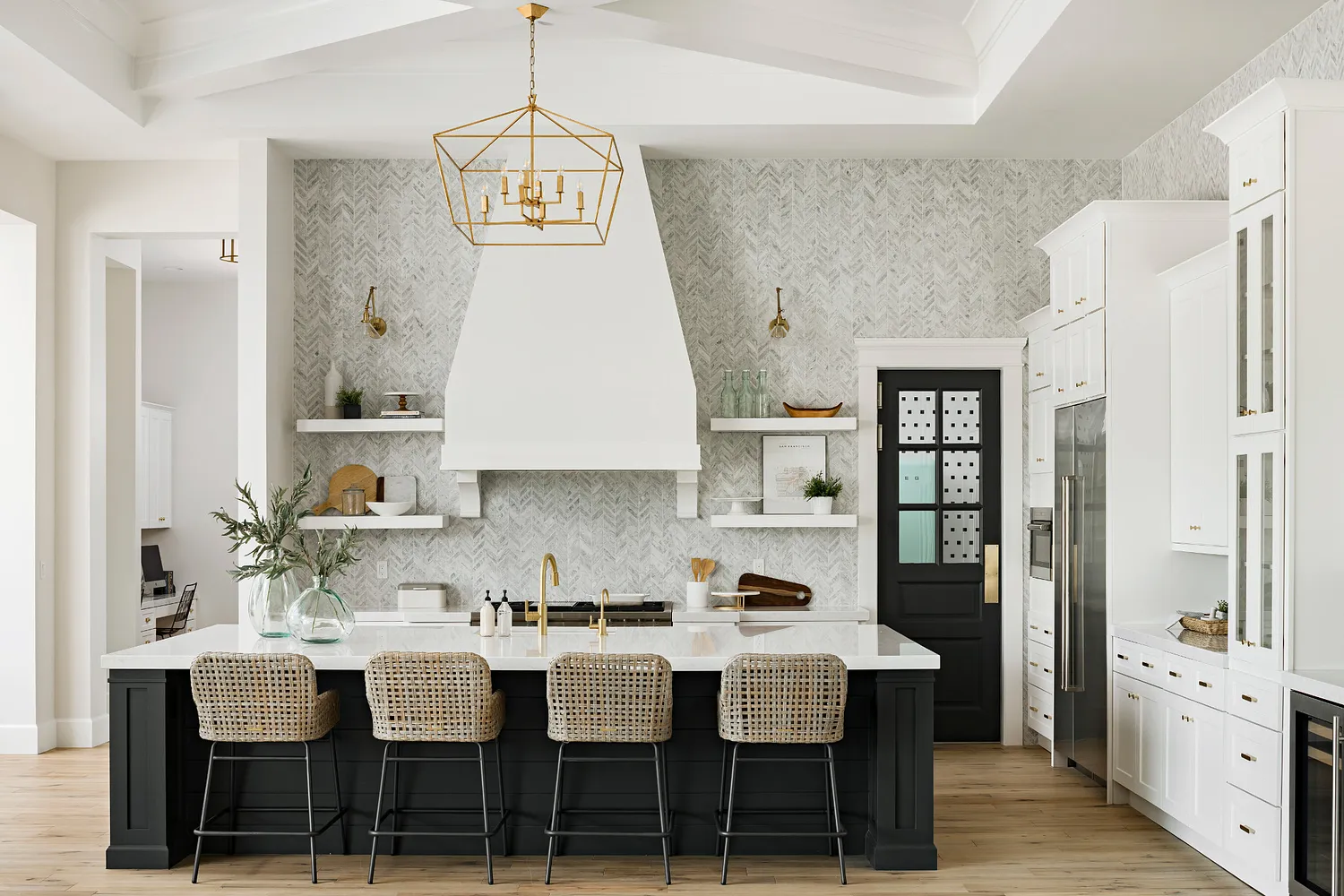 Have your sights set on Swanbridge? This sought-after Cambria design features a marbled background with light grays and pinpoints of charcoal that work seamlessly within any interior décor scheme or aesthetic, offering unparalleled versatility.
"Our clients not only love this product, but our social media followers do as well," said Brad Leavitt, president of Scottsdale, Arizona-based custom home builder and commercial contractor AFT Construction. "We have been called the Swanbridge King because so many of our customers love the product. It really is a strong statement and great color."
Known for its talented team of designers, architects, project managers, construction staff, and support personnel, AFT Construction aims to build high quality projects that exceed the expectations of their clients. They understand that what they build or renovate is more than just a home, it is a one-of-a-kind creation meant to fulfill the unique requirements of your family and the life you lead.
Longtime supporters of Cambria, AFT even has its own Cambria showroom in Scottsdale where they prominently feature the Swanbridge design, often highlighting its subtle marble-like tonality.
Here, we have curated 10 swoonworthy spaces by AFT Construction—from kitchens and bathrooms to pantries and office nooks—that prove why Swanbridge is the industry's secret to a home as beautiful as it is functional.
Cambria Swanbridge™ design detail.
1. Black & White Kitchen
A matte black island base contrasts with a high gloss Swanbridge countertop for a perfect execution of a black-and-white kitchen palette in this sophisticated space.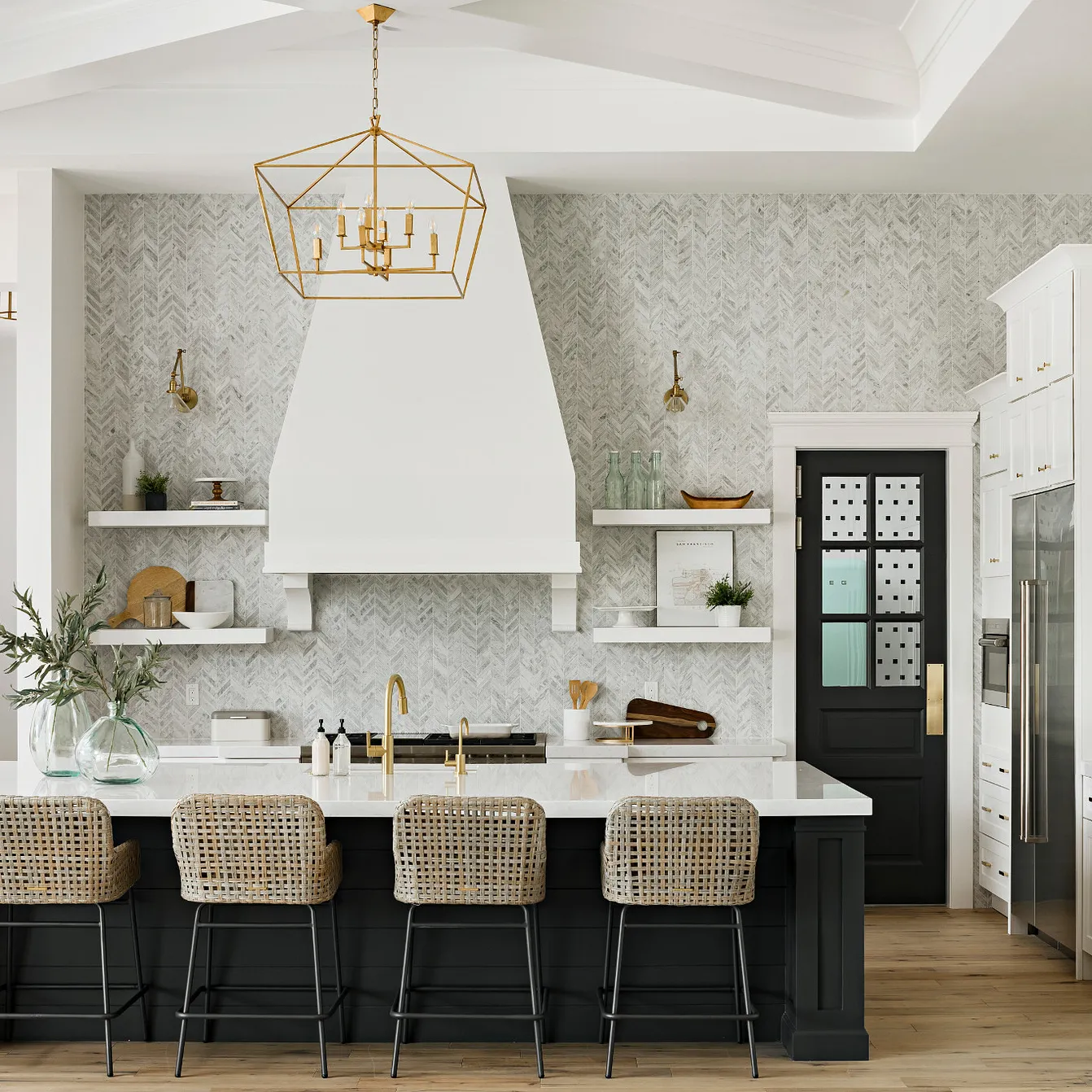 Swanbridge countertops in a black-and-white kitchen.
E. Interiors warmed up the high-contrast island with plenty of texture, as seen in the collection of rattan stools, sprigs of greenery, and wooden cooking tools, all of which blend easily with Swanbridge's marble-like tonality.
See more dreamy kitchen islands here.
2. Striking Master Bathroom
The marbled background of Cambria's Swanbridge design lets the details of this striking master bathroom do the heavy lifting.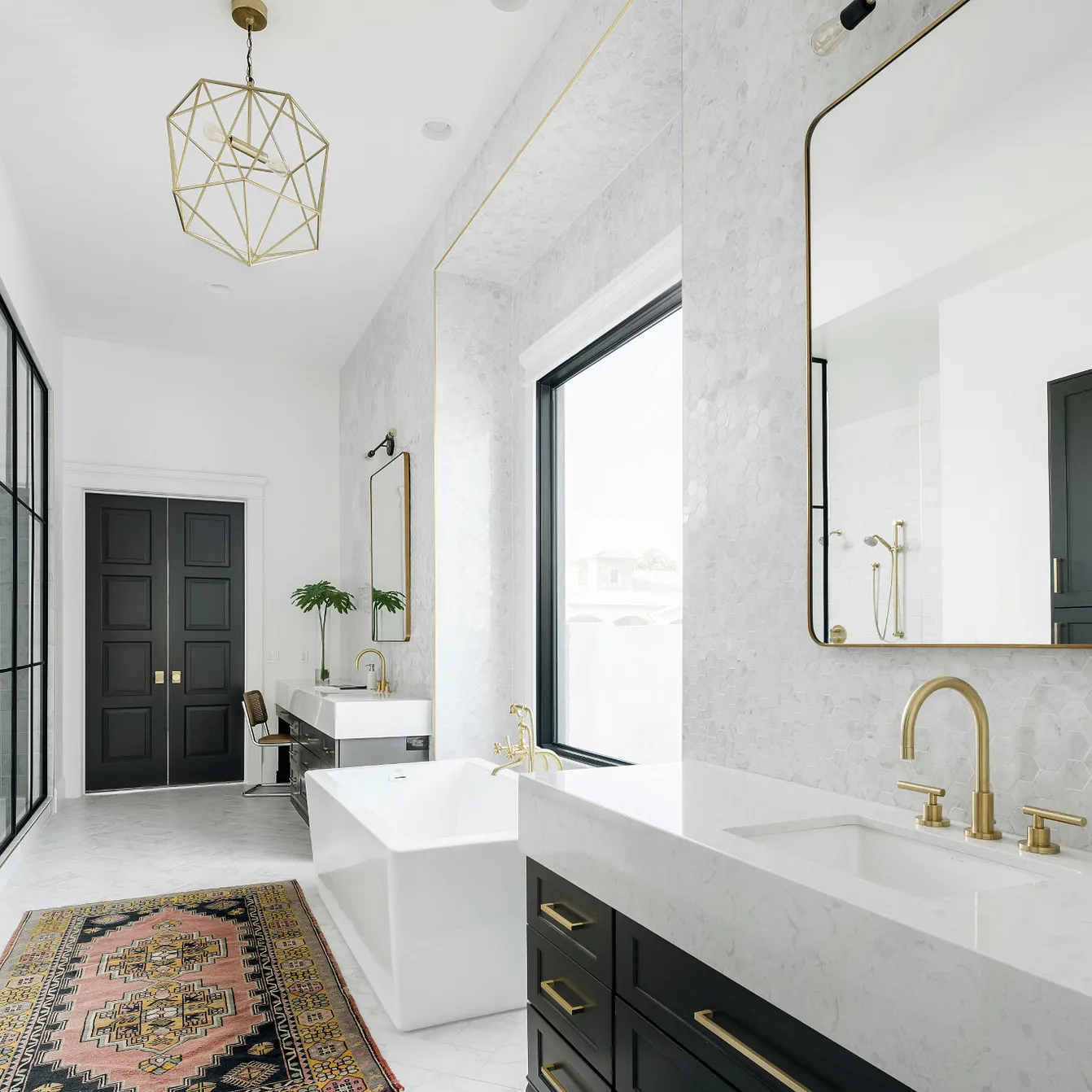 A striking master bathroom with a Swanbridge vanity.
Black and gold accents—in the cabinetry, trim, and fixtures—add contrast and pair well with versatile Swanbridge, while a patterned Moroccan rug lends a playful touch to the abundance of stone.
See more beautiful bathroom vanity ideas here.
3. Glam Closet
Swanbridge, well, swans across the island in this dreamy walk-in closet design, leading to a seated vanity at the end that's set for finishing touches while getting ready for the day. With a mix of bright clothing colors and styles, Swanbridge's subtle tonality grounds the space.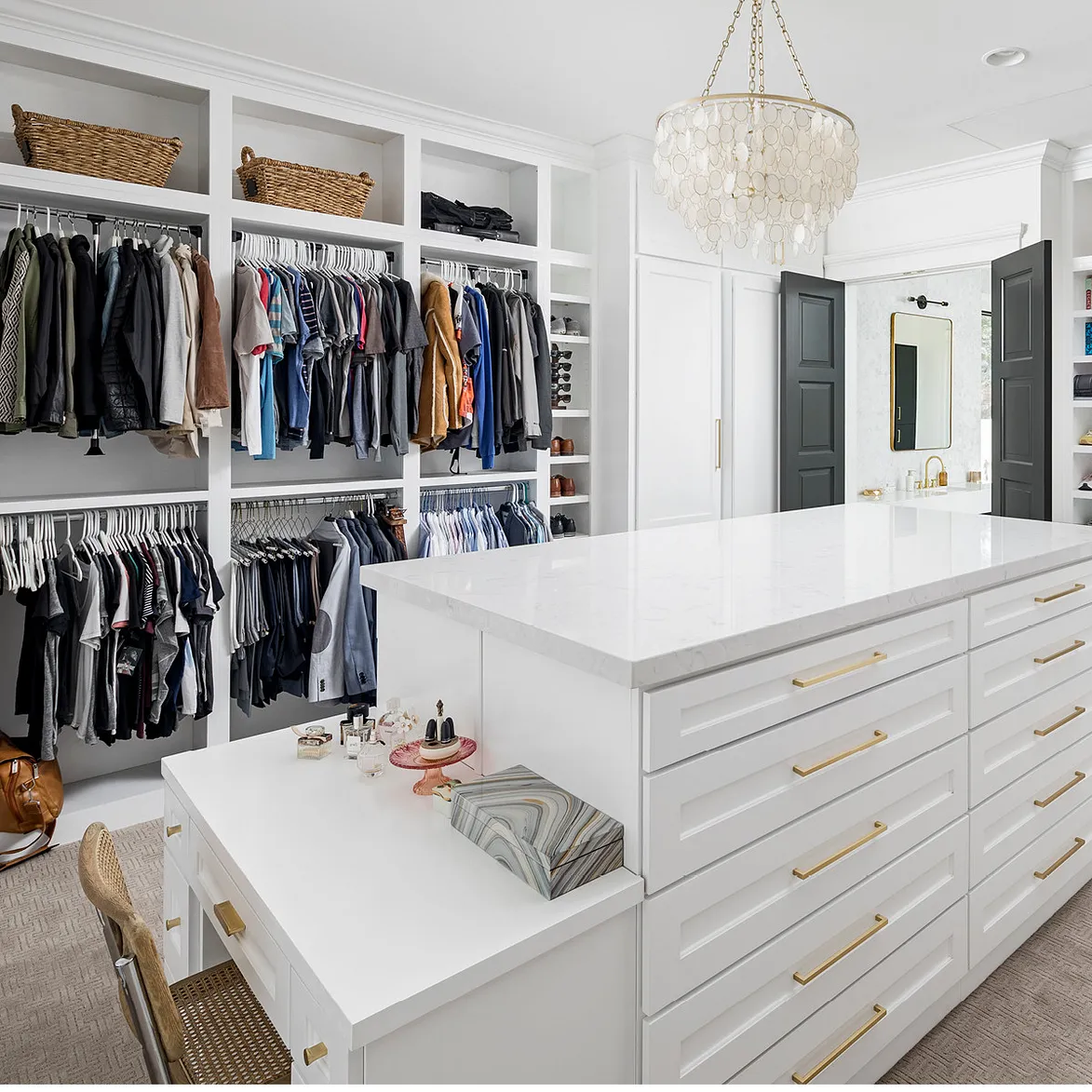 Swanbridge on a closet island.
Check out another dream closet here.
4. Bright White Kitchen
Leavitt and the AFT Construction team stuck to a palette of white in this dreamy kitchen design. Details like a shiplap accent wall, a contrasting trim on the hood, warm hardwood flooring, and pops of greenery create dimension in the otherwise monochromatic space.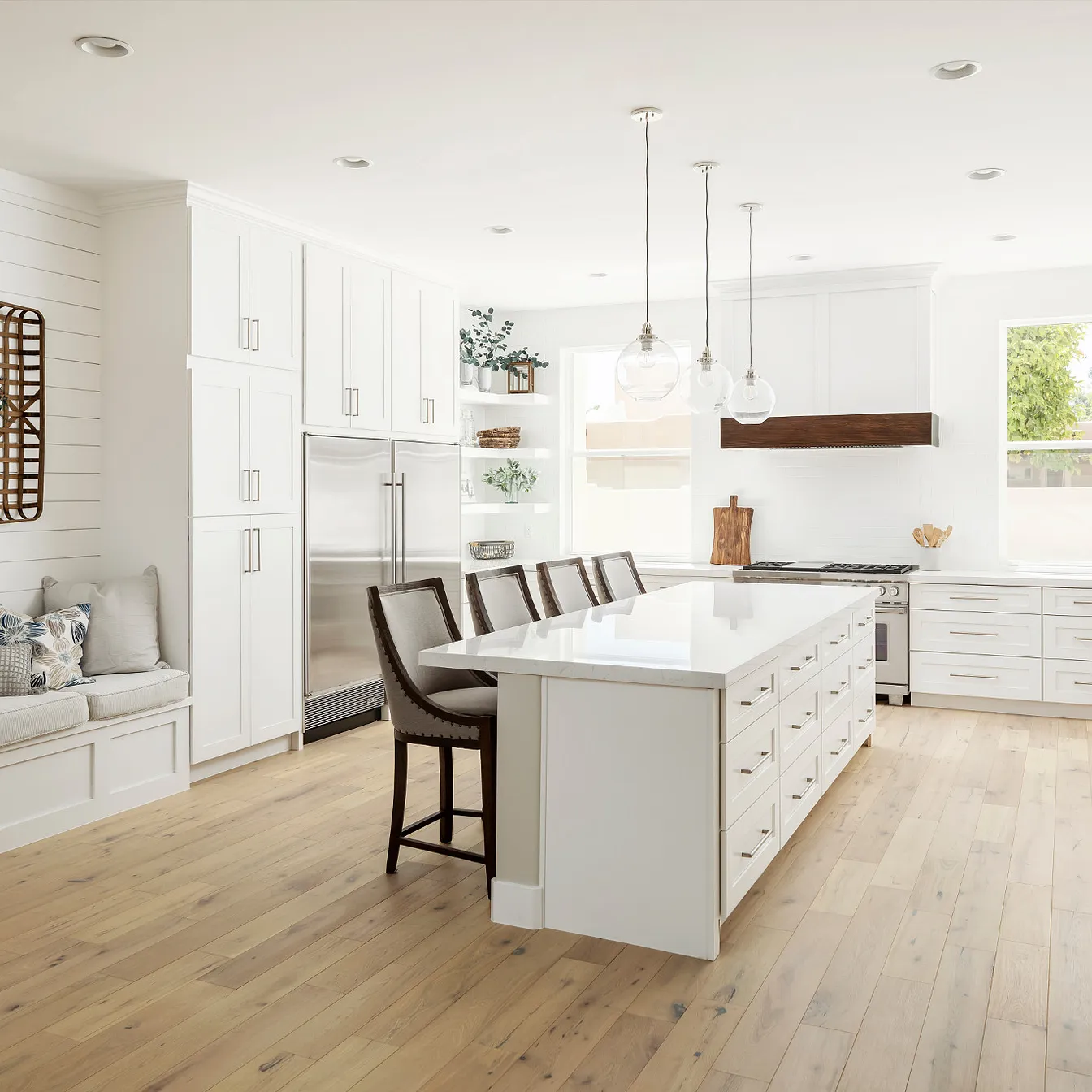 A dreamy white kitchen with Swanbridge countertops.
"A lot of our designers and customers love to keep a consistent countertop but vary in other selections," said Leavitt, whose team offers creative design assistance and value engineering alternatives that ensure a high quality, cost effective home renovation.
5. Contemporary Bathroom
The thickly slabbed Cambria Swanbridge countertop in this contemporary bathroom plays well with the curved lines of the contrasting black mirror and sconce. Black and gold elements—in the fixtures, hardware and accessories—pull out the movement in the quartz stone.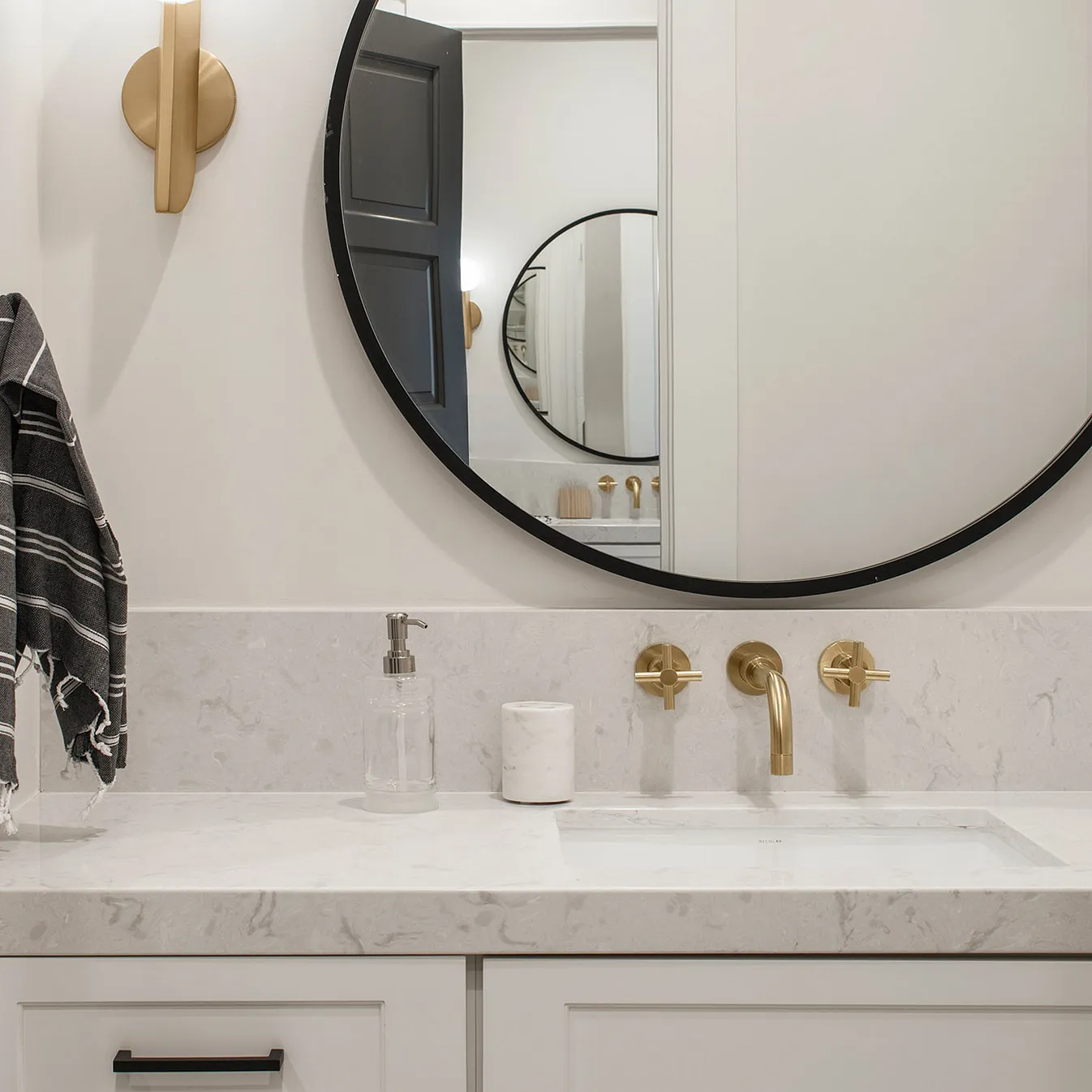 A Swanbridge vanity complements this contemporary bathroom.
"Swanbridge is such a great selection because it really accentuates the space but does not dominate," said Leavitt. "It gives a soft look to the design and has such great color."
6. Bold Laundry Room
This lovely laundry room space features Swanbridge countertops, hunter green cabinetry, and lush floral wallpaper. The large-scale florals in muted tones offer just the right amount of bold, paired with a pristine white countertop with subtle gray marble movement. We love dark green cabinets for kitchens, and the hue feels just as fresh and inviting here.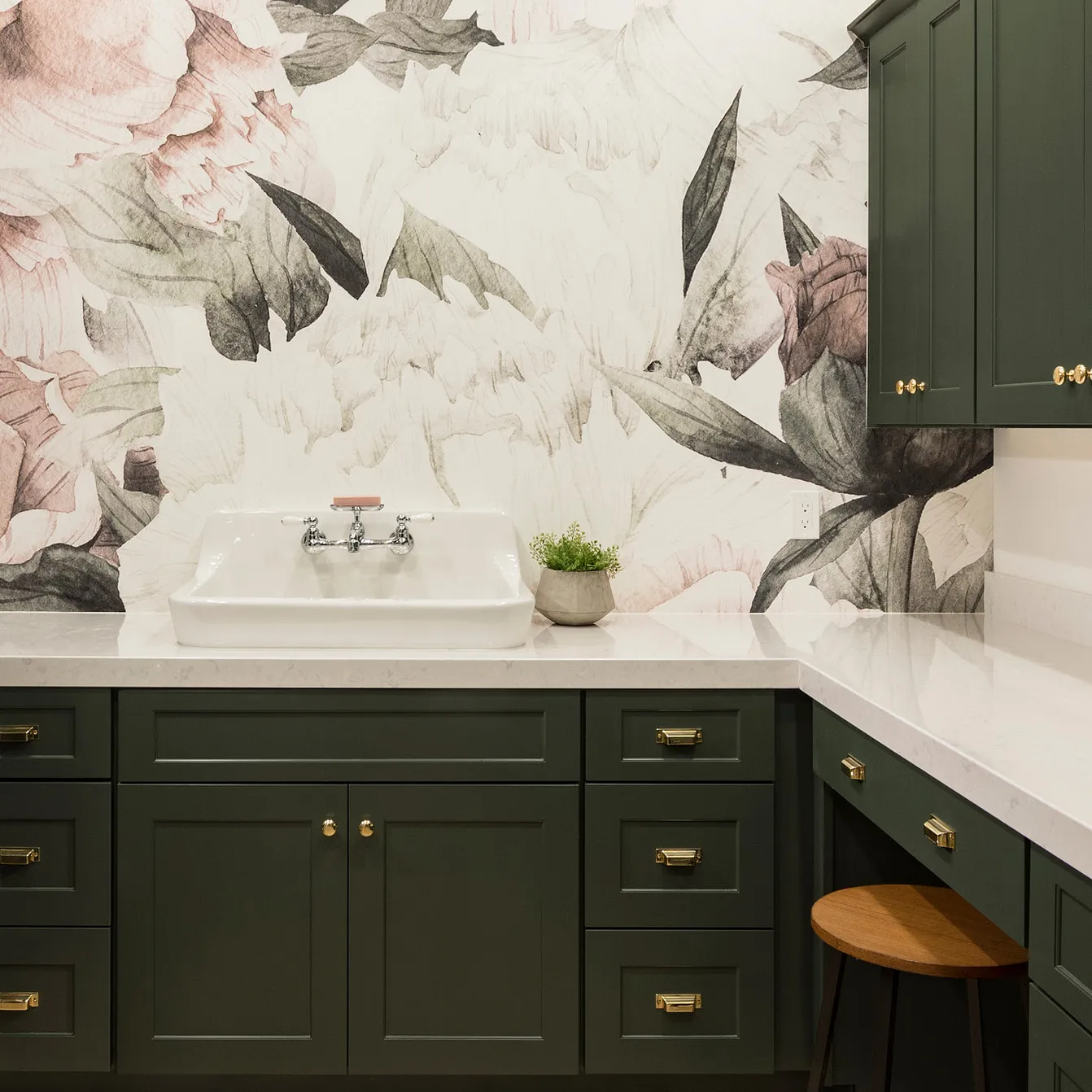 Swanbridge countertops highlight the bold elements of this laundry room.
"Swanbridge has such a wonderful consistency and works great with so many cabinet colors," said Leavitt. "We have used it with black, charcoal, green and white. The color palette of Swanbridge is so versatile."
Looking for more laundry room inspiration? Check out these designs that range from lavish to low-key.
7. Stylish Pantry
A small space like the kitchen pantry offers a unique opportunity to be bold and playful, as seen here with a retro-inspired mint green Smeg fridge, geometric black and white polka dot wallpaper, and gold hardware, all of which shines against a backdrop of Swanbridge countertops.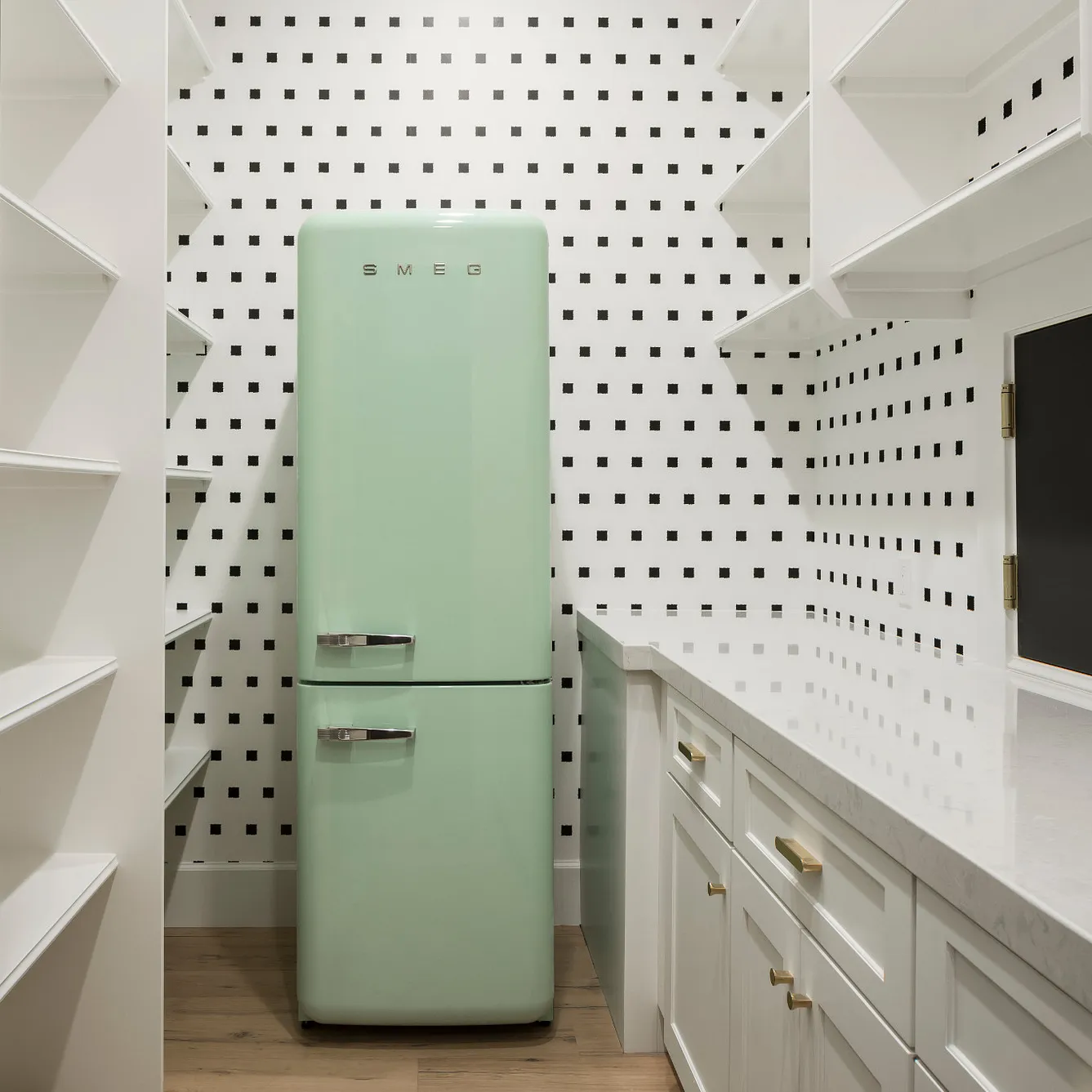 A stylish pantry shines with Swanbridge countertops.
"This is one of the main reasons we love Cambria," said Leavitt. "There are so many selections and options. They really are endless and give us so much variety in our projects. There is always an option for each and every style or aesthetic."
8. Mixed Metals Kitchen
This beloved two-tone Phoenix, Arizona kitchen is the epitome of duality, featuring perimeter cabinets in white with a contrasting black island to add character alongside stainless steel appliances mixed with brass lighting, hardware, and fixtures.
A two-tone kitchen with Swanbridge countertops.
To help the client upgrade the home, A Finer Touch transformed the existing kitchen by installing a new island and cabinetry as well as new countertops in Swanbridge, decorative light fixtures, and a counter-to-ceiling marble backsplash.
Learn more about the project here.
9. Farmhouse Bathroom
Clean lines and rich texture take center stage in this elevated farmhouse bathroom. White shiplap offers crisp contrast to mosaic floor tiles, while a Swanbridge vanity top lends subtle marble-like movement.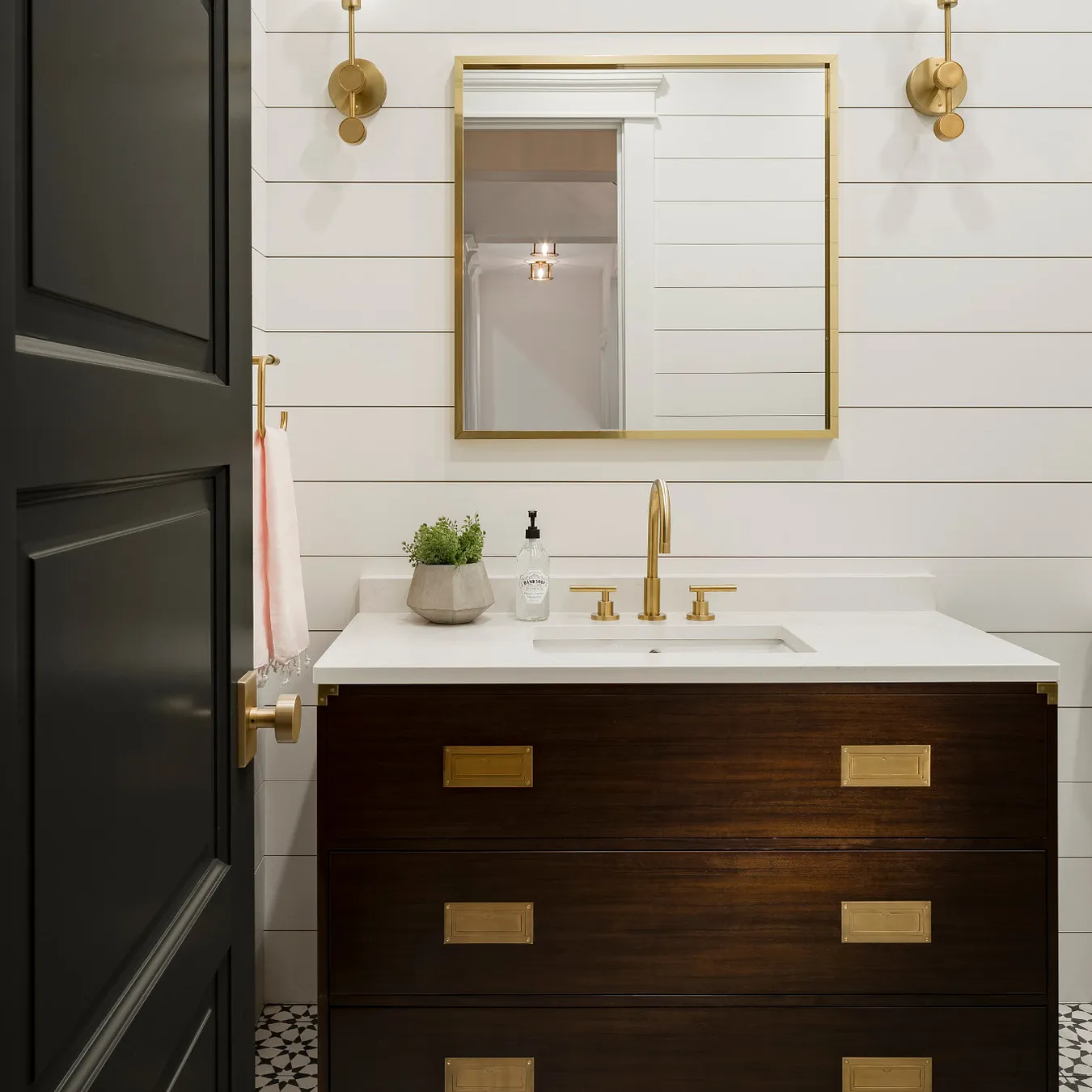 A Swanbridge vanity offers subtle marble-like movement in this farmhouse bathroom.
Statement pulls, dark wood cabinetry, and sleek brass accents complete the rustic-glam powder room that shines thanks to the Swanbridge backdrop.
See more pattern play in the bathroom here.
10. Cozy Office Nook
Working from never looked so chic as in this stylish office nook, featuring Cambria Swanbridge countertops, warm white cabinetry and walls, richly hued hardwood flooring and rose gold hardware and fixtures.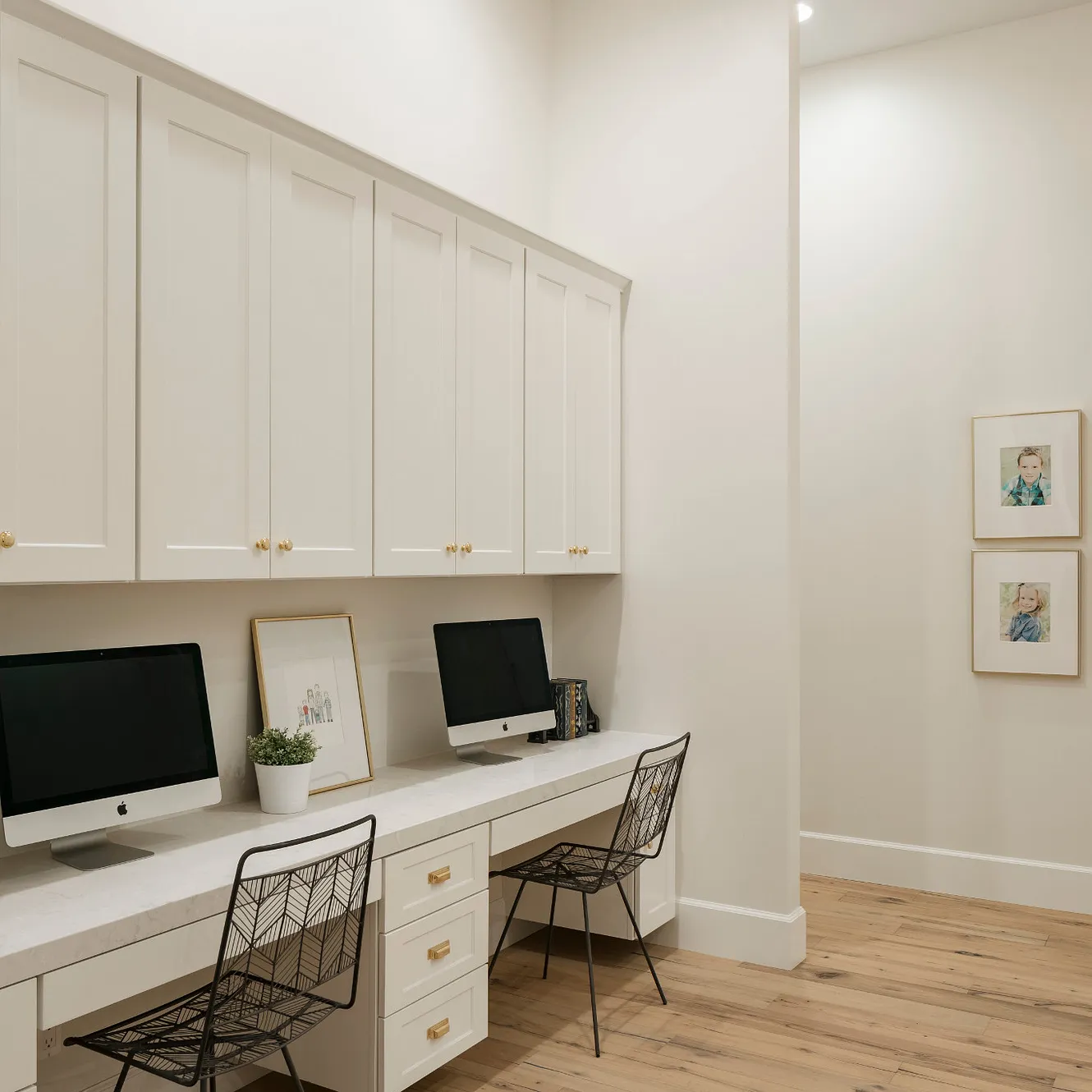 A stylish office nook with durable Swanbridge countertops.
The result? A space beautiful enough to inspire without being a distraction from the task at hand.
If you are interested in upgrading your home office, take a peek at these home workspaces that work for any design or budget.
Get the Look
Follow Cambria on social media with #MyCambria for more standout designs.
For more information on Cambria, including performance data, product specifications, and certifications, see our Professional Resources.
Interested in creating a show-stopping design project with Cambria? Order a sample, find a dealer, schedule a virtual consultation with a Cambria expert, or call 1-866-CAMBRIA (1-866-226-2742) to be connected with a market representative in your region.
Want to see more from Brad at AFT Construction? Check out his showroom tour and social media tips for your business below.