Design Spotlight: Captivating Carrick Interiors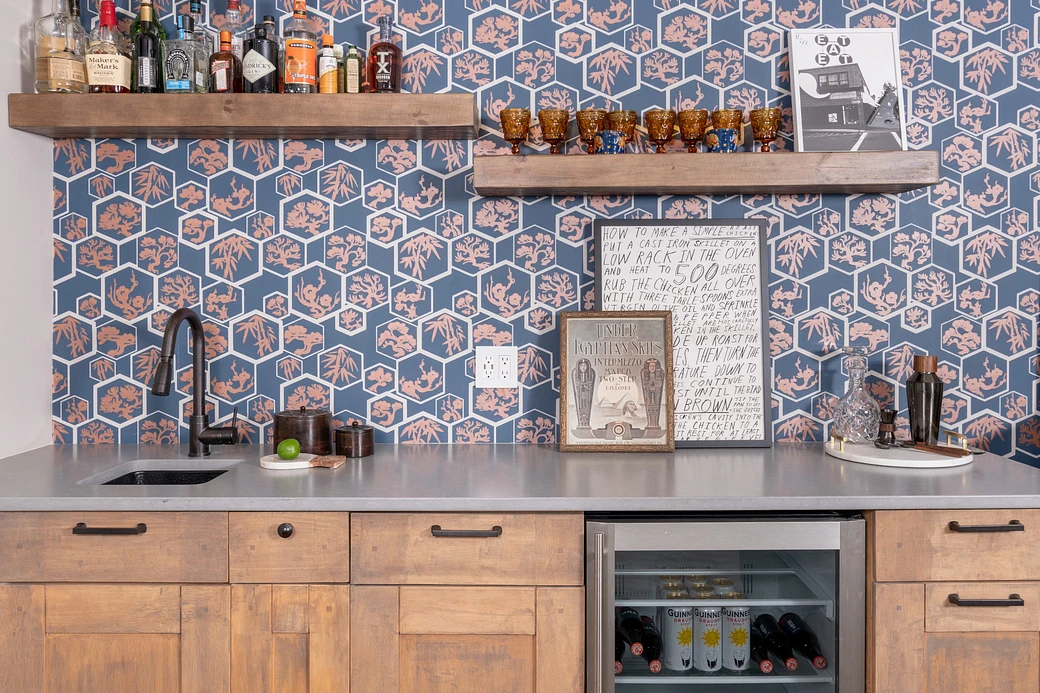 Captivated by Carrick? This sought-after Cambria design presents a modern spin on smooth concrete, featuring swirling shades of gray and soft charcoal specks that combine to create an intriguing pattern with a stylish and contemporary composition.
Often used as a concrete alternative, Carrick provides the best of both worlds with a design that is just as beautiful as it is easy to love—and care for. And, with its neutral color palette, Carrick adds an industrial and modern feel to any space. The Cambria Matte™ low-sheen finish perfectly completes the aesthetic.
"We are continuing to see demand for concrete looks and alternatives that provide high performance," said Summer Kath, EVP of Design at Cambria. "The industrial design look is changing, refining, elevating, but it's not going away. It's becoming more eclectic, living in the same room with other themes and styles."
Unlike concrete and other surface choices, Cambria does not require sealing or polishing, and cleaning it is as simple as warm water and a soft cloth. Even mild soap is optional. And whereas concrete is very porous and conducive to staining, Cambria is nonabsorbent, so spills do not become stains and it will not draw in moisture that can harbor harmful bacteria.
Concrete can also be difficult to install, has to be maintained regularly, and can stain. With Cambria, you never have to worry about maintenance, staining, or performance. Cambria is always professionally installed, warranty protected, and maintenance free.
As Kath mentioned, the industrial design look is refining and elevating. With Carrick, it becomes more eclectic, living in the same room with other themes and styles. Here, a few of our favorite Carrick interiors to inspire your next design.
Quartz Fireplace in Kohler, Wisconsin
When industry expert Jamie Van Dixhorn and her husband Dave found the country home of their dreams in Kohler, Wisconsin, they turned to Cambria for help translating their urban modernist design dreams.
"One of the things we were struggling with most was the fireplace," explained Van Dixhorn. "The folks at Cambria recommended an interesting application of wrapping it in a solid surface. We went through quite a bit of engineering to suspend it from the ceiling. It gets a lot of attention and is really beautiful whether on or off."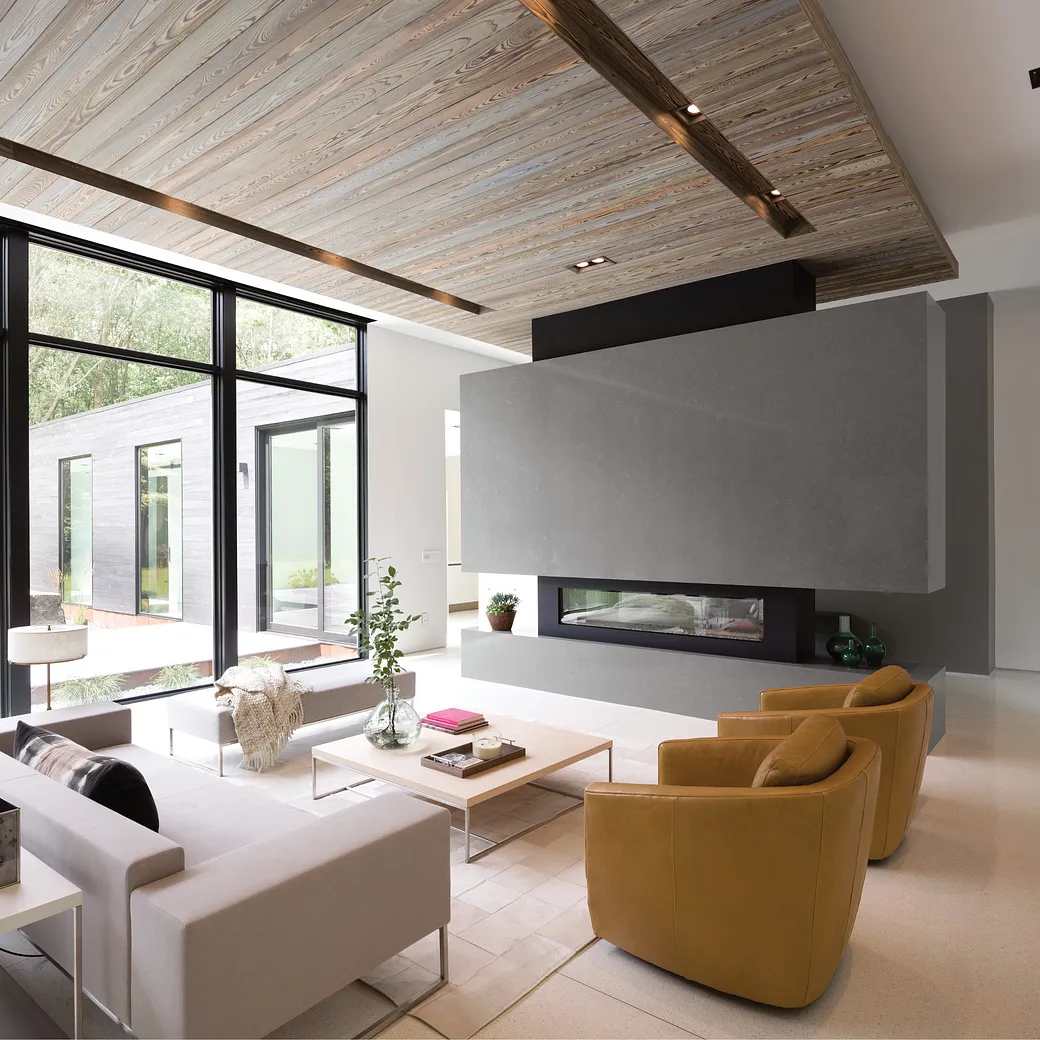 This oversize Carrick fireplace became the focal point in the couple's living space.
Custom Waterfall Dining Experience
This Toronto kitchen features a standout Carrick waterfall island at an eat-in level for gathering and entertaining. The neutral gray hues let the warm wood tones throughout the space shine, and the nonabsorbent quartz finish makes the stone perfect for a kitchen design.
A Cambria Carrick island amplifies the contemporary design elements—like architectural seating and white-washed wood—in this gorgeous kitchen.
Kitchen Island by Anderson Homes
This transitional kitchen by Anderson Homes embraces bold color with a blue and gray island featuring Carrick Matte countertops. A subdued white perimeter with Swanbridge Matte countertops keeps the island as the focal point in the space.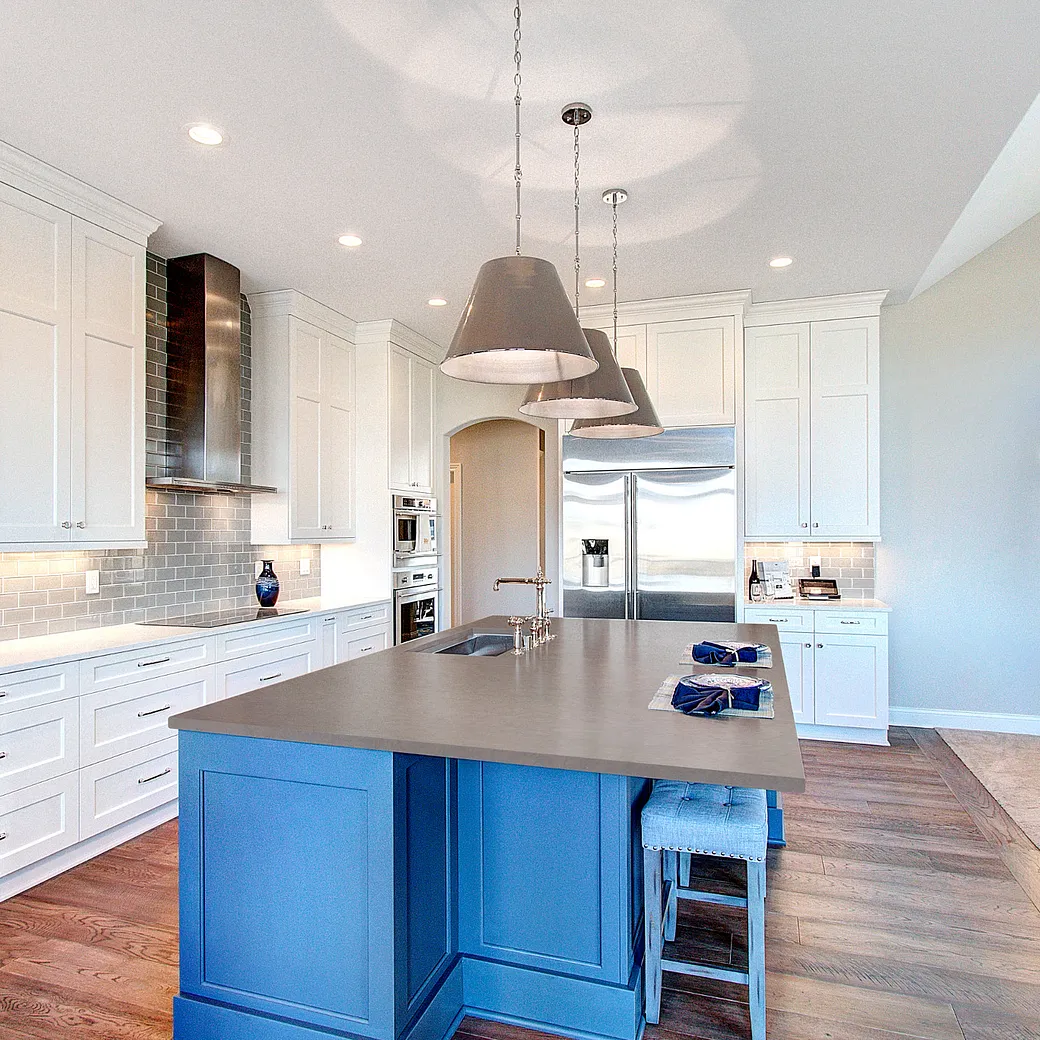 Gray quartz countertops are perfect for transitional kitchens, which blend traditional and contemporary elements.
University of Colorado Wellness Center
The Lola and Rob Salazar Student Wellness Center at the University of Colorado–Denver features a sleek and contemporary Carrick reception desk that echoes the angular, gray graphics on the climbing wall. It's only fitting, of course, that a university rec center with a climbing wall would select a stone surface stronger than granite.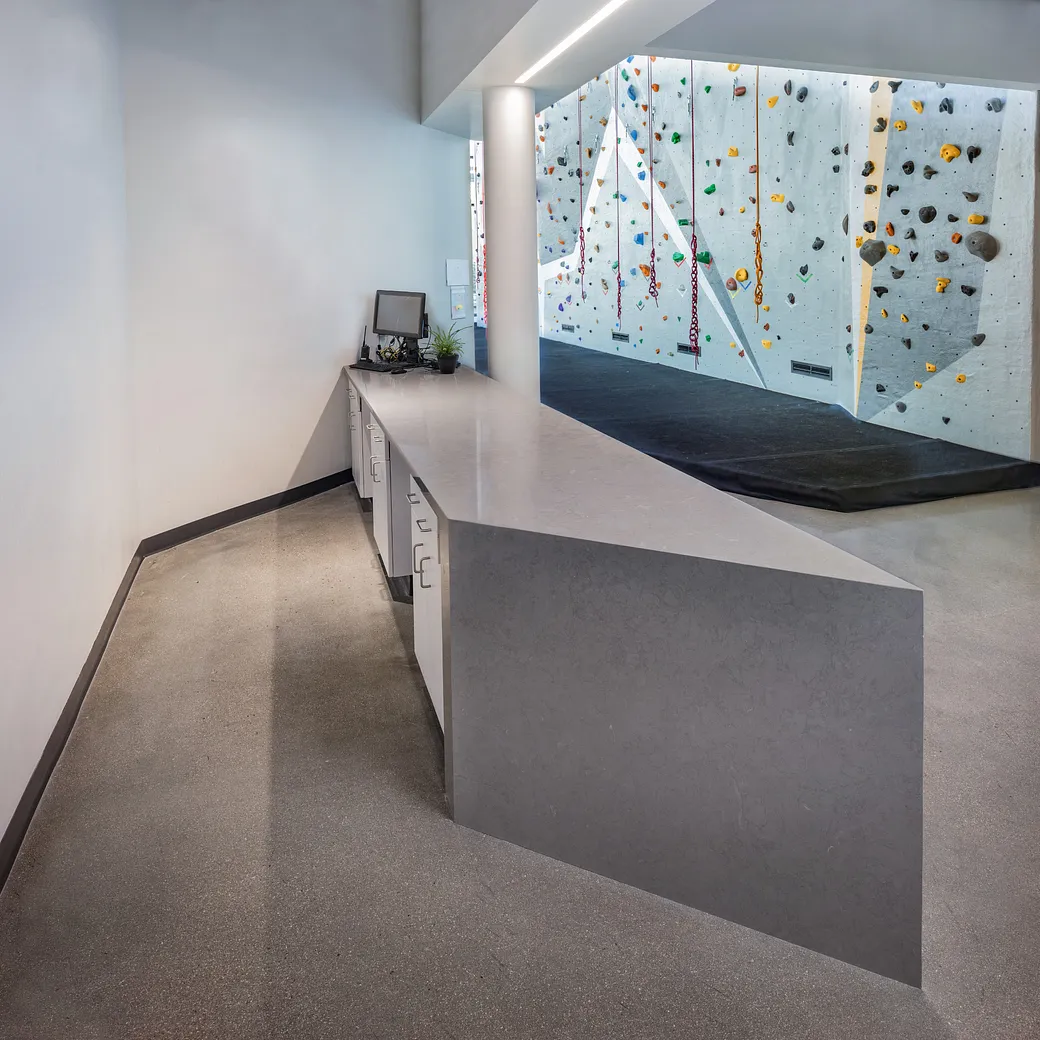 Carrick is also featured as a coordinating window ledge application in the space, complementing the design of the climbing wall and reception desk.
Small Space, Big Style
In this small kitchen that's big on style, subtle Carrick countertops play nicely with classic white subway tile, traditional cabinetry, and a retro mint green Smeg fridge.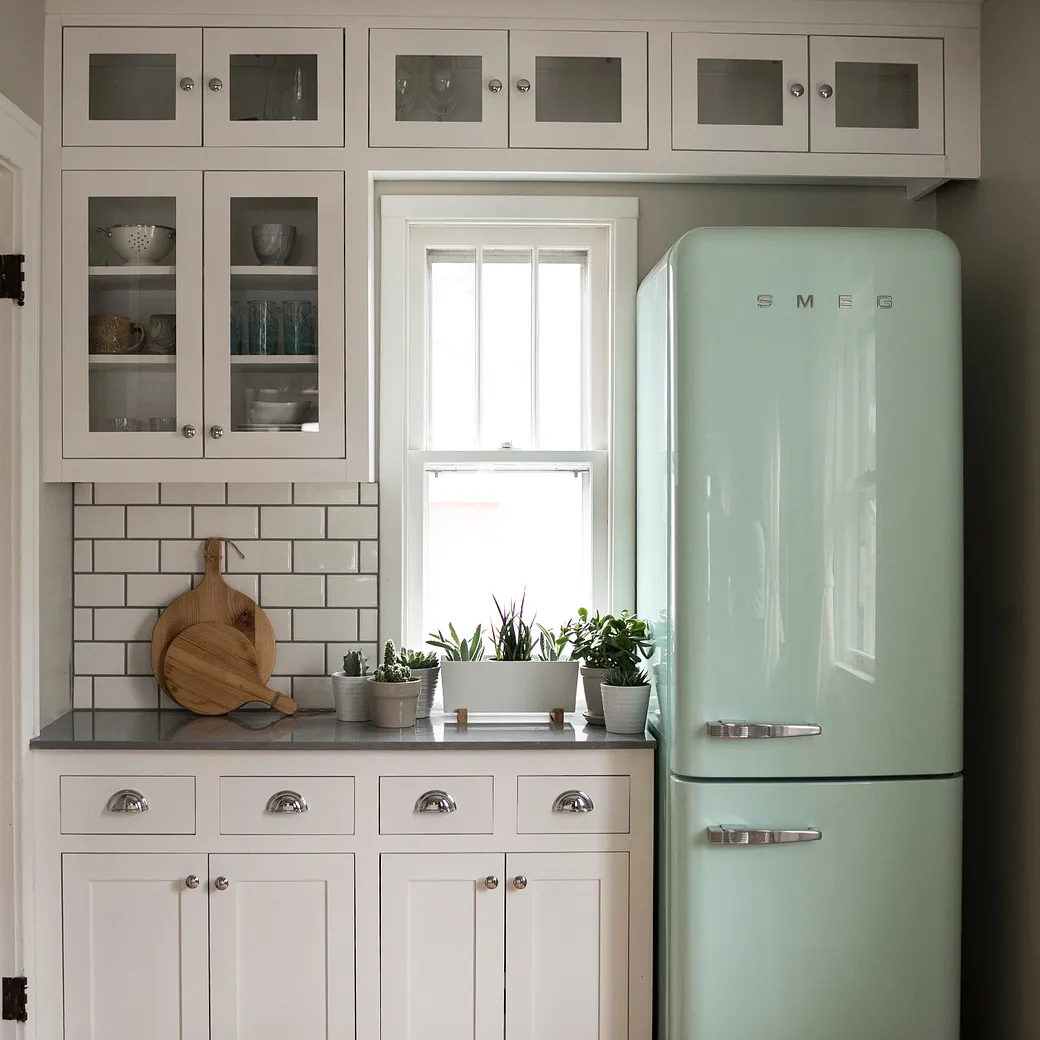 Carrick lends both style and substance to this kitchen design that mixes vintage elements with timeless appeal.
Traditional Farmhouse Kitchen
To keep this oversize island from overpowering the space, add Cambria Carrick island countertops. The soft gray and charcoal hues blend seamlessly with other design elements but still lend depth to the design scheme.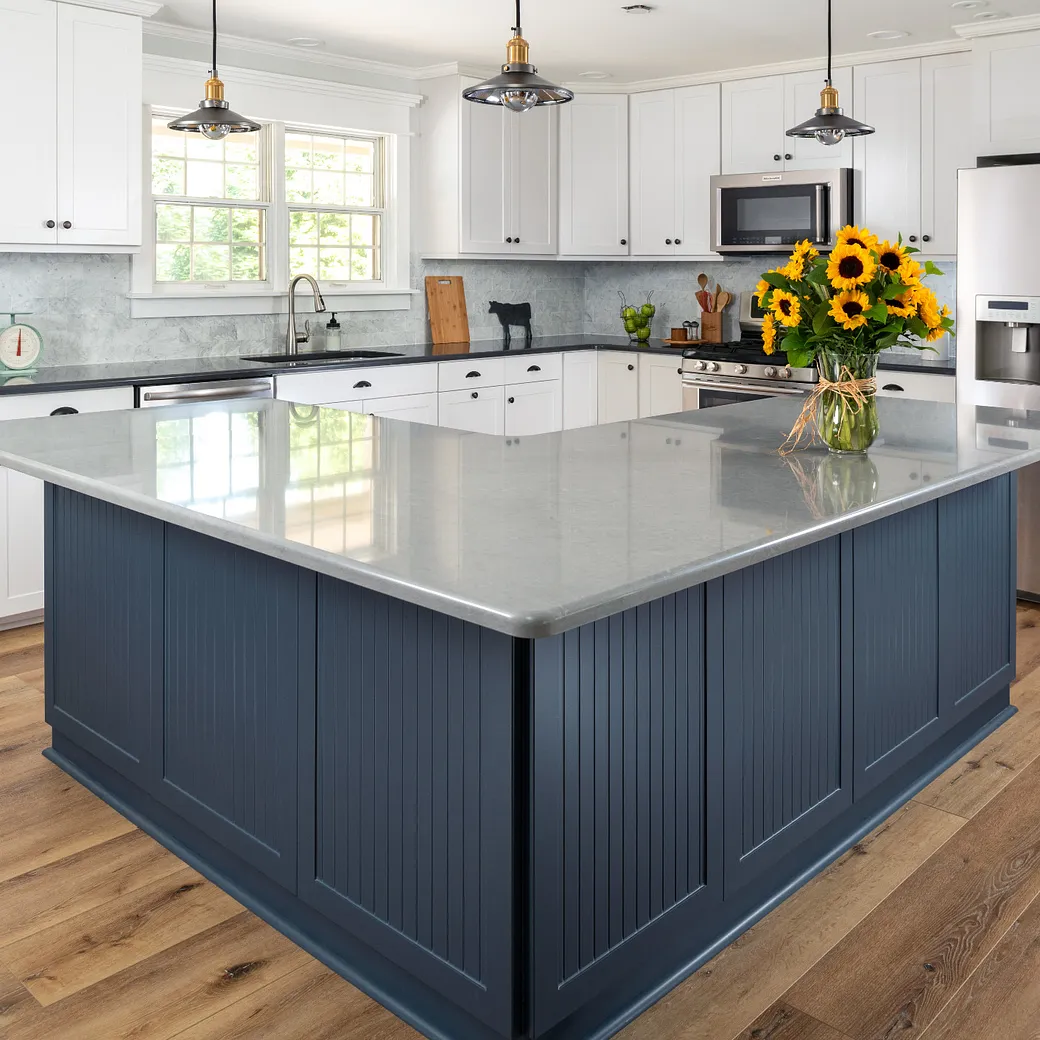 This kitchen features Cambria Fieldstone perimeter countertops, which let the Carrick island be the star of the show.
Farmhouse Kitchen by High Street Homes
After falling in love with an upstate New York cabin, HBO Girls star Zosia Mamet and her husband Evan enlisted the help of Brett and Kara Phillips, the interior designers behind High Street Homes based in Fort Worth, Texas, to breathe new life into the 1920s log cabin.
"We wanted it to be a place of retreat for them and their extended family, which informed the design process," said Brett and Kara. "They wanted a spot to hole up when not working, where family could visit and just hang and do creative 'artist things,' like read, write, and play music. It really needed to be a place to gather that felt homey but still elevated."
That said, the designers considered how many people could gather without getting in the way and how function would work for storage, creating a separate wet bar with Cambria Carrick Matte countertops and playful wallpaper for hosting.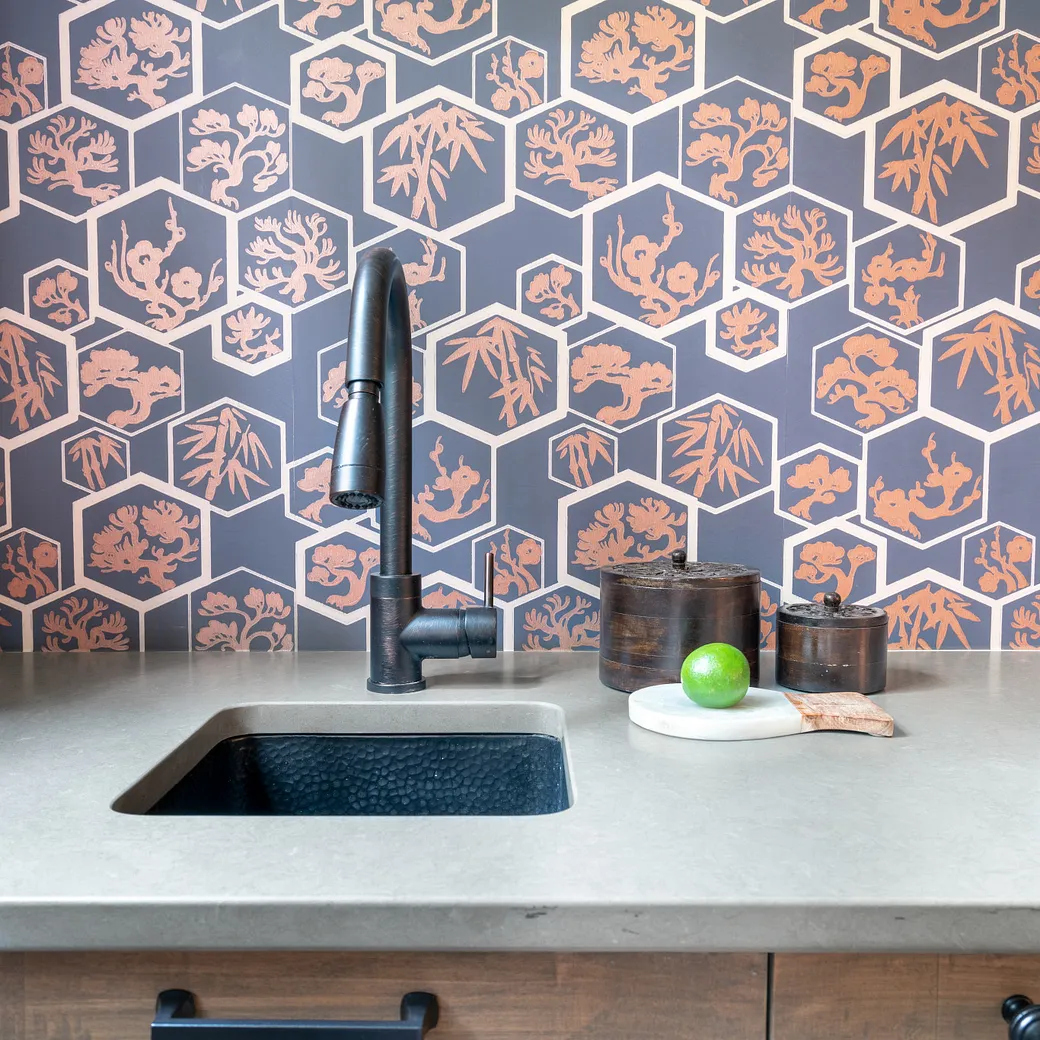 This ancillary space featuring Cambria Carrick countertops makes entertaining a breeze.
Fireplace Focal Point
Cambria blends form and function in this unique fireplace application that features a floor-to-ceiling Carrick design. The darker hue ties together the tones of cream and white in this soft and soothing palette.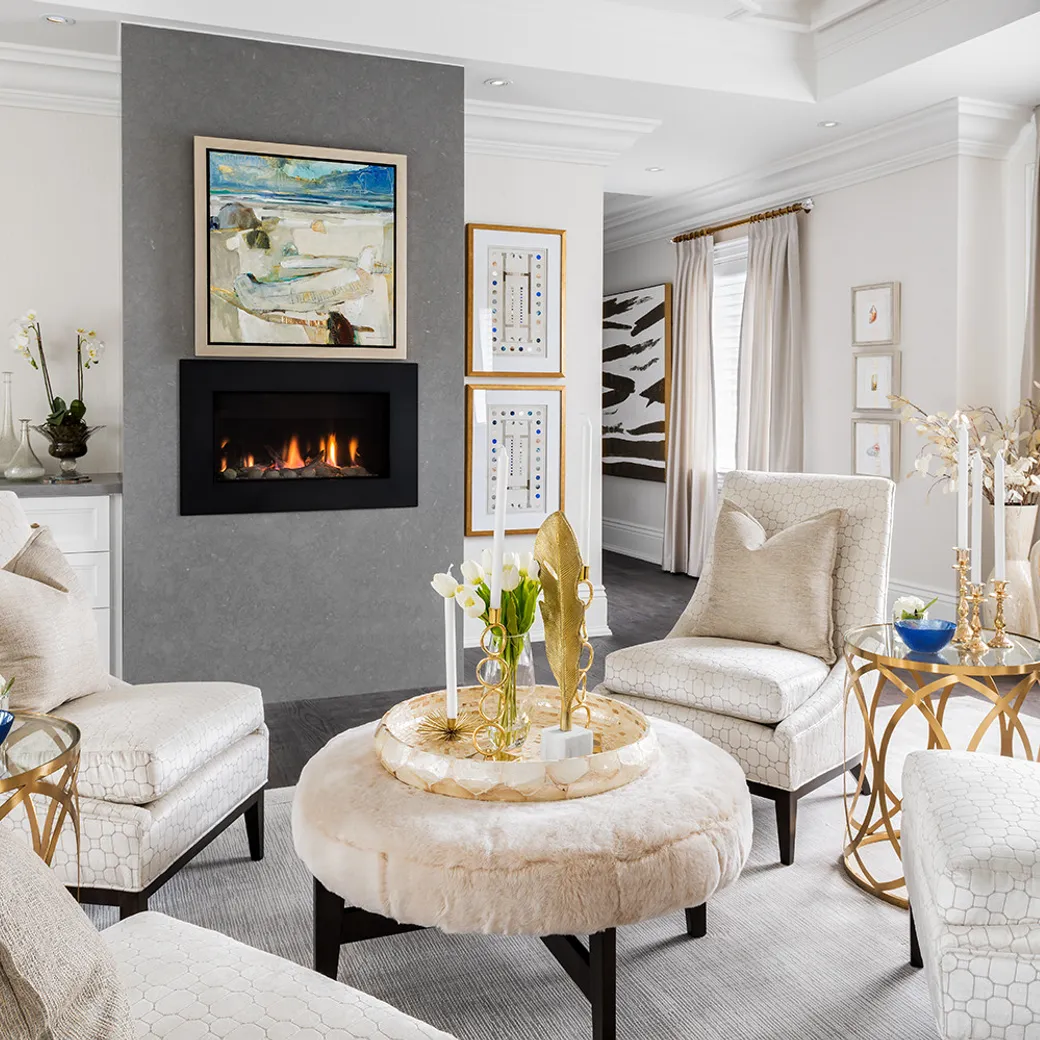 A Cambria Carrick fireplace draws the eye in this serene living room design.
Farmhouse Inspired Kitchen Island
Topped with Carrick Matte, this functional farmhouse-inspired kitchen island creates both a charming focal point and usable work space in this white and green kitchen. A Brittanicca Matte perimeter completes the look.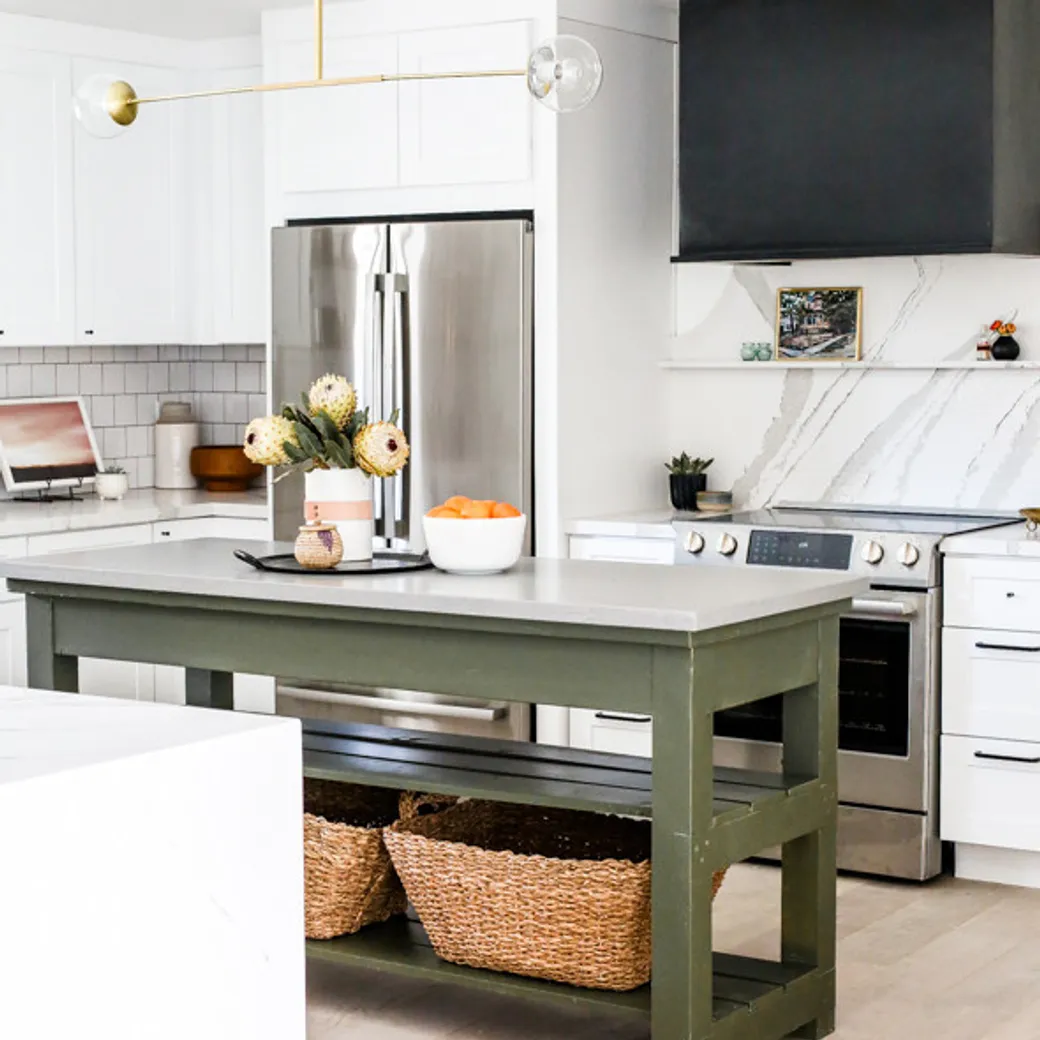 Gray Cambria Carrick countertops highlight the movement and warm veining in the Brittanicca Matte perimeter quartz.
Powder Bath designed by Brian Patrick Flynn
A floating mirror and sconces above a Carrick vanity countertop and dark olive cabinetry combine for a sleek contemporary primary bath style by Brian Patrick Flynn.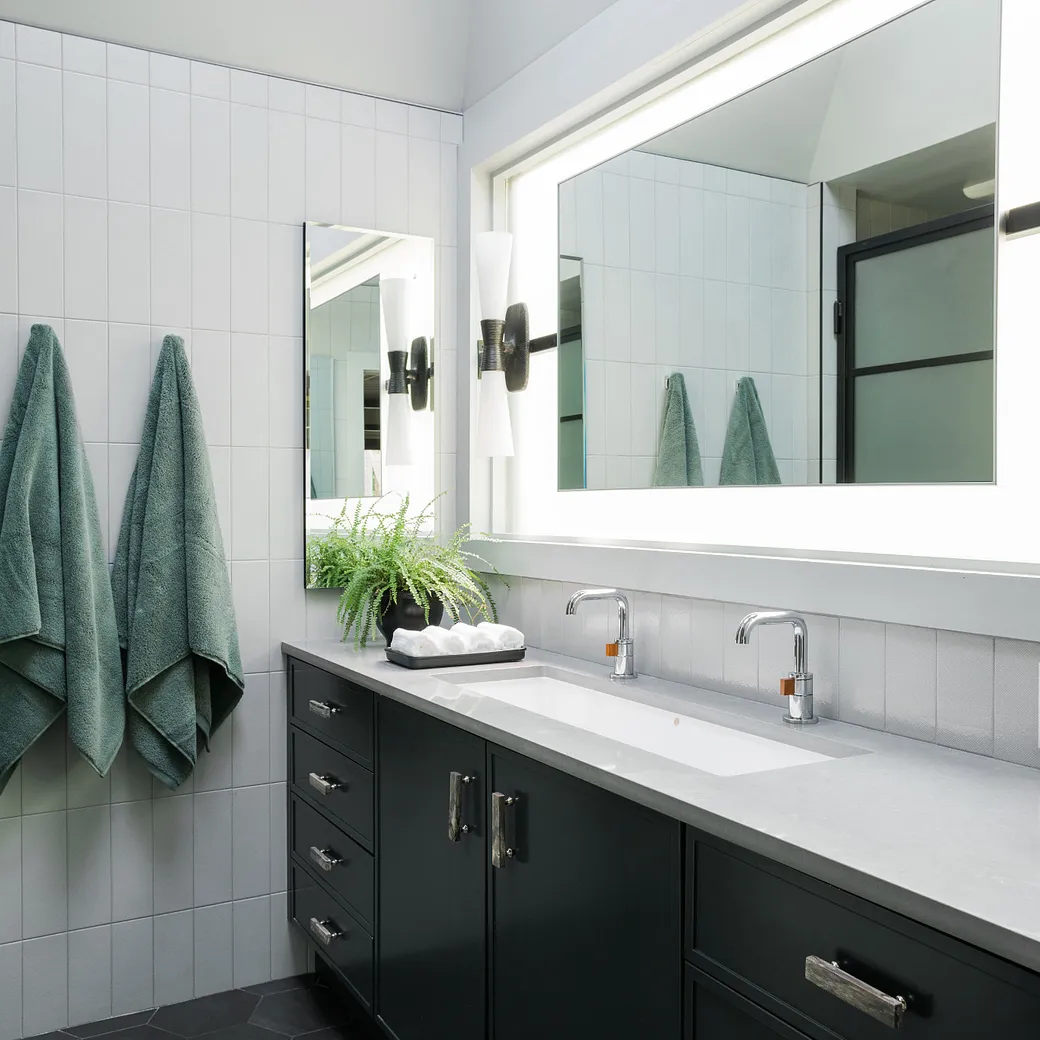 Warm tones, like gray Carrick countertops and dark green cabinetry, keep this bathroom from leaning too modern.
For more gray countertop inspiration, take a look at this blog post highlighting top Cambria designs for concrete alternatives and this post highlighting gray countertops for every style of space.
Featured Designs