David Foster
After five decades as a song writer and music producing legend, David Foster and his family of artists have no plans to slow down
Written by CAROL LINN
Photography by GEORGE HOLZ

Whatever the soundtrack to your life, chances are there's a David Foster song on it. In his 50-plus-years in the music business, the handsome silver-haired musician/composer/writer/arranger/super-mega-producer has worked with everyone who's anyone: Earth, Wind & Fire, Barbra Streisand, Chicago, Whitney Houston, Mariah Carey, Toni Braxton (among others). He wrote a song for Michael Jackson, played piano and keyboards on a few tracks of "Thriller"—including one that included Paul McCartney—and produced "Smile," Jackson's own favorite recording. He's launched the careers of Josh Groban and Michael Bublé, and helped musical standouts like Andrea Bocelli and Celine Dion blast into mainstream stardom. [see our profile of Bocelli, "Music for Life," in Cambria Style, Winter 2014.] He wrote or produced a string of hits, including the theme for the 1988 Summer Olympic Games and Whitney Houston's classic "I Will Always Love You" and has won nearly every award you can name—induction into the Songwriter's Hall of Fame, a star on Hollywood Boulevard, 16 Grammy Awards (with a breathtaking 50 nominations), an Emmy, a Golden Globe, and three Oscar nominations for Best Original Song. And he's stayed at the top of a difficult, cutthroat profession because he's not only skilled at spotting greatness, he's skilled at nurturing it too: Foster has a talent for turning a disparate group of performers into a close family whose members return to work with him and each other. Longtime friend and Cambria President and CEO Marty Davis notes that "part of David's magic is being a relationship maverick, a tycoon, the leader, the real deal."
"When I hear that something special, for me, it's like that scene in a movie where the camera zooms in on the star's face, and everything else gets quiet and fades away."
"I'm a networker and ambassador for putting people together," Foster says. "Especially people who like to be around others who are good at what they do. Which makes me believe I am too." He adds ruefully, "Although in true artist fashion, every three days, I believe I'm worthless—a feeling I've lived with my whole life."
Foster's musical career started early and blossomed quickly. He was raised on Vancouver Island in British Columbia, Canada, began playing piano at five, and by 13 had become "a classical nerd" whose world shifted when he first heard "She Loves You" on the radio. "I freaked out," he says. "The Beatles changed my life."
By 16, he was a rocker, on the road with Chuck Berry, and three years later, his own band, Skylark, had a Top Ten hit, with "Wildflower." Foster moved to Los Angeles where he went on to play with Earth, Wind & Fire, co-writing six of the band's tracks on the album I Am, and winning a Grammy for Best R&B song.
Foster says he loved performing, and after the success of his score for the 1985 film St. Elmo's Fire, he dreamed of an instrumental career. He sometimes still does take the stage in live concerts like "David Foster & Friends." But he says he realized quickly that his real talent was in working behind the scenes. His ability to recognize star quality brought the public superstar singers like Celine Dion. "You can do a lot in the studio, but not manufacture tone," he says. "When I hear that something special, for me, it's like that scene in a movie where the camera zooms in on the star's face, and everything else gets quiet and fades away. The first time I saw Celine, it was an afternoon affair, chaotic, with kids running around, but all I could hear was her voice."
Looking back on her storied career, Dion noted: "David was the first producer to give me a break in the United States." But when she first learned she might get a chance to work with such a music legend, she has recalled, jokingly, that: "I almost lost my voice."
Foster also has the ability to push his performers toward greatness. "It's my job to understand the vision of the artist and guide him or her to being successful," he says, and his standard for what constitutes success is high. He persuaded a host of top names to perform on We Love Disney, a recently released compilation of classic Disney film songs. For example, spectacular soprano Ariana Grande contributed "Zero to Hero" from Hercules. "In my own little mind," he says, "when I work with someone like her, I'm thinking 'This girl is incredible'—and I'm gonna get a vocal out of her that's better than anything anyone else has gotten before. I'll do anything for a great vocal. You need potato chips right now? A break? A back rub? I'll do it. I won't compromise on any level—compromise breeds mediocrity."
Foster works himself hard—Marty Davis says that he "never stops, never shuts off, and still somehow doesn't age. His work ethic is unbelievable. I was at a show he did in Toronto—he worked from 7:00am until 8:00 that night when we met for dinner. At the preps and practices, he was on his feet going strong the entire time. When you have his level of skill and that kind of work ethic, amazing things happen."
Foster is also a tough taskmaster. A producer's relationship to his talent, he says, may require acting as mother, father, therapist, or cheerleader, but sometimes it's being a coach wielding an iron fist. "When I insist that a singer 'do it again,' it's not for me but them," he insists. "Give it to me one more time, because I know we can make it better."
Foster's artists also frequently choose to work with each other. Celine Dion recently made an appearance on Michael Bublé's Christmas in Hollywood TV special. Dion and Bocelli have recorded a memorable version of the David Foster-Carole Bayer Sager classic "The Prayer" (a song that Foster marvels gets played "at both weddings and funerals"). Recently Bocelli gave an emotional performance of the song for Pope Francis. At one of Bocelli's recent Las Vegas shows, Foster was pleased to notice that two of Bocelli's backup singers and one musician had come through introductions he'd made.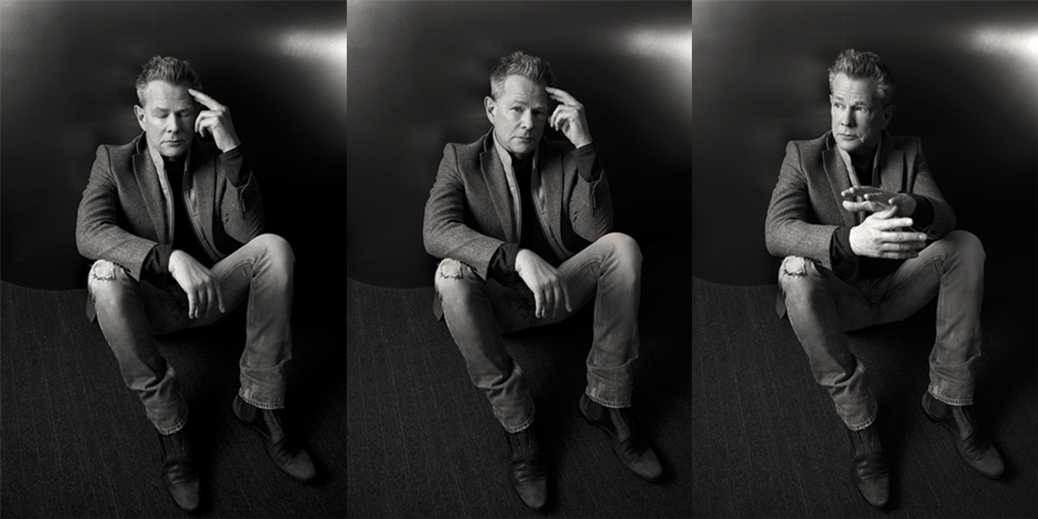 "It's my job to understand the vision of the artist and guide him or her to being successful."
The music business keeps changing and, in the process, has become a tougher place than ever to succeed. Foster credits some of his career longevity with "knowing how to retreat and tack in a different direction when things go bad. Some people run into a brick wall and stand there banging their heads against it. I always find a way to go around." These days he's tacking yet again. In 2012, he became chair of Universal's venerable jazz-based Verve Music Group, which now has expanded to include crossover classic, pop, and show tunes, and last year had four albums in the Top Ten. New artists include Brenna Whitaker, a Kansas City singer with a Bublé-like appeal, and singer-songwriter Charles Perry, a 21st-century amalgam of pop, indie, rock, and soul. Foster's also working on an album with France's former first lady Carla Bruni, whose music "is very humble and stripped down, so it will be an exercise in restraint for me. I'm sure I'll learn a lot." He serves as a judge on Asia's Got Talent, a regional version of hit TV franchise, and is putting finishing touches on a Broadway show based on the cartoon character Betty Boop, which he says will soon be "up and running." That change, from album and concert hall to stage "allowed me to write with the same abandon I did in the 1980s and 1990s," he says. Back then he was motivated because he was leading, not following. "On Broadway, I can lead again—I'm not trying to get on Top 40 radio, I'm just writing great music."
Time hasn't changed Foster's intense work ethic. He may not be able to pull 72 straight "non-drug assisted" hours in the studio like he once did, but this year alone, has added one trip to Europe and five to Asia to his usual jet-setting schedule. He devotes a considerable amount of his time to creating shows for charity, including his own David Foster Foundation, which funds non-medical expenses for Canadian families with children who are receiving life-saving organ transplants in cities away from home. The foundation, nearly 30 years old, has assisted nearly 1,000 families, paying for costs of transportation, meals, even short-term assistance for rent or mortgage, and works to heighten public awareness of the need for organ donation. "It's giving in the right way," he says quietly. "Giving without wanting to see your own name on the TV screen."
Most of all, Foster's drive to achieve is as strong as ever. "You're dead for a long time," he says. "In the little time you have here, there's a lot to do. I'd like to win more Grammys—make it an even 20. I've been nominated for an Oscar three times; I'd like to win one. And I'd love to win a Tony."
So whatever else happens in the next few years, bet that America's soundtrack will include more songs sung by someone with the voice of an angel, with a melody and lyrics that break your heart. And David Foster will be the maestro behind it. "Passion for the music," he says, "is who I am."
All in the Family
In 2007, legendary rocker Ronnie "The Hawk" Hawkins told his friend, Cambria CEO and President Marty Davis, that there was someone he just had to meet. Davis is a serious music man—he enlisted Hawkins as a Cambria brand advocate, and this year, with Gordon Lightfoot, produced Hawkins' first new release in 15 years, a cover of Robbie Robertson's "Christmas Must Be Tonight." When he learned that Hawkins's suggestion was a meeting with super producer David Foster he didn't need to be asked twice. When Foster had dinner with Davis and his brother and business partner Mitch Davis, the men immediately clicked.
Over time, the friendship has stayed strong. Davis has visited Foster in both Canada and California; Foster has been to Minnesota and toured Cambria's galleries. Davis says that he's in awe of Foster's talent: "He has extraordinary senses; people of David's caliber make what they do look easy." Complementing that side of the producer, says Davis, is his "sincerity and authenticity," as well as his ability to cultivate relationships with interesting people who he then introduces to each other, a skill Davis calls "off the charts." "David gets close to the people he works with, and then they get close to each other because of him."
Foster, in turn, says he delights in Davis's positive outlook and business sense. "He's a bright, jovial guy, someone who sees a lot of happiness in the world. He's done amazing things with the company that he worked hard to build. I love the energy of people who are striving for greatness, and willing to put everything on the line."
Foster notes that the last house he built (and recently sold), a grand Mediterranean mansion in Malibu, went up just as he met Davis. He picked marble counters for its kitchen, and before long, he sighs, they were stained enough that "it looked like a kindergarten class had been in there."
Wherever he next settles, he says, he will "absolutely" opt for one of Cambria's many possible options in ethically-mined and American-made natural stone. "To have elegance and beauty that's not porous and doesn't scratch or stain…are you kidding me? What other choice could you make? Cambria's where more and more people are going—because it's an amazing quality product."