Crafted Color
"Hue is color and value is the depth of color. Brought to life by the art of venetian plaster, they are magic." —Darril Otto, Artisan & Craftsman
Written by MELINDA NELSON
Photography by STEVE HENKE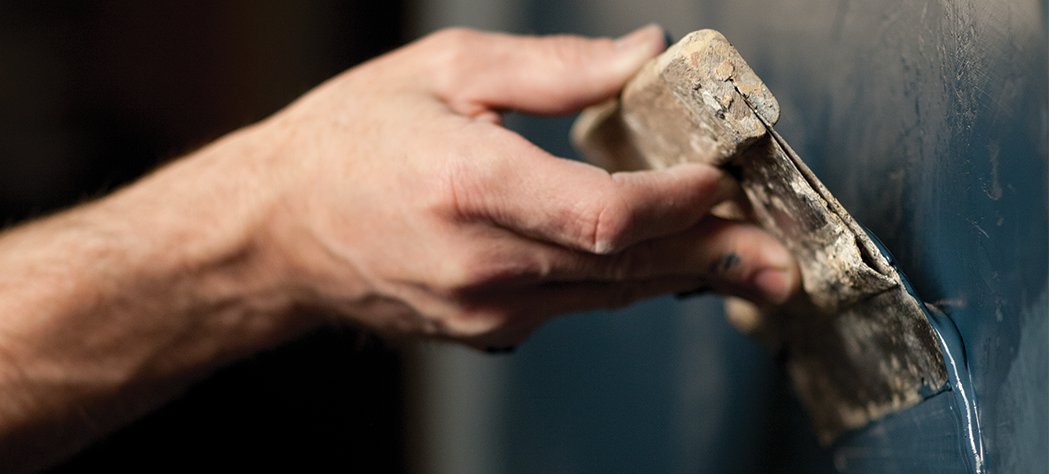 If you've ever stood in awe of a burnished red Roman fresco in a museum, the colors still as vibrant as they were thousands of years ago, or gazed up at a radiant blue ceiling in a centuries-old Italian church, you've experienced the enduring power of decorative plaster.
While the world has changed since ancient artisans painted gods, goddesses, saints, angels, and mere mortals on the walls and ceilings of breathtaking Egyptian tombs, elaborate Greek temples, and exquisite Italian palazzos, the craft has changed very little over time.
As part of the Cambria® passion for craft, our editor invited Minneapolis-based artisan Darril Otto to share the art of decorative plaster with Cambria Style. A true craftsman, Otto has been creating what he refers to simply as "surface treatments" for several decades. Working with plaster, as well as wood and metal, he and his team apply their talents to interiors everywhere from Hawaii to Saudi Arabia.
Like the artisans who work with Cambria, Otto's craft is ultimately about creating harmony—between people, materials, light, and space. His favorite part of the process is collaborating with clients, architects, builders, and interior designers to create a vision for a project. From there, he uses his own signature brand of alchemy to develop colors with just the right hue and value to capture and reflect the light in the space. Once the colors are perfect, the team uses classical techniques (and a few trade secrets) to achieve the vision.
A man of few words but many colors, Otto concocted a special mix of pigments from Italy and Germany for Cambria Style and named it Blue Hue #3. While it's similar to colors found in classical frescoes, this exact blue has technically never existed before.
After mixing Blue Hue #3 with lime putty and finely crushed marble, Otto used simple, timeworn tools to apply paper-thin layers of the plaster to a plain white wall. True to his talent (and humility), the luminous blue wall in our Style Report on page seven of this issue is even more magical than our editor could have imagined. Such is the nature of craft.