Take a Tour of This Cozy Modern House Interior
Written by Cambria USA
Photography by Ariana Tennyson
Full home tours are always an endless source of inspiration. We're excited to share this tour of an inviting, light, and bright newly built home outside of Winnipeg, Manitoba, Canada. This 1,700-square-foot bungalow features interiors by Jaclyn Peters Design and architecture by John Duerksen Architecture. Each room has distinct character yet contributes to a cohesive overall design motif. One of the common threads are the dreamy Cambria countertops and surfaces throughout, showcasing inventive applications, unexpected texture, and luxurious natural stone movement.
We got the inside scoop on the space from the interior designer, Jaclyn Peters. The homeowners were downsizing from a larger house that never felt like home to them, with dark finishes and furnishings. "They had black granite countertops, dark millwork, cold tile flooring, and monochromatic 'matchy' furniture," says Jaclyn. "The goal of the new build was to give them the character, brightness, and comfort they were longing for."
See how Jaclyn was able to create the cozy and collected look the homeowners craved.
An open and light-filled living room
The living room and kitchen combine for a gorgeous, airy great room. "We started with a light base on all the finishes, including a warm, light-colored white oak hardwood, white walls, soft-gray cabinetry, and a custom-stained fir ceiling and beams," explains Jaclyn. "From there we added the character and interest with the stunning Brittanicca countertops in the kitchen and fireplace surround, navy wool carpet, an eclectic mix of pillows, and wicker barstools." Plenty of fresh greenery, including a fiddle-leaf fig tree next to the Brittanicca fireplace, helps create a modern coastal feel.
This gorgeous great room features a coastal-inspired palette and Cambria Brittanicca™ fireplace.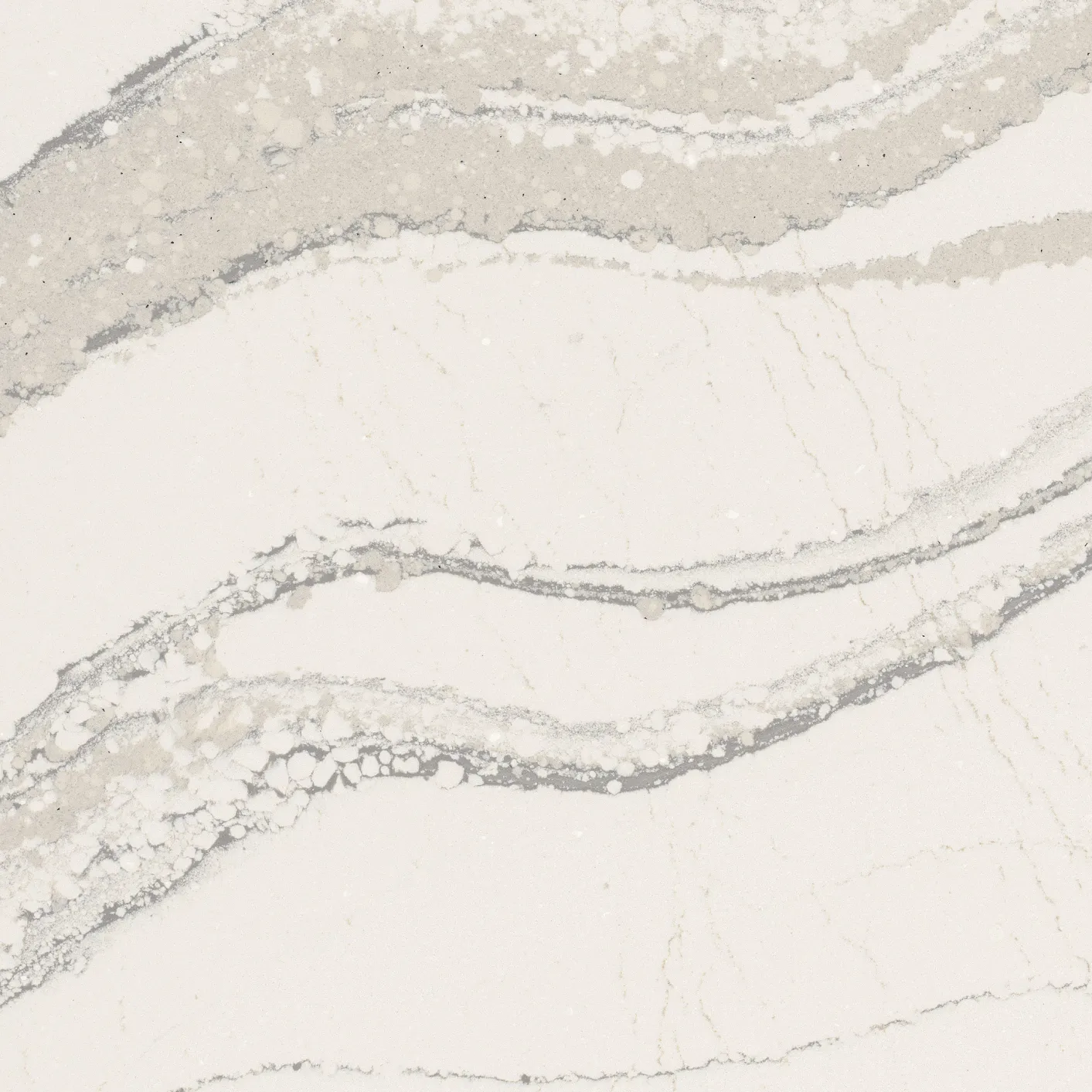 Cambria Brittanicca™ design detail.
A bright white kitchen with textures and patterns
"The Cambria countertops did the talking here," says Jaclyn. "Our simple and understated base of selections really loaned itself nicely to a 'wow factor' countertop finish. Brittanicca had exactly the tones we were looking for, and provided a beautiful statement without being busy and overwhelming to the eye." A complementary Brittanicca backsplash offers intriguing marble-like movement, while wicker stools and matte black pendant lights help to showcase the waterfall-edge kitchen island. See more of this kitchen in our Design Spotlight on Brittanicca and in Cambria Style.
The home's kitchen features matte black accents, Brittanicca countertops, and Brittanicca backsplash.
Upgrading to Cambria quartz countertops
This home offers a range of Cambria applications, including Cambria countertops, vanities, a fireplace, and tub surround. Explains Jaclyn, "Cambria has been my go-to countertop for the past 10 years. Their stunning selection of colors and patterns, maintenance-free construction, how easy they are to keep clean, and the exceptional service I have received over the years has made it extremely simple to convince my clients of the Cambria product." In addition to Brittanicca, Jaclyn selected Torquay™ for this home. "I never have trouble selecting a pattern," she says. "Cambria keeps up with the design trends and the frequent introduction of new designs has me waiting to see what they will come up with next!"
Cambria countertops like Brittanicca are a common design thread in this home by Jaclyn Peters Design.
A dreamy, elevated laundry room
Jaclyn's laundry room design elevates an everyday utility room with texture perfection. Cambria countertops in Brittanicca, luxe cloud-print wallpaper, and a black kilim rug combine for a neutral palette that pops with pattern.
This luxe laundry room features Cambria Brittanicca countertops and cloud-print wallpaper.
A crisp and clean powder room
Jaclyn selected Cambria's Torquay design, a beautiful alternative to marble countertops, for the home's polished and pristine powder bath. "Torquay had exactly the pattern and color palette we needed to pull that little bathroom together," says Jaclyn. "The warm tones in the countertop blended perfectly with the brass fixtures, and the cool undertones matched perfectly with the diamond-pattern mosaic floors." See more of Torquay in this tiny house kitchen renovation.
A Cambria Torquay vanity offers a maintenance-free marble alternative in this powder room.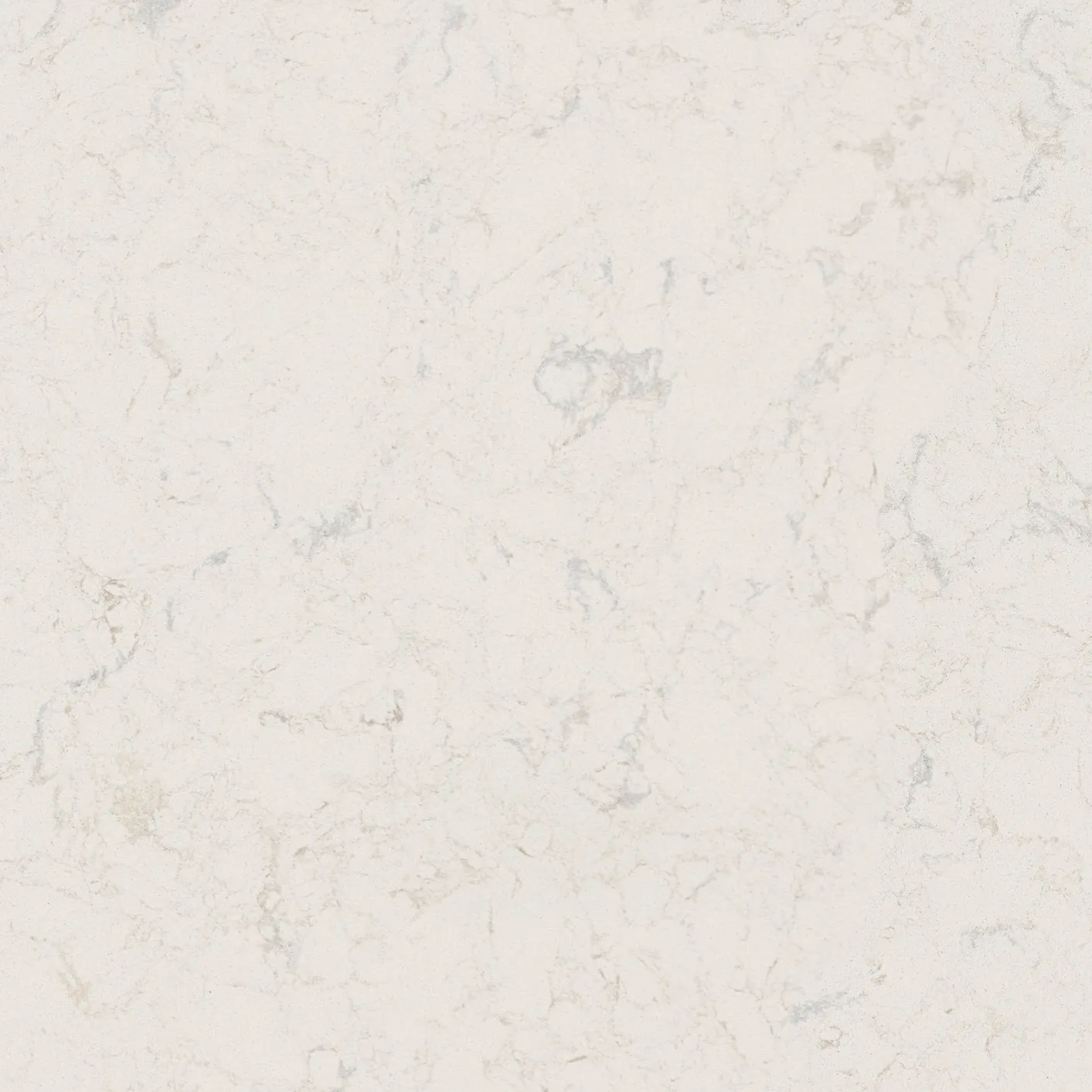 Cambria Torquay design detail.
A pretty-in-pastels master bedroom
The master bedroom offers a striking yet soothing mix of color, pairing sage green with soft mauve. The vision for the room came from a vintage Turkish rug the homeowners wanted to incorporate into the space. Although a beautiful piece, it was a departure from the design vision for the rest of the home. "I had to find a way to make it look more modern—but still cozy and inviting—with the rest of the furniture and accessories," explains Jaclyn. She pulled a soft sage green from the rug's pattern and had a custom velvet upholstered bed made in a modern updated shape. White linen bedding created a visually calming base to showcase plush accent pillows that feature more colors and tones from the rug. A striped tassel throw blanket, brass lamps, and soft gray shagreen nightstands complete the look.
A palette of neutrals and pastels create a relaxing master bedroom.
A streamlined and spacious entryway
The light, bright, and airy feel of the home is evident upon stepping into the home's inviting entryway. The home's hand-scraped white oak flooring and custom-stained fir beams and ceiling lend warm texture and striking impact. Abstract art and a contemporary credenza offer minimalist modern appeal for a smooth transition into the living area.
A custom-stained wood ceiling and fir beams are a highlight of the home's entryway.
Exterior of home
The exterior of this new build exudes a midcentury modern flair, featuring dark cherry wood siding, charcoal brick, and black garage door and windows. The exterior's black accents and use of wood continue into the interior of the home with custom beams and black fiberglass windows. "Custom landscaping gives the home a ton of interest," says Jaclyn. "The whole back of the home is floor-to-ceiling glass!"
Blackbrook helps elevate the design of this gym locker room with its effortlessly chic pairing of black and white.