Cottage Reborn
The key to the success of this Minneapolis cottage remodel? A creative, artistic, laid-back, flexible attitude in the face of seemingly endless delays and disruptions
Written by Cambria USA
Photography by STEVE HENKE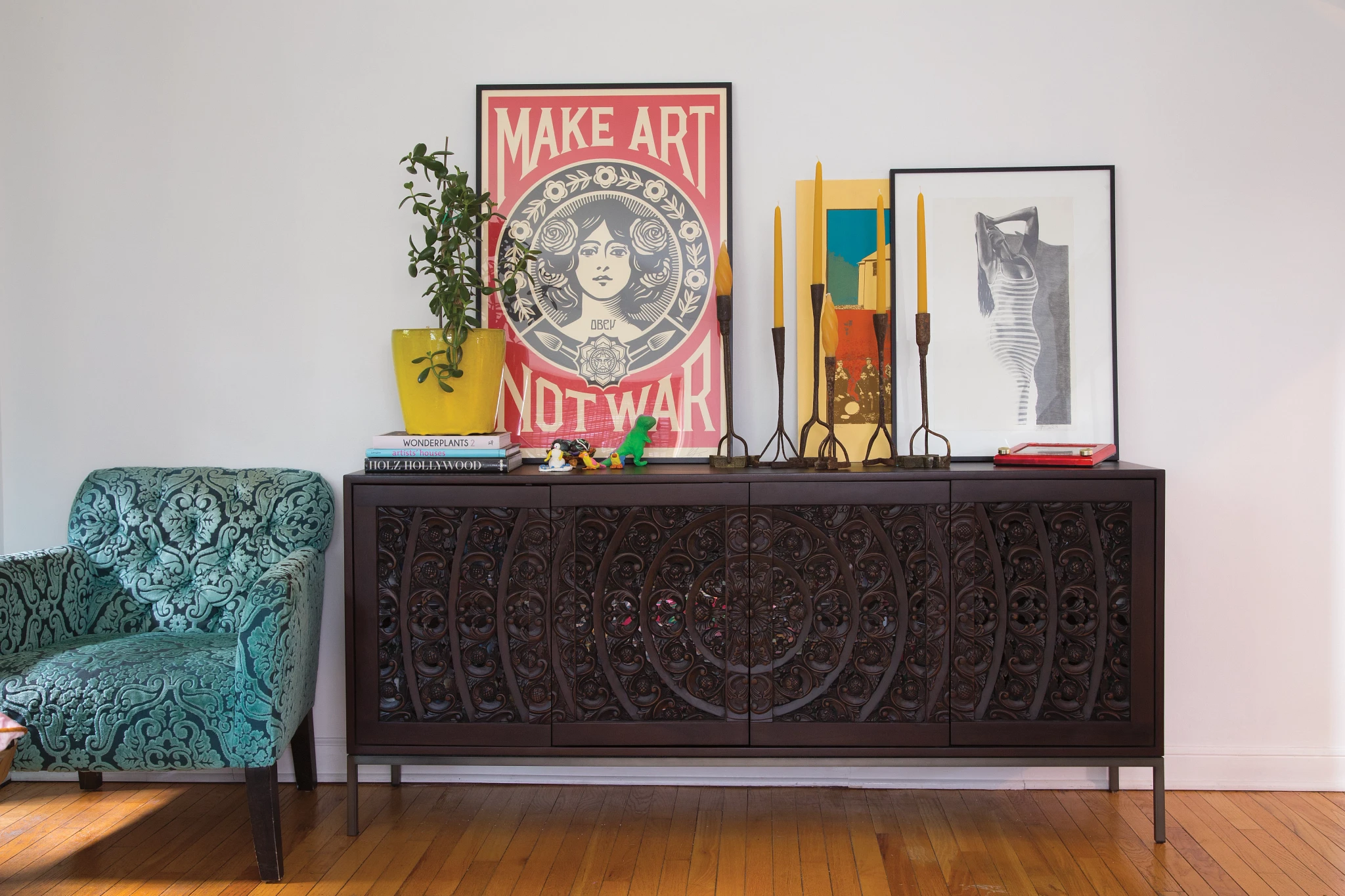 From intricately carved furnishings with a boho flair, the broad range of art on the walls to the polished surfaces of Cambria ELLA™ and CAMBRIA BLACK™ in the kitchen, the house has layers of texture that add rich interest throughout.
Like most people who began a renovation during the pandemic, LouAnn Berglund, longtime editor in chief of Cambria Style, ran into a slew of challenges during her project. Undertaking a whole-house update—even of a cozy cottage like the Minneapolis charmer she shares with her young-adult children and their dog—is a big deal under the best of circumstances, but navigating supply-chain and COVID-related delays pushed the typical remodeling frustrations to the next level.
How to handle the endless roadblocks? With highly intentional equanimity. "I realized there was no way to fight the delays. There was nothing anyone could do about what was happening. So I took a deep breath and decided to take the path of least resistance. It was way more important to keep my sanity than to get exactly what I'd envisioned right when I wanted it," she says. That meant choosing beautifully crafted American-made materials, selecting in-stock items when available, and cultivating a lot of patience.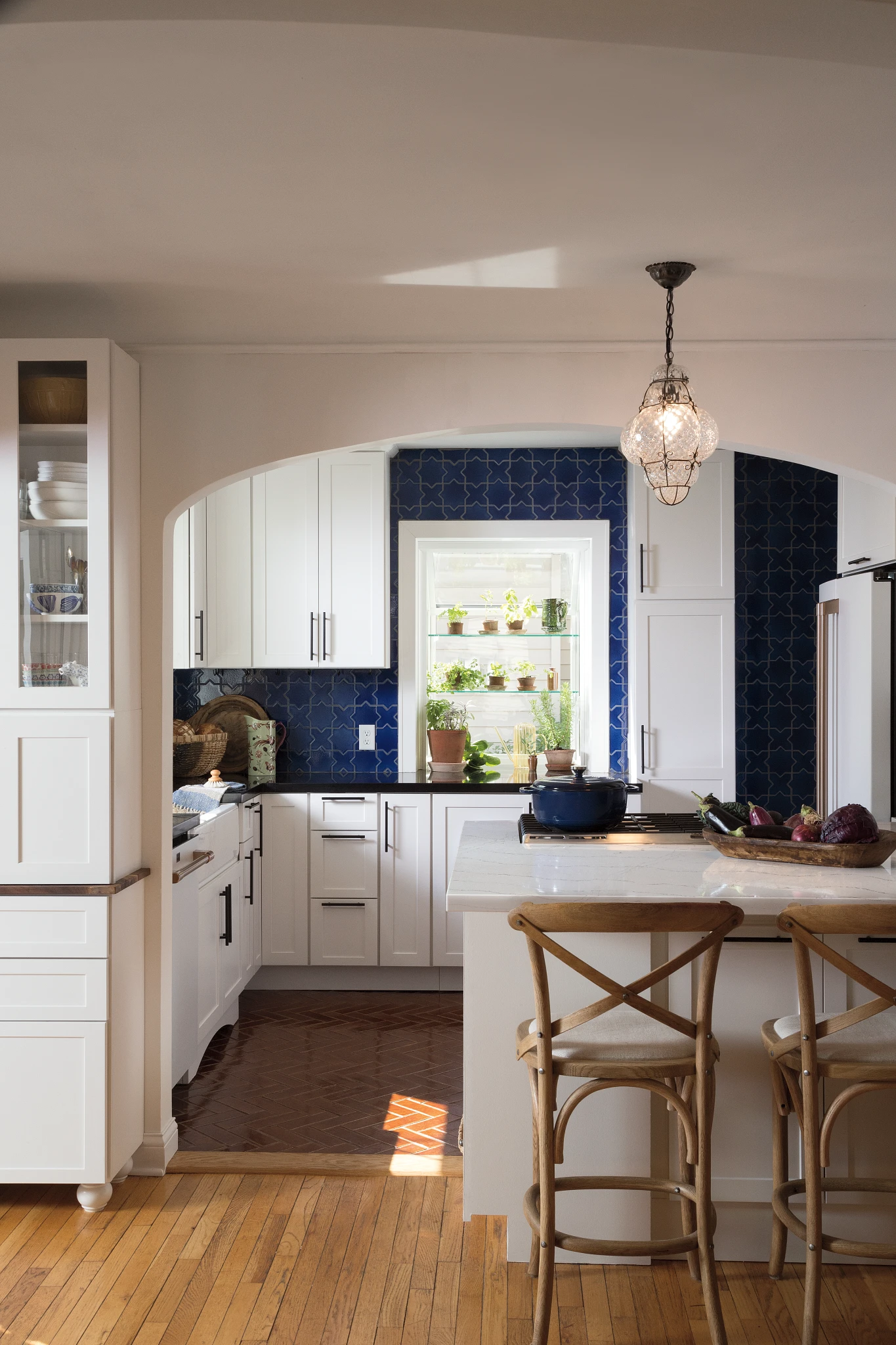 An eclectic mix of artwork and heirlooms combined with design elements that reflect the home's era—like vintage lighting over the peninsula and new Circa lighting over a Kohler farmhouse sink—make the cottage feel like home.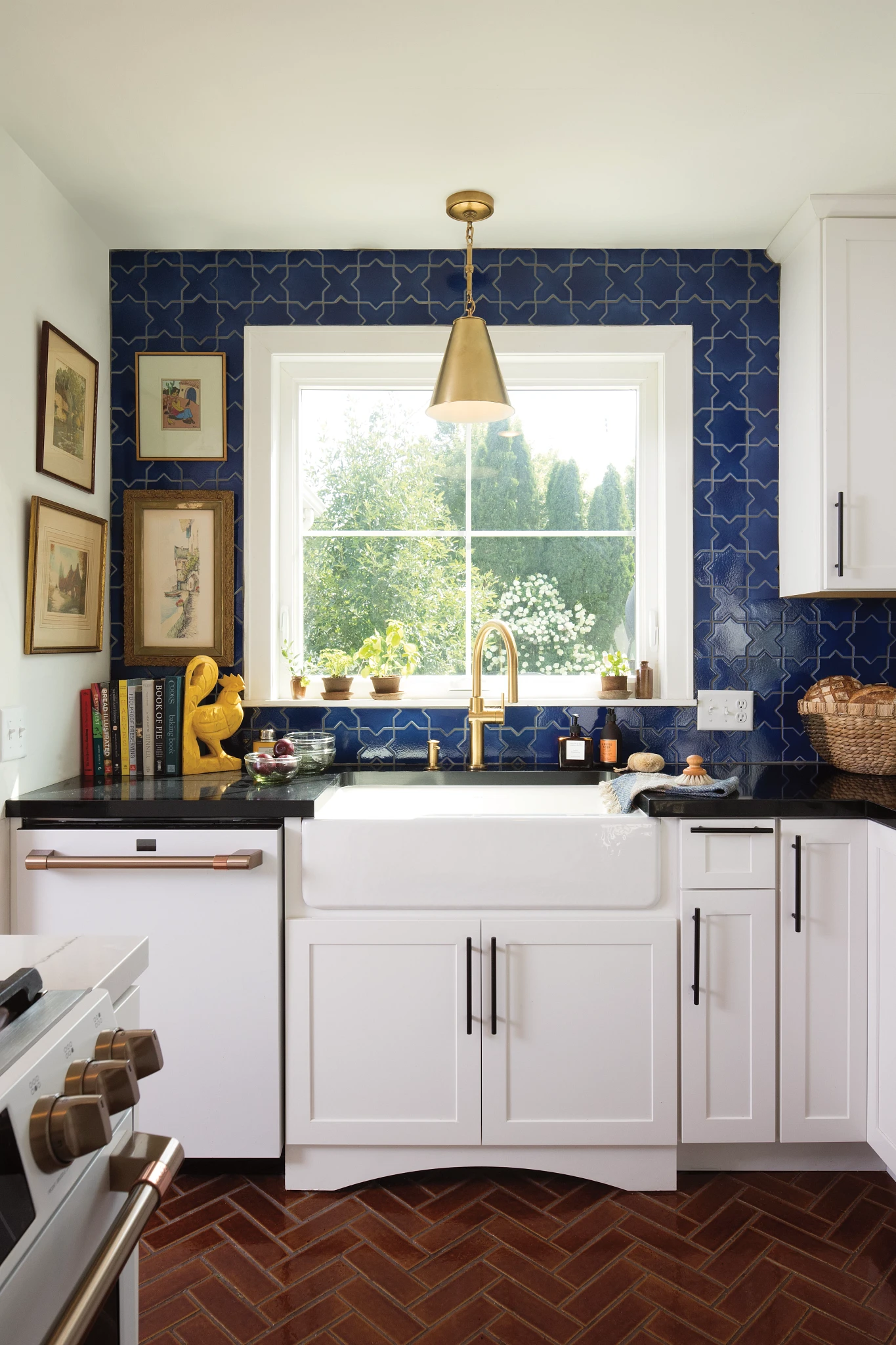 Adding light was a priority, but with smaller windows you end up with more casing than glass. The solution? A single large patio window from Pella that floods the updated kitchen with sunlight. Cambria designs shown: ELLA™ (peninsula), Cambria Black™ (perimeter)
Of course, it helped that Berglund has a lifetime of experience in the design industry and is an artist in her own right. Those creative chops allowed her to nimbly pivot and to see unexpected solutions at every turn. One example: The kitchen peninsula, topped with a single slab of gleaming Cambria ELLA that slid perfectly into the space. The initial intention was to update the tiny, barely serviceable kitchen with a two-level breakfast bar between the wall and existing dining space. But when the cabinet bases took much longer than expected to arrive and there were a few quarantines to navigate around, she had time to reassess. Spending some time with her kids in the space with the arch cut-in made her realize that a single-level design would work much better.
The new peninsula extends beyond the footprint of the original kitchen, making it feel much larger. And it provides plenty of counter space for food prep and family to gather—plus hidden storage for small appliances in cabinets behind the bentwood bar stools from Arhaus.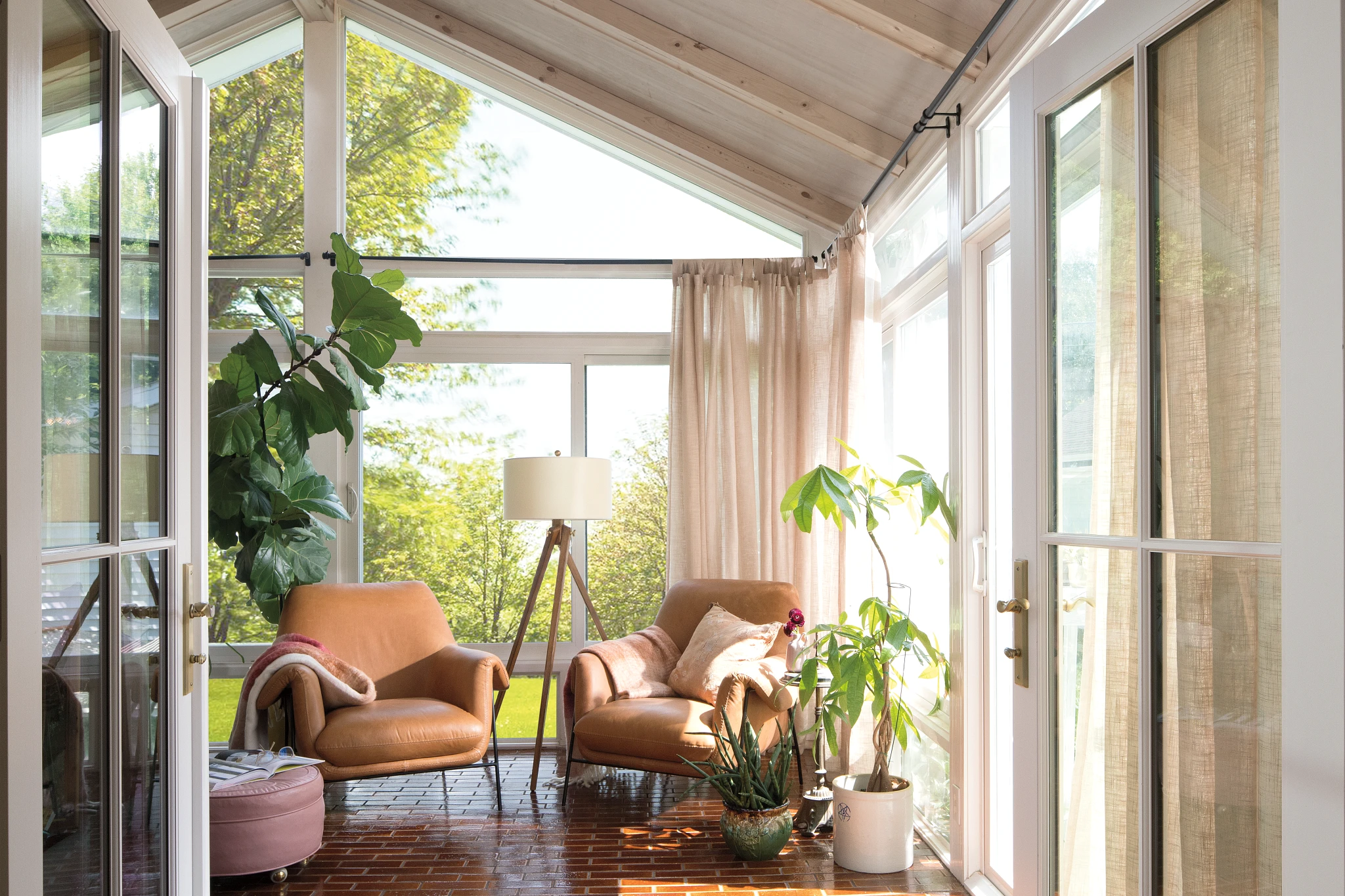 Replacing sliding doors with French doors and remodeling the sunroom to convert it into a four-season space creates a truly flexible room that feels like a natural extension of the kitchen.
One thing that didn't change was Berglund's commitment to preserving the original circa-1950s charm of the small house. Although the home did not have many architectural details, she emphasized and repeated the one that made the most impact—the arched openings. And, she stayed loyal to her decision to choose American made. "Cambria is American made, and that ethos is important to me. So, I made it a point to choose other beautifully crafted, American-made materials whenever I could. This also made a big difference with shipping and installation," says Berglund. She then brought the spaces to life by layering in her own life, filling them with personal treasures gathered over a lifetime.
The result is fresh and fun, composed but cozy—a warm landing spot for a busy family. It's also still a work in progress. "We still have to refinish the floors," says Berglund. "We had to prioritize what had to get done to make the house livable, and the floors lost out in the compromise. But that's life—we'll get to them eventually!"