Creating and Cooking in a Temporary Kitchen
Tips and Recipes for living through a kitchen renovation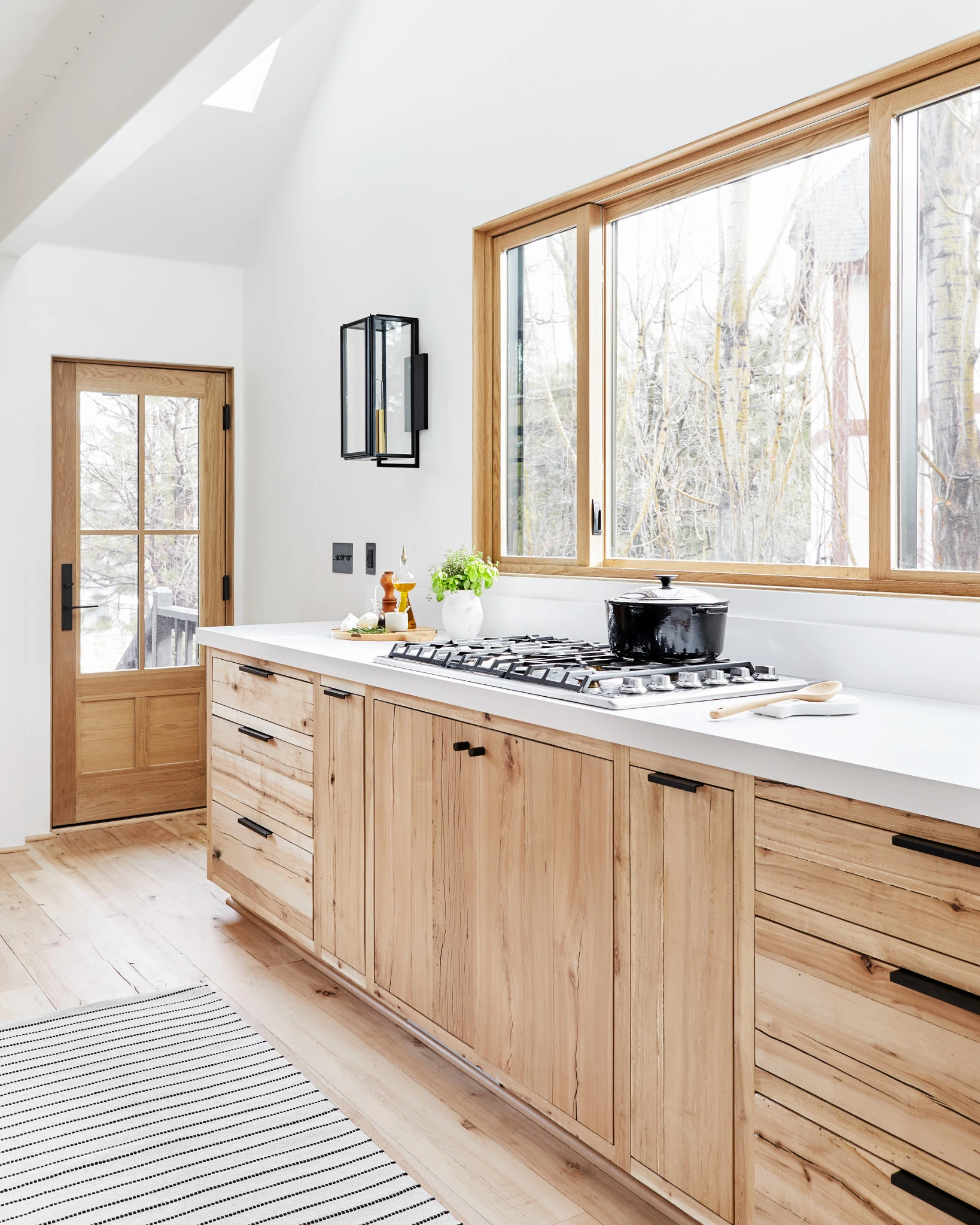 Living through a kitchen renovation means getting creative about cooking during the process.
Cambria design shown: WHITE CLIFF MATTE™.
No matter how much takeout you bring home during your KITCHEN RENOVATION, you'll still need a spot to make school lunches, pour a bowl of cereal, or brew coffee. Set up a temporary kitchen somewhere that's out of the way of construction, like in the dining room or basement. So, when setting up your temporary kitchen during a renovation, be sure to …
It's Important to Stick with the Essentials in a Temporary Kitchen
Construction will disrupt your cooking and eating routine, no matter what. With no working range or cooktop, you'll mostly be assembling refrigerated items and reheating in the microwave. This means you won't need your full collection of pots and pans, knives, tools, etc. Stash the essentials close at hand and store the rest. This is a good time to donate or discard anything you haven't used in a while.
PLAN MEALS AROUND SMALL APPLIANCES
Slow cookers, microwaves, toaster ovens, air fryers, electric griddles and skillets, hot plates, and coffee makers can get you over the mealtime hump. Move your fridge to your temporary kitchen, if possible; if not, invest in a mini fridge and a chest freezer, or borrow them from a friend. (Link to recipes easily made with a microwave only at the bottom of this story—if you get an air fryer, bonus!)
STOCK UP ON HEALTHY (and some not so healthy) CONVENIENCES
Consider filling the freezer with healthy frozen meals and veggies that you can heat in a microwave. Items that don't require refrigeration—rice, pasta, ramen noodles, canned beans, etc.—can save space if you're living out of a mini fridge. Use this time to enjoy the freedom from preparing complex meals. And don't beat yourself up if you are on day three of Pop-Tarts, olives, and Pringles for lunch … your kitchen is on the way!
TAKE TIME TO CELEBRATE THE MILESTONES
A major remodel can seem endless, so it's important to take time along the way to really notice and appreciate the progress. Write your family's names in a secret spot while the drywall is down, take in-progress pictures, and slow down to focus on each new element.
Enjoy these quick and easy family-style microwave recipes in your temporary kitchen during your renovation:
Microwave risotto
Adapted from ALLRECIPES.COM
INGREDIENTS
3 Tbsp. butter
1 clove garlic, minced
1 onion, chopped
1½ cups vegetable broth
1 cup uncooked Arborio rice
¾ cup white wine
¼ cup grated Parmesan cheese
DIRECTIONS
In a three-quart microwave safe casserole dish combine butter, garlic, and onion. Place dish in microwave and cook on high for 3 minutes. Place vegetable broth in a microwave safe dish. Heat in the microwave until the broth is hot but not boiling (approximately 2 minutes). Stir the rice and broth into the casserole dish with the onion, butter, and garlic mixture. Cover the dish tightly and cook on high for 6 minutes. Stir wine into the rice. Cook on high for 10 minutes more. Most of the liquid should boil off. Stir the cheese into the rice and serve.
---
Microwave Baked Potato
Adapted from ALLRECIPES.COM
INGREDIENTS
1 large russet potato
Salt and ground black pepper to taste
1 Tbsp. butter
2 Tbsp. shredded Cheddar cheese
1 Tbsp. sour cream
Optional toppings: chopped scallions, pre-cooked bacon crumbles, canned chili, etc.
DIRECTIONS
Scrub potato and prick with a fork. Place on a microwave-safe plate. Microwave on full power for 5 minutes. Turn potato over, and microwave until soft, about 5 more minutes. Remove potato from the microwave, and cut in half lengthwise. Season with salt and pepper and mash up the inside a little with a fork. Add butter and Cheddar cheese. Microwave until the cheese is melted, about 1 more minute. Top with sour cream and preferred toppings, and serve.
Pair with microwavable steam-in-the-bag vegetables and a rotisserie chicken from your favorite grocery store for a complete meal.
---
Microwave Mac and Cheese
Adapted from ALLRECIPES.COM
INGREDIENTS
8 oz. macaroni*
2 Tbsp. butter
2½ Tbsp. chopped onion
16 oz. cubed processed cheese food
¾ cup milk
Salt to taste
Ground black pepper to taste
DIRECTIONS
Bring a large pot of salted water to a boil. Cook macaroni in boiling water until al dente, 8–10 minutes. Drain and set aside. Place butter and onions in a 2-quart microwave-safe covered casserole dish; cook on high in the microwave for 3–4 minutes. Add pasta, cubed cheese, and milk to the casserole dish; stir. Cook on high in the microwave for 11–12 minutes, stirring well after 4, 8, and 11 minutes. Mixture will still be runny at this stage. Season with salt and pepper. Let stand for 5–8 minutes before serving; sauce will thicken as it cools. Serve with microwavable meatballs from the freezer section at the grocery store.
*Skip steps for boiling macaroni by substituting pre-cooked macaroni available in the pasta section at the grocery store.
---
Microwave Sweet Potatoes with Shredded Tuna and Red Onion
Adapted from BBCGOODFOOD.COM
INGREDIENTS
4 small sweet potatoes
7 oz. can tuna in spring water, drained
1 small red onion, finely sliced
Juice of one lime
6 Tbsp. Greek yogurt
1 small red chili, deseeded and chopped, optional
Handful coriander leaves, optional
DIRECTIONS
Scrub the sweet potatoes and prick all over with a fork. Place on a microwaveable plate and cook on high for 18–20 minutes, or until tender. Split in half and place each one, cut-side up, on a serving plate. Flake the drained tuna with a fork and divide between the sweet potatoes. Top with the red onion and chili, if using, then squeeze the lime over top. Serve each with a dollop of yogurt and, if using, scatter over the coriander leaves. A side of crunchy crackers and bread and butter pickles, carrots, or even a bunch of grapes makes this a fun and balanced meal.
---
Microwave Penne Pomedoro
Adapted from BBCGOODFOOD.COM
INGREDIENTS
1 garlic clove, crushed, or pinch of dried garlic powder
Small handful fresh basil or ¼ tsp. of mixed dried herbs
8 oz. chopped tomatoes
1–2 slices of bread, diced or torn (crusts are best but any bread will do)
1 cup penne pasta
⅓ cup water, plus a splash
2 Tbsp. vegetable or sunflower oil
Shredded Parmesan cheese (optional)
DIRECTIONS
Combine the garlic, herbs, tomatoes, and a pinch of salt in a microwaveable bowl. Fold the bread crusts through then add the pasta, making sure it's completely coated in the sauce so it doesn't dry out. Cover the bowl with cling film then pierce a few times in the center. Place the bowl on top of a paper towel in the microwave and cook on high for 2 minutes. Carefully peel back the cling film and stir well. Add ⅓ cup of water and stir again, then replace the film and leave to stand for 1 minute. Return the bowl to the microwave and cook on medium for 4 minutes. Remove from the microwave, peel back the film and stir well. Add a splash of water if the sauce is starting to dry out. Cook on medium for another 4 minutes. Add another splash of water if needed then stir the oil through before serving. Top with optional Parmesan.
---
Brownie in a mug
Adapted from SIMPLYRECIPES.COM
No meal is complete, microwave or otherwise, without dessert! Top this decadent, yet super simple brownie recipe, with ice cream, whipped topping, or even peanut butter.
INGREDIENTS
2 Tbsp. butter, mild extra virgin olive oil, or other neutral oil
¼ cup all-purpose flour
3 Tbsp. sugar
2 Tbsp. natural unsweetened cocoa powder
Pinch kosher salt
Tiny pinch cinnamon, optional
3 Tbsp. milk, water, or coffee
⅛ tsp. vanilla extract
Ice cream, whipped cream, or heavy cream, for serving
DIRECTIONS
Put the butter (if using) in a small microwave-safe bowl or ramekin and microwave at 50 percent power for 30 seconds. Continue to microwave in 10-second bursts until it's melted. Skip this step if you're using extra virgin olive oil or a neutral oil. Place the flour, sugar, cocoa, salt, and cinnamon in a microwave-safe ceramic mug. Stir with a fork until it resembles brown sand and there are no clumps. Stir in the butter (or oil) with a fork until a paste forms. Add the milk (or water or coffee) and vanilla. Stir with the same fork until smooth. The batter may look a little thin, but don't worry—that's how it's supposed to be. Microwave, uncovered, on high power for 1 minute. (If you don't know the power level on your microwave, start with one minute and continue cooking in 10-second increments until the brownie is done.) After cooking, the brownie should still look a tad moist, not dry. Some wet-looking spots are okay; those will set up as the brownie rests. Let the brownie rest for 4 minutes. The inside of the brownie is very hot and still cooking, even though it's not in the microwave. It may be hard, but the wait is worth it! It gives the brownie a better flavor and texture. Serve with a scoop of vanilla ice cream or a small dab of cream (whipped or un-whipped).
---
Editor's Suggestion: Air fryers are an on-trend kitchen appliance. If you've got one, try these great air fryer meal ideas:
Salmon filets
Chicken thighs/breasts
Chicken nuggets
Crispy vegetable sides (toss Brussels sprouts, cauliflower, and broccoli in olive oil, salt, and pepper before cooking)