Cold Brew
The unlikely mash-up between coffee and beer that will make you re-think your daily cup of joe
Written by AMANDA LECKY
Photography by STEVE HENKE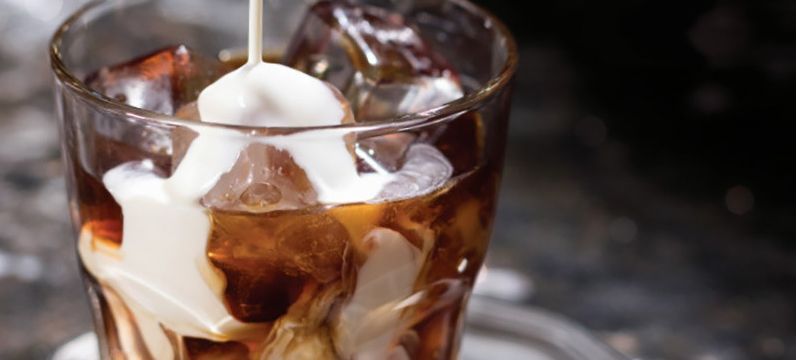 Cambria design shown: ELLESMERE™
Smooth and sweet, with an extra kick of caffeine, there's much to love about cold-brewed coffee. But the best thing about this summer drink may be how well it mixes with other flavors, from cream (of course) to flavored syrups and more grown-up mixers. Think beyond whiskey to more unexpected pairings. "The rich, concentrated flavor of cold brew is the perfect complement to black beers like porter and stout, which have similar toasted coffee notes," says Michael Agnew, a certified cicerone (think sommelier for beer) and beer educator from A Perfect Pint. Just don't call it a cocktail: This rich and surprising mix of iced coffee and creamy stout is a whole new breed of indulgence. You can buy cold brew by the growler at many coffee houses, but it's a cinch—and far less expensive—to make at home.
IRISH ICED COFFEE
Mix 2 oz. cold-brew coffee, 2 oz. Guinness stout, 2 oz. Irish whiskey, and ¾ oz. simple syrup in a highball glass. Add ice. Pour ½ oz. heavy cream over the top. Sprinkle with freshly grated cinnamon.
HERE'S THE SCOOP
The Brew
If you like your cup smooth and bright, not bitter and acidic, you've found your match in cold brew. Here's how to make it: Grind ¾ cup of coffee beans very coarsely and place in a pitcher, large mason jar, or French press. Pour 4 cups of cool water over the coffee and stir well. (You can adjust the ratio of coffee to water, and the amounts of both, to suit your taste and the size of your brewing container.) Wait 12 to 24 hours to allow the water to fully extract flavor from the coffee beans. Strain twice using a fine-mesh sieve, coffee filter, or cheesecloth (if using a French press, simply depress the plunger). You now have a cold-brew concentrate, which you can dilute with water or milk.
The Beers
"Porter and stout are the beers that mix best with coffee," says Michael Agnew. "In fact, coffee beers—porters and stouts that have coffee beans roasted along with the grains during brewing—are a big trend in the craft-brewing world right now." Don't call these well-known beers dark beers, says Agnew: they're actually black beers. So, how do you choose the right one for your concoction? "You can match the bitterness of coffee with a bitter beer (a dry Irish stout like Guinness, for example) because the two flavors will actually tone each other down. Or, balance bitter with sweet by choosing a sweeter beer like an Imperial or sweet stout. Either way, you can't go wrong!" says Agnew.
PICK YOUR PINT
Porter and stout can be quite similar, but as a general rule of thumb, stouts have a stronger "burnt" flavor, while porters have more caramel notes. Because the flavors of coffee and black beer are similar, pair the latter with any food, savory or sweet, that you'd pair with the former. Here are Agnew's three different types.
DRY IRISH STOUT
Light (for a stout) and "intensely roasty," these stouts, like Guinness, have a low alcohol content and strong coffee flavors.
SWEET STOUT
Made with milk sugar that doesn't ferment, sweet stout has a rich mouthfeel. Another sweet option: Imperial stout, which boasts a higher alcohol content (9% and up) and a complex mix of vanilla, fruit, chocolate, and coffee flavors.
AMERICAN PORTER
American porters (and stouts) are typically more bitter and hoppier than English varieties, which may have more caramel notes.
GRAB AND GO WITH THESE BOTTLED OPTIONS
Bourbon County Brand Stout by Goose Island Beer Co.
Coffee Bender by Surly Brewing Co.
Victory at Sea by Ballast Point
TASTING TIPS
When making coffee at home, follow these steps to selecting, storing, and grinding like a pro.
BE YOUR OWN BARISTA
Arabica beans are prized for their delicate, less acidic flavor. Try beans from different growing regions to see which flavor profile you prefer, but keep in mind that beans with a light roast will be more acidic; a medium roast, sweeter; and a dark roast, smokier.
THE GRIND
For the best flavor, grind your own beans in a burr grinder just before brewing. Use a coarser grind for cold brew (if your grinder has different settings, choose French press).
SMART STORAGE
Protect your beans from exposure to light and air (which can degrade flavor) by storing them in an airtight, opaque canister.
PRO TIP
Coffee ice cubes (just freeze cool coffee in ice cube trays) will prevent your cold brew from becoming watered down by melting ice. Pair like a pro at home with Certified Cicerone Michael Agnew of A Perfect Pint. Visit APERFECTPINT.NET for more info.