Cider House Rules
This ain't apple juice. Hard cider is crisp, refreshing, and hitting an all-time high.
Written by AMANDA LECKY
Photography by STEVE HENKE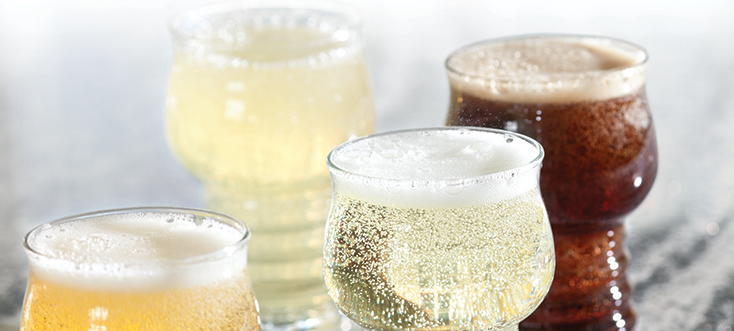 DON'T CALL IT A COMEBACK
Cider has been on tap for centuries. The Romans first recorded the fermented apple drink upon reaching England in about 55 BC. After a free-flowing history in Europe, cider traveled across the pond with the earliest settlers and was Colonial Americans' tipple of choice. But tastes change, and in the U.S. popularity of cider eventually faded as an influx of German immigrants and easier grain transportation along rail lines helped beer replace cider in our pint glasses. Fast forward to 2016, when cider is having a bona fide moment. Sales have tripled since 2012, with both major beer manufacturers and craft brewers joining the apple-picking party. If you've already (re)discovered the fresh, engaging flavors of cider—or would like to—read on. Here's a primer on a new (old) favorite.
GET YOUR POUR ON
Not surprisingly, the flavor of cider depends on the apples used in its production—traditionally, a combination of sweet, sharp, and bittersweet apples. "Sweet apples like Fujis are very low acid and low-tannin," says sommelier and cider enthusiast Leslee Miller of Amusée Wine in Minneapolis.
"Sharp apples, like Granny Smiths, are mostly tart. And bittersweet apples—the secret to giving cider a bit of pucker and bite—are low in acid and high in tannin." England is the world's top producer of cider apples, partly because American makers face a dearth of the right kind of orchards.
"When Prohibition came along, it devastated the U.S. infrastructure of bitter apple trees, as orchard owners replaced them with other varieties," says Jim Watkins, co-owner of Sociable Cider Werks in Minneapolis. Vermont is known for its heirloom apple varieties, giving New England cideries the luxury of plenty of the "spitters" (a nickname for bittersweet apples derived from their acrid flavor) they need. "But in the Midwest it's nearly impossible to find them in meaningful volume," says Watkins. "So we've turned to hops and grains to add bitterness and body." Sweet ingenuity.
PICKING A WINNER
Every country around the world has its own style of cider, says sommelier Leslee Miller. "English ciders tend to be drier, French can be a bit sweeter, and Spanish more acidic." American cider has influences from all over, says Michelle Foik, co-founder of Eris Brewery and Cider House in Chicago. "American ciders are less narrowly defined," she says. "You'll find mass-market hard ciders, herbal ciders, wine-style ciders, and many more." So whatever your tastes, you're sure to find a style you like.
HARD CIDER
Sometimes also called "Cider," hard cider is a fermented drink made from pressed apples, yeast, and sometimes sugar. Most hard ciders range from four to seven percent alcohol by volume.
CIDER
A broad category produced from pressed apples and yeast, cider may also contain the addition of other ingredients, including hops, grains like rye or barley, and fruits from cherries to blackberries, herbs, spices, and more, says Foik.
CIDER WINE
Most commonly produced by French cider-makers, cider wine is higher in alcohol than hard cider and cider, with levels up to 11.5 percent alcohol by volume. Some makers add sugar or honey to the fermentation process, and the cider bottles are conditioned with a second fermentation, much like Champagne. The result is complex and dry, says Miller.
TASTING TIPS
Sampling ciders is similar to tasting wine or flights of beer: Best done with the guidance of an expert and with a little foreknowledge. Leslee Miller shares her expert tasting advice:
1. Choose the right glass
"Pour your cider into a wine glass, not a pint glass, and never drink from the bottle. Swirl it very gently or not at all—if the cider is carbonated, swirling will make it bubble up."
2. Inhale the aroma
"Stick your nose into the glass and smell the aromatics, noticing floral, honeyed, green snappy, red juicy, notes."
3. Drink mindfully
"If you've been presented an arrangement of flights, drink them in the order they're given to you. You'll notice a range of flavors and sweetnesses, from very dry, to sweet, to spicy, to herbal." Where to go for a great tasting experience? You'll find a wide variety of craft ciders served in bars in many cities, so look out for tasting events at your favorite brewpub. Or, ask about tasting at your local cidery. You can find one at CIDERASSOCIATION.ORG.
4. Enjoy with food
"Ciders are particularly delicious with roasted meats, and they're the ideal mate for a cheese plate because the crispness and acidity cuts through the creaminess of the cheese," says Miller.
CIDER CENTRAL
If you really want to get a feel for the cider industry, head to CiderCon, a yearly opportunity for cider enthusiasts to learn about the latest trends and market developments. For more information, visit American Cider Association.