Chicken Cacciatora With Savannah Creamy Sage Grits
Add this versatile chicken recipe from a top chef to your recipe arsenal. It delivers huge, savory flavor and is remarkably easy to make.
Written by SUSIE EATON HOPPER
Photography by STEVE HENKE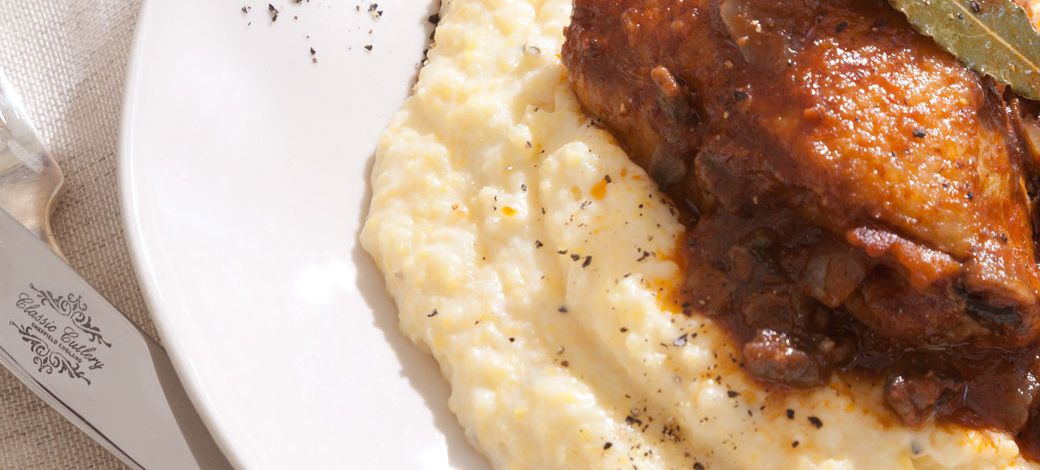 INGREDIENTS
Serves 4
1 large frying chicken
½ tsp. salt
Pepper to taste
½ cup olive oil
1 onion, chopped
4 cloves garlic, minced
1 lb. chopped button mushrooms
1 small can tomato paste
2 cups hot water
½ cup dry red wine
1 bay leaf, crumbled
1 tsp. allspice
DIRECTIONS
Sprinkle cleaned, cut-up chicken generously with salt and pepper. In hot oil in a heavy sauce pan, brown chicken on all sides. Add onion, garlic, mushrooms, and sauce until chicken begins to brown. Then, combine tomato paste with hot water, wine, bay leaf, and allspice and pour over chicken. Stir well. Cover and simmer on low until tender, about half an hour. Uncover and simmer until the sauce thickens. Prepare grits at the same time as the chicken; serve as a side with the chicken.
Savannah Creamy Sage Grits
INGREDIENTS
3 cups water
½ tsp. salt
½ stick unsalted butter
1 cup grits
½ cup Asiago cheese
¼ cup sour cream
1 Tbsp. fresh sage leaves, minced
DIRECTIONS
Bring water, salt, and butter to a boil. Add grits and stir. Immediately reduce heat to a slow simmer until grits are gently bubbling. Continue to cook and stir for 30 to 45 minutes. If the grits thicken too much, add a cup of water to loosen. Add cheese, sour cream, sage, and then mix well. Adjust salt if needed. Serve as a side or top the grits with the chicken dish.
Chef's Tips
After rinsing chicken, before roasting or cooking, give it a quick rinse with any leftover wine you may have sitting on the counter to add flavor.
Use free-range, hormone- and antibiotic-free chicken, not only for humane and health reasons, but you can really taste the difference.
*Chef Kelly Yambor, chef at Savannah's elegant ELIZABETH ON 37TH, added a homey, Southern touch to her Italian grandmother's recipe with aromatic grits.
Pair with
WINE
Colene Clemens 'Adriane' Pinot Noir, Willamette Valley, OR
This delightfully feminine Pinot Noir makes this alluring light-bodied red the ultimate combo to the cacciatora and its grits.
BEER
Service Brewing Company Compass Rose IPA, Savannah, GA
It is owned by a group of 23 veterans in Savannah and can hold its own against tomato-based dishes.
WHISKEY
Henry James Georgia Rye Whiskey, Rabun County, GA
A small-batch, craft-brewed, Southern-style whiskey from Rabun County, GA.