Here's How Cambria Redefined Its Palette of White with New Designs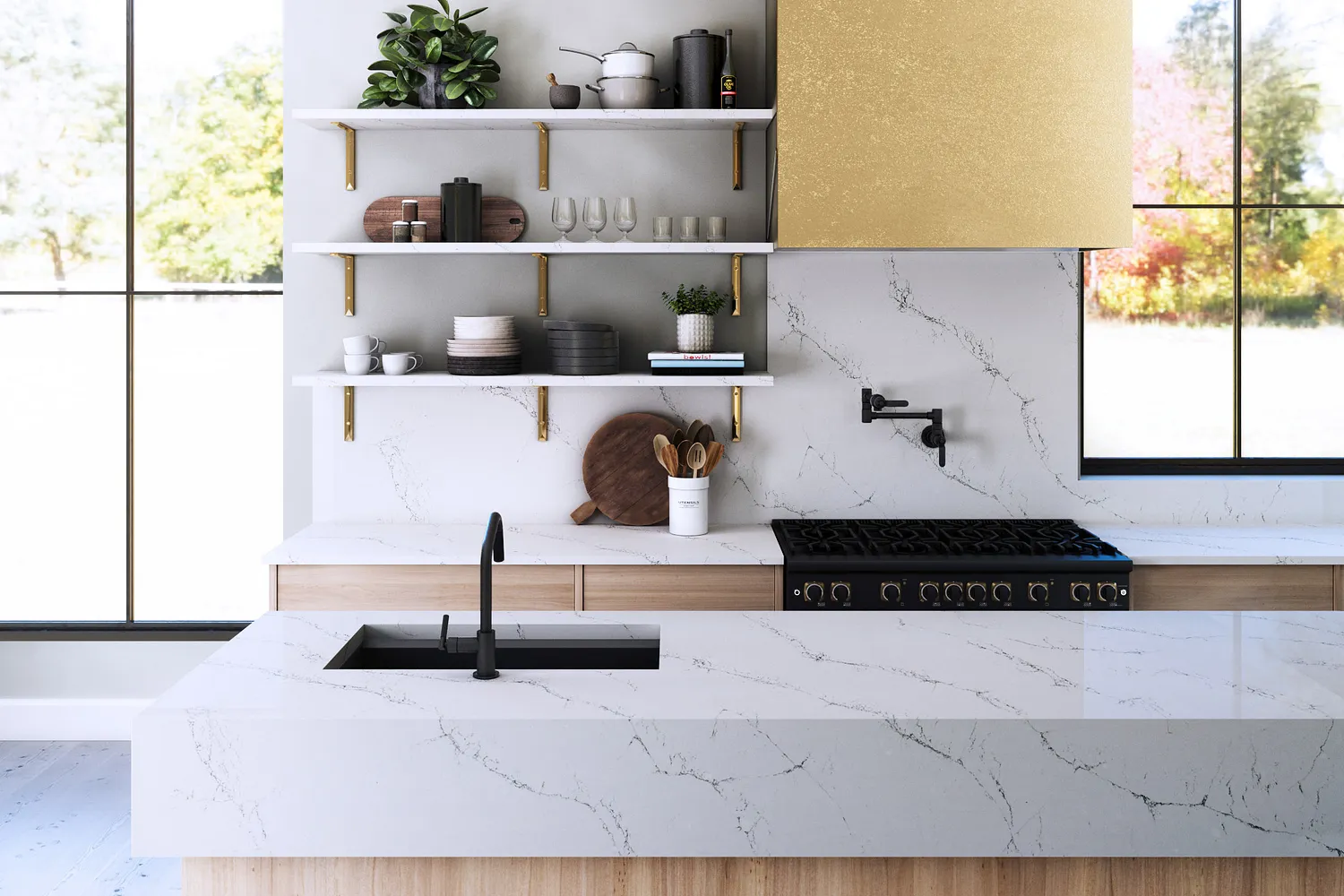 To celebrate its 20th anniversary this year, Cambria added 20 new designs to an already expansive palette of tried-and-true favorites. The latest additions offer both style and function and serve as a complement to the other 180+ design options in the Cambria catalog.
Nowhere is this truer than in Cambria's palette of white, which has been redefined with the 20th-anniversary marble alternative designs—Whitby, Malvern, Smithfield, Archdale, and Hawksmoore—that proves white is anything but basic.
Read on to learn more about Cambria's marble alternatives, why you should upgrade to quartz, and to discover why white is transformative.
Upgrade from Marble
Cambria's marble alternatives fit the look needed for any commercial or residential project with a beauty that will not fade. While beautiful, marble requires regular maintenance and is easily damaged. Comparatively, Cambria's marble alternatives provide an elegant solution with durable, food-safe and maintenance-free surfaces.
"The new whites from Cambria are the perfect alternative for the ever-so-loved look of marble," said interior designer Bria Hammel. "The latest trend to have the organic natural movement of marble can be a challenge for people who really want to live in their space and not worry about the maintenance."
The Cambria marble alternatives provide the best of both worlds with a range of new design options that are just as beautiful as they are easy to love—and care for.
Our designs with subtle movement range in tones, from the delicate warm vanilla of Malvern and the muted contrasts of Whitby to faint veins of Smithfield. Be inspired by the dark chocolate brown striations of Hawksmoore and the subtle fine-grain capillaries of Archdale. These designs make choosing the right white easier than ever before.
An especially deceiving interior design misconception is that white equates to boring, but Cambria knows white is timeless. To simplify the design process, Cambria defines its white palette as either 'simple' or 'with movement.' Here, we share more about the two styles.
Simple Whites
Cambria's simple whites include Malvern, Whitby and Smithfield designs, all of which are stylish yet serene. They add subtle depth with delicate and muted palettes that pair well with any interior aesthetic.
Paragon Kitchens helped Cambria create a moodboard for Whitby and paired the design with live greenery, onyx tile, oatmeal upholstery and dark wood cabinetry, all of which pop against Whitby's neutrality and provide subtle impact. Just like a white dress can be the unifying background on which to mix florals, stripes and bold accessories, so is Whitby's nature.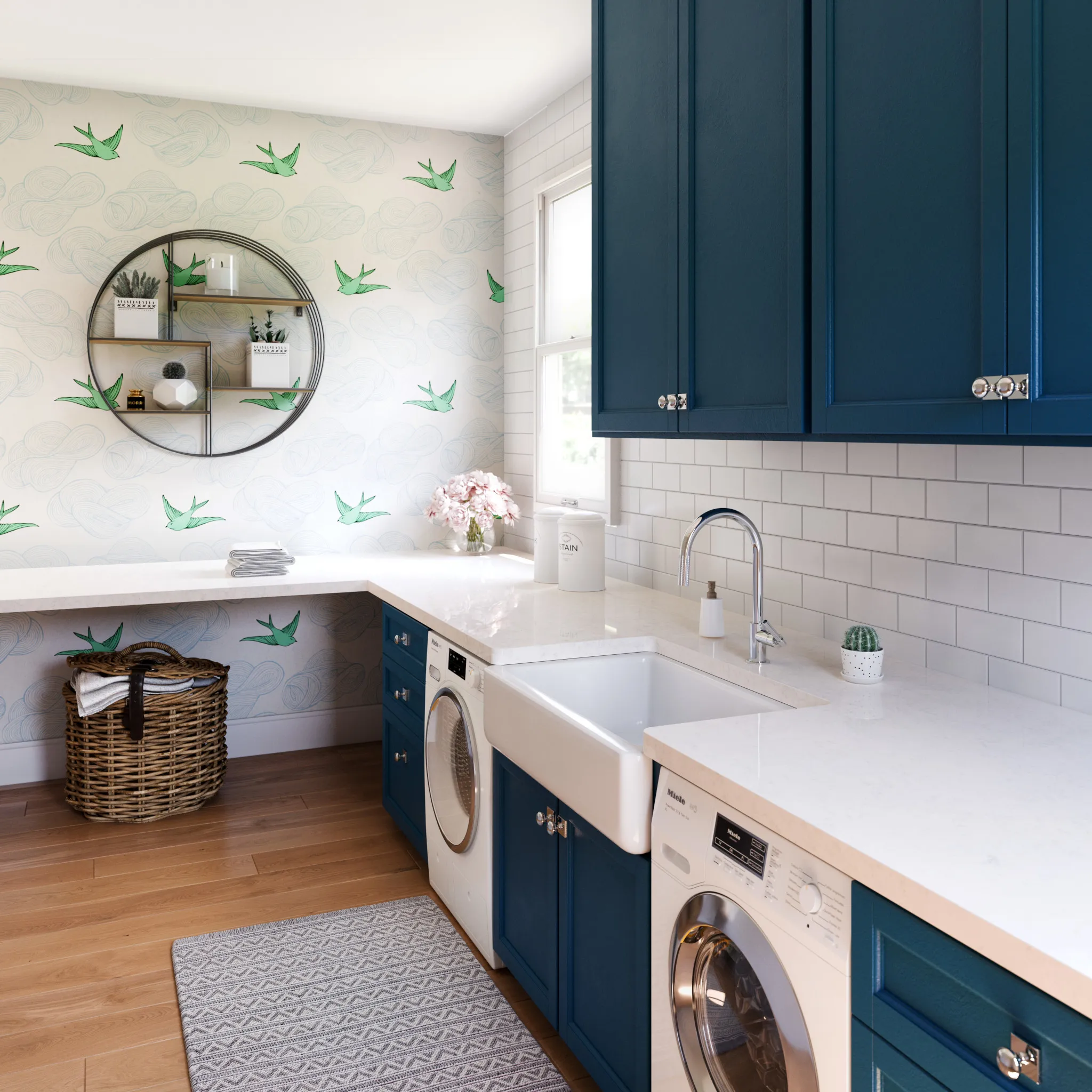 With the help of Artistic Cabinetry, Cambria created a moodboard with Malvern, which paired the design with warm wood accents, complementary light-hued paint, chrome hardware and taupe-y gray cabinetry.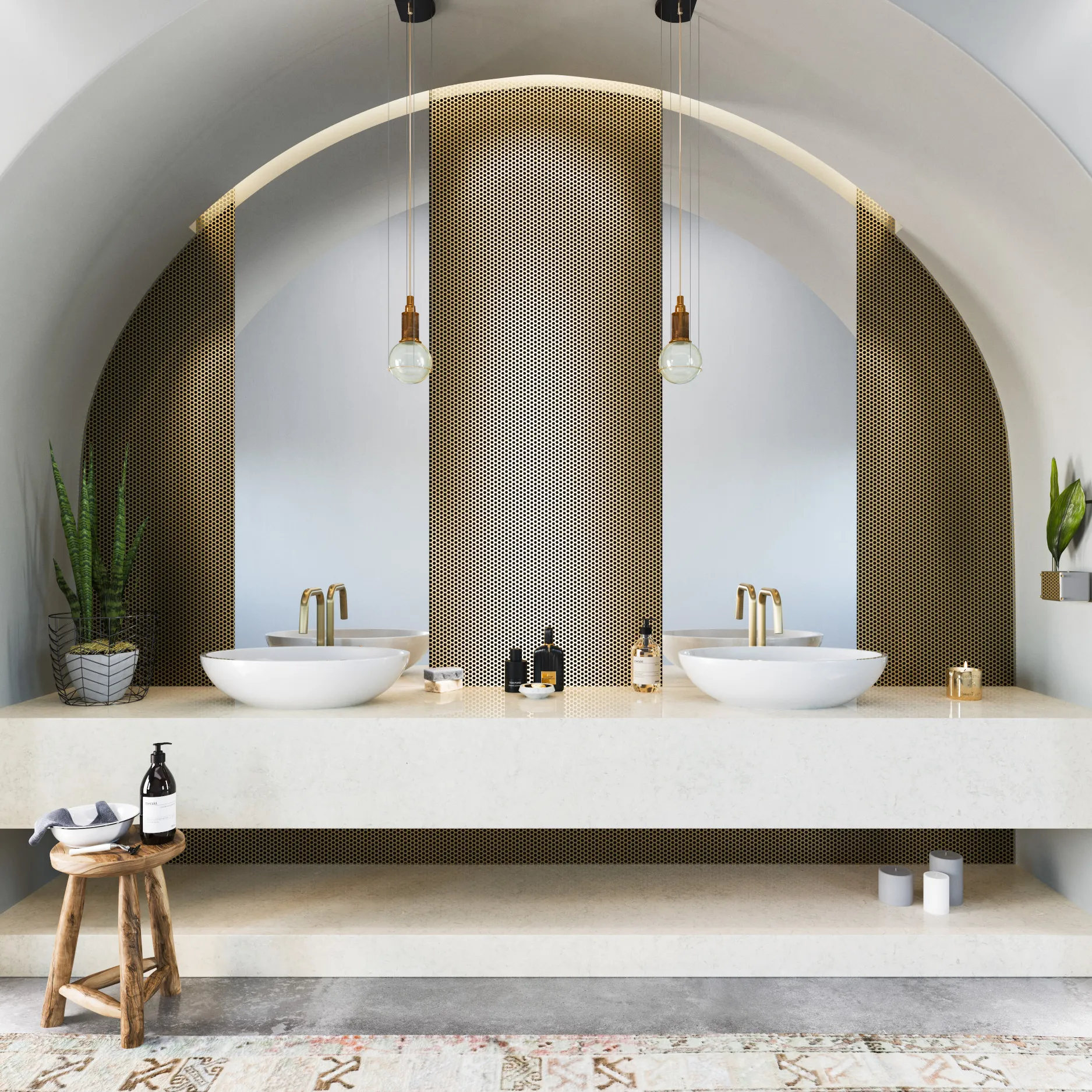 Minka McDonald of Jinx McDonald Interior Designs plans to use Smithfield for a client who wants a dramatic and bold black and white kitchen with pops of gold.
"I don't want to go too stark with the countertops, so the subtle, faint veining in the white background of Smithfield is perfect for this scheme," she said. "And with a large family that practically lives in the kitchen, my client wants a quartz surface for its durable qualities. Smithfield arrived just in time!"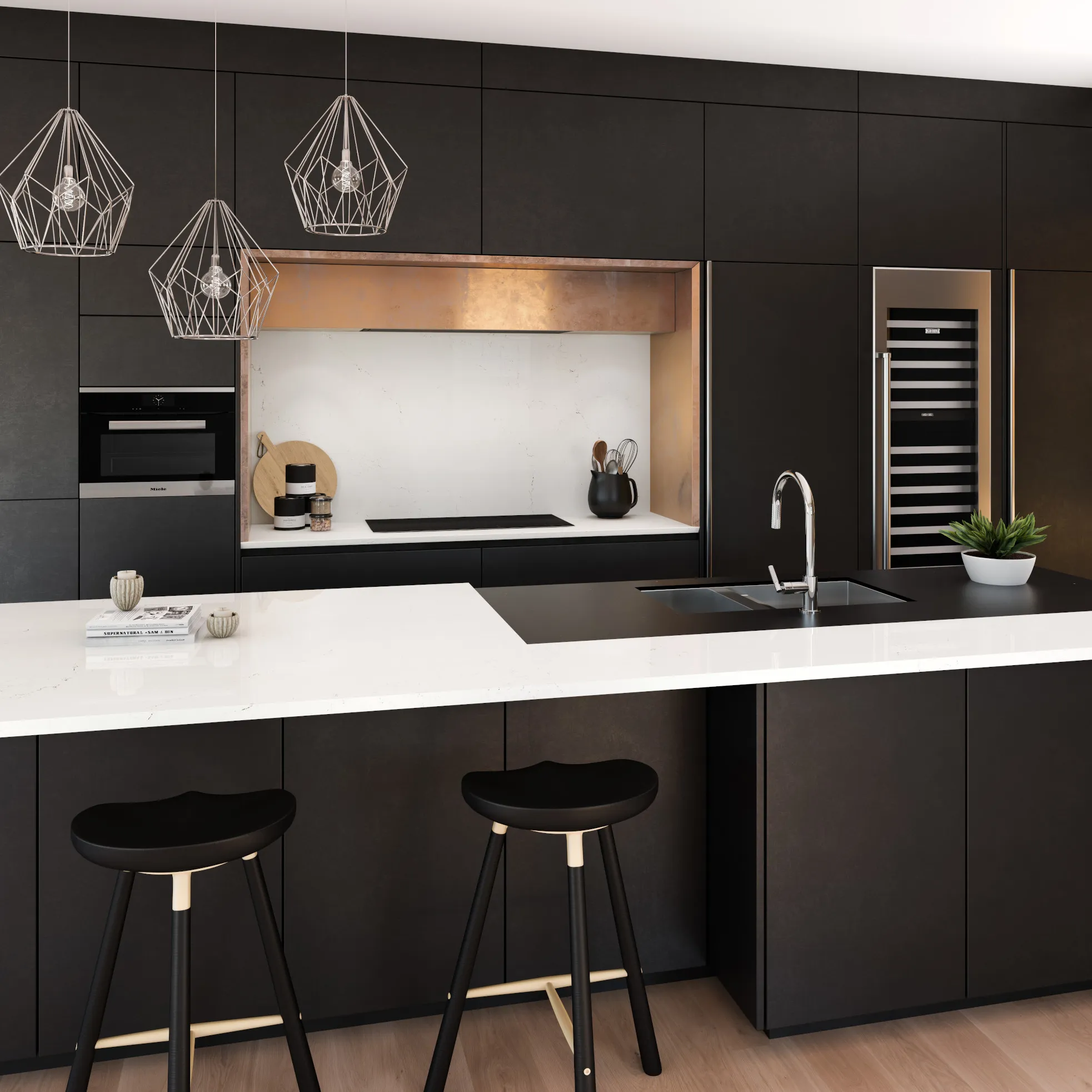 Whites with Movement
Cambria's whites with movement include Archdale and Hawksmoore designs, all of which create visual interest and break up any monotony in a space. They combine bold veining and dramatic tones without sacrificing neutrality, making each design a perfect solution for any room or need.
"We have been inspired designing with some of these patterns, like Archdale, to use not only on kitchen countertops but also carrying them up the wall as backsplashes, down the island for a waterfall, and even bringing them into the living area as fireplace surrounds," said Hammel.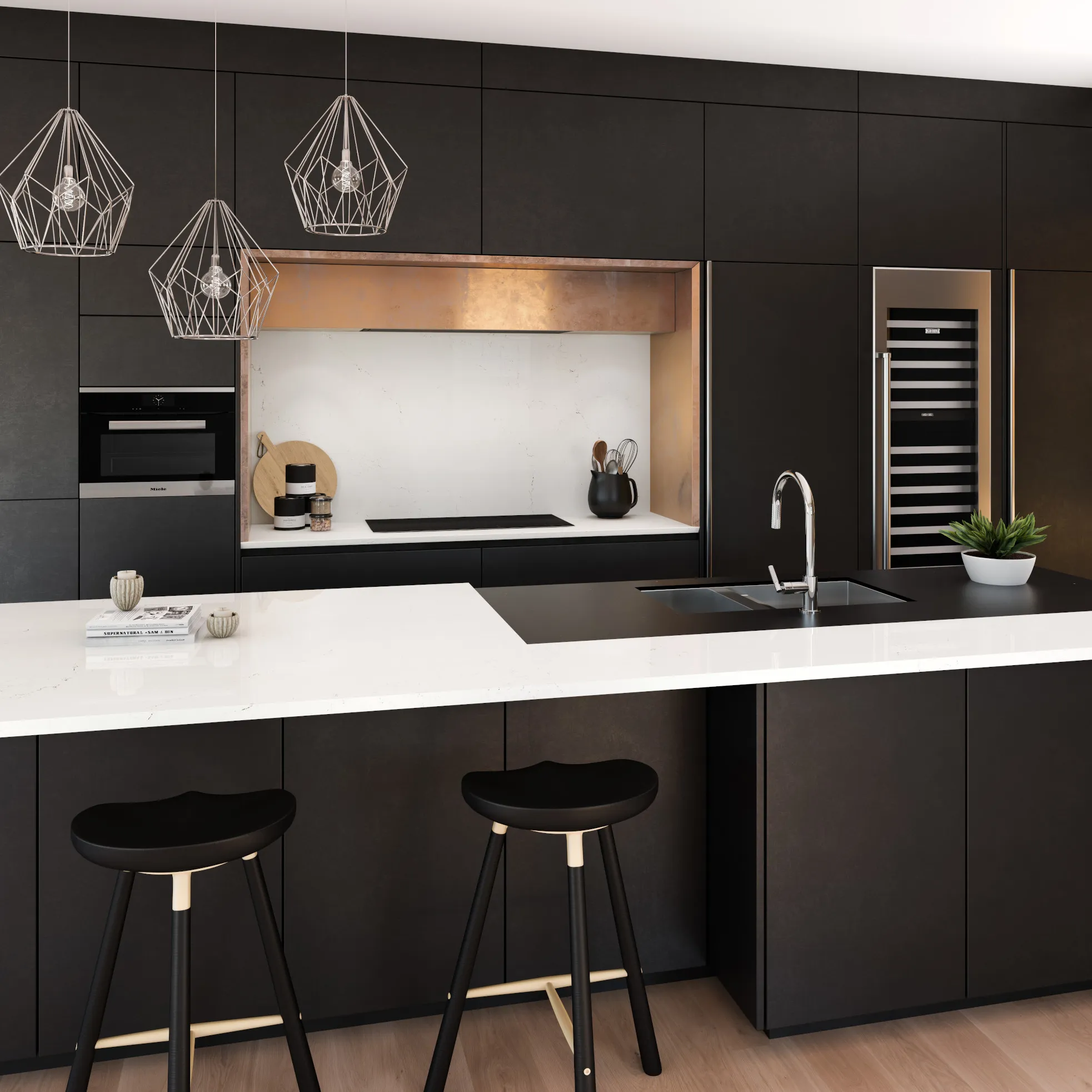 With Hawksmoore, Cambria created a moodboard that pairs the design with matte black hardware, warm wood tones, and paint in either neutral shades of brown, gray and white or standout tones like saffron and marigold to play up the inherent drama of the look.
"My traditional clients who have always been drawn to the look and feel of granite or marble, are turning the corner into the world of quartz with the introduction of these new designs.  Hawksmoore offers a cream palette which is softer than the popular white," says Melissa Allen of Romanza Interior Design. "I love how the striated veining is so natural looking with the capillaries.  While the grey is still popular, my tendency is to gravitate towards the warmer tones that are more classic and won't show their age over time.  The faint dark chocolate brown coloring running through the Hawksmoore will look beautiful with a more traditional limestone hood or a more contemporary option in a kitchen.  Sharing with my clients the benefits of Cambria over other stone material, combined with the exceptional customer service, and extraordinary color palette selections available, it is easy to convert into the realm of Cambria."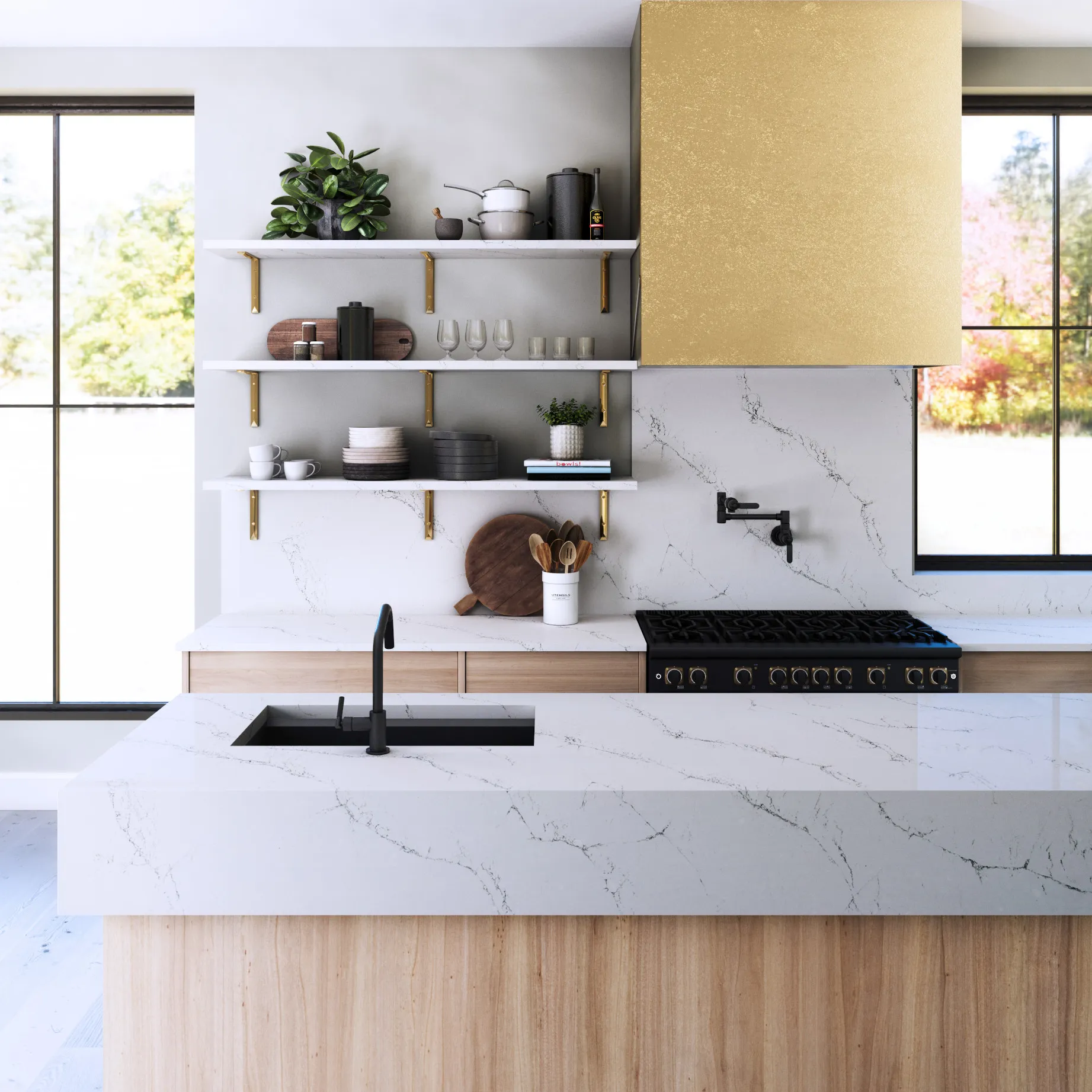 Get the Look
Follow Cambria on social media with the #MyCambria for more standout designs.
For more information on Cambria, including performance data, product specifications, and certifications, see our Professional Resources. Learn more about how Cambria has benefited various projects in these case studies.
Interested in creating a show-stopping design project with Cambria? Buy a sample, find a dealer, or call 1-866-CAMBRIA (1-866-226-2742) to be connected with a market representative in your region.
Please call 1-866-CAMBRIA (1-866-226-2742) to confirm design availability.