Cambria's Newest Designs Featuring Gray Tones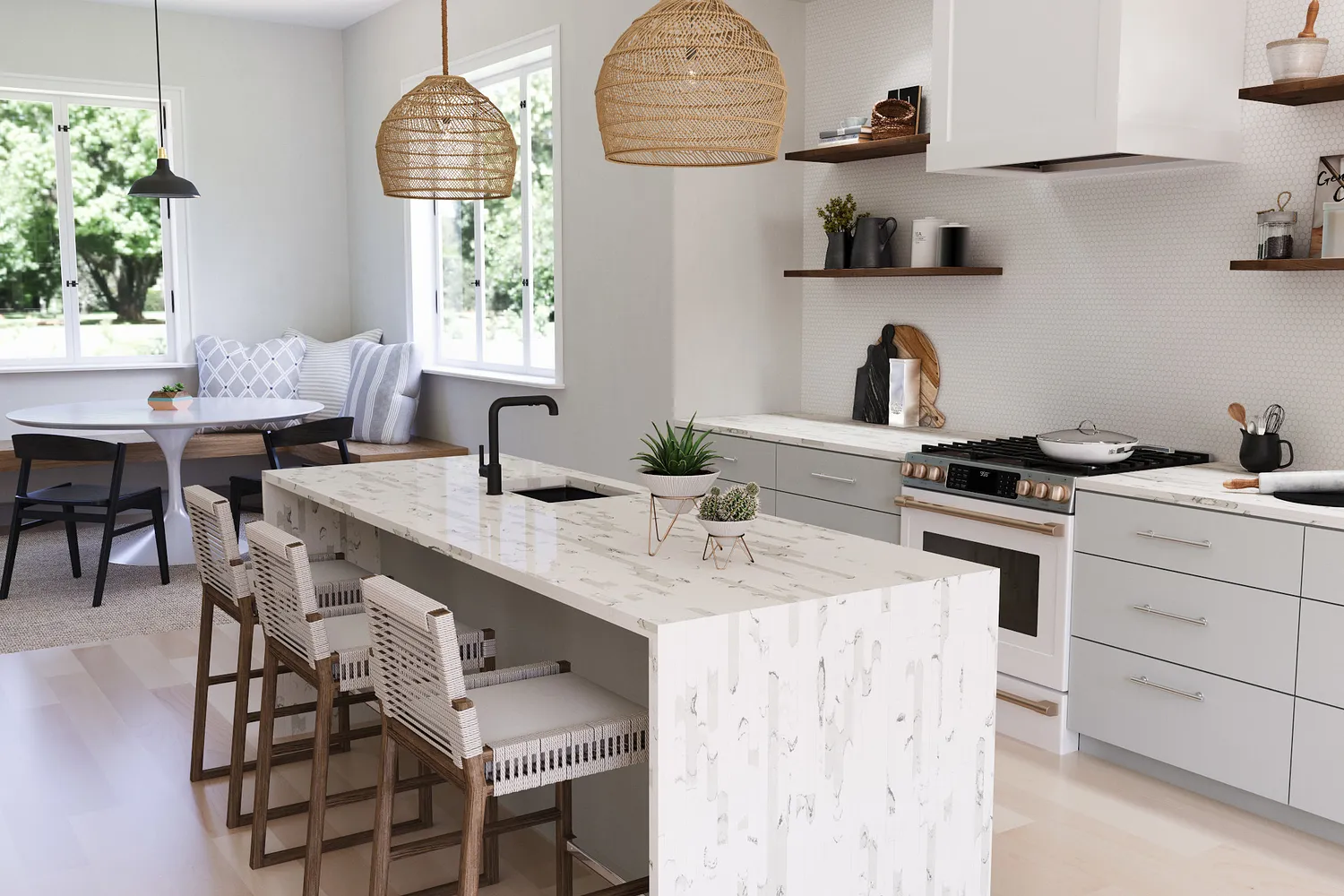 This year, Cambria is celebrating its 20th anniversary, and we did so in style by adding 20 new designs to our already expansive palette. To help you find ways to incorporate Cambria's newest designs into your next project, we created moodboards that showcase ideas for using each look in a space.
Building a moodboard allows you to bring colors and finishes together to see how they pair together. Order a sample of your favorite Cambria design or even multiples to mix and match, then have fun with it! No matter your taste or preference, Cambria has a design to suit every need.
Here, we're sharing more about how to pair each design.
Bridport
To complement the light gray and cream tones in Cambria's Bridport design, we pulled together a moodboard that features shades of gray, whether in dark herringbone tilework or in textiles, contrasting black hardware, light or dark stained wood and neutral shades of paint that allow the design to pop.
Making a Moodboard: Bridport
Cambria brought the look to life in a modern bathroom with a Bridport backsplash that runs from behind the sink through the shower. A glass partition between the sink—with a floating marble vanity—and shower showcase the design, and the blue herringbone patterned floor tiles, warm wood shelving, beige towels, black hardware and open view to the outdoors add dimension to the space.
Buxton
Cambria played with the industrial, grainy concrete foundation in the bold yet never overbearing Buxton design with a moodboard featuring gold hardware, dark gray cabinetry, greenery, neutral textiles and paint tones in white and gray, and a choice of light or dark wood accents.
Making a Moodboard: Buxton
The moodboard translates to a kitchen design featuring an abundance of Buxton in the waterfall island, countertop and backsplash. The style works well with the kitchen's unique herringbone flooring, black stools with gold metal features, a slatted dark wood hood, and no shortage of natural light.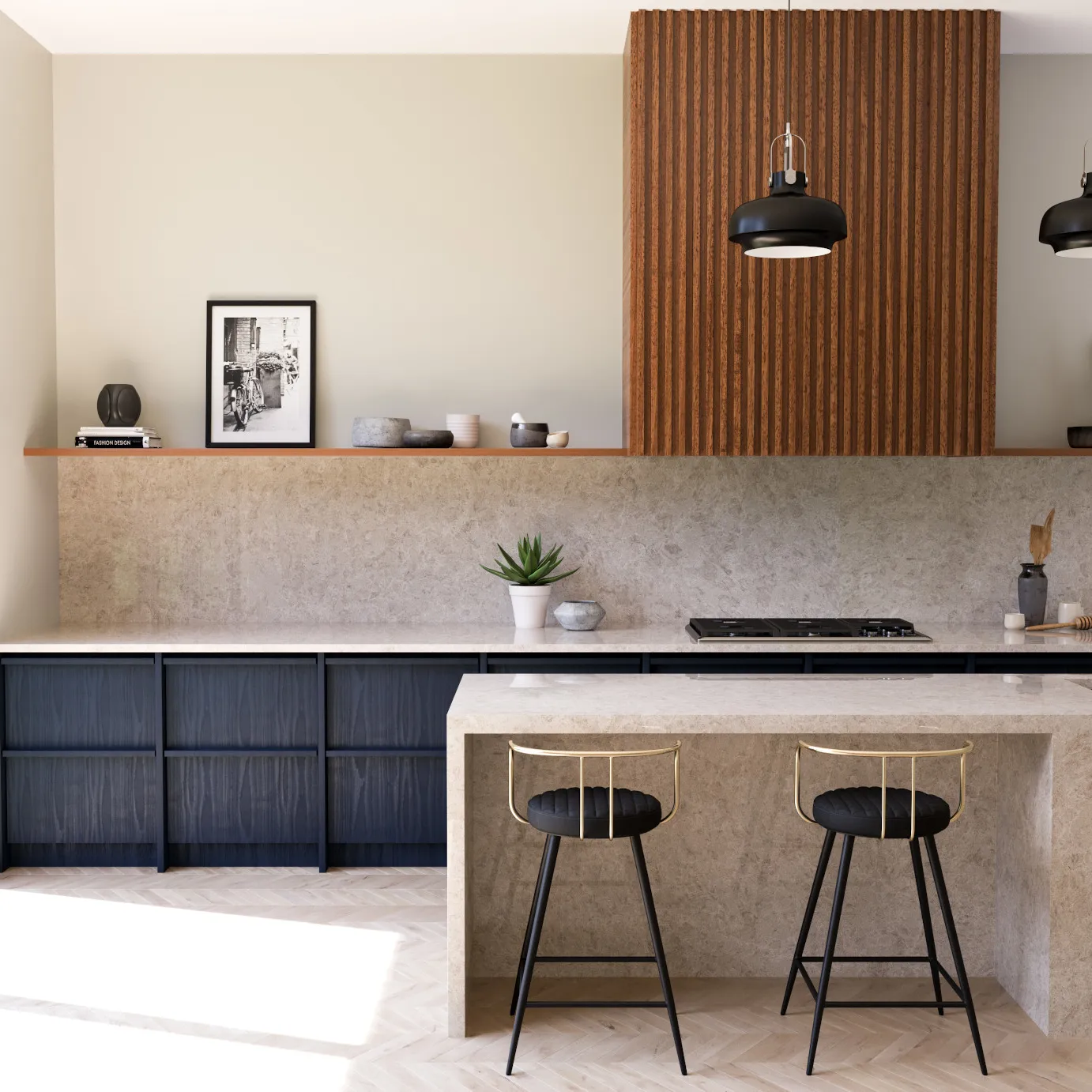 Buxton™'s grainy foundation intermixed with gray and cream swirls and white speckles offers an industrial concrete look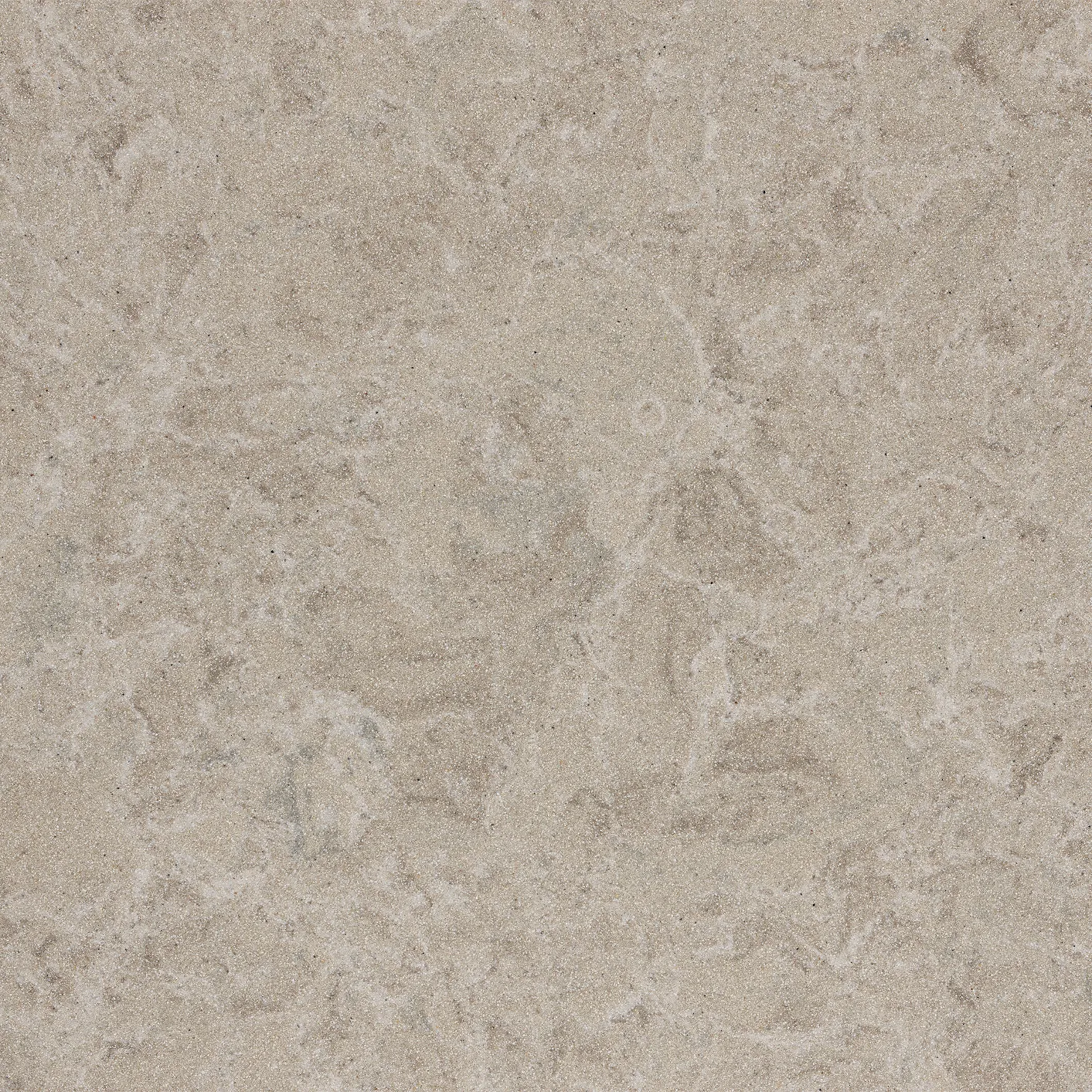 Cambria Buxton design detail
Brittanicca Block
To highlight one of its signature designs, Brittanicca, Cambria created a Brittanicca Block moodboard that showcases the style's parallel lines and unique veining by leaning into the white, marble-like tonality with pops of greenery, a navy patterned rug, black and white pottery, complementary light wood and neutral paint.
Making a Moodboard: Brittanicca Block
Harrogate
Cambria showcased Harrogate's black and dark greige geometric sections atop a pale creamy base in a moodboard that features black geometric tilework, matte black hardware, soft textiles, woven accents, amber glassware and moments of greenery.
Making a Moodboard: Harrogate
The moodboard translates to a contemporary bathroom design with Harrogate featured prominently from floor-to-ceiling on the wall behind the vanity. The design pops against contrasting black tilework behind a white freestanding tub, a woven natural rug, circular mirrors and black floating cabinetry.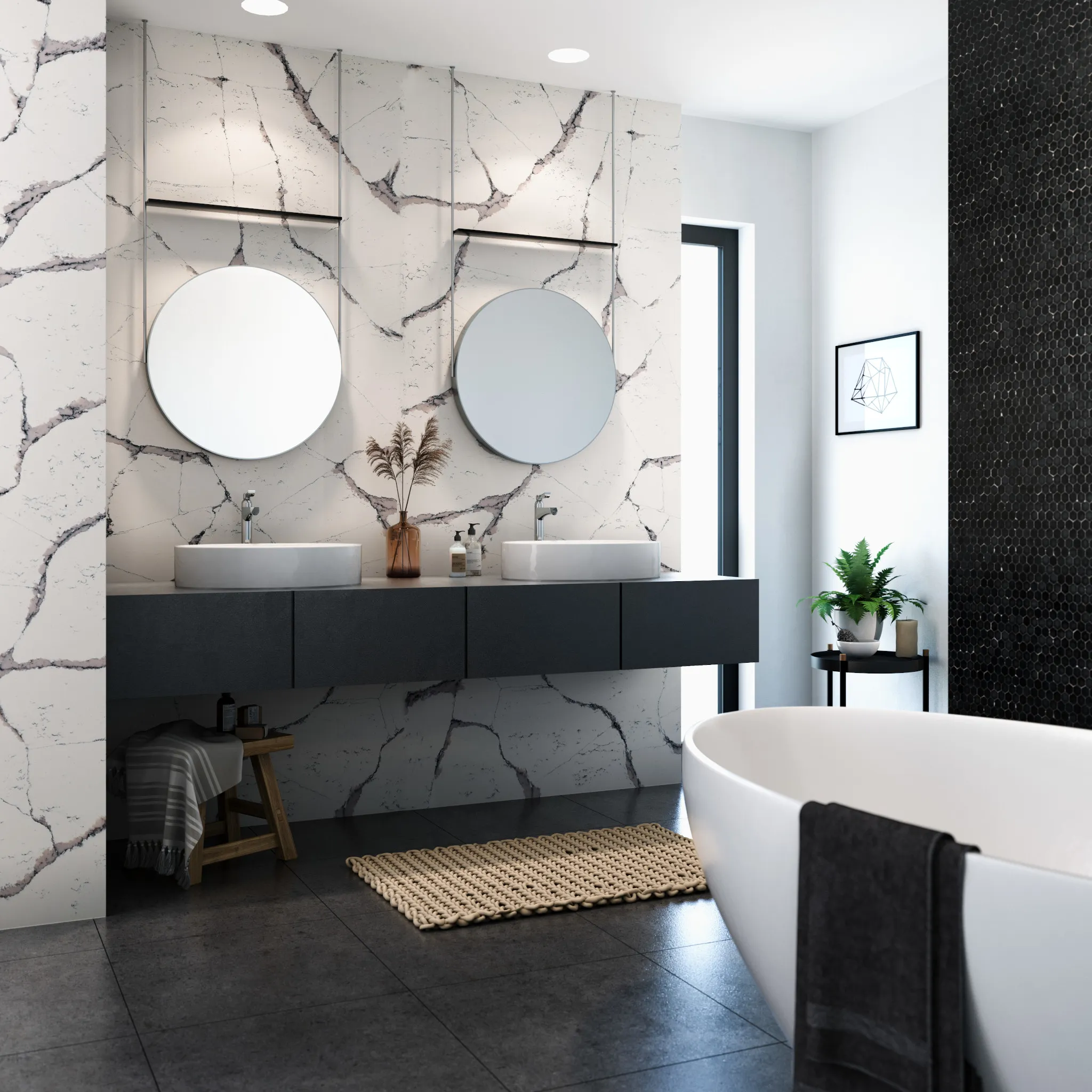 Harrogate™ introduces a fresh look in the Cambria palette with strong black and greige accents creating a geometric look.
Windrush
To highlight the dark and dramatic medium gray tones in its Windrush design, Cambria pulled together a moodboard featuring elements that allow the style to shine, including matte black hardware, geometric textiles, white tilework, leather cabinetry pulls, light stained wood and gray and beige paints.
Making a Moodboard: Windrush
In its real-world bathroom application, the look followed the moodboard nearly exactly with black and gold accents, black leather cabinetry pulls, a patterned rug, warm wood cabinetry and black hardware, all of which showcase the versatility of the Cambria Windrush design.