Hotel Ivy's Anda Spa Stunning Renovation Featuring Cambria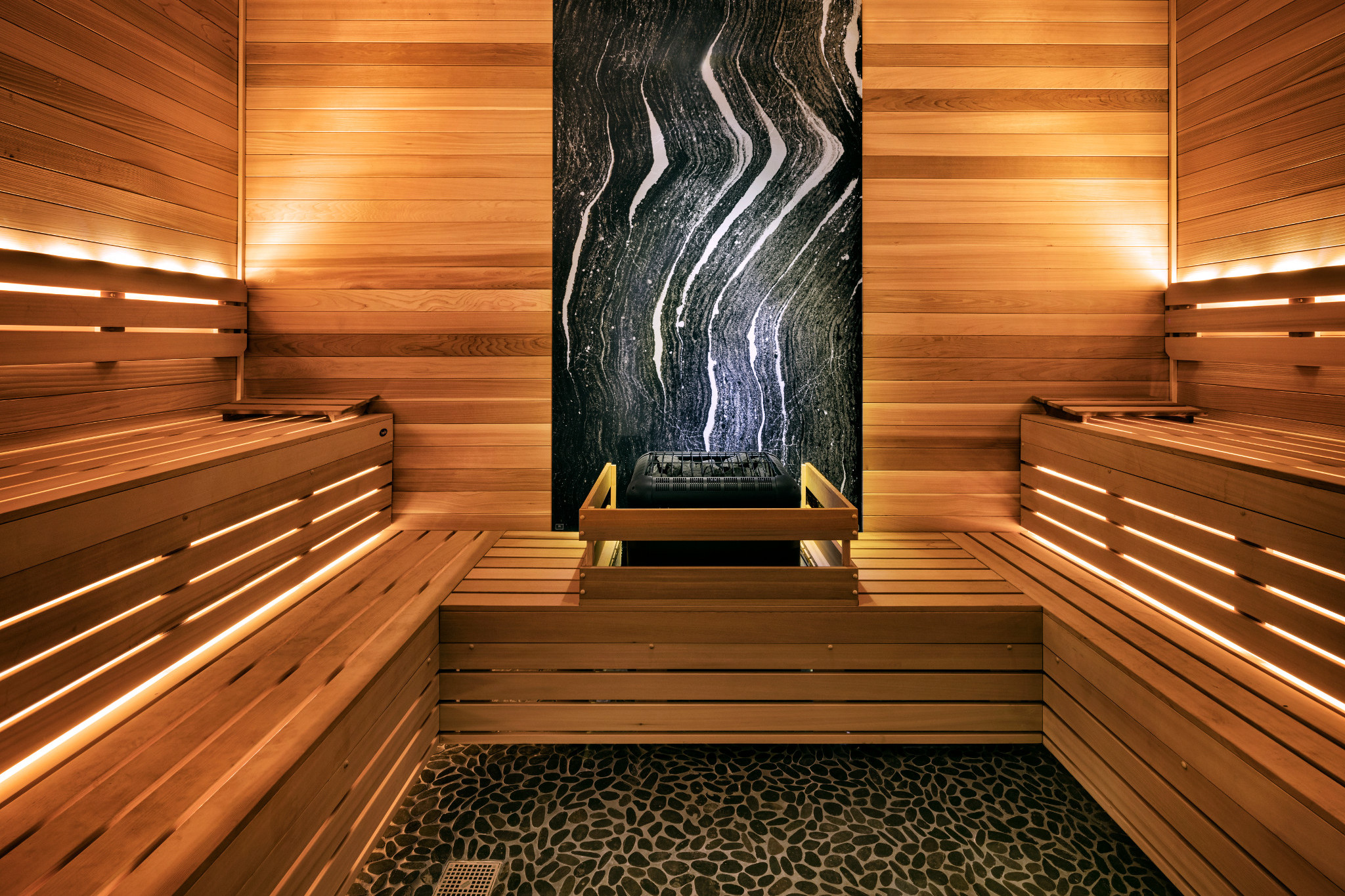 In August, the historic Hotel Ivy in downtown Minneapolis unveiled its modern wellness retreat Anda Spa after a multiyear renovation. Throughout the space, you will find multiple installs of Cambria, which play a big part in the "nourish the spirit" aspect of the space's design.
Anda—"spirit" in Swedish—seeks to create a calmer, more balanced, and deeper sense of well-being with both its menu of services and its interior design. The philosophy is driven by a holistic approach through mind, body, and spirit with personalized spa treatments and rituals inspired by a sense of vitality.
We were thrilled to partner with Anda Spa to bring the philosophy to life and to build a gathering place of energy within the space, one just as beautiful as it is functional, with an array of Cambria designs.
Here, we're sharing more about the inspiration, the design process and, of course, the final showstopping result.
The Inspiration
We worked hand-in-hand with Hotel Ivy's partners, including hospitality company Wischermann Partners and interior design firm ESG Architecture & Design, to create Cambria quartz moments throughout the space that highlight both the spa's positive aura and its soothing aesthetic.
To do so, ESG senior interior designer Bridget Hale focused on chromas and tones, turning to rose crystals—known for love, self-acceptance, and confidence—for the lobby; grounding smoky quartz tones with Cambria's Rose Bay design for the lounge where one quiets the mind before and after a treatment; and a green jade hue for the treatment rooms to provide a regional connection to Lake Superior and the North Shore of Minnesota.
"Once the healing power of stone was decided on as the theme of the spa, we explored Cambria in innovative applications and bold movement to really push the boundaries," explained Eric Curry, Cambria SVP of corporate sales. "Our designs are a part of the Anda Spa story, while also showcasing our product as the hero of the key conversational material in the space."
The Design
Cambria is used in very creative and unique ways throughout Anda Spa. In total, there are seven featured designs, all of which showcase the versatility of the product in many different applications.
"From the front desk and the pool room to the sauna and even the bump outs in the locker rooms, the theme of Cambria runs throughout the entire space," said Curry. "I believe that it is the most extensive commercial installation we've completed."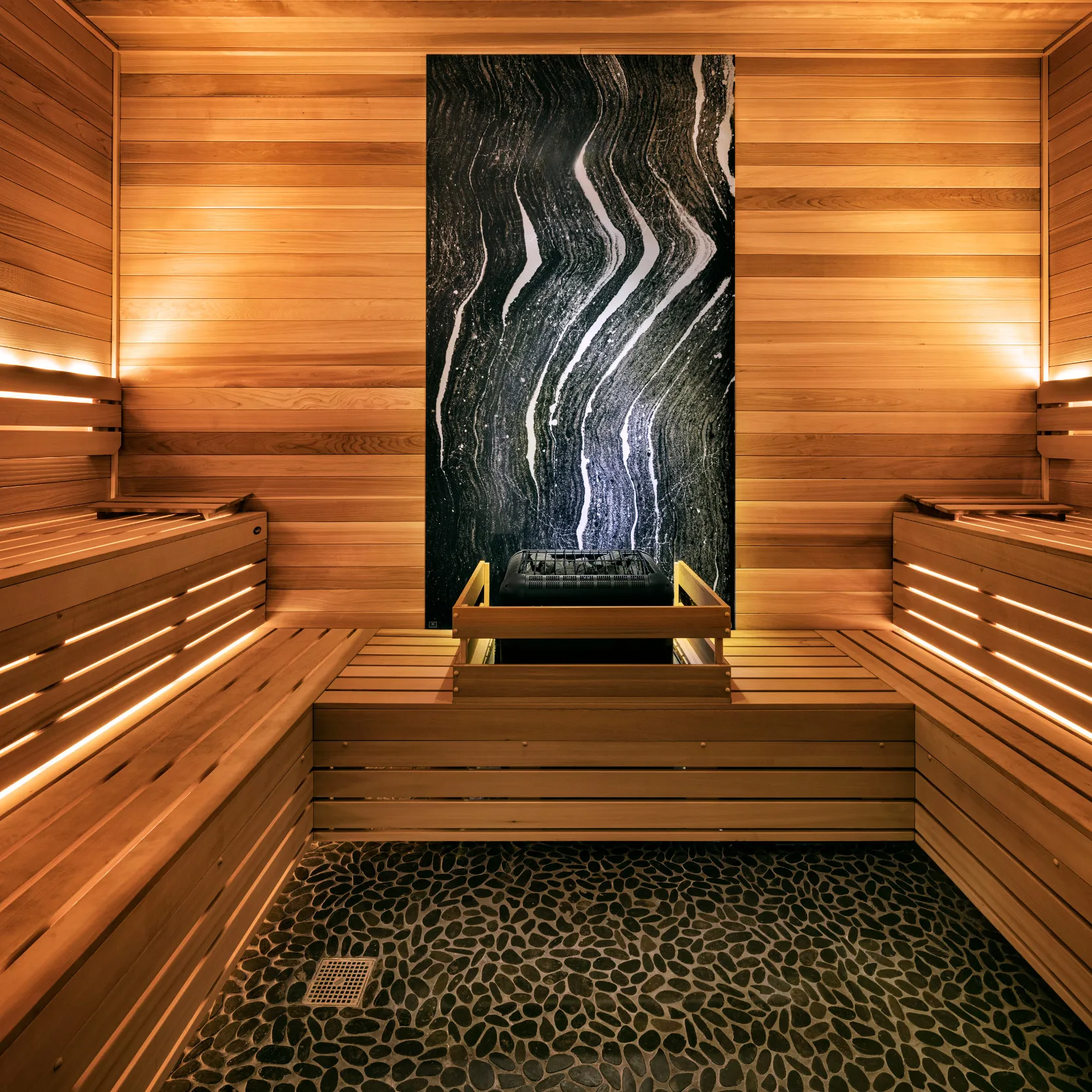 The warm gold accents of Cambria's Golden Dragon™ design in the sauna at Anda Spa.
"I don't use the word 'partner' lightly," said Wischermann president and CEO Paul Wischermann. "We want to create memorable experiences, and we are market leaders wherever we go. Finding someone like Cambria who shares the same kind of vision we have was wonderful."
The Final Product
Throughout the multiyear renovation, Anda Spa underwent a dramatic transformation to become the Twin Cities' premier wellness destination.
"As a designer, once the spa is open and being used, we are on the lookout for any issues, but we have heard nothing but good things," said Hale. "Everything is performing and holding up really well, which gives me confidence that Cambria was the right selection."
Added Wischermann, "Follow along on social media, where we are called out as one of the best spas people have ever visited in their life. As much as I'd like to take credit for that, it helped that we were working with world-class companies like Cambria."
And said Curry, "We know our product holds up but, when you put it in those applications and when it shines, that's even better."
Let us know if you visit Anda Spa, and be sure to tag us on social media with the hashtag #MyCambria.
For more information on Cambria, including performance data, product specifications, and certifications, see our Professional Resources. Learn more about how Cambria has benefited various projects in these case studies.
Interested in creating a showstopping hospitality design project with Cambria? Call 1-866-CAMBRIA (1-866-226-2742) for the commercial representative in your region to get started.