3 Home Workspace Ideas for Kitchens, Bedrooms, and More
Remote work. Creative projects. Household tasks. Homework. There are many reasons to create a stylish and smart home workspace. Determining the right type of home office or workspace will depend on your work needs, budget, home size, and personal style. Whether you're hoping for an open, airy office or a scaled-back space, we've gathered inspiration for three styles of home offices to suit a range of budgets and functions.
Small space solution: kitchen workspaces and built-in desks
Does your laptop often end up on your countertops, or has your kitchen island become a homework help-desk? A kitchen workstation may be ideal for your home. A dedicated space with a built-in working surface and storage helps to keep your kitchen organized and your countertops clear.
If you're planning a kitchen remodel, consider incorporating a built-in desk into your plans. Having a durable, maintenance-free surface like Cambria for your kitchen countertops and desktop means one less thing to worry about – even a coffee spill won't stain! Using the same countertop as your kitchen keeps the design cohesive, while choosing a complementary design for the desk will set the workstation zone apart.
The elegance of blogger MiaMiaMine's white kitchen featuring Brittanicca Warm translates effortlessly to a desk with coordinating backsplash. See the full kitchen transformation here.
You can also benefit from built-in worktops in other rooms, including the living room, den, or bedrooms. Having a built-in desk can make the best use of wall space, offering a custom fit and streamlined storage that a stand-alone desk can't offer.
If you're planning a child's workspace, Cambria makes a durable alternative to wood or laminate desks, which can scratch or stain. And the wipe-and-go convenience makes clean-up after art projects a breeze. This Torquay desk gives a luxe marble look with the parent-approved ease of Cambria. Pairing white cabinets with the desktop creates a blank canvas that lets personalized art shine.
Optimizing underused areas: defined desk spaces
Is there an area in your home that isn't used efficiently right now? It could be a bare basement wall, an oddly shaped corner, a wide hallway, or forgotten wall closet. Often these under-used areas can be transformed to a hardworking desk space.
A sleek desk space with Cambria can make smart use of square footage with a durable surface that extends the width of the wall. We love how these streamlined spaces create a defined working area in parts of a home that might otherwise be overlooked.
This dual-seat Swanbridge desk easily accommodates two computers for a shared home office or homework hotspot. White cabinetry and walls keep the space crisp and clean while playful geometric chairs add flair to this hidden nook.
Room to work: dedicated home offices and craft rooms
Whether you love being consumed by creative projects or need a quiet space for remote work, having a dedicated room may be the best setup for your workspace. Depending on your work style, a small home office with a high-quality desk and comfortable chair may be all you need.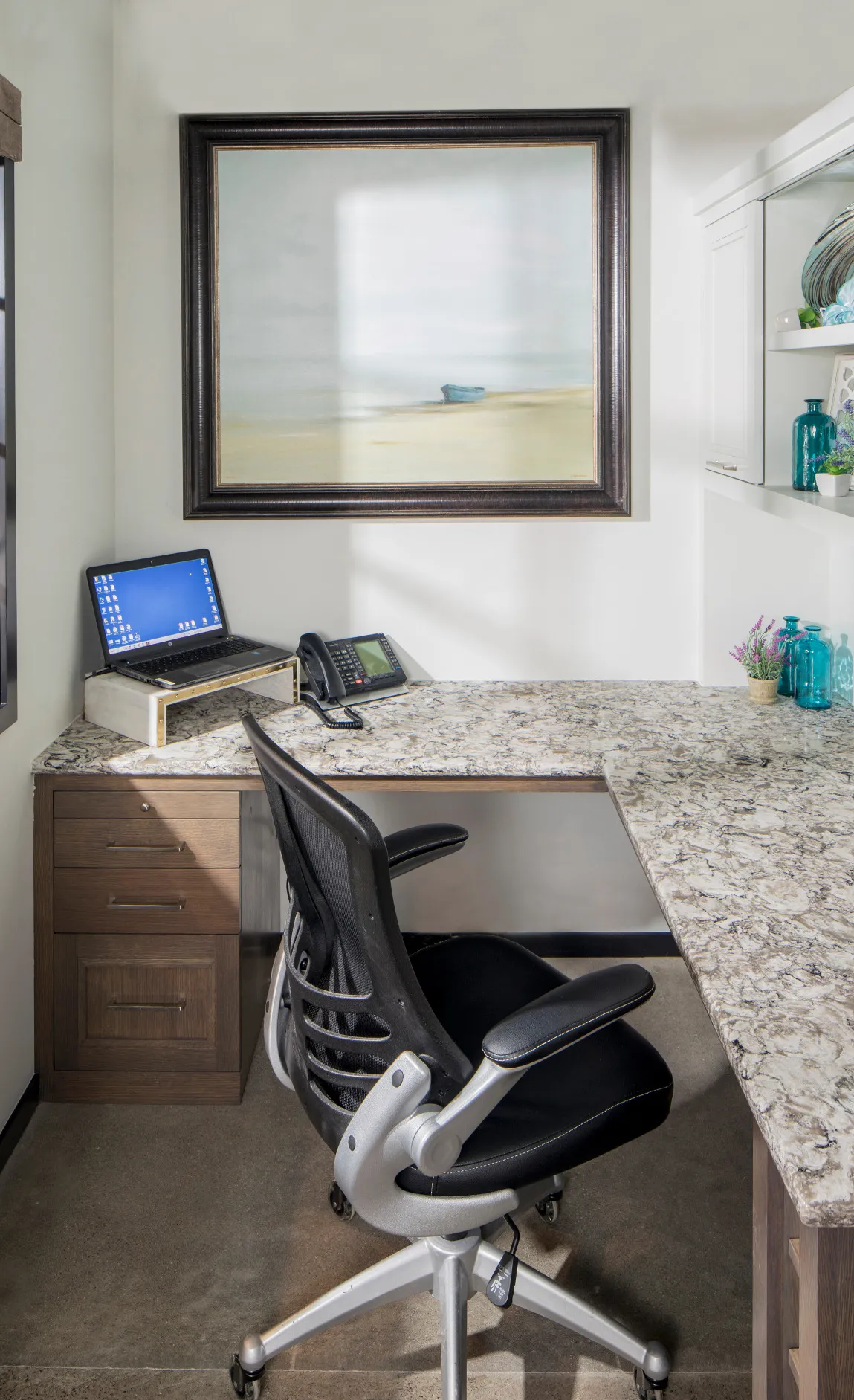 If you envision a creative space or shared family spot, you'll want more room for projects to take shape. A larger room can accommodate multiple surfaces and storage solutions, including a spacious center island. Cambria is ideal for craft room islands and gift-wrapping stations, as it resists scratching and staining. Work closely with your cabinet maker or designer to ensure storage that suits how you'll use the space.
These home craft rooms prove that a space that's designed to get messy can look effortlessly elegant with easy-clean Cambria. This glam space with an Ella island is perfect for scrapbooking, wrapping presents, or crafting with kids. Custom island storage keeps art supplies accessible and neat.
Hardworking materials with high style
Designing a home office to fit your personal needs, work style, and space can be a fun and creative process. Choosing a premium natural quartz surface like Cambria, that works as hard as you do, is a good place to start. Cambria's innovative design palette has options for any style. Start by ordering samples, building a moodboard, or visiting our Home Office Pinterest board for even more inspiration.
Ready to get to work? Contact a Cambria dealer to discuss your workspace wishlist.