Cambria Moodboard Series: High-Contrast Design
There is something sleek and timeless about pairing black and white. Together, these two colors are stronger than on their own. In any form of art there is the need for positive and negative space to create focal points and movement and interior design is no different. Often this is called high-contrast design and its style works wonders in any space. For lovers of this sophisticated, achromatic trend, we've created a high-contrast moodboard along with a roundup of our favorite black-and-white spaces to inspire.
Moodboards are not only fun ways to plan for a home remodel, but also a creative way to spark inspiration. Start with your favorite Cambria design; we love the gentle movement and white backdrop of Delgatie™. The warm cross veining makes it an excellent marble alternative and ideal for this style. Once your Cambria design is chosen, there are three key elements to keep in mind when making a moodboard so it translates easily to your dream room.
1. Adding drama
Black accents, when paired with a light countertop, are one way of achieving contrasted style. High-contrast design creates visual intrigue and balance. An entire wall in a dark neutral like black, slate gray, or navy, paired with a lighter Cambria design will make a big statement. Reverse this look by choosing a dark and bold Cambria design, like Blackbrook™, Ellesmere™, or Blackpool Matte™. An Ellesmere island adds drama to an all-white palette in this kitchen from Coalition Builders.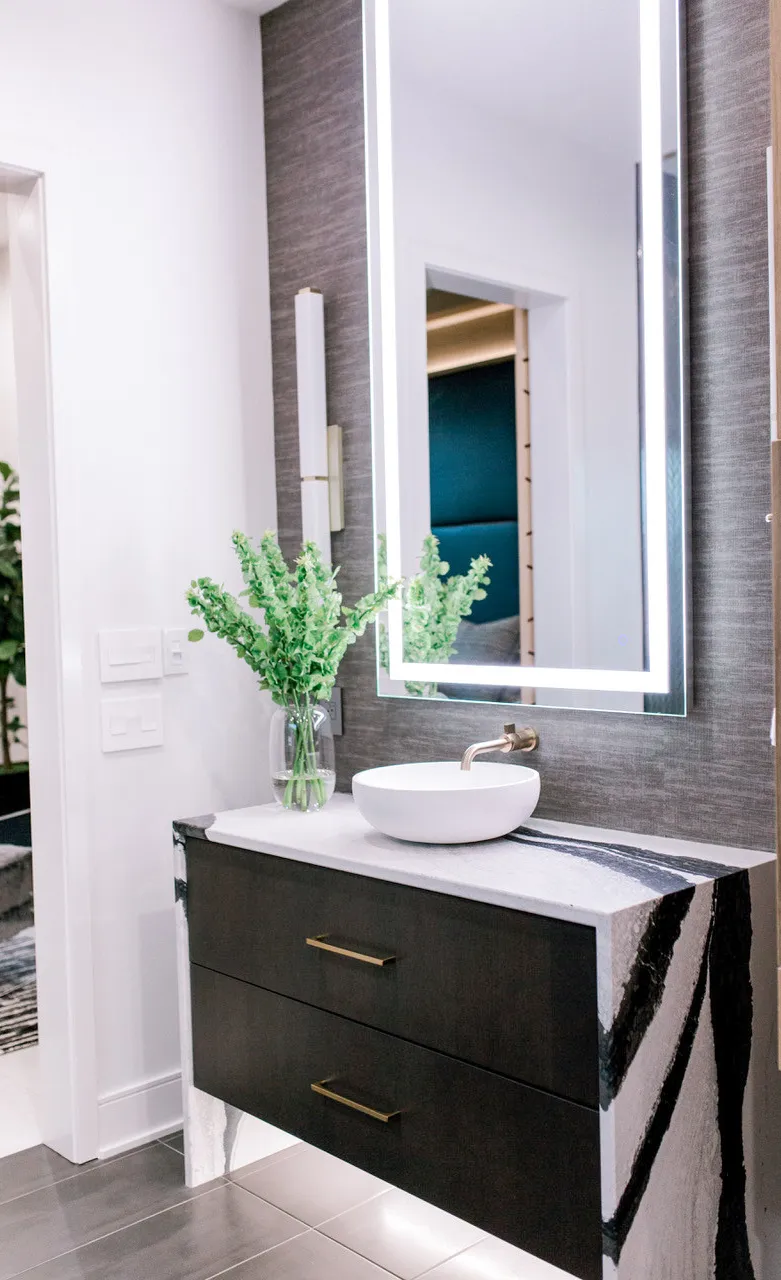 2. Picking a palette
Color is one of the most important parts of a moodboard and the room itself. For a board with plenty of contrast, use either light or dark colors (depending on your Cambria design) to achieve the perfect balancing act. Our innovative design palette is sorted by color, so you can easily find the shade you're looking for.
Once you've decided on your colors, stick to them! It's the easiest way to keep from going overboard with busy and distracting elements. The most simple and classic would be a monochromatic scheme. We love the tuxedo kitchen style, like Vern Yip's kitchen featuring Ella™.
This black and white kitchen from Patti Wagner features two-toned cabinetry, a white subway tile backsplash with dark grout, and Weybourne™ countertops.
3. Style with accents
Adding accents can introduce trends and personal style to your moodboard. Whether you love natural woods, colorful tiles, or flashy hardware, these unique elements are yours to choose. Nothing is off limits! Adding a touch of organics and other greenery can take a space to the next level. Try a Cambria Lazy Susan to incorporate another Cambria design into the space.
This is where your creativity can run wild. If it feels overwhelming, go back to basics. Use your color palette as a guiding star to find playful patterns or charming trinkets that speak to you.
Building a moodboard allows you to bring colors and finishes together to see how they pair together. Order a sample of your favorite Cambria design, or even multiples to mix and match. Stop by local hardware stores for paint samples and print out images of hardware, furniture, and décor if you don't have them on hand.
See our Casual Contemporary Design post for more moodboard ideas. We'd love to see your moodboard designs featuring Cambria. Share them on social media and tag @CambriaSurfaces or use #MyCambria!