Create the Ultimate Support System with Custom Cambria Shelving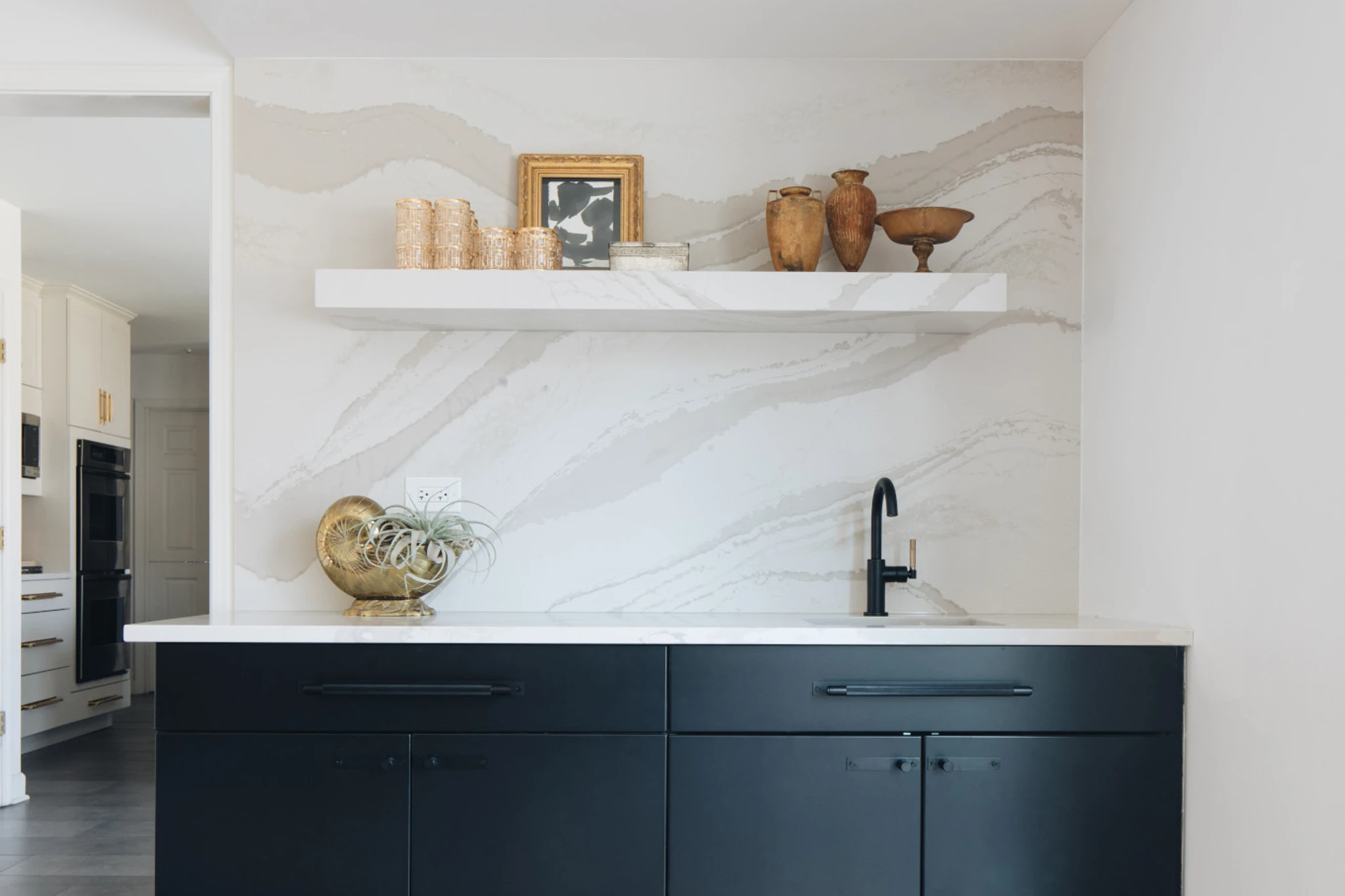 Many interior designers have found interesting installations for Cambria outside of countertops, in uses like seating, wall art, shelving, and more. These unique uses for Cambria showcase the versatility in both its applications and designs.
One of our favorite uses for Cambria is in custom shelving, and the myriad benefits cannot be overstated. Open quartz shelving creates depth in an otherwise flat environment and extends the life of the other elements in the room, like complementary countertops or a contrasting backsplash. It's also a seamless, made-to-fit look with no bulky hardware needed.
We're sharing a few examples of standout quartz shelving to inspire you in your next project.
Get Inspired
Custom Cambria quartz shelving is both functional and beautiful, adding interest and character to a design. In their 1930s cottage, "Dancing with the Stars" professionals Sasha and Emma Farber tore out the overhead cabinetry during their kitchen remodel and added open shelving in Cambria's Ella design instead.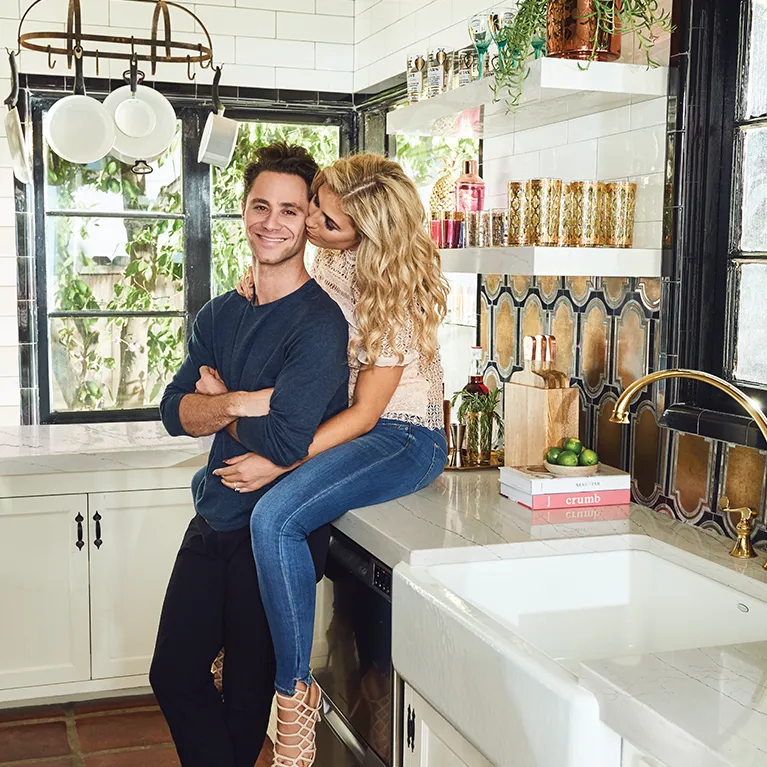 Cambria Ella™ countertops and matching natural quartz shelving.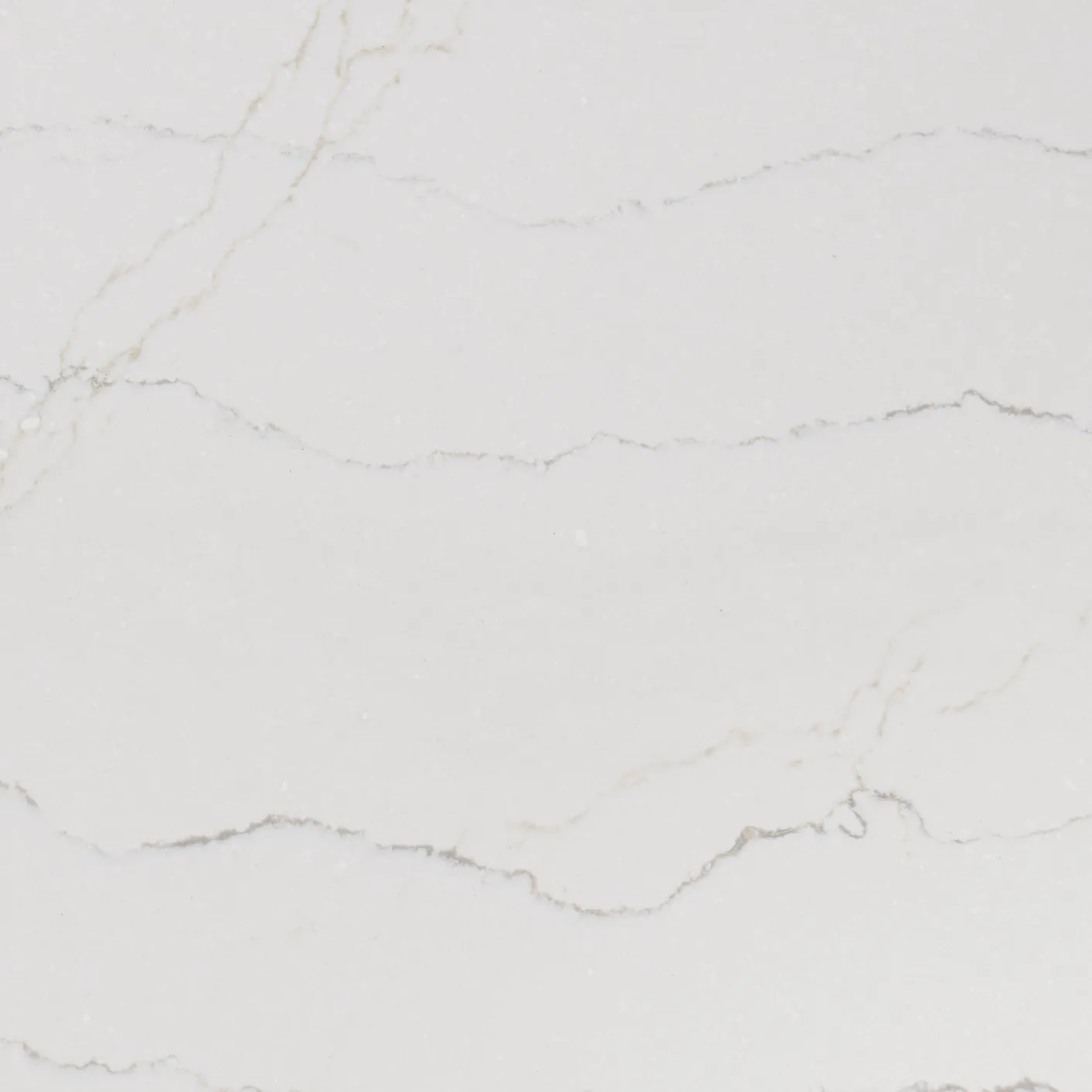 Cambria Ella design details.
"Ripping them out instantly opened up the kitchen," said Emma in this feature. "Cambria made us custom floating shelves that flank the windows in the same thickness as the Ella countertop. The look is absolutely seamless! We've added all our favorite things to the shelves and it's a lovely way to showcase them. Our designer Kelli Ellis came up with great ideas and Cambria made turning them into a reality so easy."
Whether you go all-in on one standout thickness or mix and match, as with a thick island versus a thinner perimeter countertop in the same style, varying the thickness of your surfaces is a subtle way to make a design statement.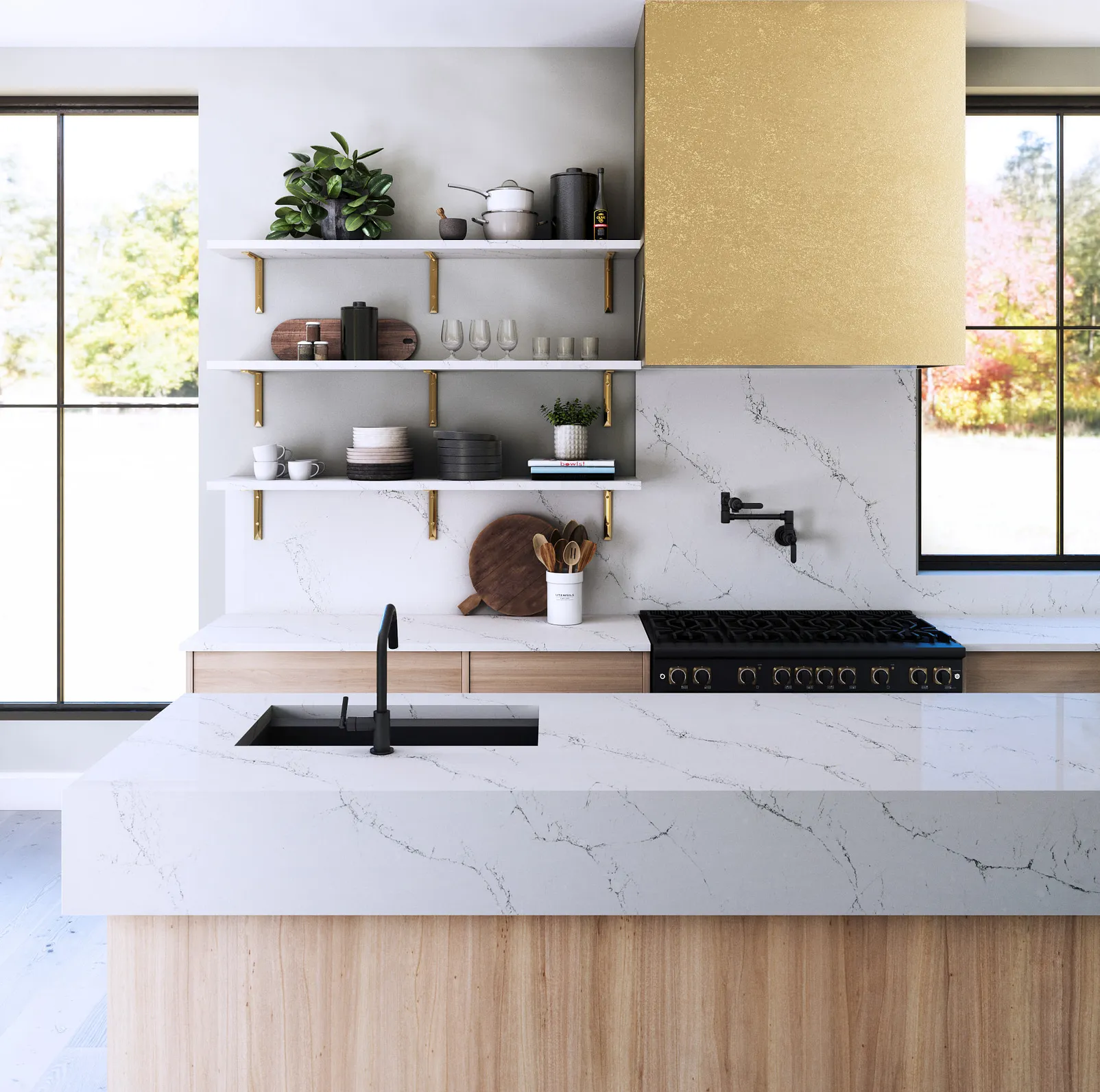 Brass accents paired with Cambria Hawksmoore™ open shelving.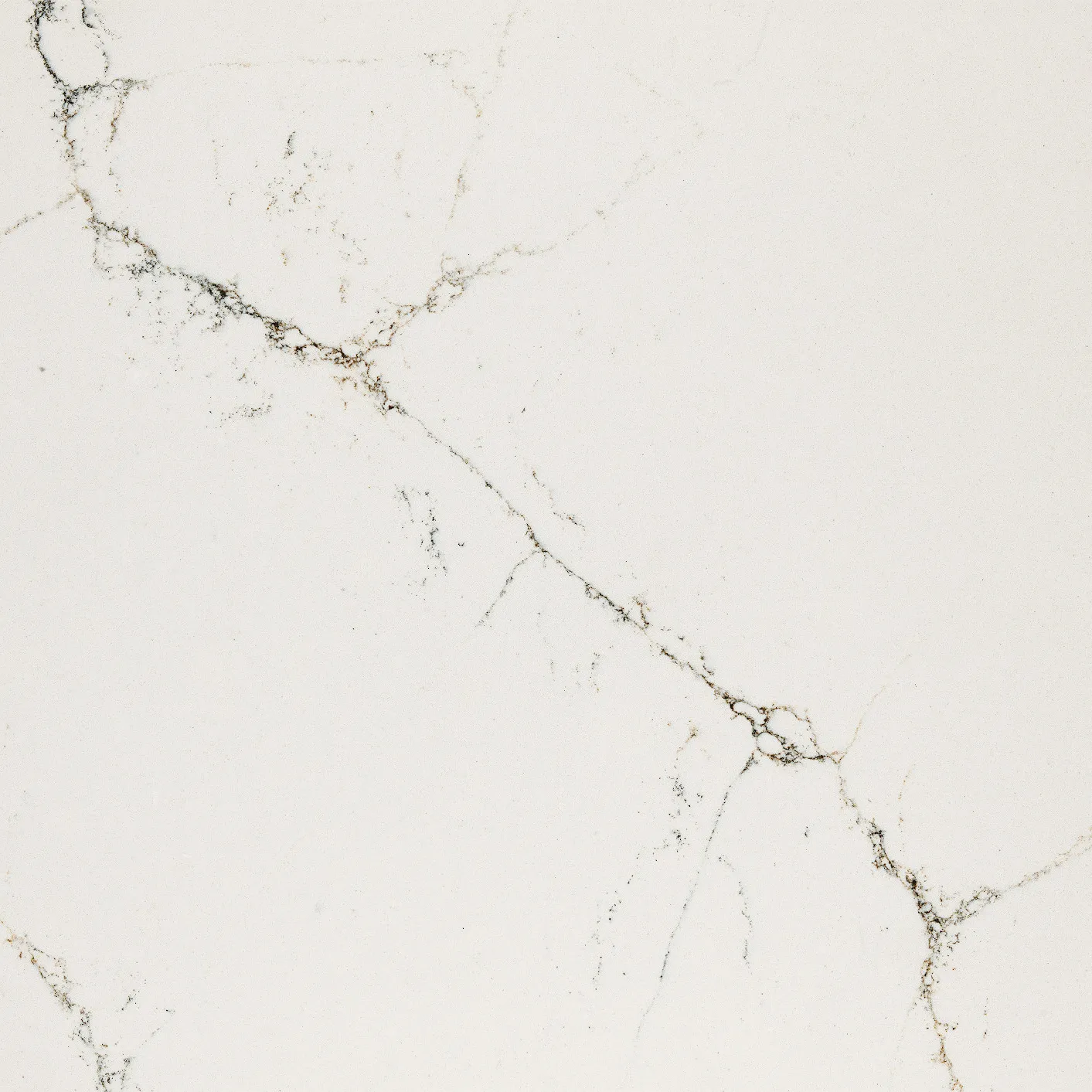 Cambria Hawksmoore design details.
Cambria's Hawksmoore design is featured prominently on three shelves, the backsplash, and countertops in a minimalist kitchen. The thickly slabbed island plays well with the comparatively thin shelving that adds dimension to the design.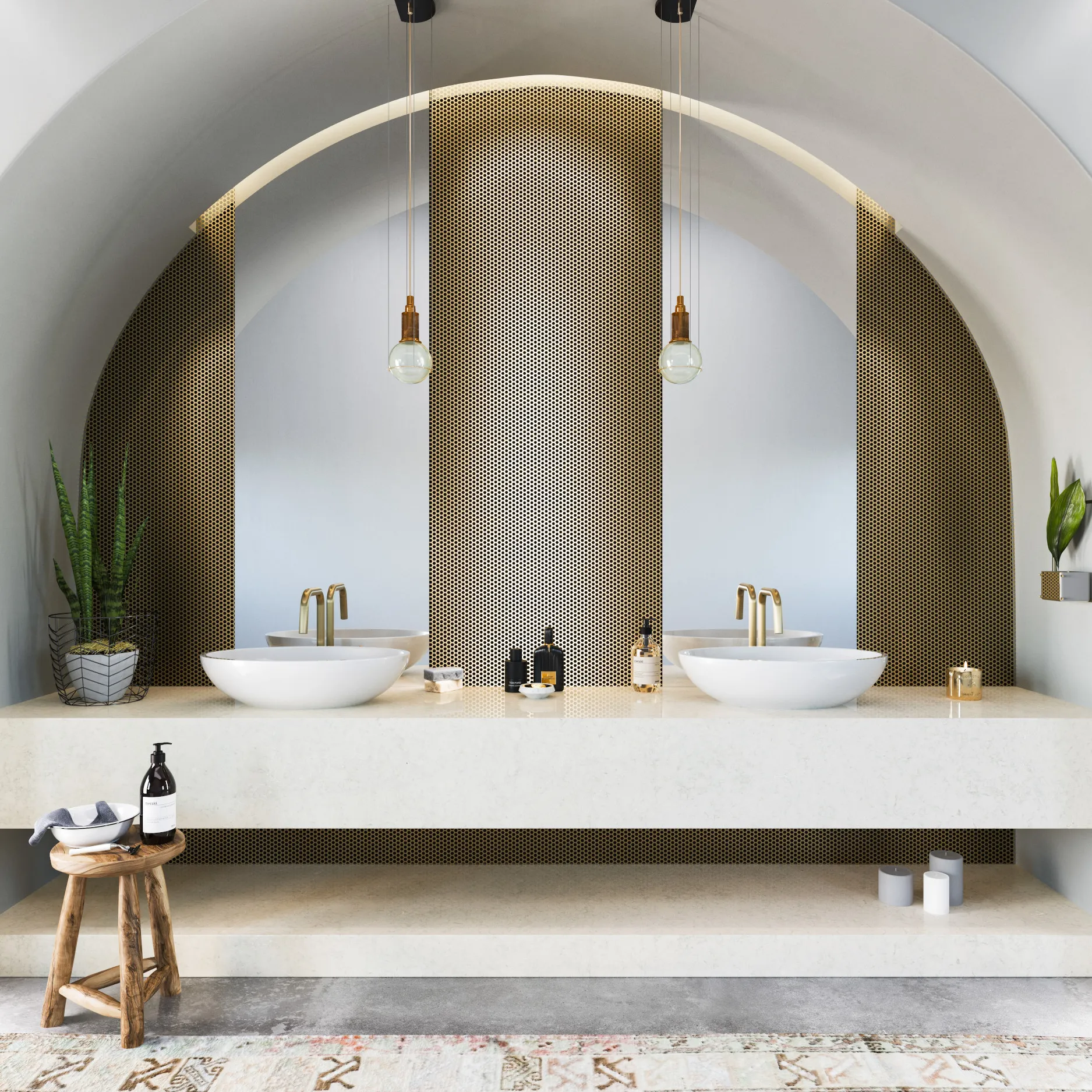 Master bathroom vanity with Cambria Malvern™ storage shelf.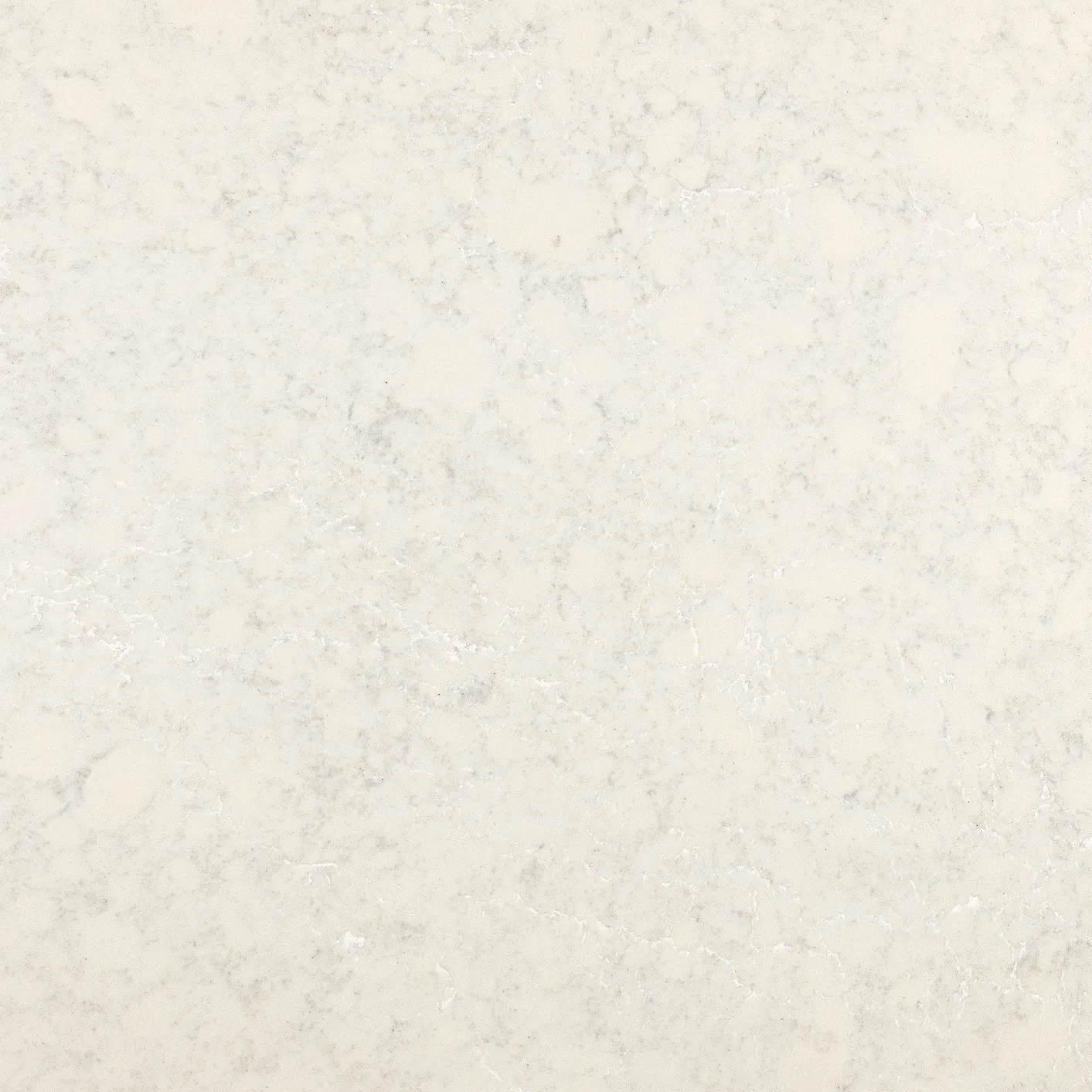 Cambria Malvern design detail.
In a standout bathroom design, a floating Cambria Malvern vanity is parallel to a shelf in the same style but with a thinner profile. The straight lines contrast against the arched architecture behind the sink. The varying surface thickness draws the eye to a natural focal point that inherently changes the look of the space's design.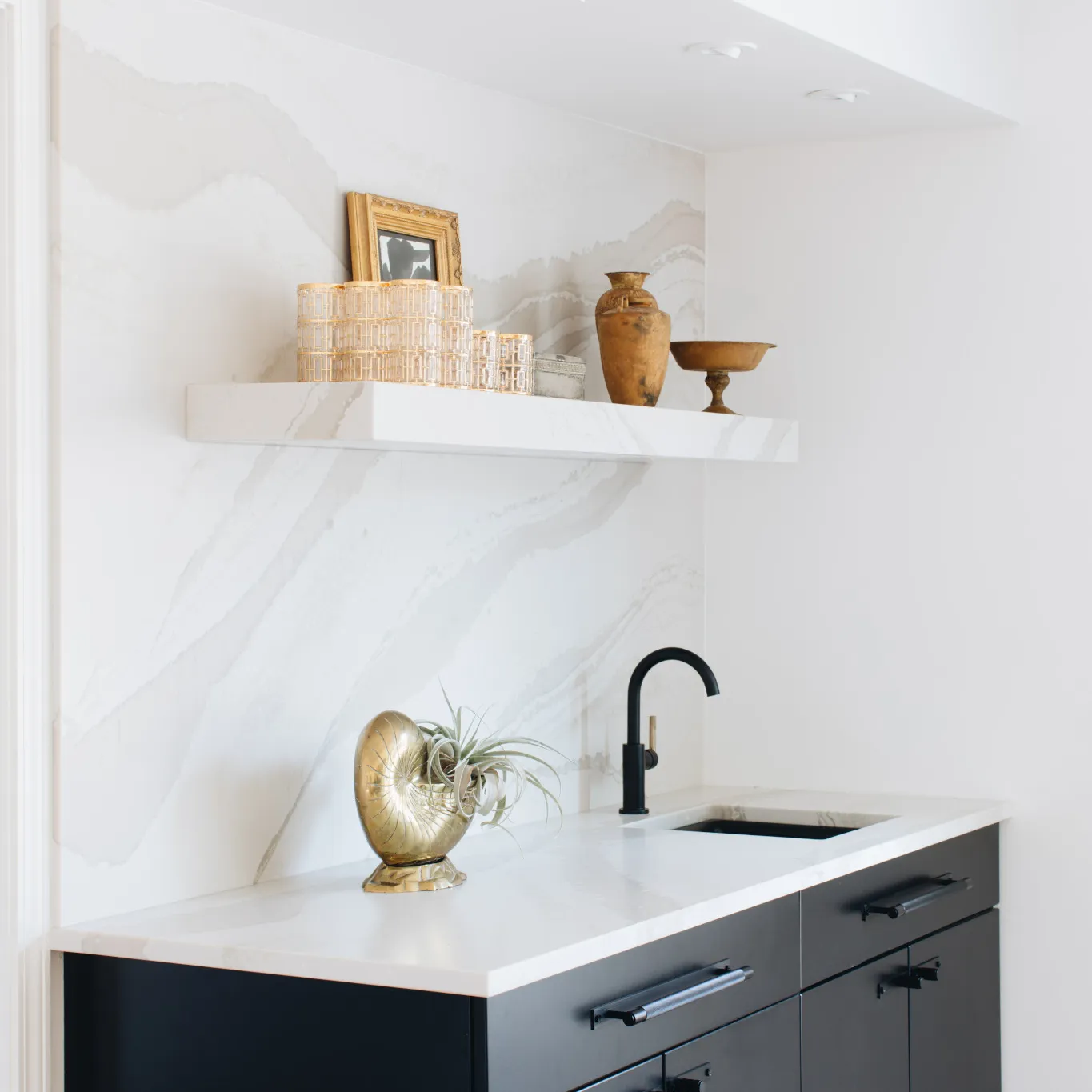 Kilmer-Purcell and Ridge named one of the goats on their farm Whitby after the Cambria design featured in the pair's kitchen.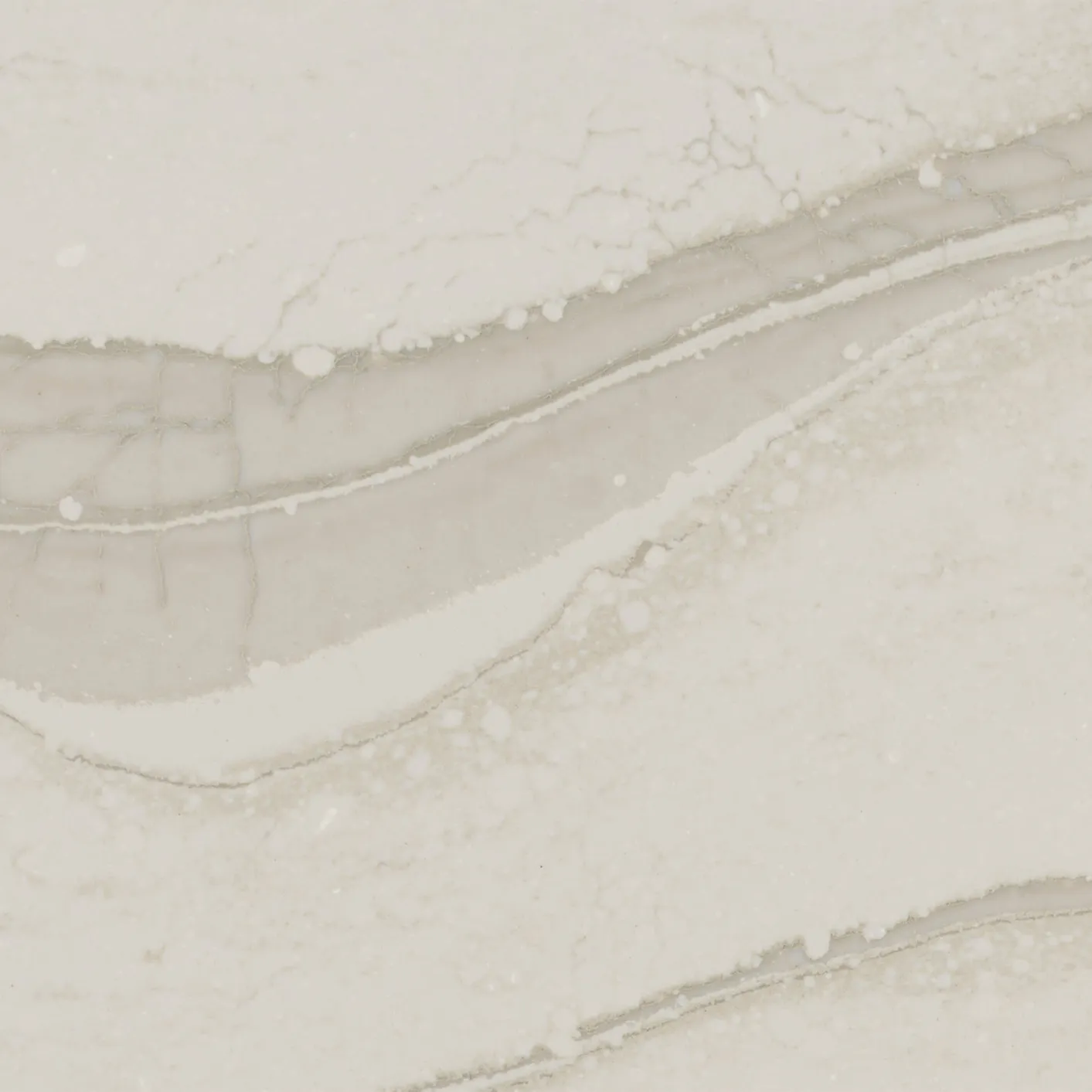 Cambria Brittanicca Warm Matte design detail.
Another way to switch things up is to keep everything the same, as House of Hipsters did in a wet bar design. The Brittanicca Warm Matte shelving blends into the backsplash and countertops of the same design, letting the black cabinetry and hardware accents stand out.
Or, add metal accents, like designer Vasi Ypsilantis did in the Kips Bay Palm Beach Decorator Show House. Each year, Cambria highlights its design-forward offerings in the show house, where celebrated interior designers transform a magnificent estate into an elegant exhibition of fine furnishings, art, and technology in New York and Palm Beach. The show house has become a must-see event for thousands of design enthusiasts, renowned for sparking interior design trends throughout the world.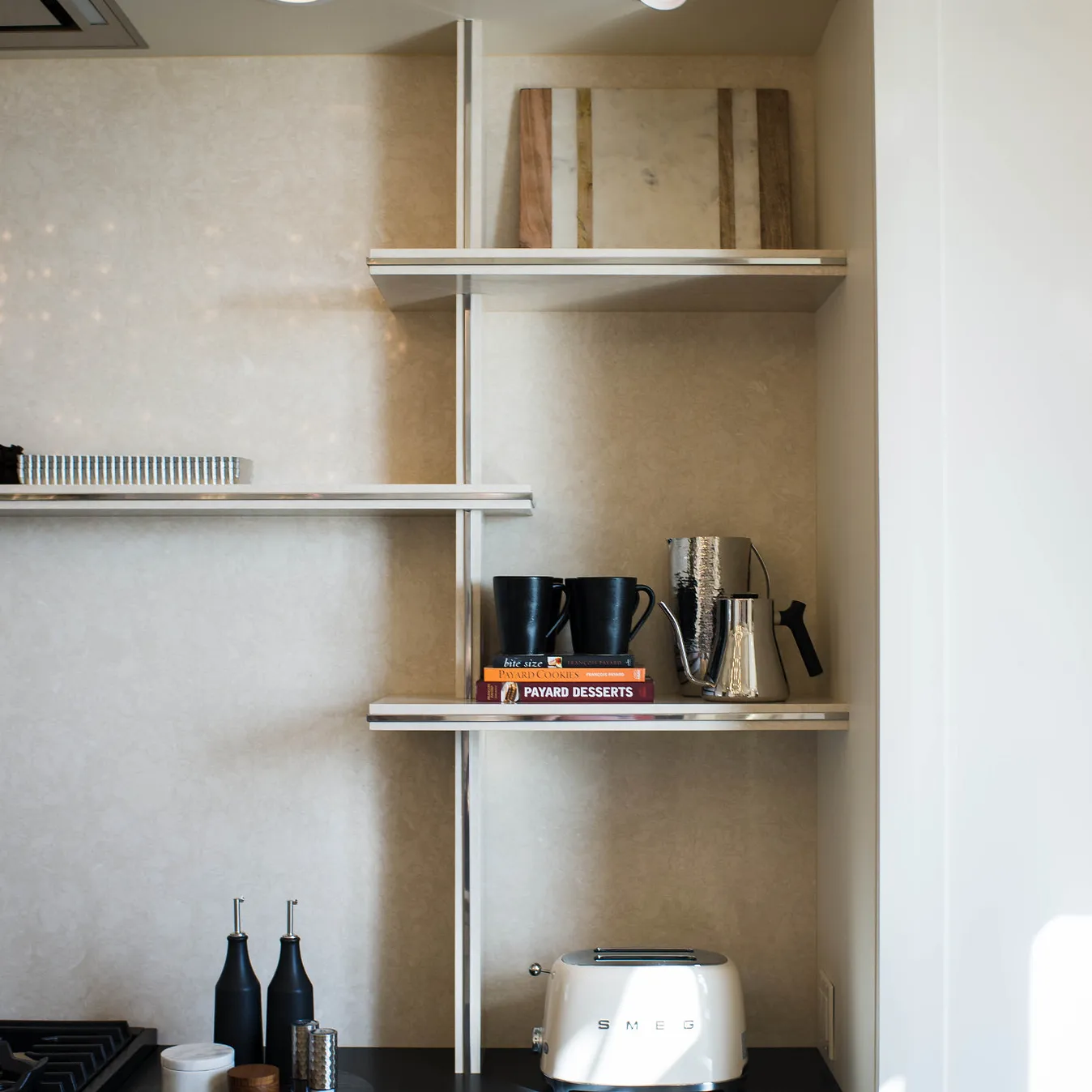 Cambria Fairbourne™ shelving and backsplash paired with Blackpool Matte™ countertops in the 2019 Kips Bay Palm Beach Decorators Show House.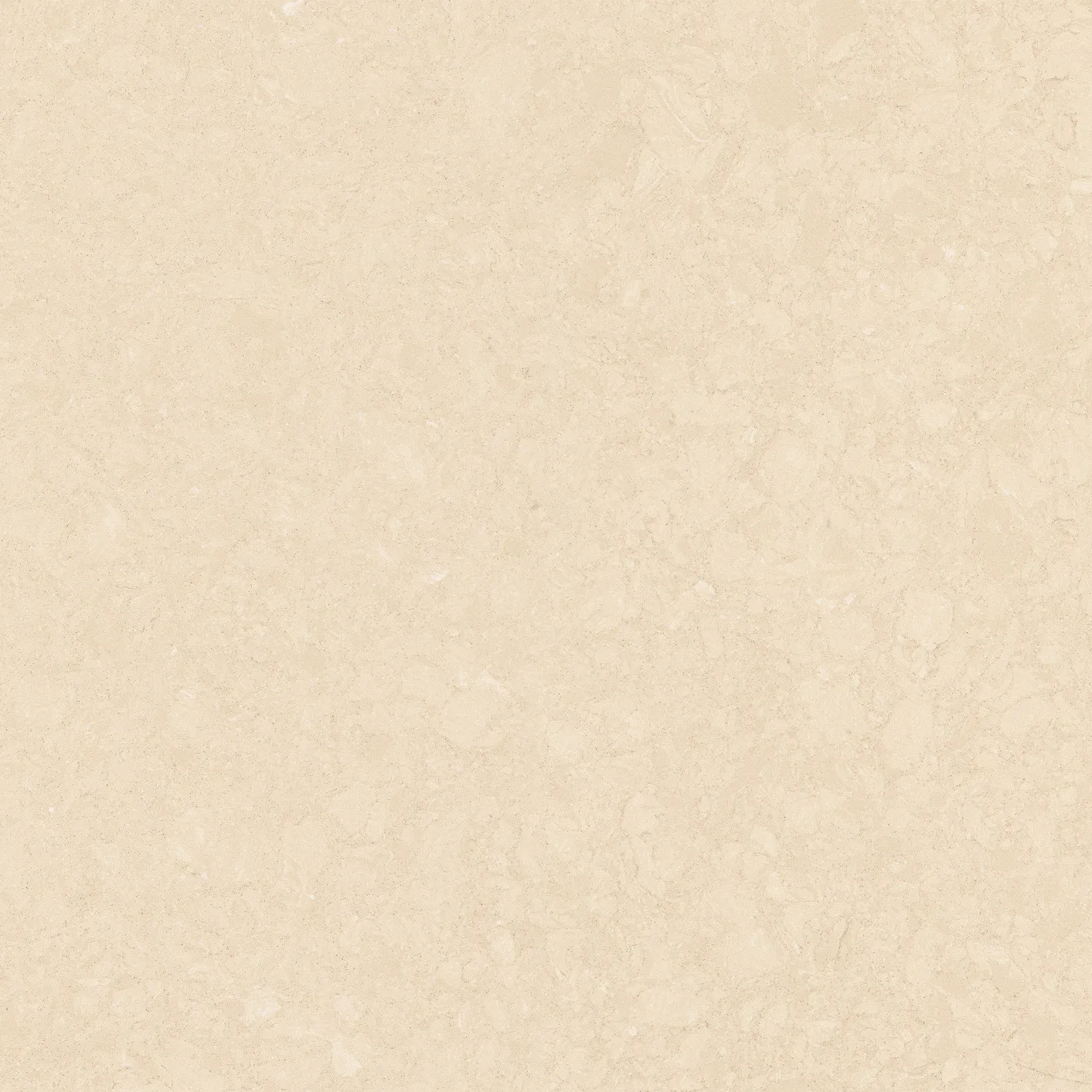 Cambria Fairbourne design detail. Cambria Blackpool Matte design detail.
Vasi added a metal inlay to Cambria natural quartz shelving that creates a geometric element within an otherwise contemporary schematic. The options are endless!
Things to Consider
When deciding whether to install a Cambria quartz shelf in your next project, there are a few things to consider. Let the following tips and tricks guide you through the design process.
Cambria is not a structural material and requires proper support. If the Cambria shelving is mounted directly to the wall, then the wall construction needs to be capable of bearing the weight of the cantilevering Cambria. Depending upon the wall construction and overall size of the Cambria application, a full substrate may be required to allow for placement and fastening of the support(s).
Floating shelves require the use of a structural steel or wooden substructure that adheres the Cambria to the material.
Metal L-brackets can be designed into the wall, so the vertical portion is not visible once the wall covering is applied.  Cambria is then designed to sleeve over (around) or rest directly on the remaining horizontal portion of the bracket.
A bead of silicone is placed where Cambria meets the wall or where Cambria is in contact with the support(s).
Steel structures can also be fastened directly to the wall with Cambria designed to sleeve over (around) or rest directly on top of the support.
Wooden structures can also be constructed and mounted to the wall with the Cambria designed to clad on all visible sides. This method requires the use of mitered edges to gain the overall height of the final application.
The fabricator should be well versed in mitered edge fabrication and installation.  The mitered edge is the most common technique/edge profile used to create Cambria shelving applications.
The size of the application is based on the ability to properly support.
Steel is structurally more capable of spanning longer distances and depths.
Wooden structures may limit the overall size of the application due to inability to properly support Cambria.
The structure(s) must be fastened to a structural component within the application (wall, floor, ceiling, etc.).
Please feel free to contact our team for support in troubleshooting any issues.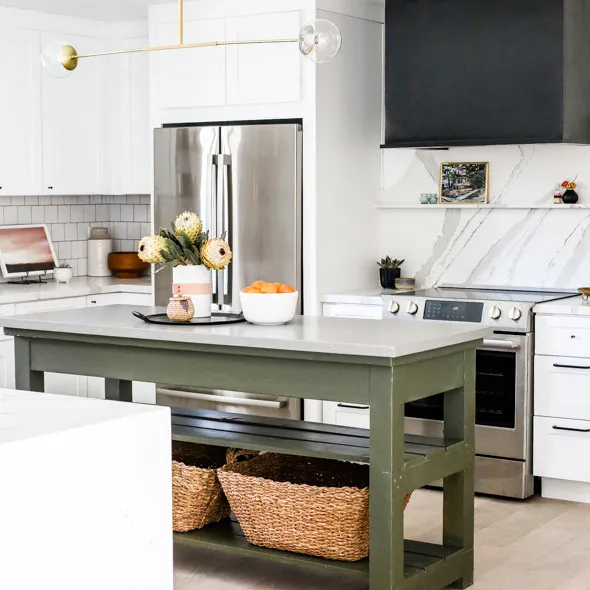 Cambria Carrick Matte™ island countertops are paired with Brittanicca Matte™ in this space by JENNY KOMENDA.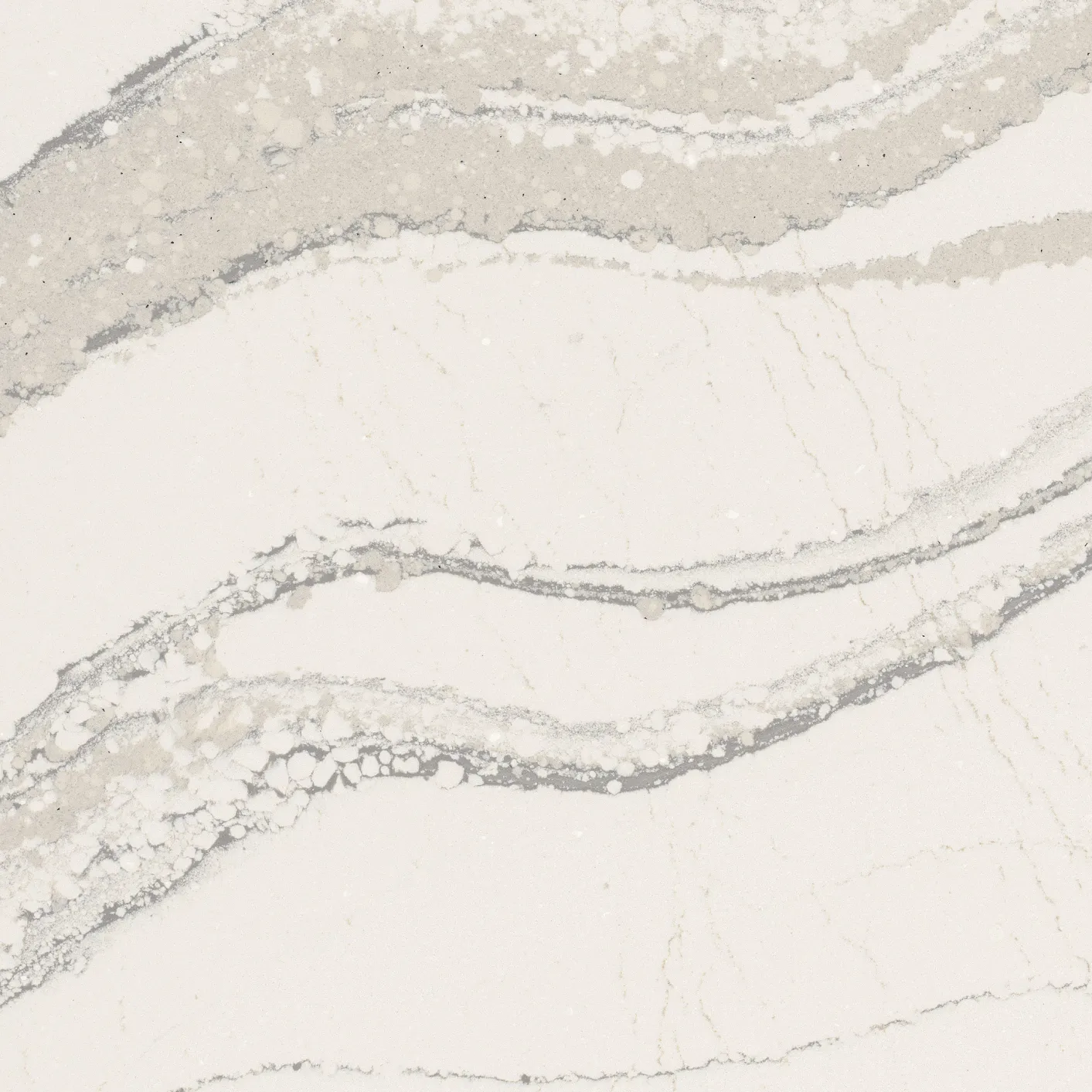 Cambria Brittanicca Matte design detail.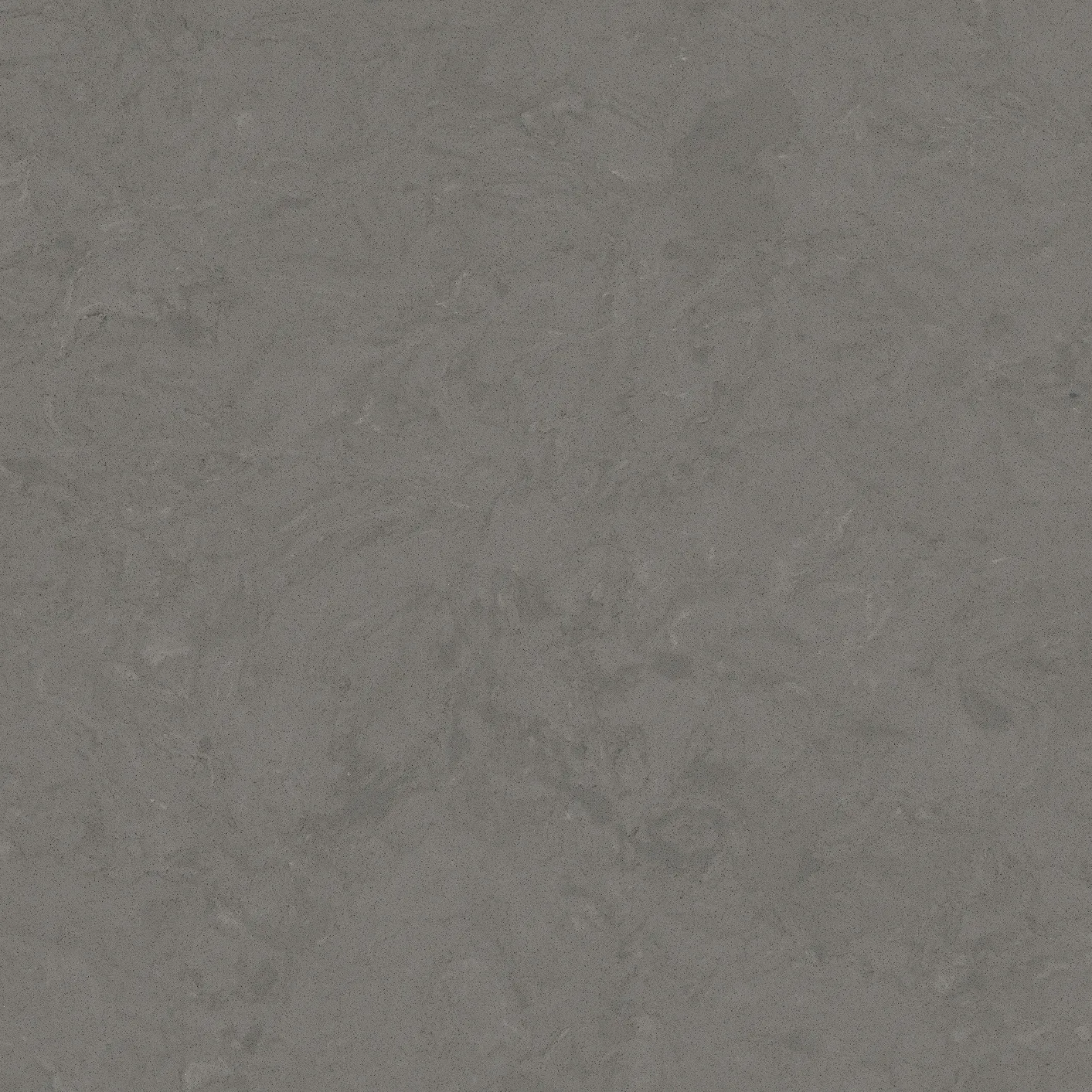 Cambria Carrick Matte design detail.
Get the Look
Follow Cambria on social media with #MyCambria for more standout designs.
For more information on Cambria, including performance data, product specifications, and certifications, see our Professional Resources. Learn more about how Cambria has benefited various projects in these case studies.
Interested in creating a showstopping design project with Cambria? Call 1-866-CAMBRIA (1-866-226-2742) to be connected with a market representative in your region.
Please call 1-866-CAMBRIA (1-866-226-2742) to confirm design availability.