Take a Tour of This Stunning Brittanicca Warm Kitchen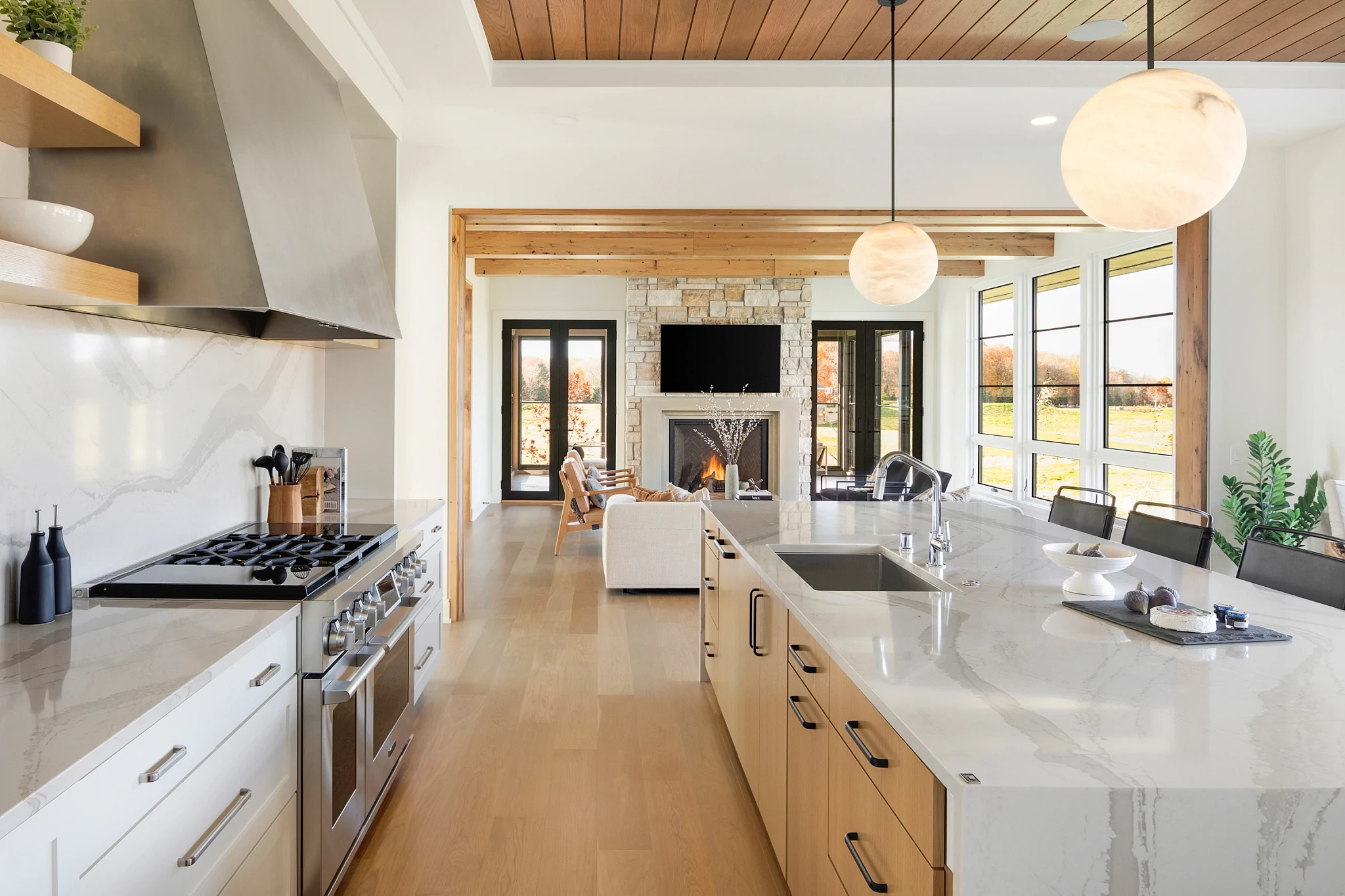 For a 6,900-square-foot new build in Medina, Minnesota, the teams at Swanson Homes and its in-house, full-service residential design counterpart Carbon 6 Interiors aimed to blend modern design with warm and contemporary elements that would keep the home grand and striking while still down to Earth.
Swanson Homes believes that modern luxury homes prioritize architectural details, superior design, and a unique homeowner story. Swanson Homes works fluidly and side-by-side with Carbon 6 to ensure a high-end harmony to the design selection process and building timeline integration.
Secluded in beautiful woods, the design of this particular home melds artistic vision, unmatched craftsmanship, and everyday function. "We wanted to make it feel warm and cozy," says Carbon 6 creative director Lindsey Swanson. "We used lots of organic materials throughout the home. It turned out really beautiful."
Swanson and her team installed an abundance of Cambria quartz, including in the kitchen, pantry, home office, primary bath, lower-level bar, powder room, and laundry room.
Open-Concept Kitchen
In the kitchen, Cambria's Brittanicca Warm takes center stage. In Brittanicca Warm, translucent gray veins stream across a temperate white backdrop like venerable old rivers flowing into a fog-bound harbor.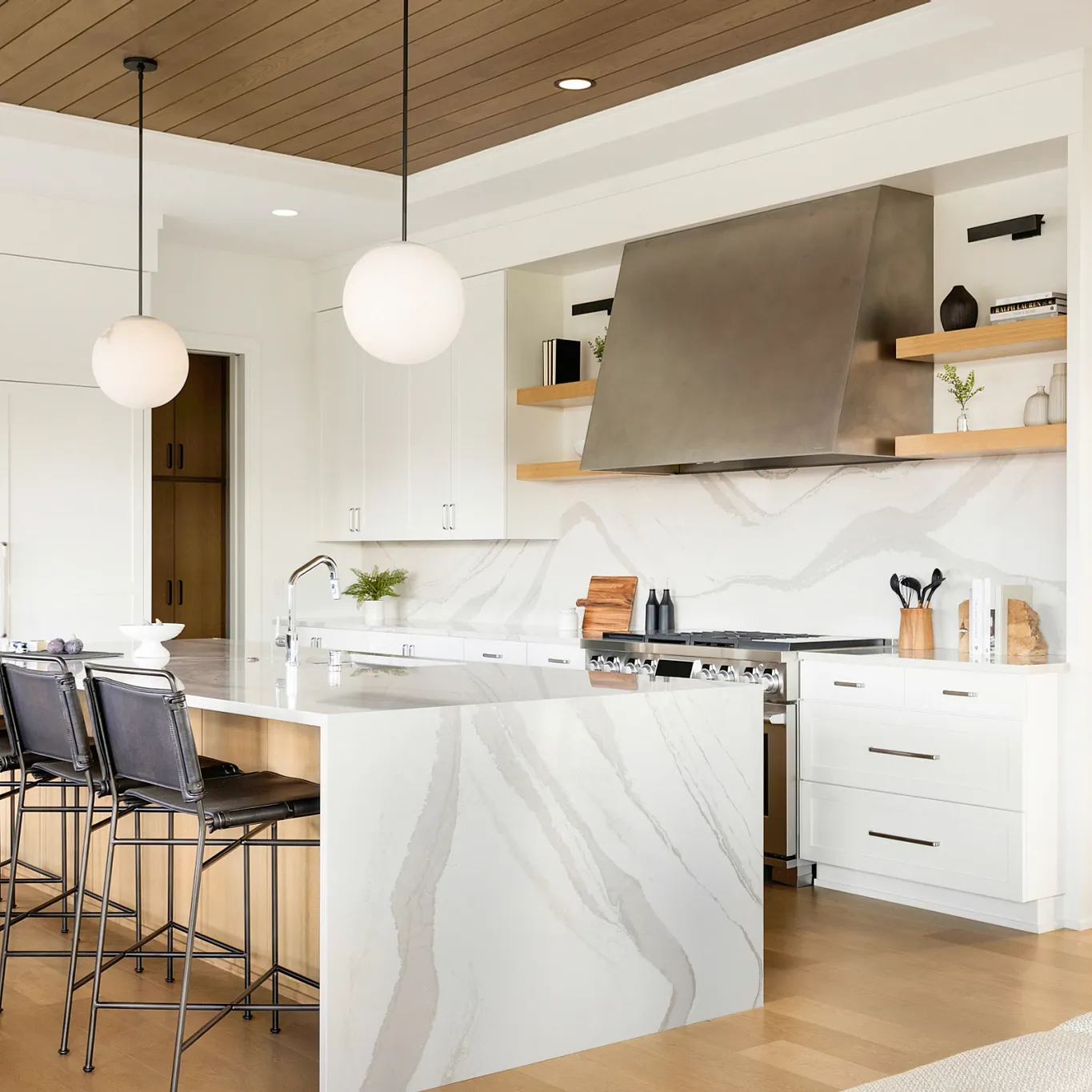 A waterfall edge creates a continual line for this oversize island. The Cambria fabrication team ensured the veins lined up flawlessly.
"We originally had Cambria Colton picked out, which we ended up using in the lower-level bar, but we ultimately wanted something a bit more pattern-heavy and statement-making in the kitchen," explains Swanson. "That said, we didn't want it to totally take over, so Brittanicca Warm was the perfect answer. It's warm and adds to the coziness but is still such a showstopper."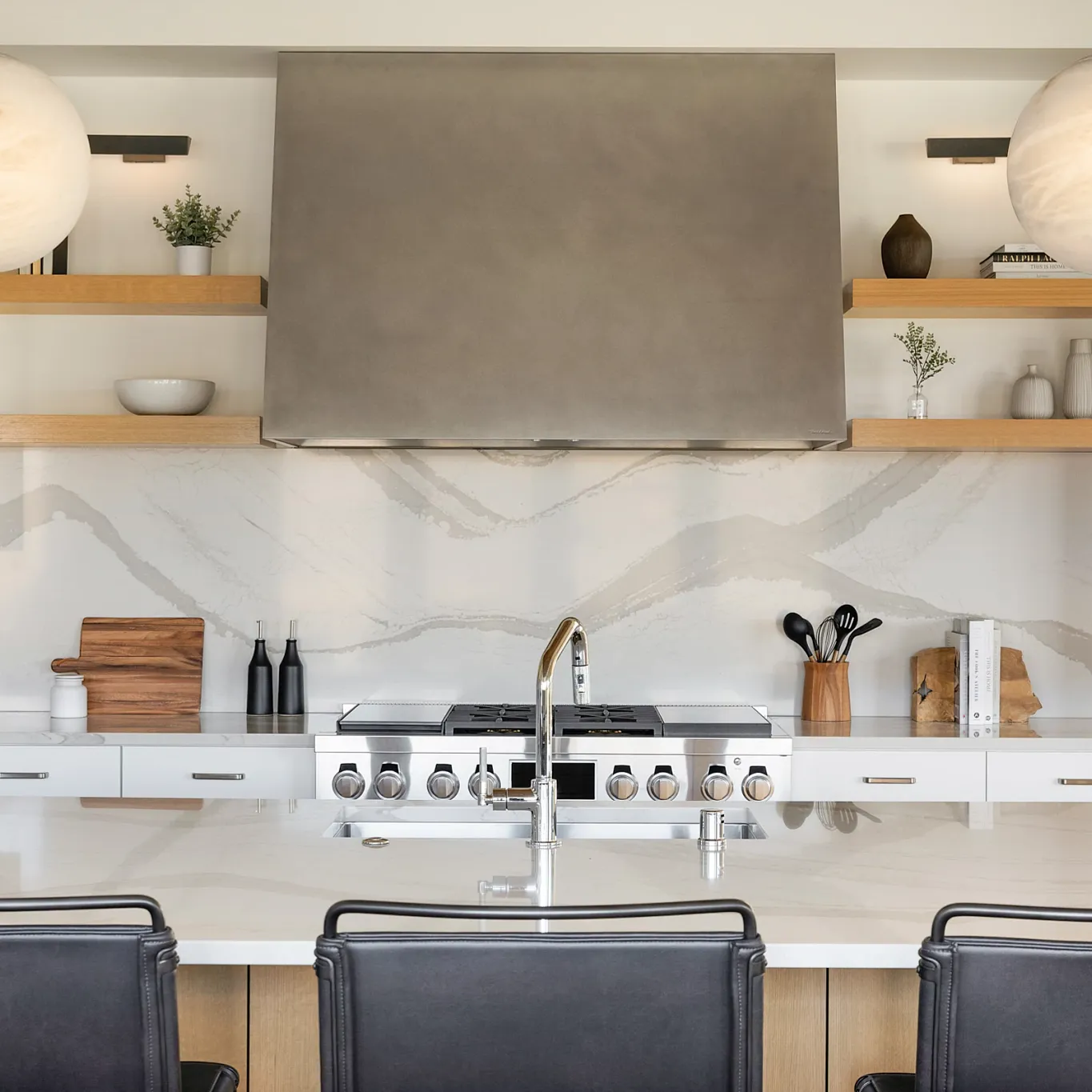 Natural elements—think quartz, alabaster, and wood—keep this extra-large kitchen feeling warm and cozy.
It will also hold up to the demands of a kitchen. Cambria quartz surfaces feature unparalleled strength and durability. They're nonporous, nonabsorbent, and NSF-51-certified, so they're food safe, scratch and stain resistant against common household items like coffee and wine, and maintenance free. You can clean them with just warm water and mild soap.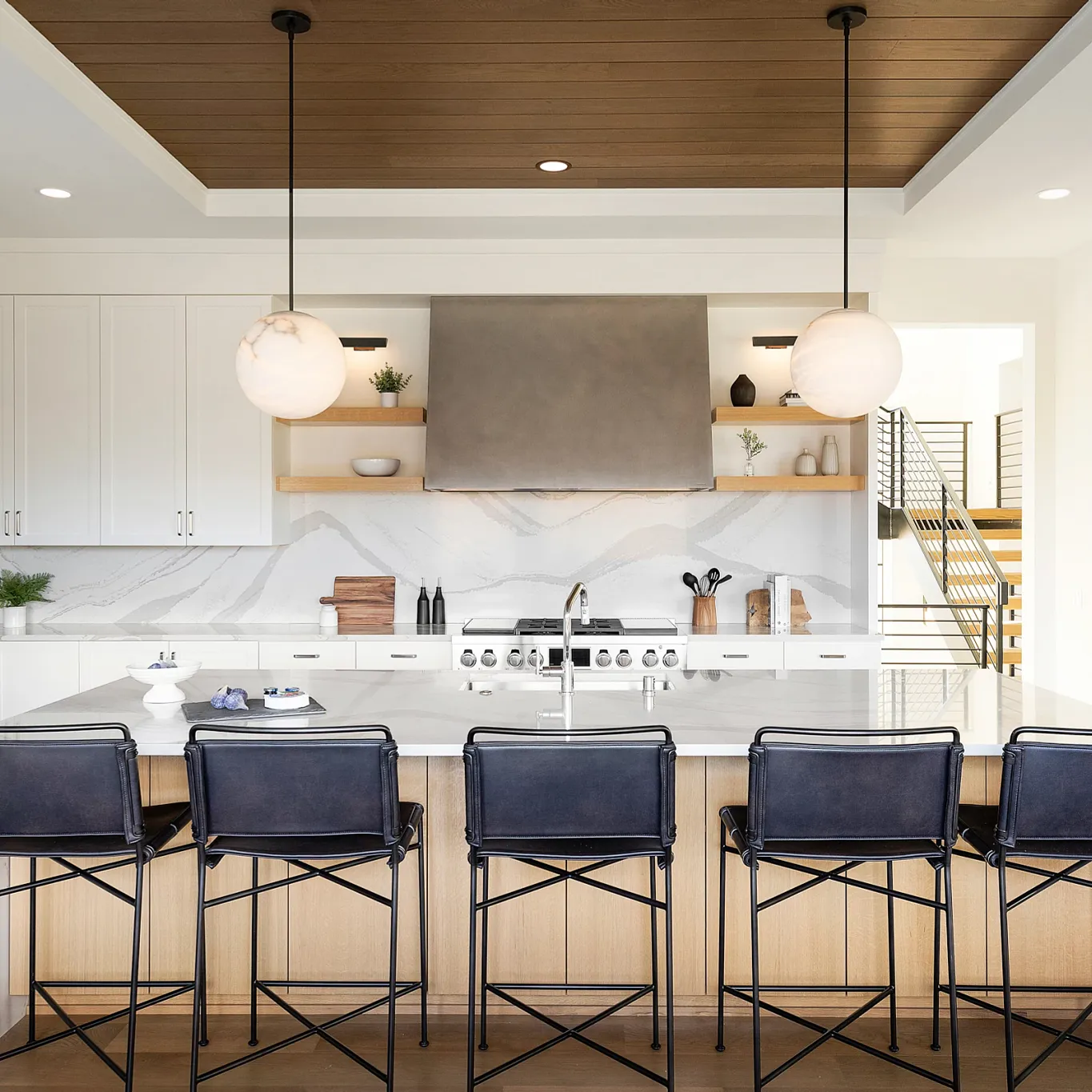 Cambria surfaces are backed by a transferable FULL LIFETIME WARRANTY, so they were an obvious choice for this kitchen design.
To complement the countertops, Carbon 6 added alabaster pendant lighting from Restoration Hardware, floating wood shelving, a wood-paneled ceiling, and a custom artisan stainless steel hood. "It all combines to provide balance and additional warmth," says Swanson.
Primary Bathroom
Carbon 6 repeated the warm wood beams again in the primary bathroom with Cambria Ella countertops, which are just as durable and functional as their Brittanicca Warm counterparts in the kitchen.
"We did waterfall vanities to create separation," says Swanson. "The Ella turned out beautifully and works perfectly with the marble flooring. It accentuates everything within the space. And, it's much more durable than marble, so no need to worry about toothpaste or etching."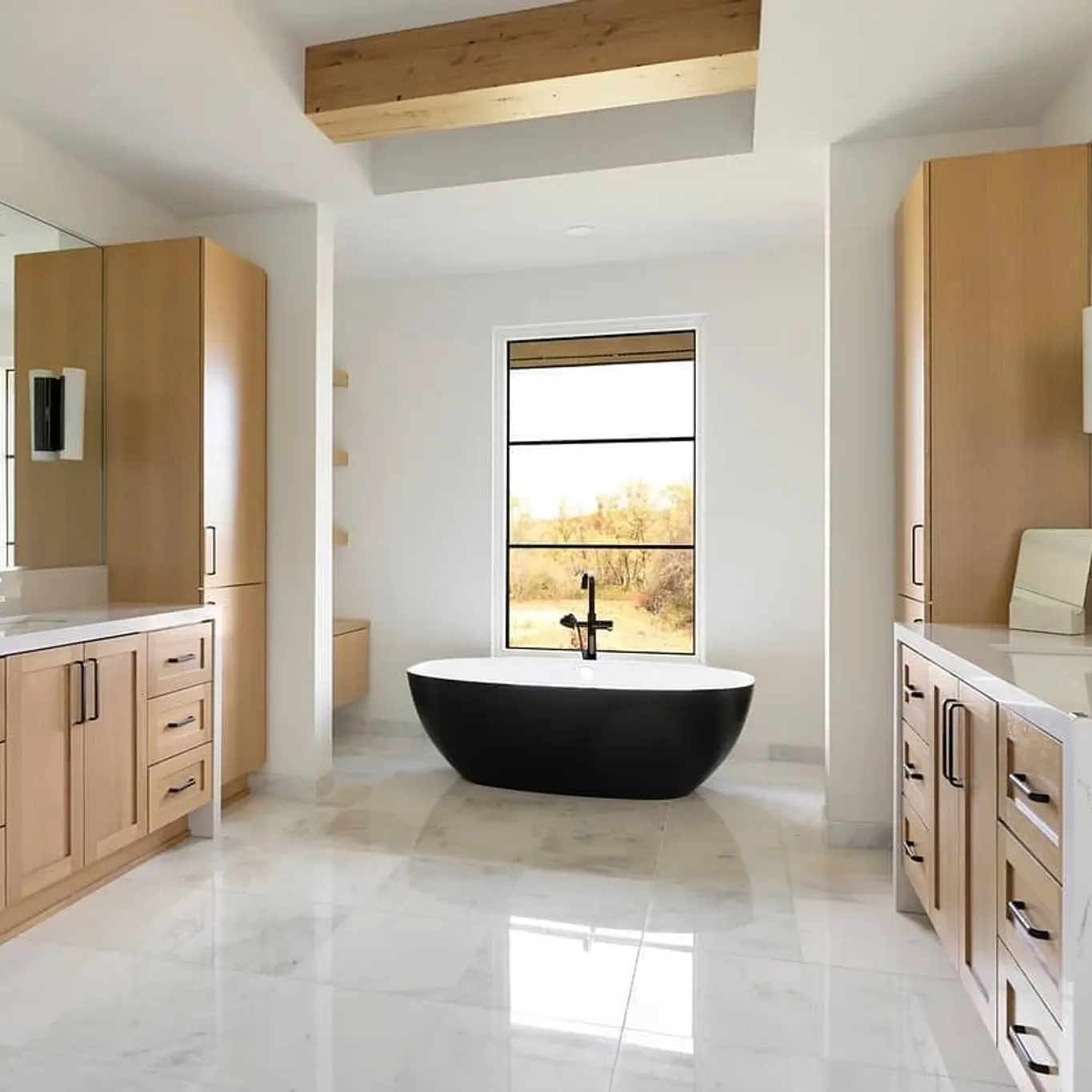 Cambria Ella features a dimensional lattice of dove-gray streams permeating throughout a cloudy marbled backdrop in this primary bath.
To see even more of this home, watch our Conversations with Cambria on Instagram, featuring a designer's-eye view of the 6,900-square-foot wonder. And here, see more Brittanicca Warm installations to spark design inspiration.
Get the Look
Follow Cambria on social media with #MyCambria for more standout designs.
For more information on Cambria, including performance data, product specifications, and certifications, see our Professional Resources.
Interested in creating a showstopping design project with Cambria? Buy a sample, find a dealer, or call 1-866-CAMBRIA (1-866-226-2742) to be connected with a market representative in your region. Or visit our website to set up a virtual design consultation.