Meet The Coordinates Collection
Written by Angela Johnson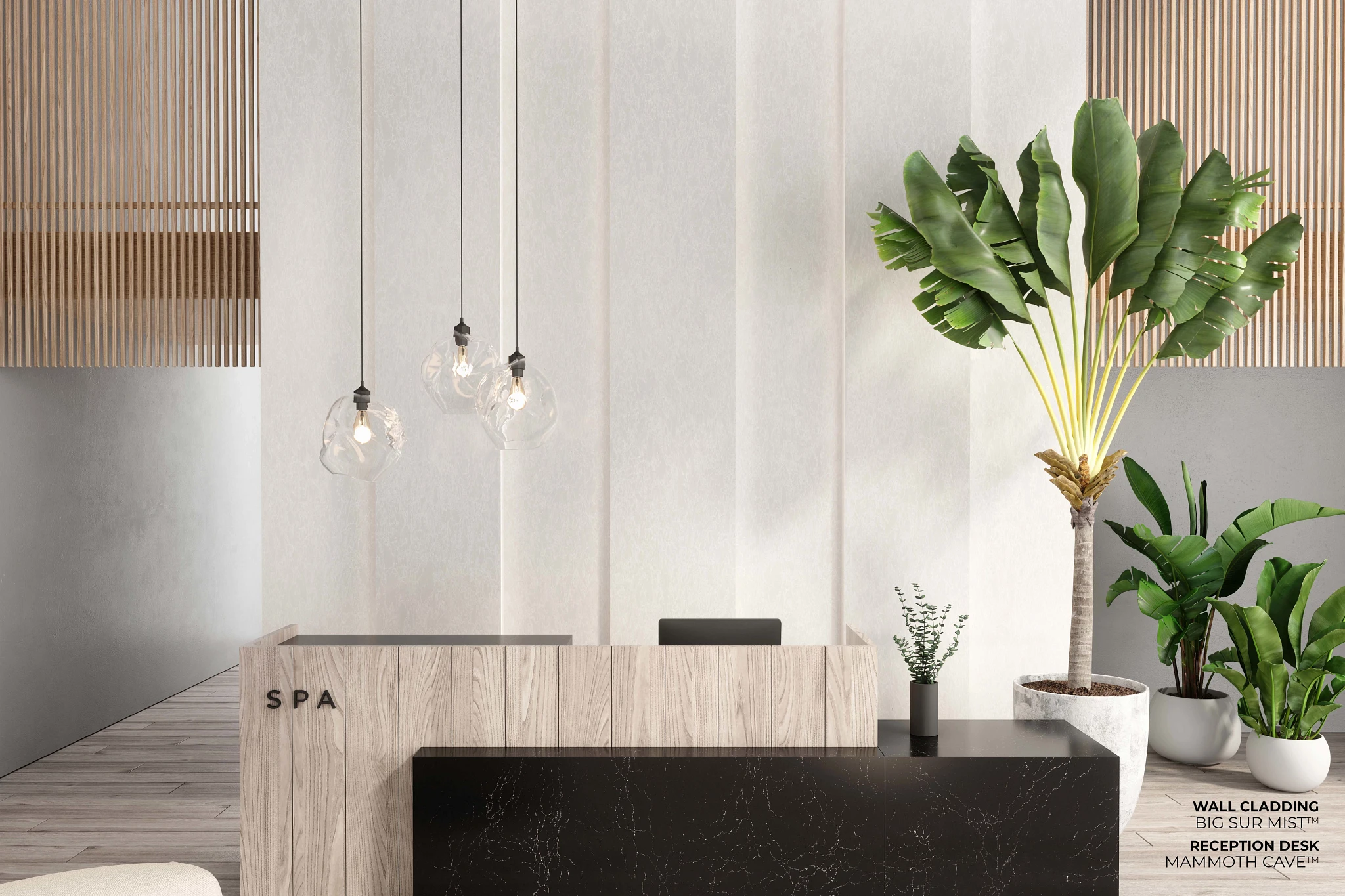 After a two-year design, research, and development process, Cambria is now thrilled to introduce The Coordinates Collection™: high-performing quartz designs in a neutral matte-finished colored palette (think crowd-pleasers like black, white, and gray) that feature the unparalleled strength and durability Cambria has become known for.
The quintessentially classic designs were created with product design consultant Gensler to work together or on their own and to coordinate in tone and texture. The collection textures range from smooth and rugged concrete looks, to terrazzo-inspired designs, to designs with organic veining.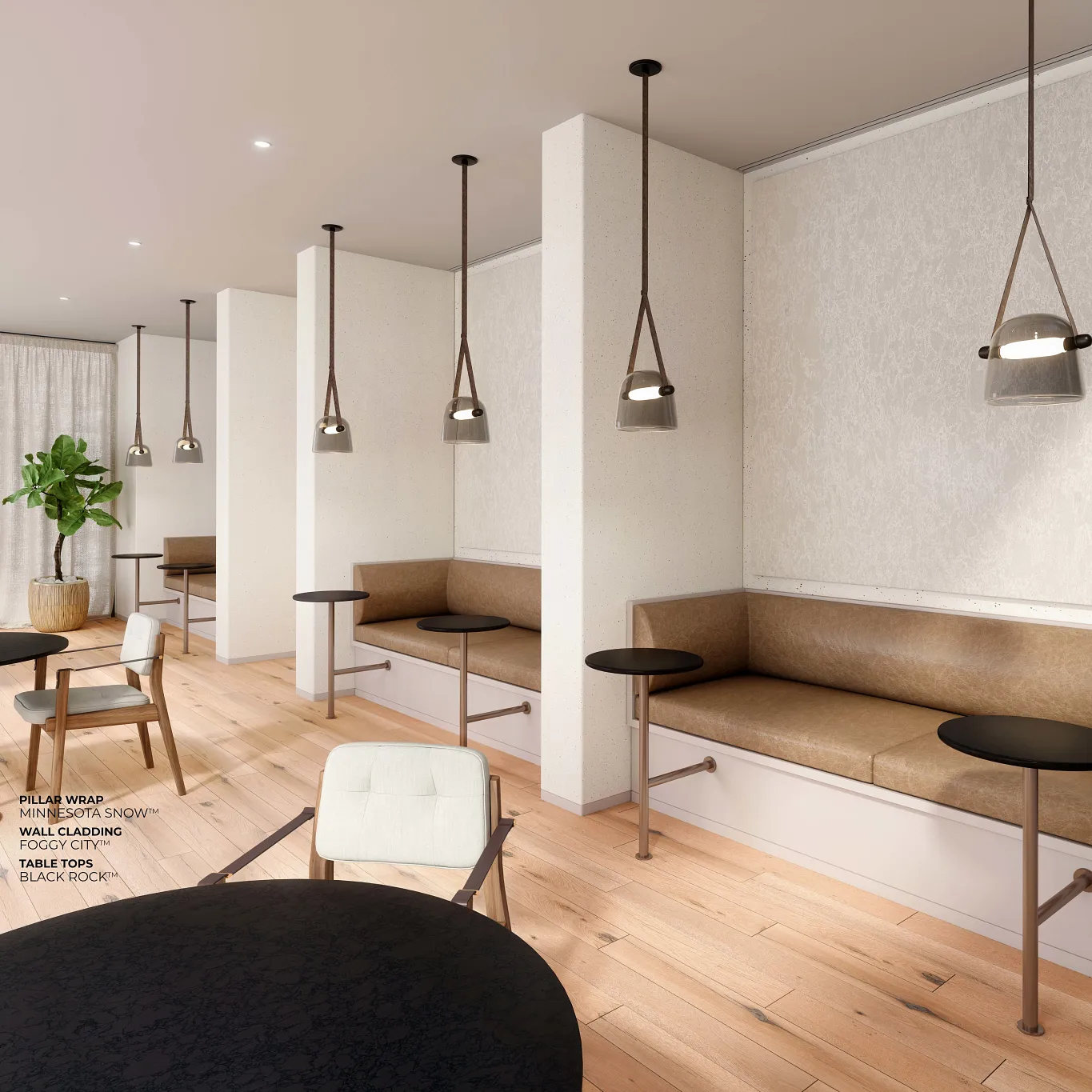 This space features Black Rock tabletops, Foggy City wall cladding, and Minnesota Snow pillar wraps.
Just as elegant as it is functional, the collection's hues easily mix and match to fit seamlessly into myriad heavily trafficked environments and are nonabsorbent, scratch and stain resistant, maintenance free, and backed by a transferable Full Lifetime Warranty.
The overall aesthetic is current, architectural, and modern. Here, learn more about The Coordinates Collection.
The Designs
Each design within The Coordinates Collection is named for an iconic American location and its identifying characteristics.
A neutral ivory backdrop is spread with innumerous faint warm dots overlaid with freeform and geometric shapes. The design takes its name from Salt Lake City and the largest saltwater lake in the Western Hemisphere.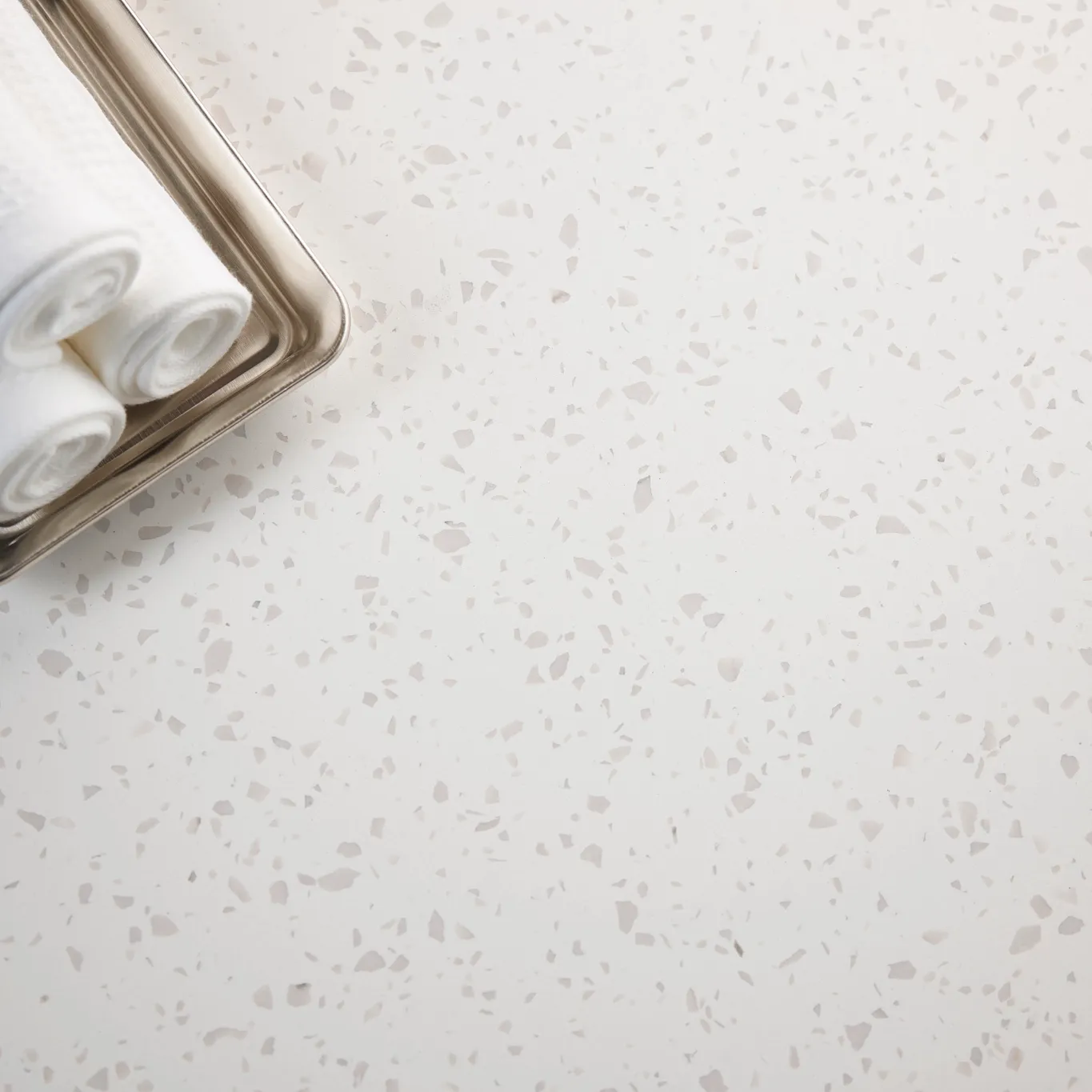 Cambria Salt Lake™ design detail.
A collection of minute dots and larger flakes on a wintery white background makes Minnesota Snow light in color with substantial appeal.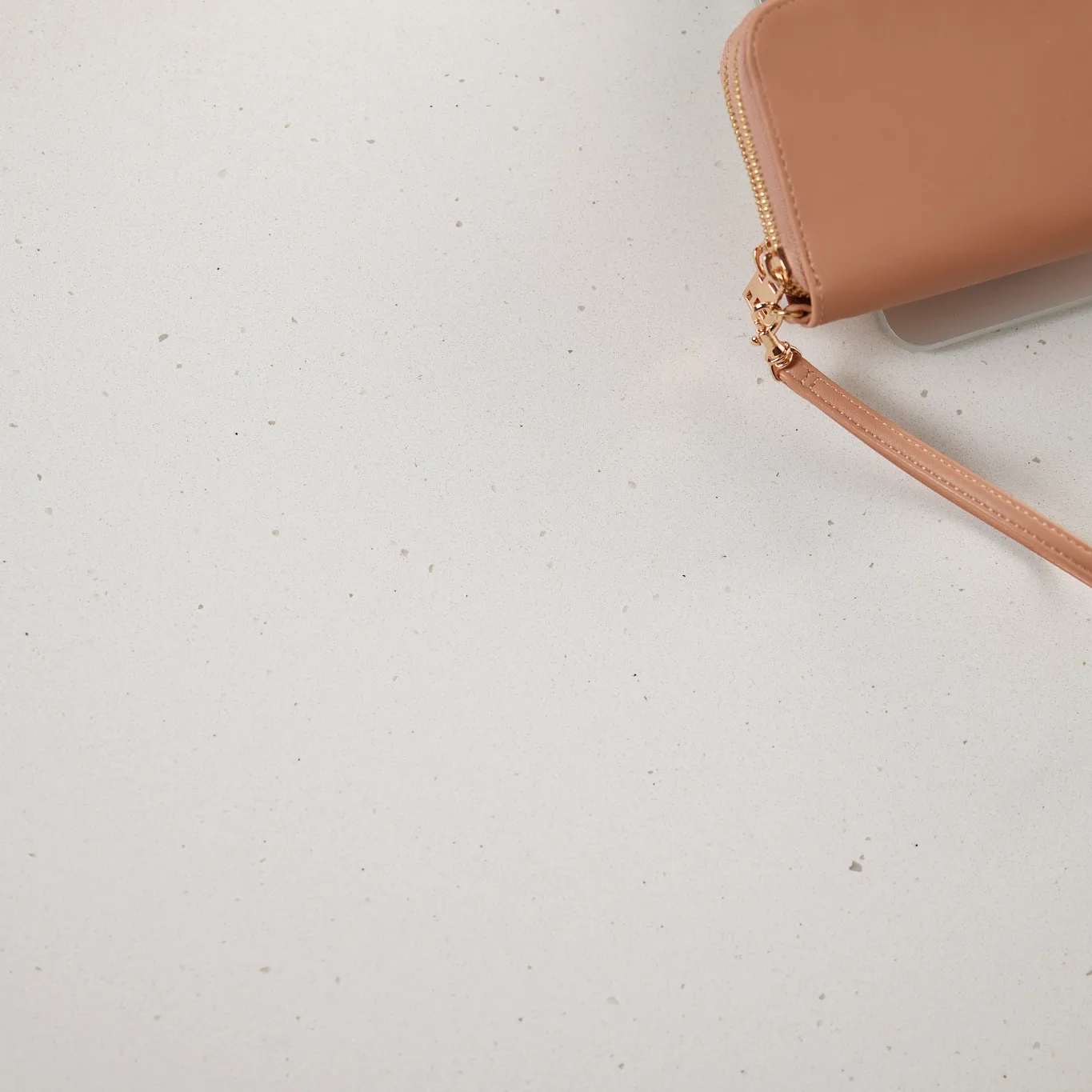 Cambria Minnesota Snow™ design detail.
Inspired by the famous Golden Gate city, this design offers a soft, cloudy white base complemented by harmonious scatterings of faint white and translucent dots amidst overcast islands and peninsulas.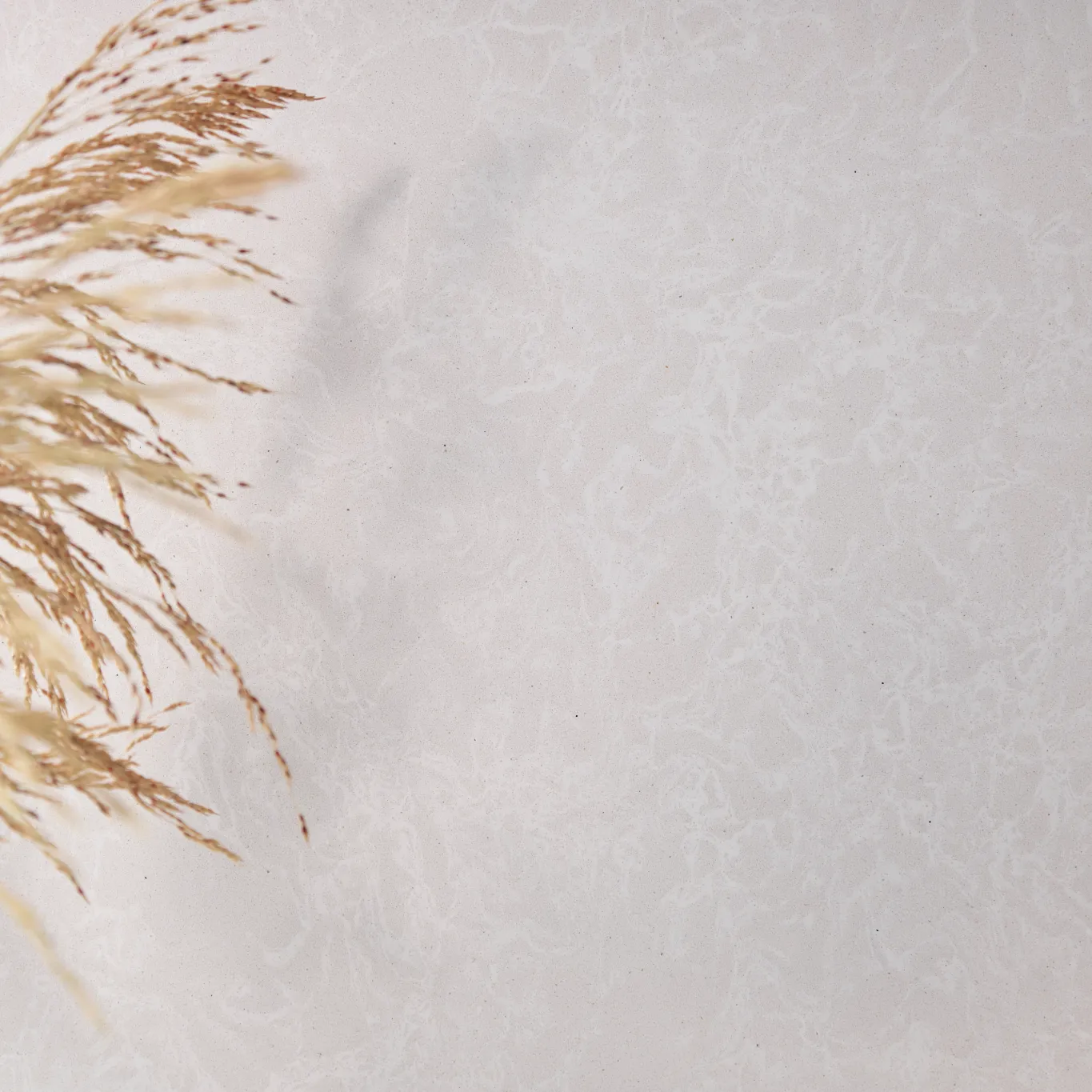 Cambria Foggy City™ design detail.
Slightly mysterious like the rocks cloaked in fog off the southern coast of California, this compelling design is made from recycled Cambria and features an archipelago of large and small dove-gray shapes parted by neutral channels and winding streams.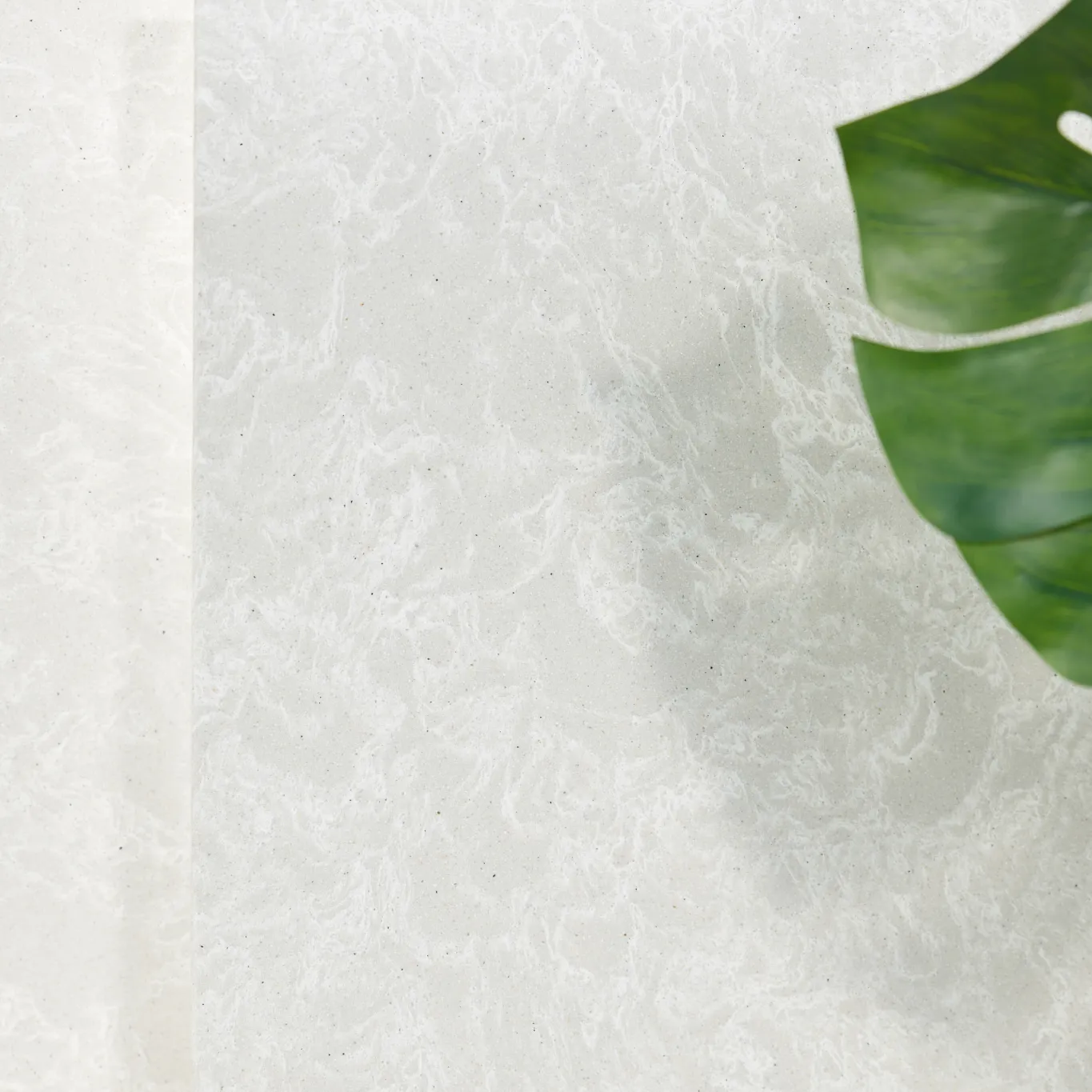 Cambria Big Sur Mist™ design detail.
Named for the marshy white plains that now host the bustling New York metropolis of the same name, White Plains has a creamy white background with various sized contours of gray spots floating throughout.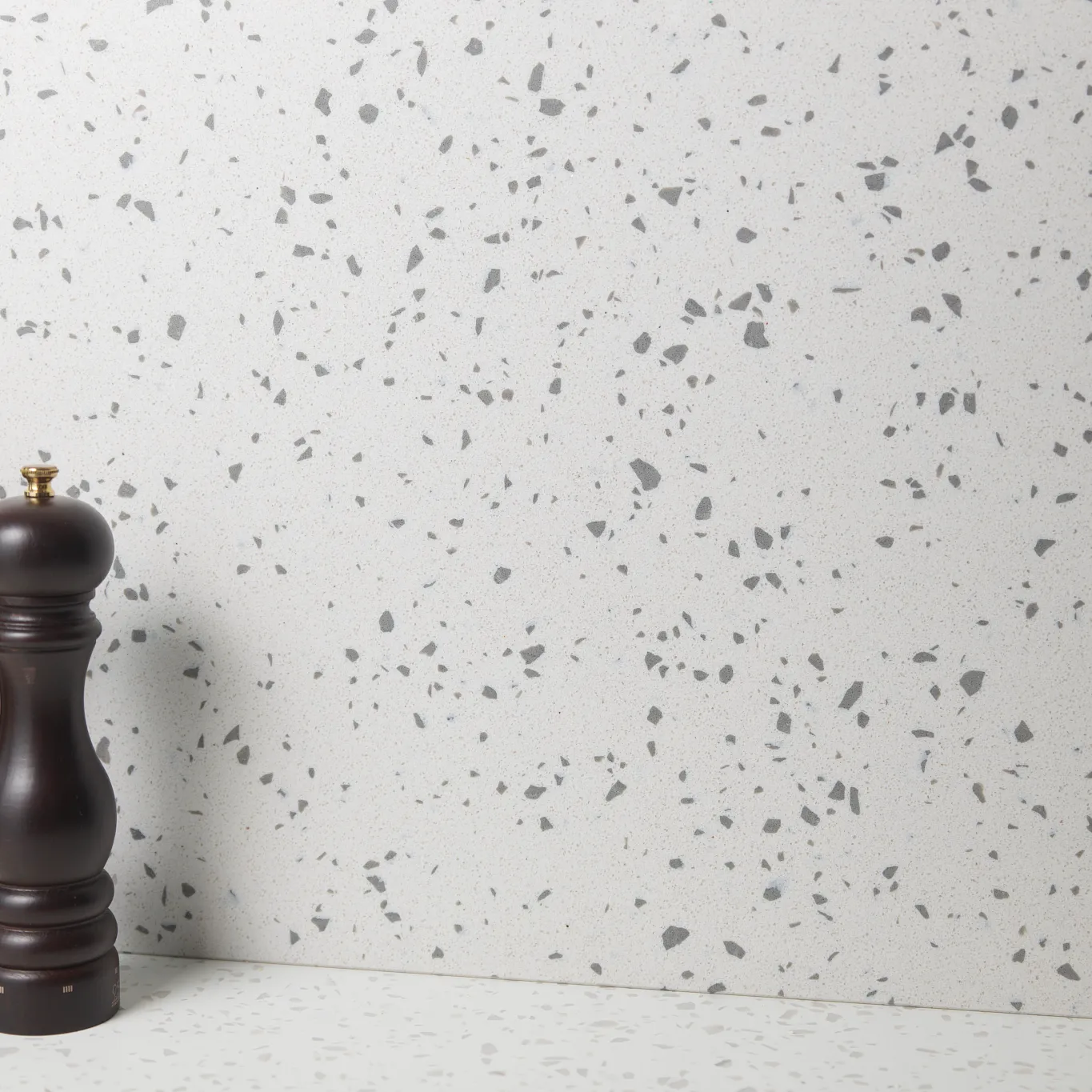 Cambria White Plains™ design detail.
Sanibel Shoreline
Like wet sand on a shell-dotted shoreline, this intriguing design is made from recycled Cambria and features a pearl-gray base with close-knit sprinklings of light and warm specks, intermittent black dots, and a mingling of pale white silhouettes.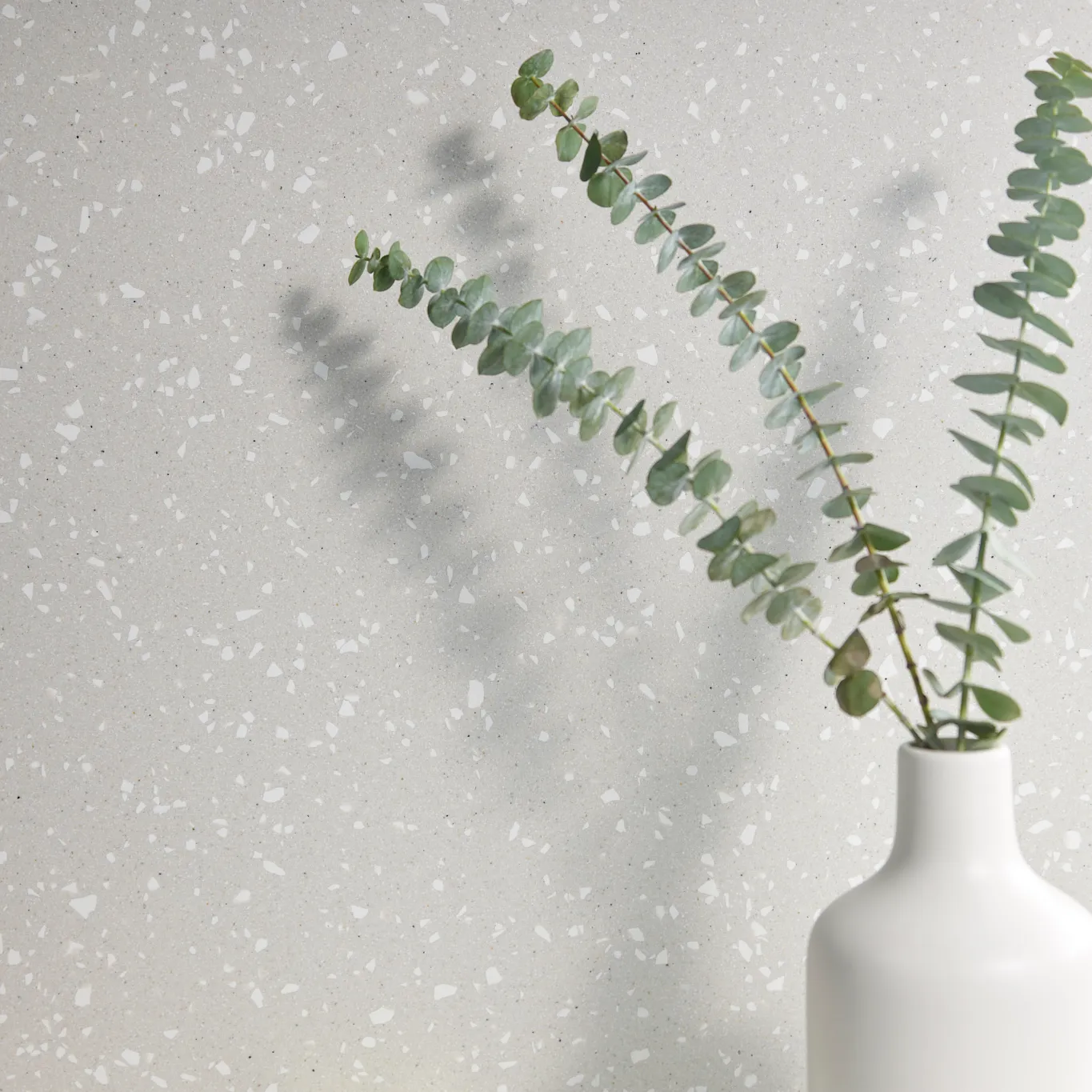 Cambria Sanibel Shoreline™ design detail.
A medium-gray stage is set with countless multitudes of gray dots accented with occasional white and gray abstracts that call to mind the iconic summit in the majestic mountain range of Colorado.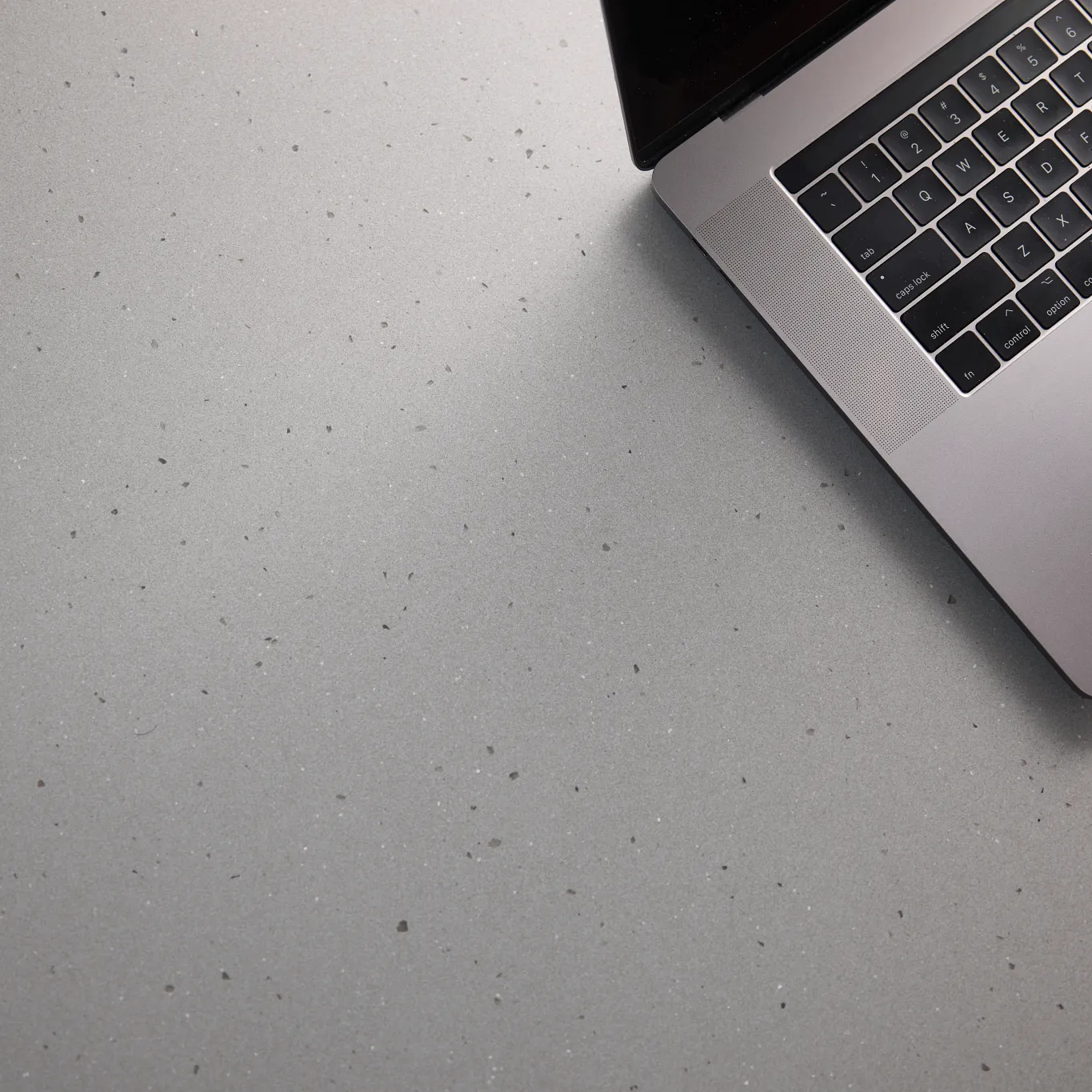 Cambria Pikes Peak™ design detail.
Seattle Rain
A quiet medium-gray foundation reminiscent of a misty Seattle afternoon hosts a dense spray of minute gray pinpoints and a dappling of black and gray daubs.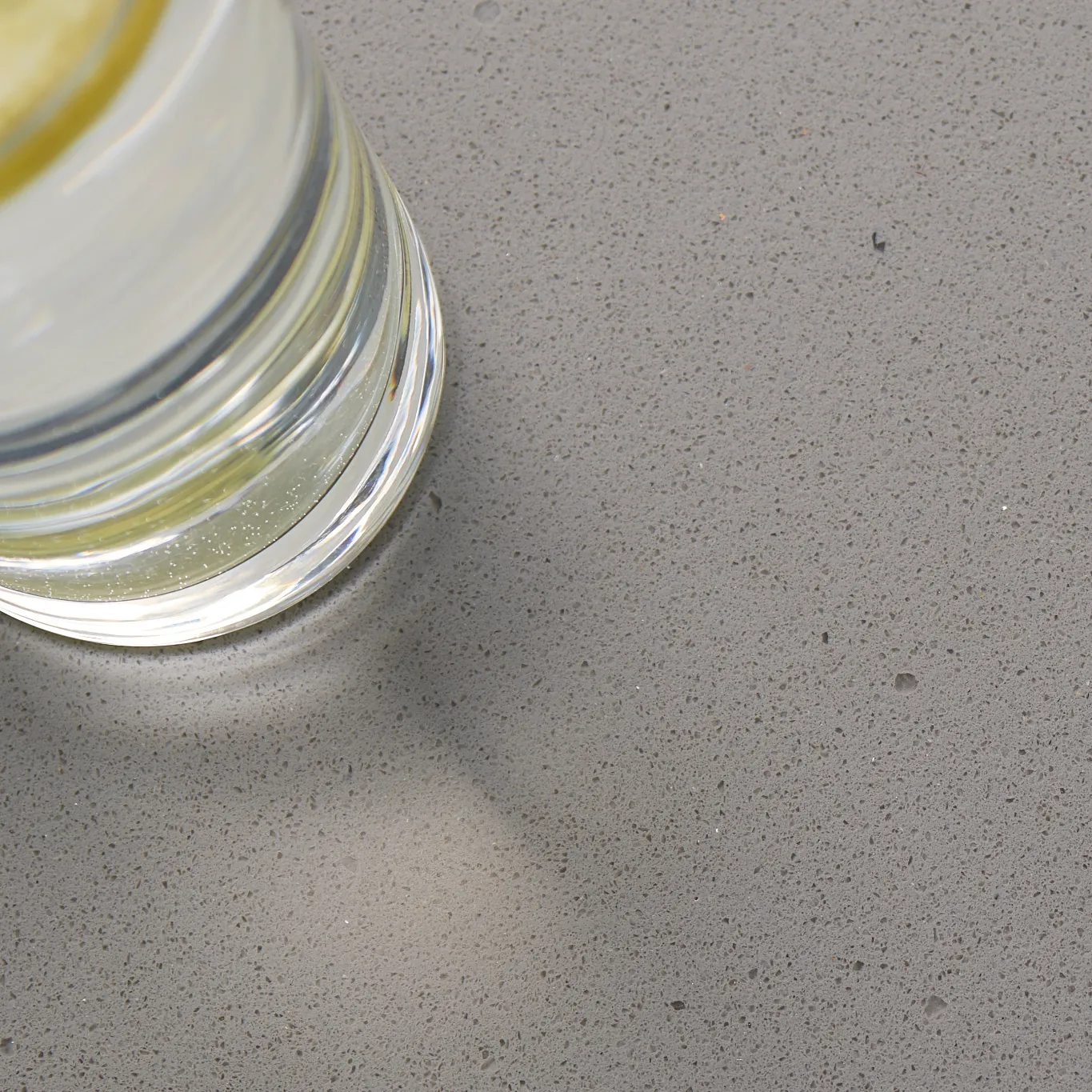 Cambria Seattle Rain™ design detail.
Montana Midnight
A vast charcoal-gray palette is sprinkled with a profusion of tiny black dots and ink spots that hover like the dark skies in a moonless Montana night.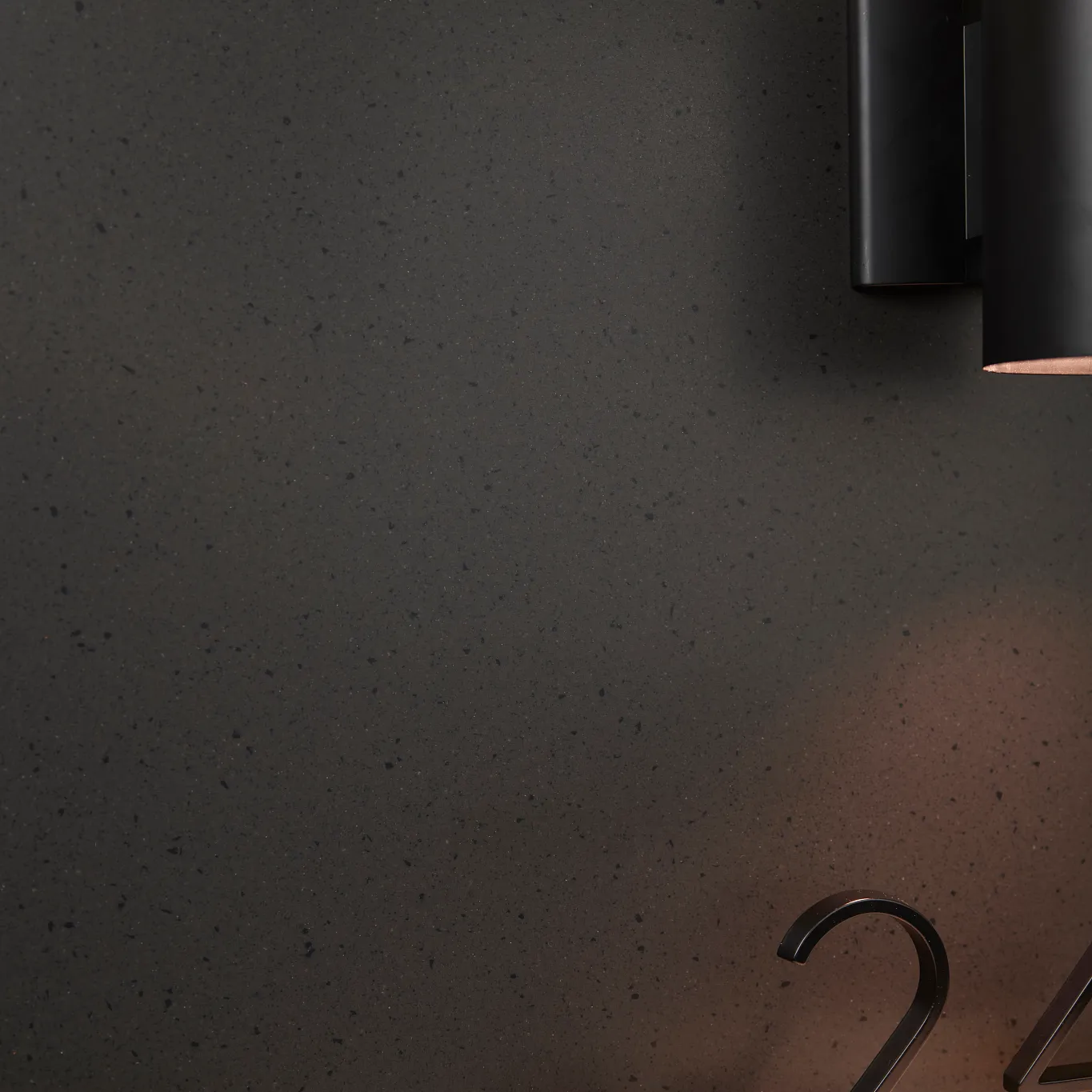 Cambria Montana Midnight™ design detail.
Inspired by the dark expanses of the immense caverns in this American landmark, Mammoth Cave is laid with a dramatic, raven-black groundwork, crisscrossed with white streams, clusters, and veins that create fine etchings in a multitude of sizes and shapes.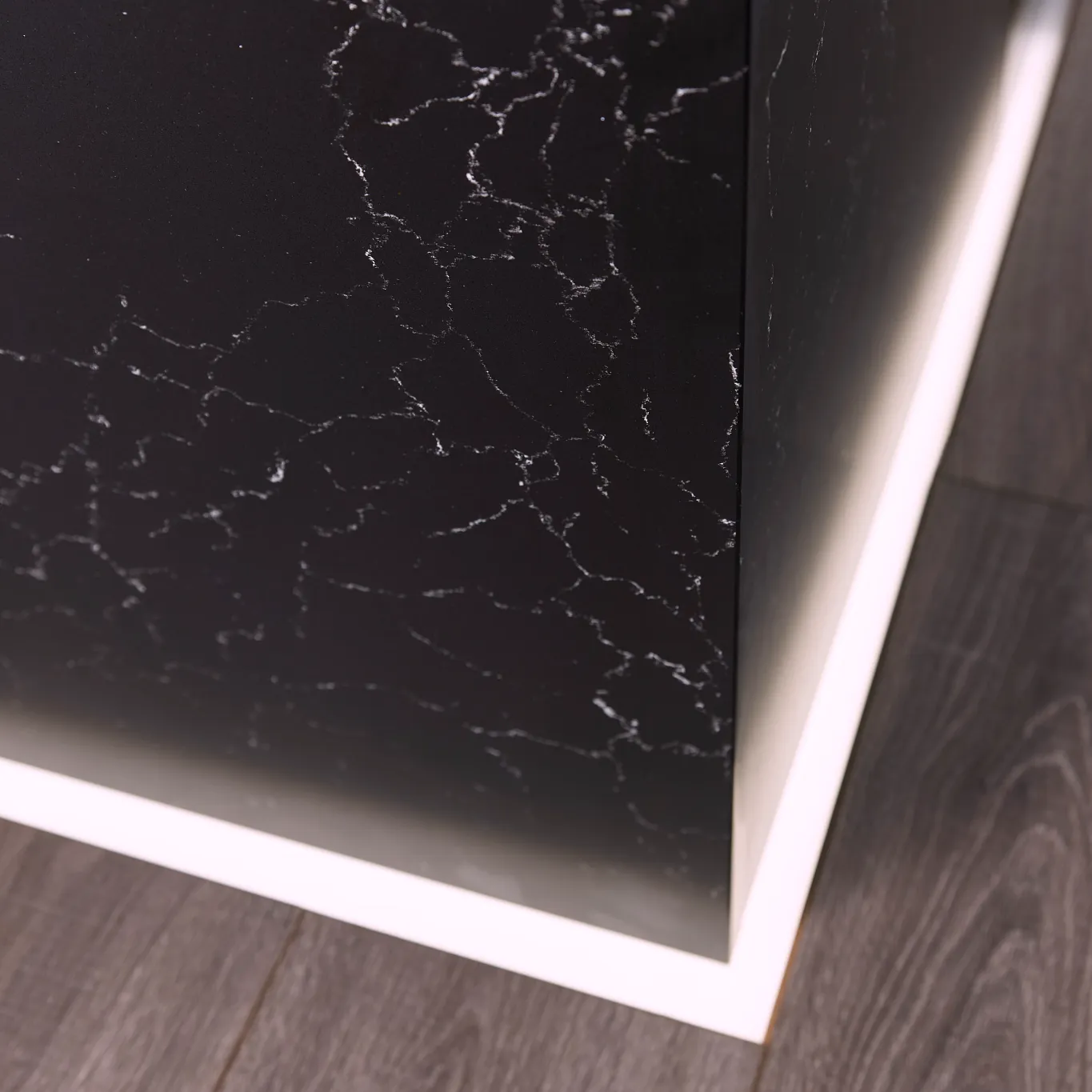 Cambria Mammoth Cave™ design detail.
Charcoal veins form abstract shapes on a dense black background in this design named for Black Rock, Arkansas.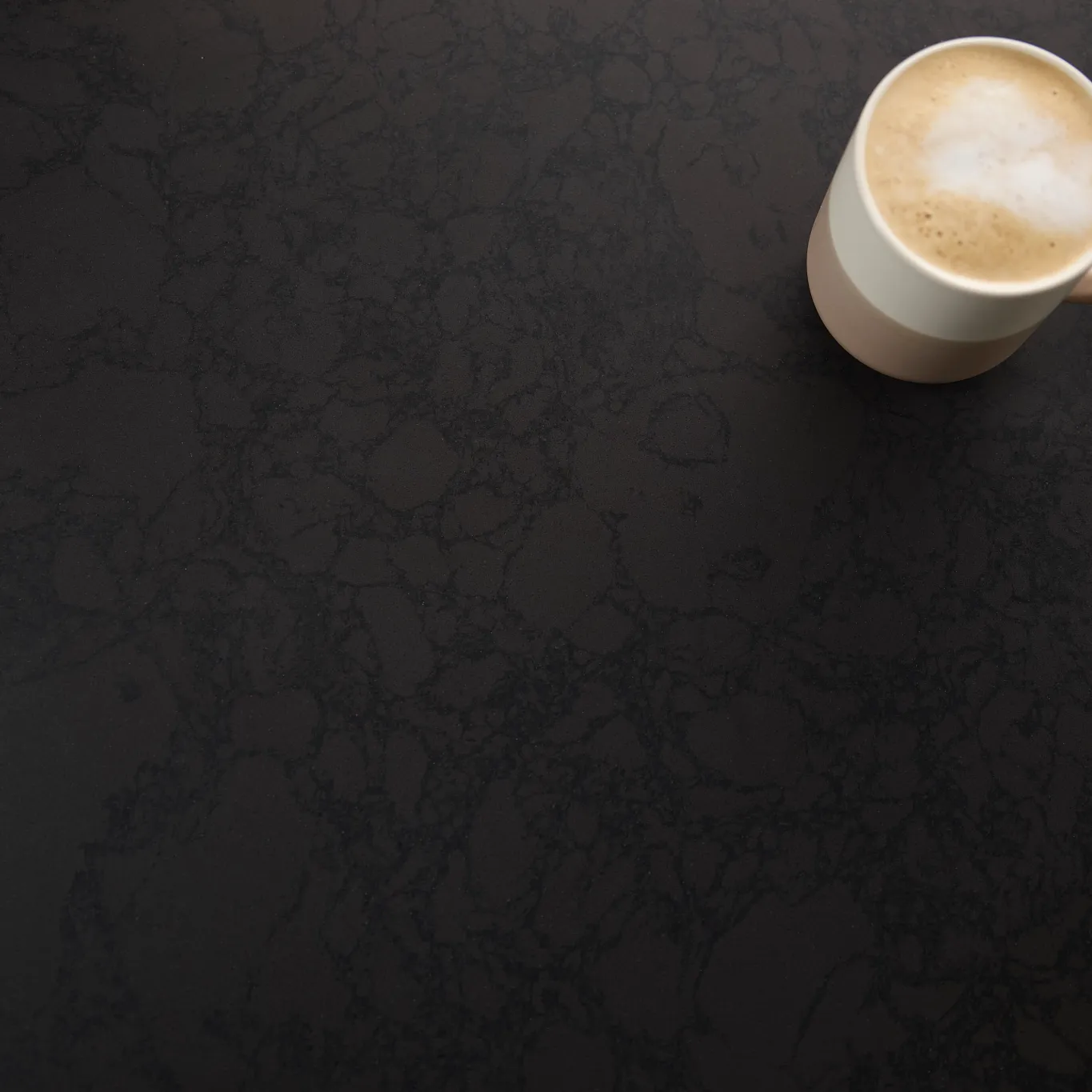 Cambria Black Rock™ design detail.
Kentucky Coal
As dark as the mines of Appalachia, Kentucky Coal features a smooth and strong iron-gray platform with a mosaic of darker gray shapes.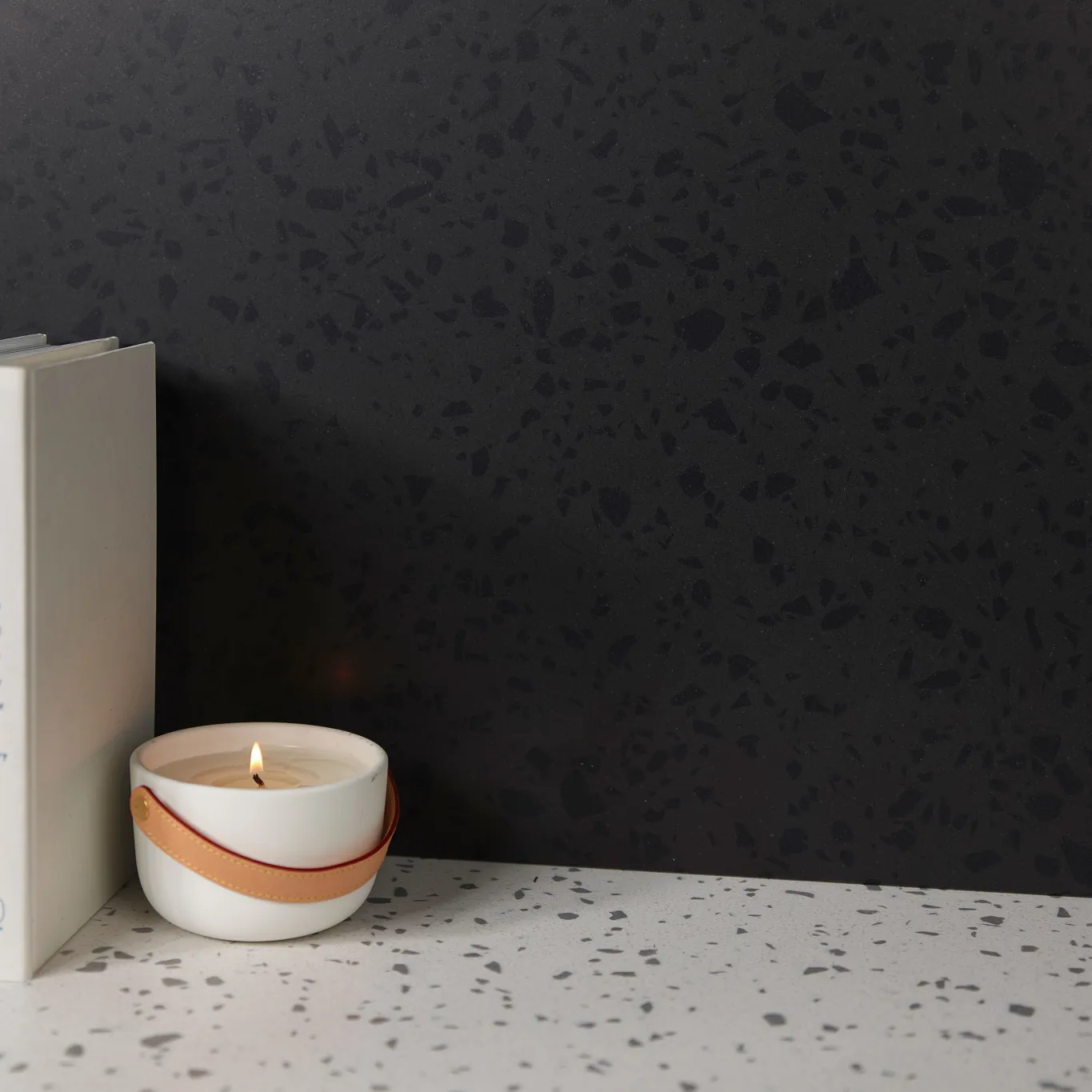 Cambria Kentucky Coal™ design detail.
All designs are available in Cambria's revolutionary Cambria Matte™ finish, which features a smooth, silky touch and no reflectivity, as well as in Cambria's high gloss finish.
The Coordinates Collection are available in a variety of edge profiles in 1cm, 2cm, and 3cm thicknesses and in jumbo slabs (132″ x 65.5″). All designs will also be available as wall and floor tiles in the following sizes (in inches): 12×12, 12×24, 18×36, 24×24, 24×48, and 48×48 in 1cm thickness.
Cambria Is Committed to Sustainability
Sustainability is at the forefront of our industry, and we are seeing recycled materials as a growing category. For Cambria, protecting the environment is second nature. Further demonstrating our commitment to sustainability, Cambria offers products with recycled content comprised of reused Cambria natural quartz slabs.
These designs contain pre-consumer recycled content certified by SCS Global Services. They are produced from repurposed scrap material from the Cambria production and fabrication process that would otherwise end up in a landfill.
In The Coordinates Collection, Cambria introduced the Sanibel Shoreline and Big Sur Mist designs, each of which contains 28% recycled content. Both of these sustainable designs are just as easy to live with as they are to love.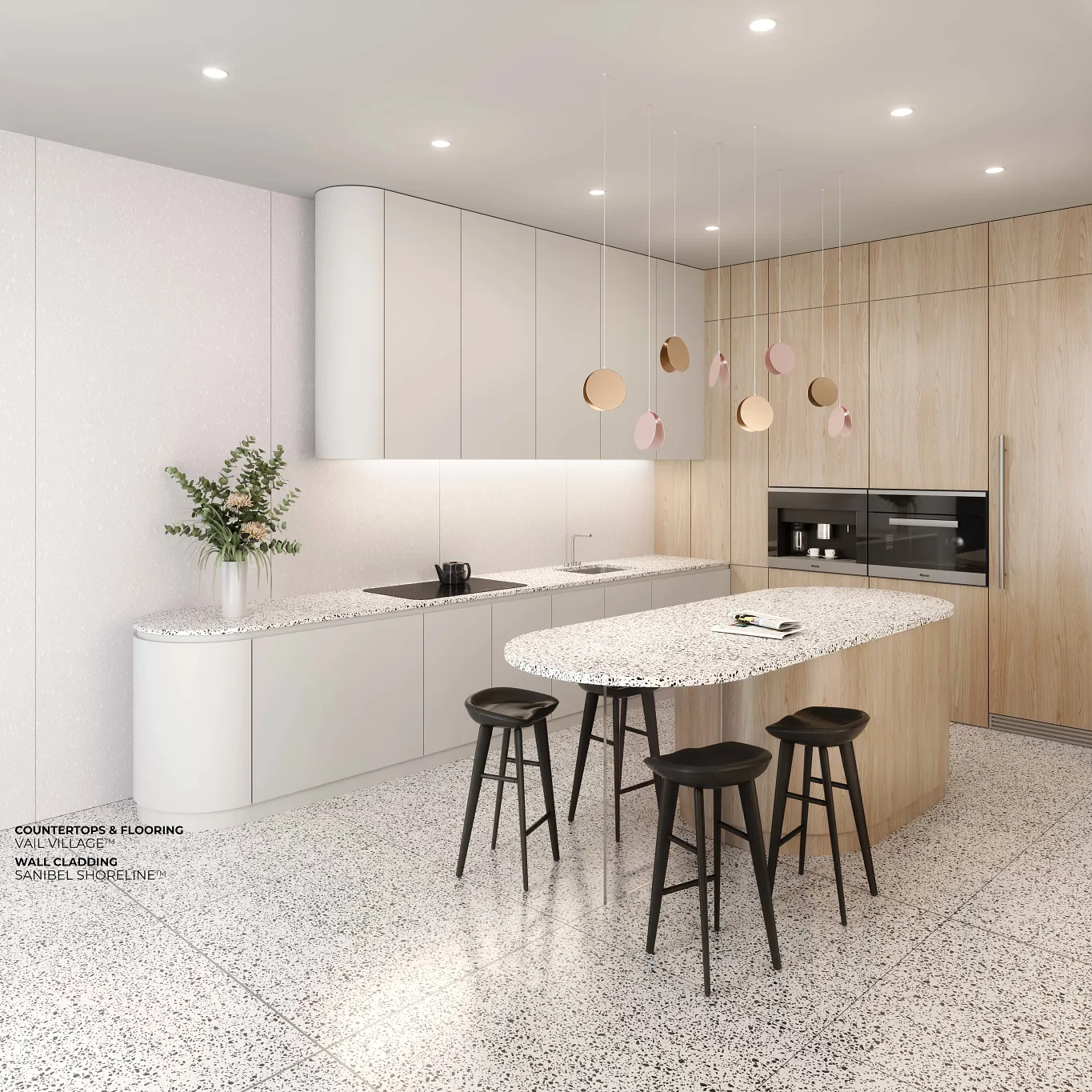 Sanibel Shoreline wall cladding completes a modern look in this light and bright break room.
Why Gensler
Cambria worked closely with integrated architecture, design, planning, and consulting firm Gensler on The Coordinates Collection and was inspired by the needs of the 6,000 design professionals in the Gensler family who service more than 4,000 clients worldwide each year.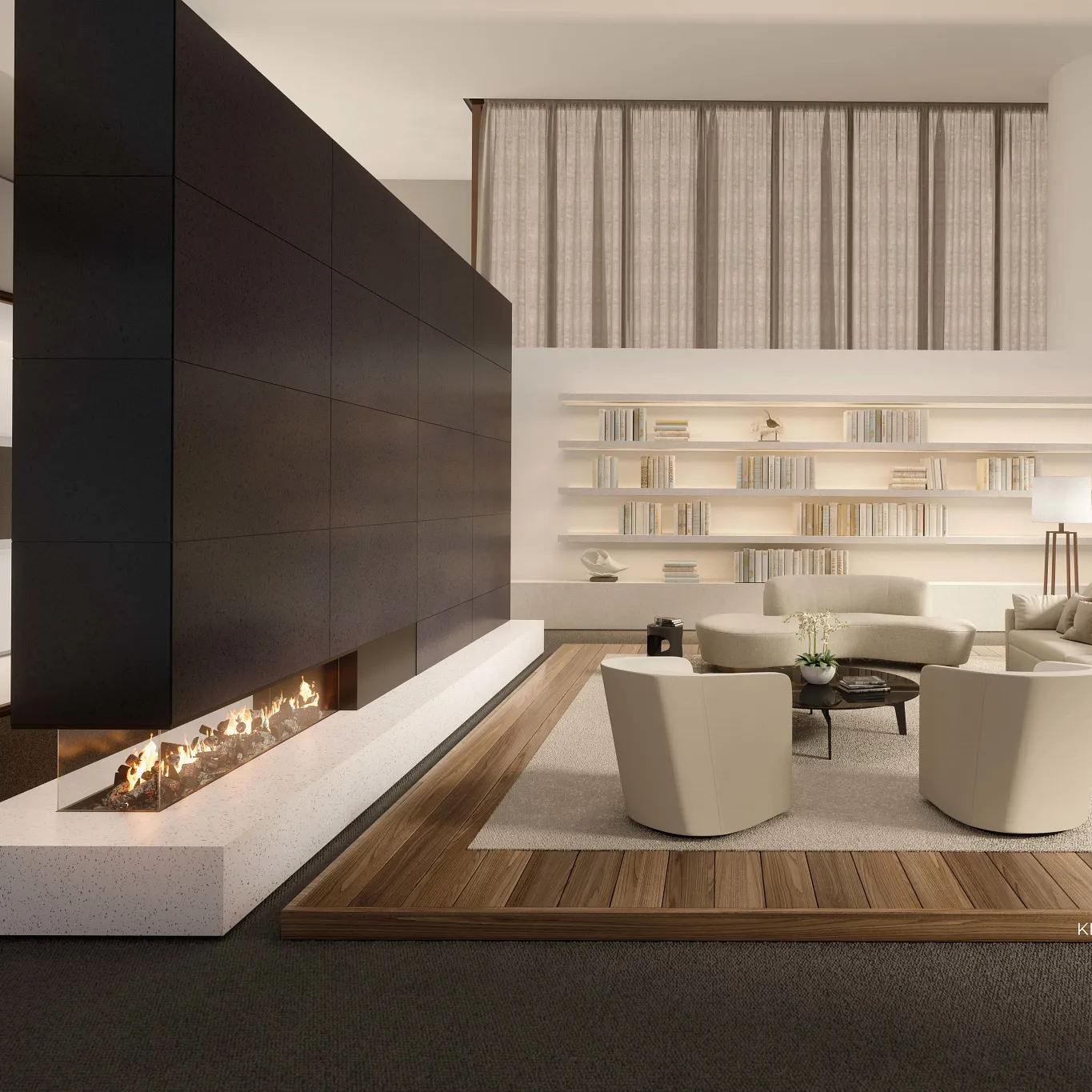 The Coordinates Collection design White Plains on this hotel fireplace pairs beautifully with Foggy City wall cladding and open shelving.
"What we built together truly reflects the talent that Gensler cultivates, and Cambria cannot wait to meaningfully expand our footprint within the architecture and design communities," said Cambria EVP of Product Development Summer Kath.
Get the Look
Follow Cambria on social media with #MyCambria for more standout designs.
For more information on Cambria, including performance data, product specifications, and certifications, see our Professional Resources.
Interested in creating a showstopping design project with Cambria? Buy a sample, find a dealer, or call 1-866-CAMBRIA (1-866-226-2742) to be connected with a market representative in your region. Or visit our website to set up a virtual design consultation.
Please call 1-866-CAMBRIA (1-866-226-2742) to confirm design availability.