California Dreaming
An architect and his frequent interior design collaborator craft a dream home for a family in Newport Beach
Written by GEORGINA MCWHIRTER
Photography by KARYN R. MILLET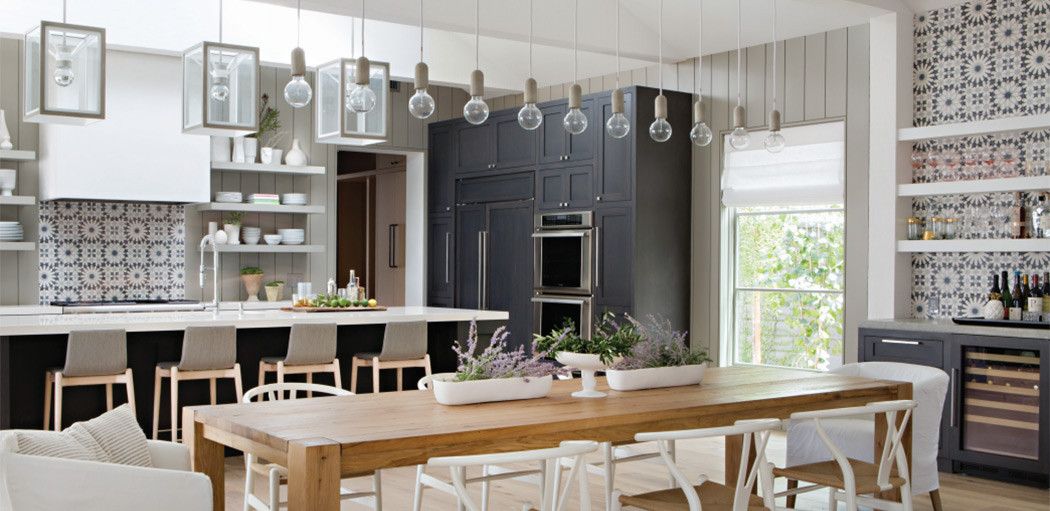 KITCHEN
Cement tile is a nod to old-world European materials (think Portugal's plentiful patterned tile), while lighting is industrial and contemporary. An almost-black stain on kitchen cabinetry adds depth and contrast. Cambria designs shown: WHITEHALL™, CARRICK™
Newport Beach, California, is all about sun, sand, surf...and glamour. But for a young family looking to upsize their home, architect Eric Olsen and interior designer Raili Clasen swapped beachy clichés and showy McMansions for a farmhouse aesthetic infused with laidback SoCal cool.
The property's existing house was awkwardly sited, so Olsen opted to tear it down, instating a five-bedroom home, guest casita, and pool house. "It's all about indoor-outdoor living in this part of the country," says Olsen, so he located the three white-brick and cedar buildings around the perimeter of the lot, devoting the spacious middle to a lap pool, lawn, and trellised patio.
The trellised patio is more of an outdoor living room than anything else, with cozy lounge seating, a glossy zellige tile fireplace, and wide wood floorboards. Anchoring one wall is a large pop art heart canvas, spray-painted white on black. (It was a serendipitous find by Clasen, who loved it so much she ordered one for herself, a yellow version that now resides in her office.)
Clasen is a pro at conjuring a relaxed Cali vibe, having worked for surfing brand Roxy before diving into the world of design, first with Alice Supply Co., a line of swoon-worthy household cleaning supplies (cute brooms and the like) before opening her own interiors studio. The clients had complete faith in her and Olsen: "They really let us push them out of their comfort zone," she says. "It was the best experience we could have had."
To ensure a completely fresh slate, no furniture from the family's former home was reused. Instead, Clasen combined items from big box retailers with custom pieces of her design. Cambria stone was a natural choice for countertops in high-use areas such as the kitchen and bathrooms. "We needed something beautiful and hardy and it fit the bill!" Clasen explains.
The designers stayed true to the core elements of farmhouse style: exposed beams, wide-plank floorboards, old-fashioned sinks. To that, they added a touch of pizzazz with bold patterned tile (a theatrical black-and-white swathe that swoops from the ceiling onto the floor in the powder room is Clasen's personal favorite). "There is huge love for the farmhouse look at the moment—it's cropping up all over the country," she says. "I like to think we gave the look context; a California twist."