Building Family and Fun in Florida
YouTubers Jess and Gabriel Conte create a personality-filled home base for their next chapter
Written by Cambria USA
Photography by SHELBY COOPER
When Jess and Gabriel Conte aren't making music or producing content for their YOUTUBE CHANNEL or other platforms, they're doing things many young couples enjoy, like getting comfortable in their first new home and anticipating the birth of their first child. Moving from Los Angeles to Florida was an important part of their evolution as a family, they say. "I'd been in L.A. for three years and Gabe had been there for five—but none of our family was nearby," says Jess. Since Jess's clan is all the way in Australia, where she's from, they made a decision to relocate to South Florida, where Gabriel grew up and his family still lives.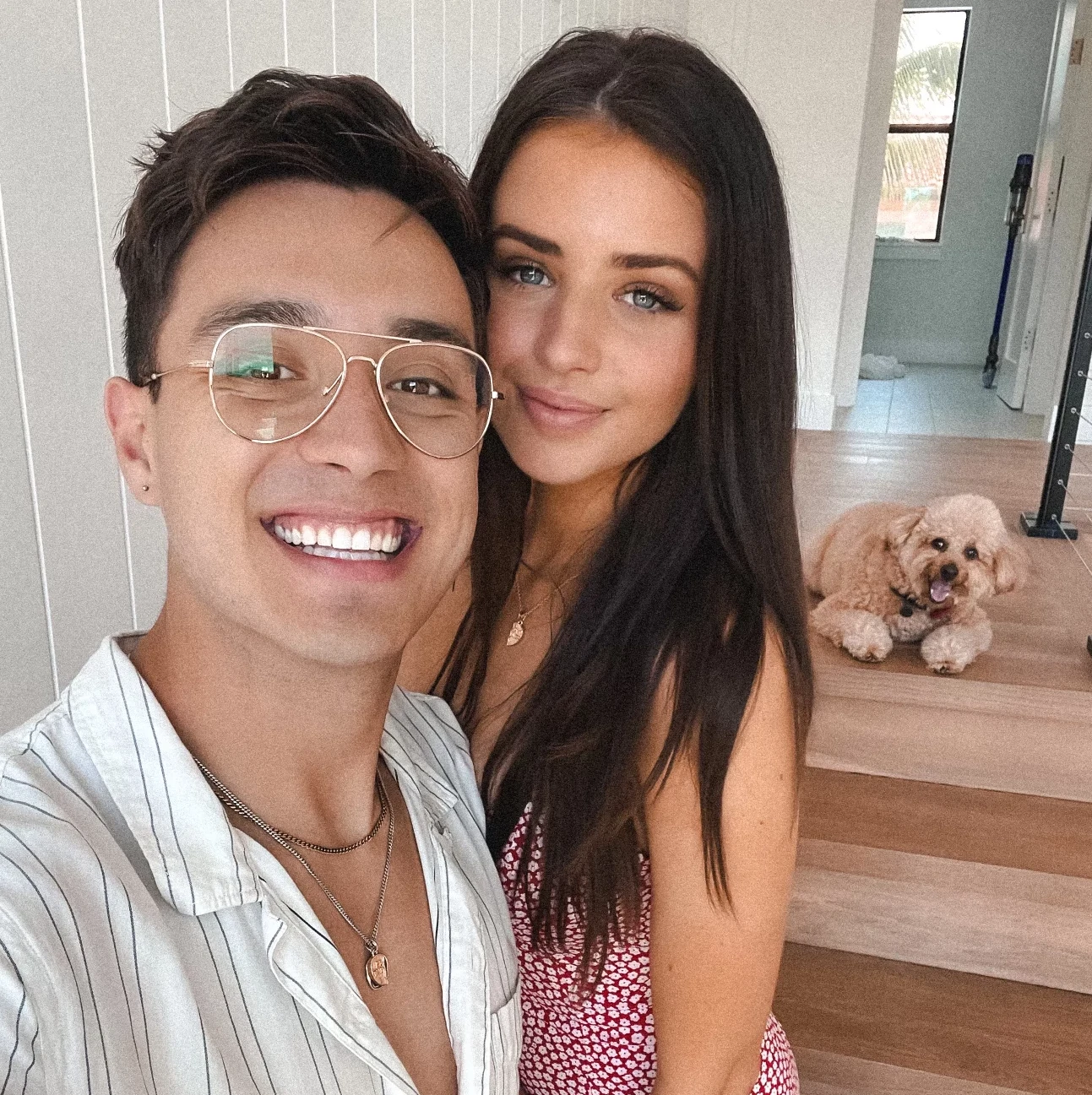 Jess and Gabriel Conte love their home's clean, organic aesthetic that also feels welcoming and warm.
Photo courtesy of Jess and Gabriel Conte.
With the location set ("We really didn't consider anywhere else," says Gabriel) they began to look for the right site to build their dream house—and quickly came across builder J.P. DIMISA. "With J.P., we found the perfect neighborhood and his whole team was incredibly responsive to what we wanted," says Jess. Not surprisingly, the couple's creative abilities extend beyond music: Jess is a huge design fan and they have their own clothing line. So, making their new home a reflection of their personal style was a must.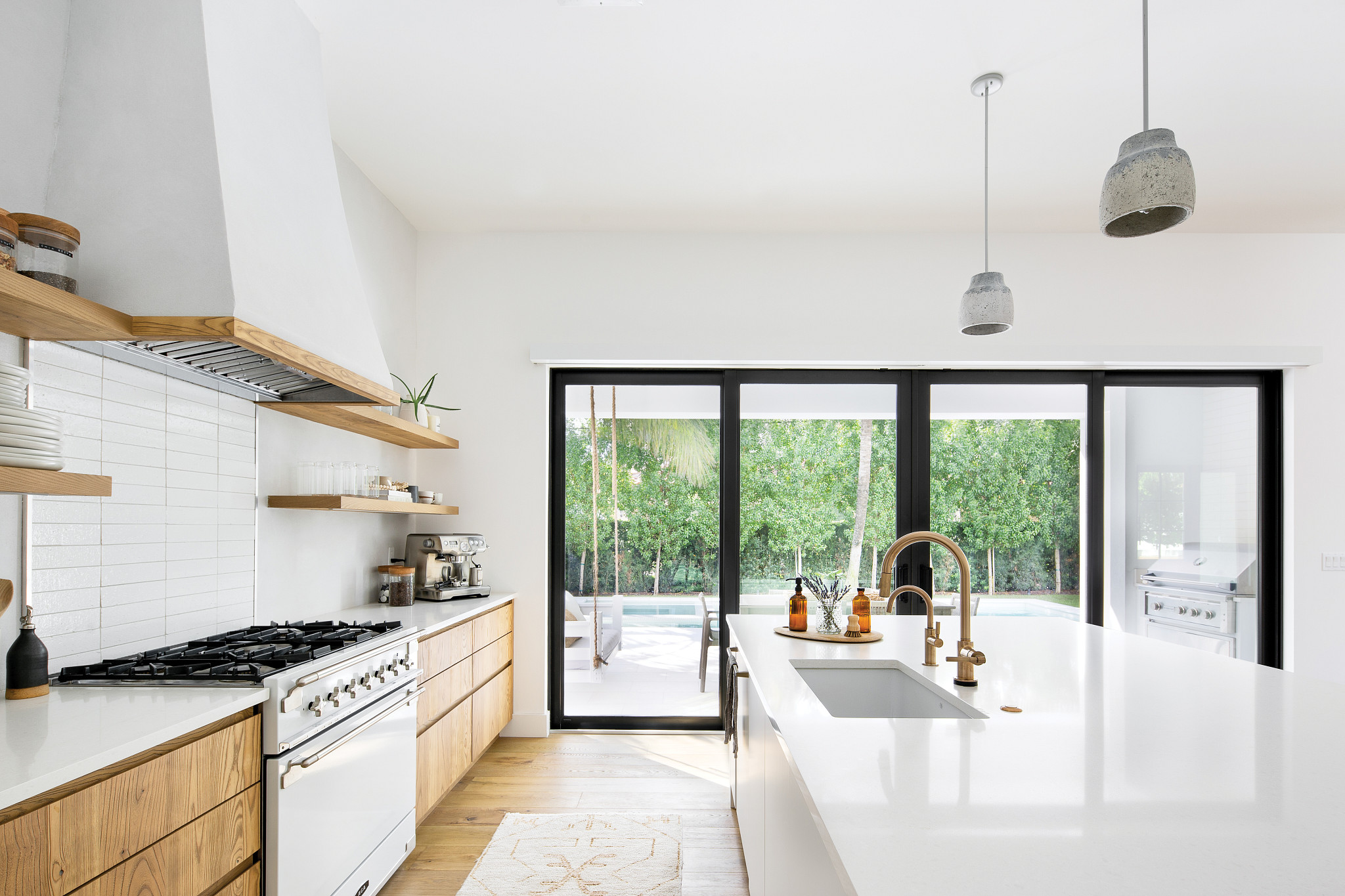 Organic materials, wood floors, and Cambria NEWPORT MATTE countertops create textured and naturally inviting spaces.
"I really wanted a lot of the design of the house to be a mix of a 'coastal living by the beach' look and some of the Australian design elements I grew up with," says Jess. "So, quite a few things like the neutral colors and the vertical wood paneling we used have an Australian influence that reminds me of home." Jess led the design process, working with interior designer JASON BALL to select elements throughout that create a cohesive, pulled-together look. The resulting style has a strong natural vibe, with a mix of organic materials—wood floors and Cambria quartz countertops throughout, for example, plus wood and woven furnishings—and richly textured surfaces that stand out against a clean white backdrop.
Jess and Gabriel also wanted the house to adapt easily to their live-work-play lifestyle, so they planned open living spaces, separate offices, a music room, and plenty of outdoor entertaining spaces. "We work at home every day, which is lovely," says Jess. Gabriel works in a dedicated office, but Jess prefers a more central, open workspace at the front of the house.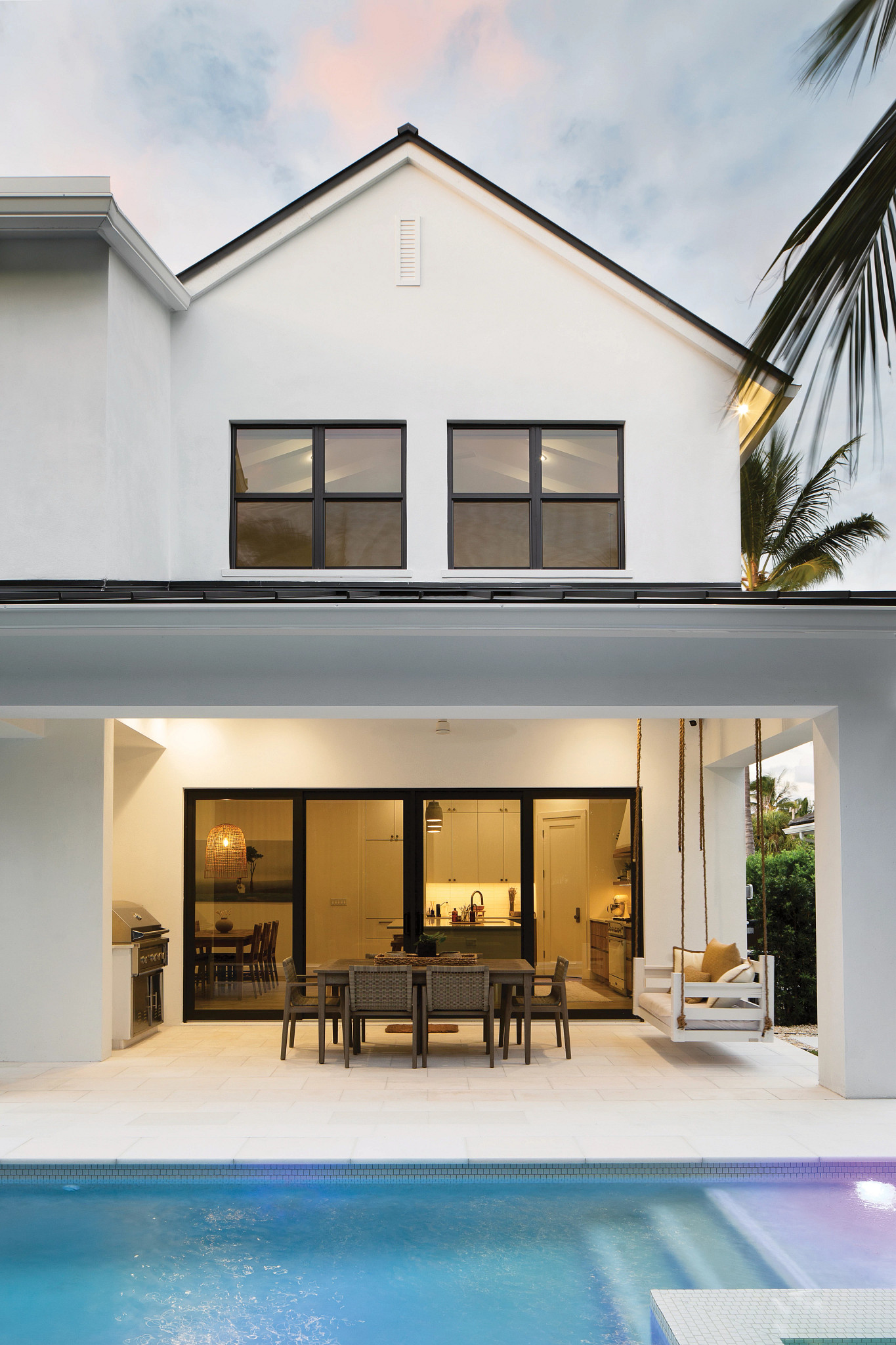 Seamless indoor/outdoor living is a must, including this favorite outdoor feature, a swinging daybed on the back porch.
"An open plan was really important to both of us, because we love having people over to hang out or hosting game nights," says Jess. Also important: a seamless connection to the outdoor living areas. The lush backyard flows easily from the kitchen. "It's great because people tend to gather in the kitchen whenever you entertain, and it's really easy to have the grilling area and the pool so nearby," says Jess. Their friends' favorite feature? That's a tossup between the swinging daybed on the back porch ("A huge hit," says Gabriel), the sunken fire pit in the front yard, or the basketball court extension they made to the driveway. "All our decisions were really deliberate, and some of the smallest things made the most impact," says Gabriel. "Just adding a few feet off the driveway, for example, gave us a place to shoot hoops."
What's next for this creative couple? They've been bitten by the design bug and are currently renovating an investment property. But they're even more focused on another exciting project: the impending birth of their first child. Time to turn the guest room into a nursery!