Bubbles & Roe
A Midtown mecca for over 25 years, Caviar Russe adds a moody new lounge to its Madison Avenue digs
Written by Thomas Connors
Photography by CHRISTIAN HARDER and LIFESTYLE PRODUCTION GROUP
There was a time when restaurants tried to cater to all tastes, with everything from steaks and chops to pasta and seafood on the same menu. That formula worked fine until diners realized most kitchens weren't capable of turning out an authentic bucatini all'Amatriciana and a proper cassoulet with equal authority. And once we grew more appreciative of cuisines from around the world, we weren't about to go just anywhere for pad thai.
Tables set with Bernardaud porcelain and Christofle flatware beneath colorful murals make for a fanciful and fancy ambience in the main dining room.
Of course, there have always been restaurants that stuck to what they did best and kept to a tight menu. Back in the 1970s, French chef Jacques Pépin opened a lunch spot on New York's Fifth Avenue that offered soup, soup, soup. La Potagerie, as it was called, was tailored to expense-account-deprived office workers with limited time for a midday meal. Think food truck minus a gas tank.
Just blocks away from Pépin's long-gone La Potagerie (and a world away from a ladle) CAVIAR RUSSE occupies an exalted position in the universe of specialty restaurants. While no new kid on the block—it has had a home at 838 Madison Avenue since 1997—this Michelin-starred destination is keeping up with the times, expanding its operation with a new street-level raw bar and cocktail lounge. "We were looking to create a more approachable space but with the same level of service and fine dining one experiences upstairs," says Edgar Panchernikov, head of operations.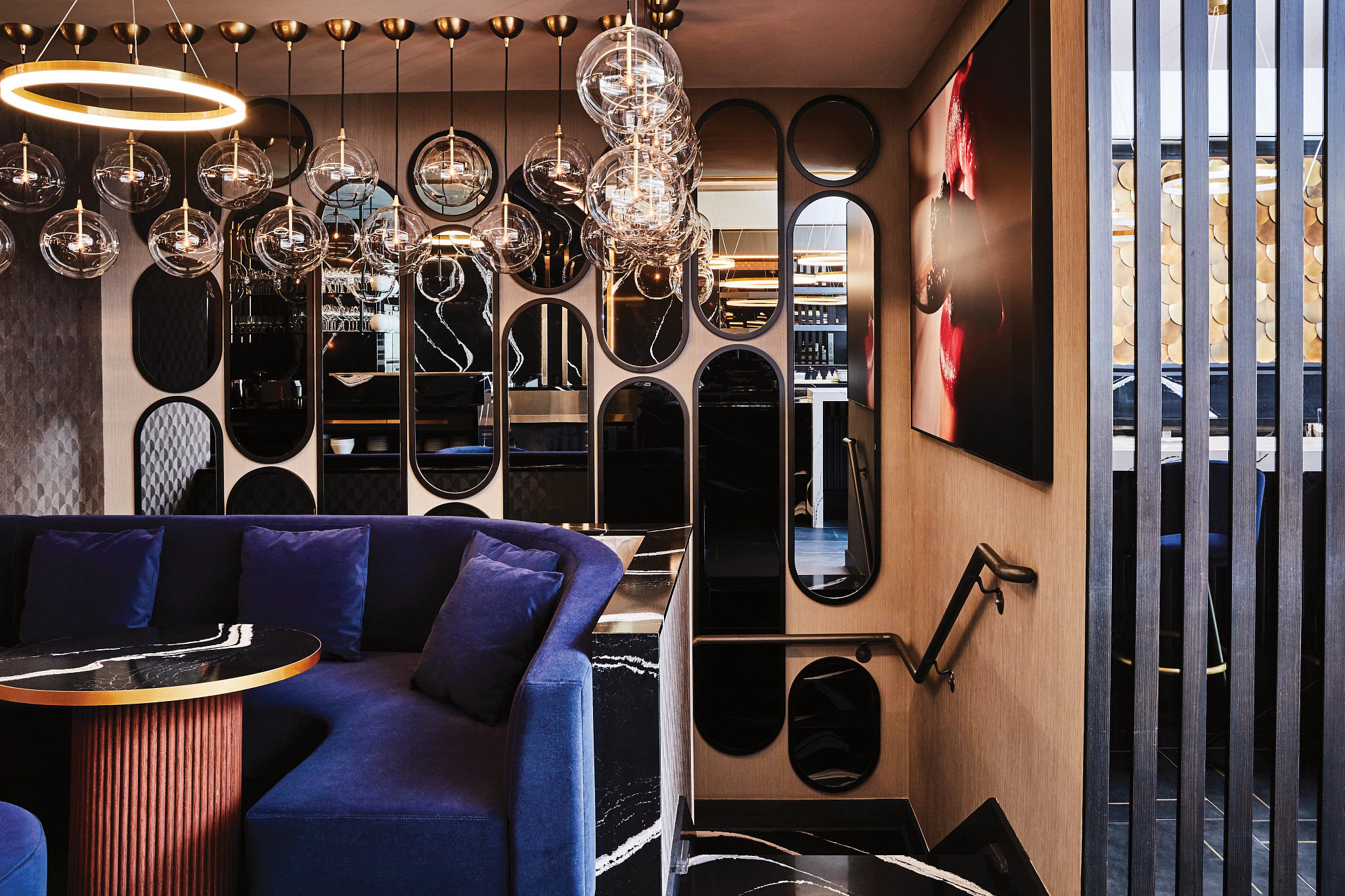 A beautiful blue banquette and mirrored wall in the new raw-bar lounge.
Sleek and darkly alluring, the intimate space is meant to do double duty. Patrons who simply want to pop in for a
GLASS OF BUBBLY AND SOME OYSTERS
will feel right at home, as will those who are ready to make a night of it, pausing to enjoy an aperitif before heading upstairs to the main dining room for dinner. "We see it as a sort of living room, where you can hang out before dinner," suggests Panchernikov. "And it also allows customers who may just be in the mood for a martini and a little something to eat, a whole new reason to visit." In addition to providing sturgeon roe fans a snug spot in which to indulge, the new space includes a dedicated retail area where they can snag some eggs to go, fresh from Caviar Russe's small batch farm in Germany. The fish are raised on an all-natural, non-GMO diet. Plenty of niche restaurants have appeared in recent years, focusing on everything from breakfast cereal to broth. Time will tell if they endure. But ice-cold vodka, champagne brut, shigoku oysters, and a little spoonful of beluga aren't going away anytime soon—not as long as Caviar Russe is in the game.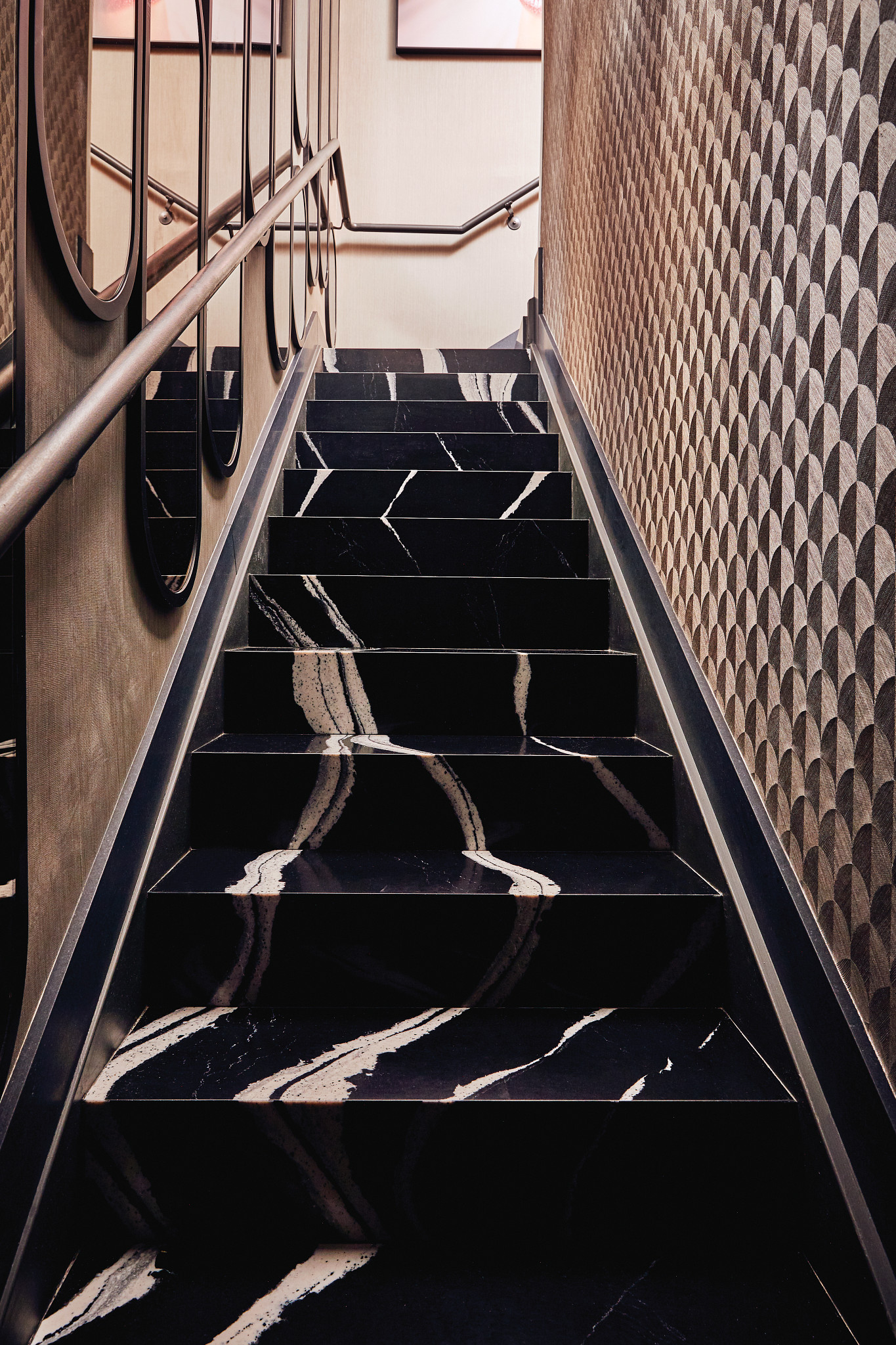 A staircase with Cambria's inky, white-veined Mersey design artfully guides visitors between lower and upper levels.