Bright Kitchen Lighting Ideas
Any interior design should incorporate a well thought out plan for kitchen lighting—illuminate your mind with these expert kitchen lighting tips
Written by Angela Johnson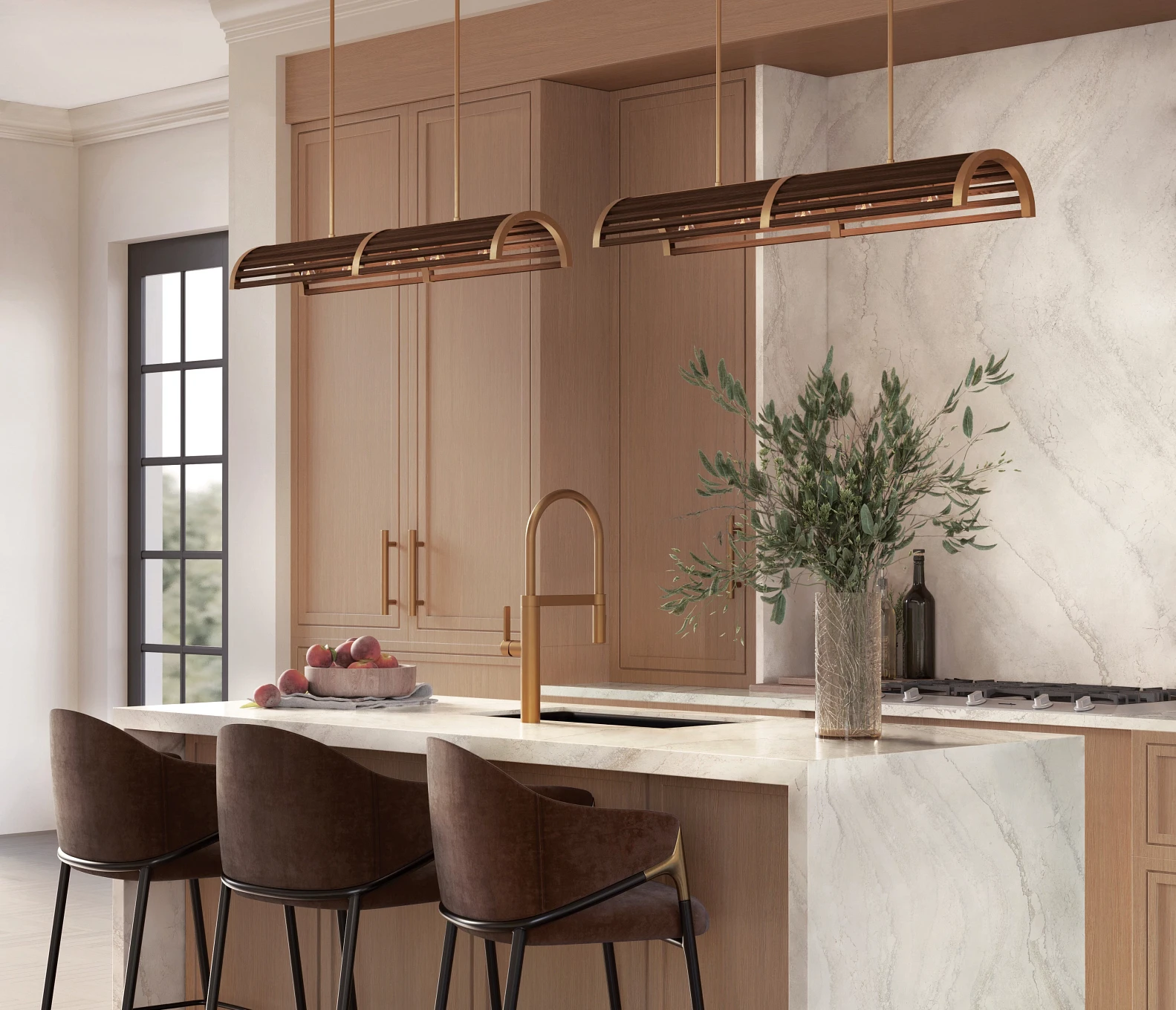 When selecting hardware and lighting fixtures, mixing metal finishes elevates an overall kitchen design, adding elegance to functionality. Popular shades of gold and bronze complement most cabinet finishes and pair perfectly with today's showstopping luxury surfaces like Cambria's EVERLEIGH™ design with its combination of cool gray and honey tones. "Be a little fearless in design," says Cecil Adams of Currey & Company. Photography by Azusa Nakazawa
It can be easy to go to extremes when it comes to kitchen lighting. You can choose to keep the lumens low to accentuate a fabulous chandelier above your dining table while leaving guests fumbling for their forks. Alternatively, you can flood your kitchen with so much task lighting that no one notices the soft glow of the designer pendants above your island. Either way, don't be intimidated or overwhelmed by the kitchen lighting options. Just keep the following expert lighting advice in mind whenever you're switching things up.
---
Kitchen lighting ideas to brighten up your space
EMBRACE LED LIGHTS | LEDs use 75 percent less energy and last 25 times longer than traditional bulbs. And today's energy-efficient LED bulbs are more versatile than ever, producing ranges of illumination perfect for kitchen lighting. This allows homeowners to tuck lighting away under shelving to show off a beautiful backsplash and provide more focused task lighting.
BALANCE KITCHEN LIGHTING OPTIONS | If you want to highlight a statement chandelier, complement it with more functional lighting such as wall sconces, recessed lighting, and strategically placed floor lamps to create layers of light. But don't go overboard and drown out a statement piece, especially in well-lit rooms like kitchens. Purposefully selected sconces add interest and function without distracting from oversize pendants or a focal point chandelier.
GROUP SIMILAR LIGHTING | Keep sconces at the same level—aligned to highlight wall accents like art. But add interest to pendants by grouping them at different levels or choosing designs that stand out in terms of scale, finish, or color.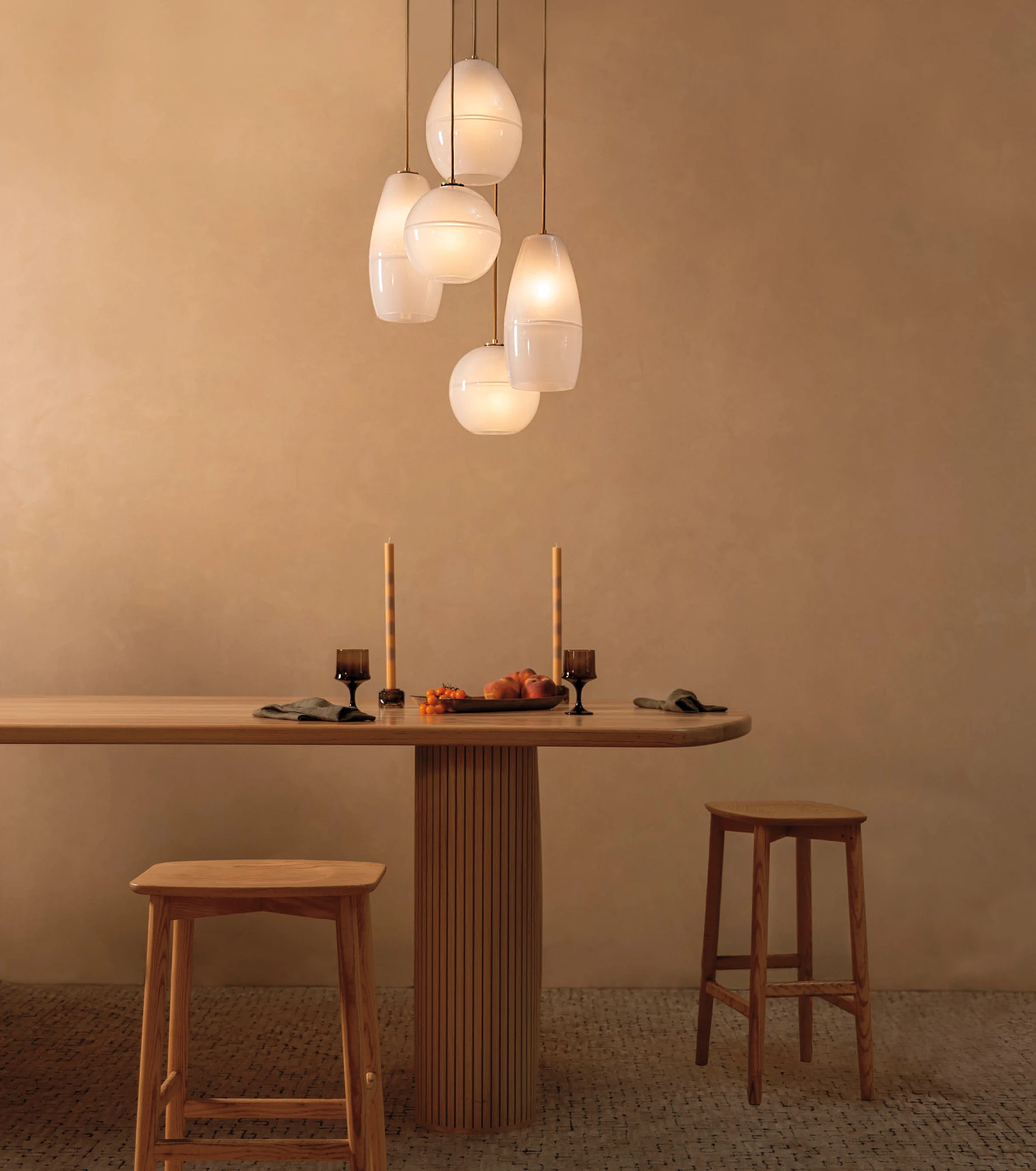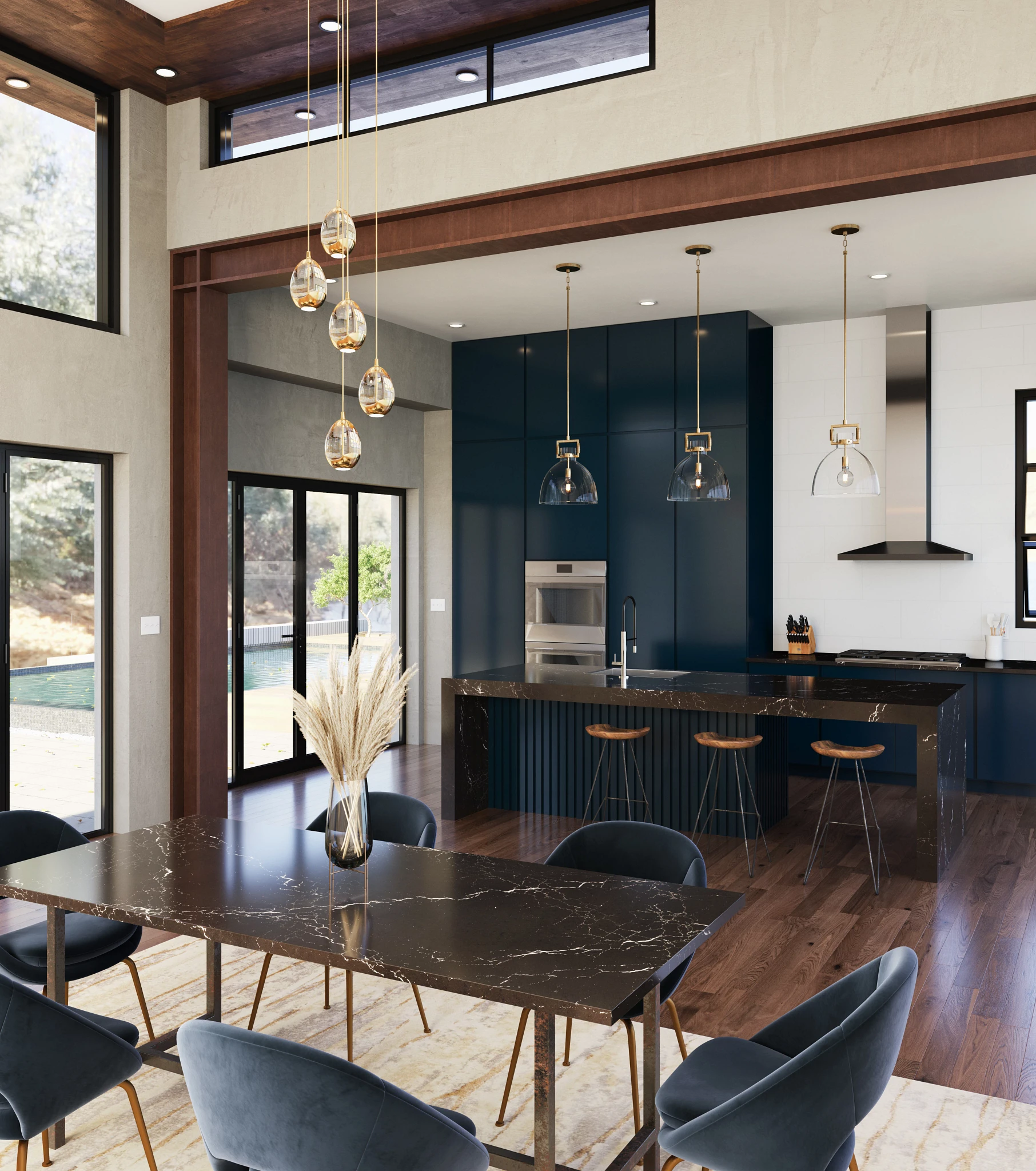 Left: Jackson Schwartz reminds anyone opting for a handblown light fixture—like those created by his company Hennepin Made—that thickness and opacity varies from piece to piece. "That can bend the light or refract the light differently," Schwartz says, "which creates a lot of nuance in every single piece." Photography by Rachel Arnold

Right: Open kitchen featuring Cambria's Delamere, gorgeous pendant lights over the kitchen island and a stunning chandelier over the dining room table. Cambria design shown: Delamere™.
AVOID THESE kitchen lighting TURN-OFFS
On your journey toward creating more nuanced lighting in your kitchen, you may face potential pitfalls. And though there are exceptions to every rule, here are four lighting things to probably NOT do along the way:
CHOOSING CHEAP LIGHTING | It's a mistake to leave lighting till last, when you've already spent the bulk of your budget. Inexpensive lighting can cheapen the most elegant design. So make sure the taste level stays on par with other furnishings. Your fixtures should incorporate seamlessly into your overall design aesthetic.
HANGING LIGHTS TOO HIGH | It's tempting to hang chandeliers high to avoid heads, but over dining tables, bring them as low as you can get without impacting sight lines. Try no more than three feet above—or 30 inches for a more intimate effect.
ADDING TOO MUCH LIGHTING | Smartphone apps make it easy to measure light in degrees Kelvin (K). While you could tolerate up to 6500K, don't exceed 4000K in spaces where you'll want to relax.
SWAPPING LIGHTING STYLES | Lighting designers put effort into sourcing bulbs specific for their fixtures. If you can't find exact replacements, seek out bulbs that adhere to the recommended maximum wattage and honor the initial design. For example, don't alter the effect of a clear glass shade by using an unsightly bulb.