Nourish Your Skin with Botanical Oils
Written by MELINDA NELSON
Photography by STEVE HENKE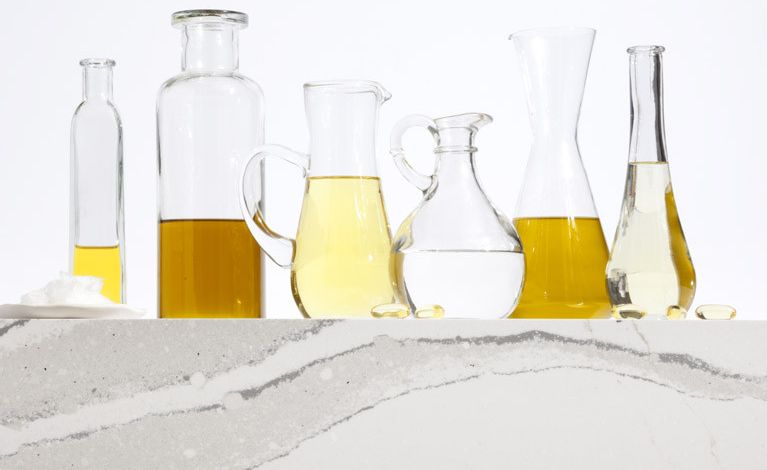 Cambria design shown: BRITTANICCA™
For all of us who were raised on an oil-free skincare regimen, the idea of lavishing one's skin with botanical oils initially seemed counterintuitive. But, after experiencing the moisturizing qualities of these rich, natural, plant-based oils, we're hooked. "Botanical oils have good hydration, anti-inflammatory, and antioxidant effects," says Brian Zelickson, M.D., founder of ZEL SKIN & LASER SPECIALISTS in Edina, Minnesota. "Look for minimally processed oils from reliable, organic sources. Remember, like anything else that you put on your skin, even organic oils can cause an allergic reaction or irritate your skin. To be safe, do a patch test by rubbing some oil into a small patch of skin and waiting several hours." Here are some of our favorite botanical oils for hair and skin.
1. Coconut Oil
Whether you buy it from the co-op, the grocery store, or the cosmetic department, pure coconut oil is all good. Look for raw, organic coconut oil, which is minimally processed, so it's rich in nutrients and free from pesticides, chemicals, and other additives. Usually safe for sensitive skin, coconut oil is great for dry hair, dry skin, eczema, and other skin conditions. Use it as a facial cleanser and moisturizer, an all-over body moisturizer, and as a deep-penetrating hair treatment.
2. Avocado Oil
If you like slathering ripe, rich avocado on your toast, you'll love using avocado oil on your skin. Avocado oil is high in antioxidants, which help to heal sun-damaged skin, and sterolin, which may reduce the incidence of age spots. Great for dry, sensitive, and irritated skin, avocado oil also makes a great eye makeup remover.
3. Grape Seed Oil
A by-product of the winemaking process, grape seed oil has been used for centuries as an ingredient in home remedies. Rich in antioxidants, linoleic acid, and resveratrol, which studies have shown to have antibacterial and anti-aging properties, grape seed oil makes a great moisturizer and a lightweight massage oil.
4. Argan Oil
Derived from the kernels of the fruit of the Moroccan argan tree, argan oil contains high levels of vitamin E, omega-3 fatty acids, and antioxidants. While it initially gained popularity as a hair care product, argan oil is also effective for treating fine lines, dry skin, and dry hair, as well as bug bites, skin infections, and rashes.
5. Rosehip Oil
As the name suggests, rosehip oil is pressed from the hips, or fruit, of a South American rose plant. High in vitamins A and C and linoleic acids, rosehip oil is good for sensitive and acne-prone skin, as well as skin with uneven pigmentation, dark spots, and scars.