More About Sustainability
If you're interested in better understanding sustainability, you'll be fascinated how it guides our products and our process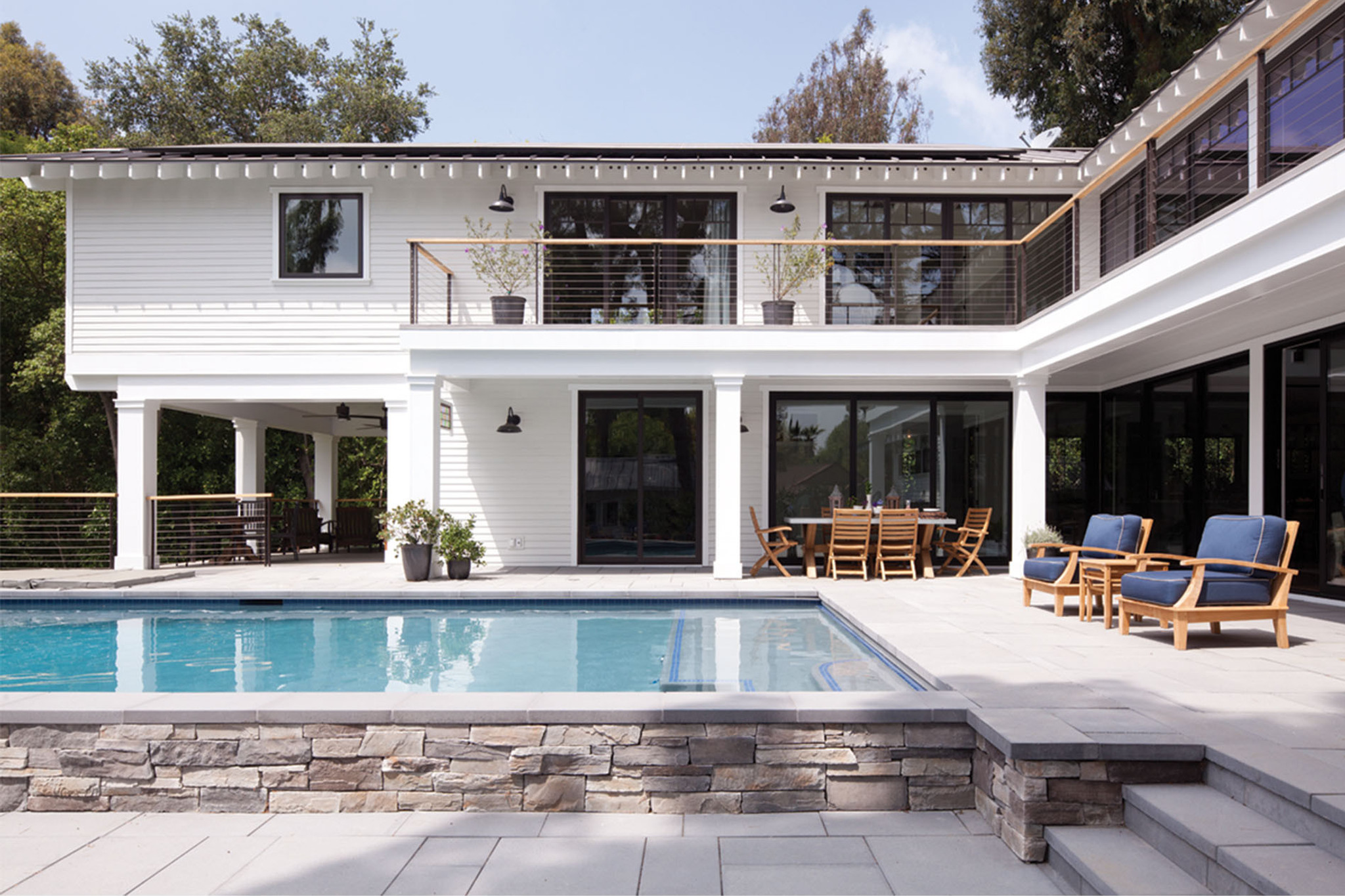 Los Angeles home built with environmentally conscious sourcing.
Understanding sustainability is getting more complicated even as it becomes more essential. In part, this is because our understanding of sustainability keeps evolving. We are always learning more about how the products we use to decorate our homes affect our bodies and our environment. And it's also because, as customers increasingly value sustainability, savvy marketers continue to find new ways to allege their products' eco-friendliness. But how can you tell who really values the environment and who is just trying to give their eco-reputation a touch-up? We've gathered some of our favorite stories showcasing sustainability—from gift ideas to celebrity homes—to help make sense of it all.
Understanding Sustainability When It Comes to Gifting
When it's time to show you care, understanding sustainability is important. Yes, it is nice to show someone you can pick out something that appeals to their taste. But isn't it even more special to do so while being kind to the planet?
That's why we at Cambria Style have always been mindful when making recommendations. That includes GIFTS MADE WITH CAMBRIA. These are eco-friendly because they are made with the same sustainably produced material as Cambria surfaces. Plus, they also help reduce waste by being so long-lasting. The gifts include COASTERS made with Cambria designs such as regal ANNICCA™ and soothing BRITTANICCA WARM™. Other gift options include LAZY SUSANS, CHEESE BOARDS, and more—each available in a selection of beloved Cambria designs.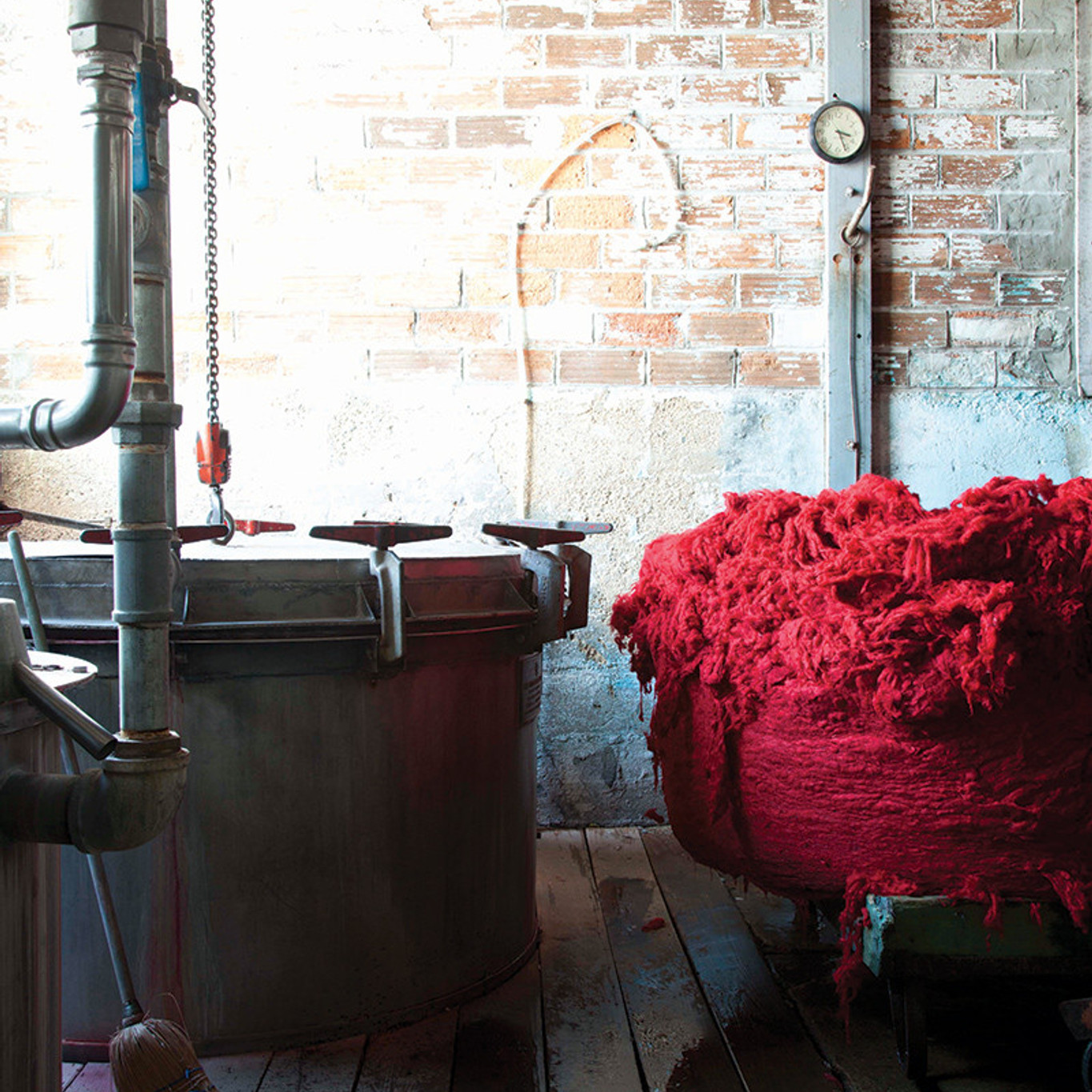 We also have sustainability on the brain when we recommend products from other proudly American-owned businesses. For example, THIS ROUNDUP OF BEAUTIFULLY DESIGNED PIECES highlights a number of brands dedicated to sustainability. That includes FARIBAULT MILL, which has been transforming raw wool into blankets and accessories for five generations. Never ones to waste, Faribault Mill still uses its historic 150-year-old mill in addition to its "new" mill—built in 1896. THE FOUNDRY advocates living with fewer, better things and factors sustainability into decisions from the materials they use to how they ship. In particular, they focus on working with local Minneapolis-area makers to create beautiful pieces for the home. And BEEKMAN 1802 helped revive tiny Sharon Springs, NY, with nature-focused beauty products largely made with milk from their own goat farm. But that's just the latest step in an extraordinary journey.
Beekman 1802 beauty products are sustainably made in upstate New York. Cambria designs shown: SUTHERLAND™ (perimeter countertops), WHITBY™ (island)
Understanding Sustainability with the Beekman 1802 Boys
Author Josh Kilmer-Purcell and husband Dr. Brent Ridge have SHARED THEIR STORY with audiences in a variety of ways including a book and a reality television show. In many ways, theirs is a classic American tale of reinvention in the face of financial hard times. Responding to 2008's dicey financial climate, they relocated from NYC to a farm in the then-nearly-forgotten town of Sharon Springs in upstate NY.
Kilmer-Purcell and Ridge began boarding goats and then incorporating the milk into products, sending them on the way to building a well-regarded lifestyle brand, which they named for the farm's previous owners. The couple honors the spirit of sustainability in a variety of ways, including transforming a ramshackle farm into a natural wonderland and bringing renewed life to a once-sleepy town. Plus, they source local ingredients whenever possible. And, like Cambria, their products are proudly made in America. In fact, the duo came to admire Cambria so much that they installed its quartz kitchen countertops in their home (above): SUTHERLAND™ on the perimeter and WHITBY™ on the island. What's more, they even borrowed the name "Whitby" for one of their adorable baby goats. But the Beekman 1802 boys are far from the only TV personalities with an eye for sustainability …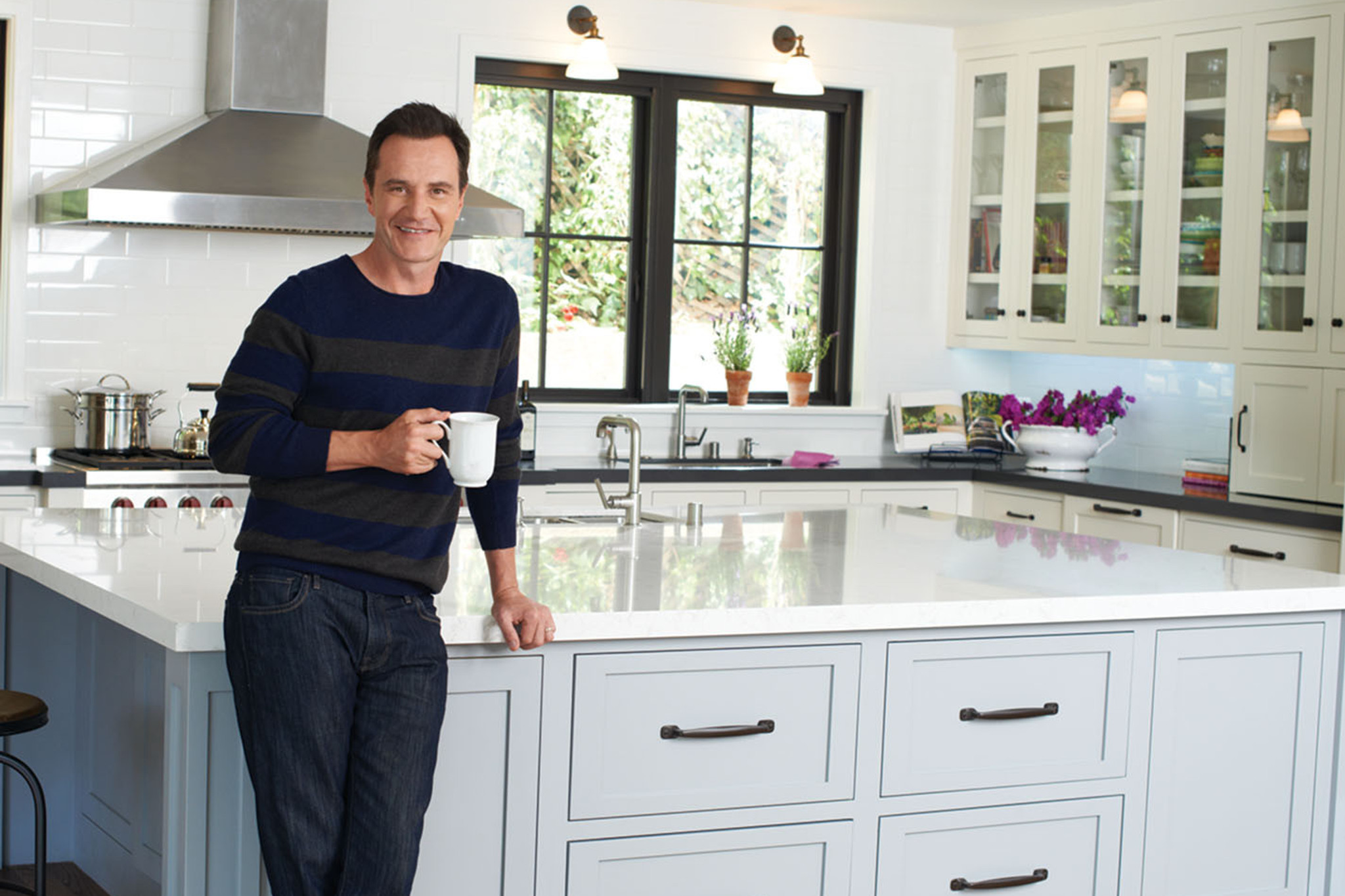 When friends share tips on environmentally conscious companies, Cambria comes to mind. Cambria designs shown: FIELDSTONE™ (perimeter), TORQUAY™ (island)
Going Green with a White Collar Star
You know TIM DEKAY from over two decades acting on film and television. But it was while he was starring in White Collar with hunky Matt Bomer, fabulous Tiffani Thiessen, and much-missed Willie Garson that we caught up with him. When his family set out in search of a new home, they were not necessarily looking to rebuild or renovate. But once they fell in love with a beautiful LA property, they decided they could put up with replacing its dilapidated house.
Durability and sustainability are central to how the DeKays live, so they wanted to choose materials that would last a lifetime in their new home. "We limited our choices to companies that were environmentally conscious," DeKay explains, "and Cambria was one of them." His friend and fellow actor Bryan Cranston, who used Cambria in his beach house, recommended it.
Ultimately, the DeKays used Cambria TORQUAY™, a white quartz, on their kitchen island and FIELDSTONE™, a slate-gray shade, for a stone countertop look on the perimeter. Then they put its durability to the test at a birthday party for Garson. Guests piled the island with tens of gooey treats—from blueberry cobbler to chocolate cream puffs. DeKay was happy to report there was not a stain to be found on their Cambria after cleaning up. So durability and sustainability can co-exist.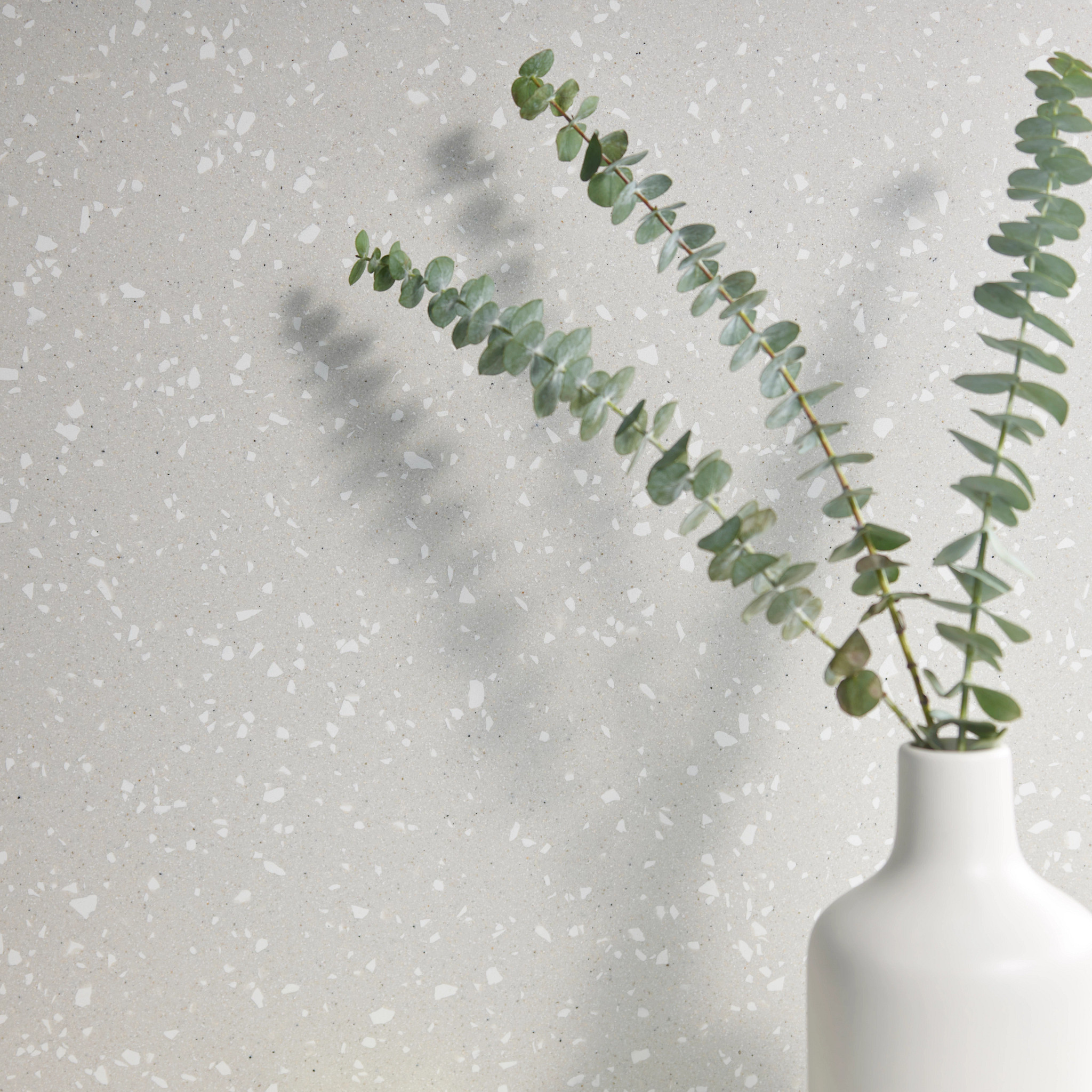 Cambria design shown: Sanibel Shoreline™
But What Makes Cambria So Sustainable?
Now, we know that Cambria emphasizes sustainability from gifting to renovating. But what makes Cambria so sustainable in the first place? First of all, there's Cambria's commitment to sustainability—a promise to mind the well-being of the environment through transportation, water usage, power generation, materials, and other aspects of the business.
And then there's Cambria's practice of CREATING SUSTAINABLE DESIGNS FROM RECYCLED MATERIALS. These popular Cambria designs are made of content recovered from other Cambria slabs. They include Buxton™, Sanibel Shoreline™*, and BIG SUR MIST™*. And BRITTANICCA BLOCK™ is made from an astonishing 99 percent recycled content. You can take a deep dive into how these designs were developed HERE. While you're there, note the substantial list of certifications and recognitions Cambria has received for being safe and environmentally friendly.
Still in search of sustainability? Tour this Atlanta-area SUSTAINABLE WELLNESS RETREAT that also features Cambria throughout.
*Gensler Product Design Consultant
Please call 1-866-CAMBRIA (1-866-226-2742) to confirm design availability.