Best Seat In The House
Choose chairs that will make your guests want to linger in the dining room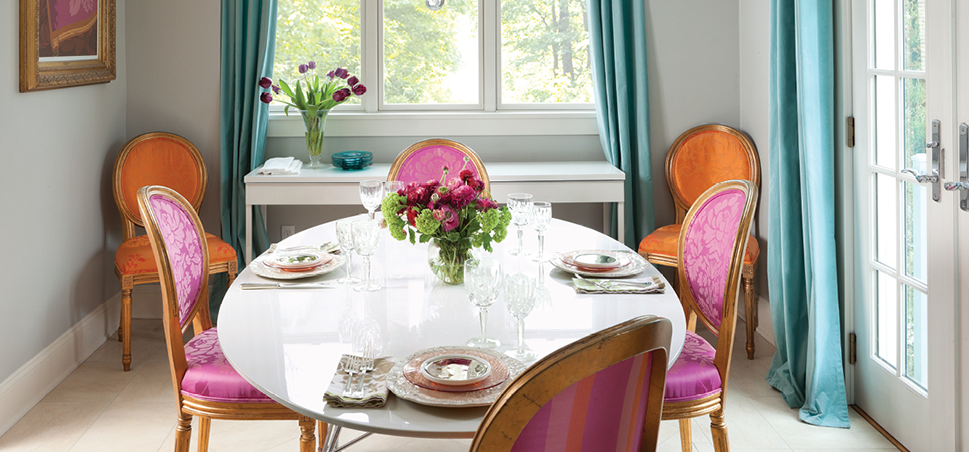 As our homes' floor plans have changed, so has the dining room. What was once always a walled-off space used only for formal occasions—and furnished accordingly, with stiff, sometimes uncomfortable seating—has morphed into a family gathering area connected, more often than not, to other living spaces. As the style of the room has changed, so have the needs for seating. Here, five tips for making the comfortable, elegant selections.
1. Build a banquette
Banquettes are increasingly popular dining features, and for good reason: They're not only cozy, they save square footage by using available wall space. As you plan built-in seating, consider including storage inside the banquette base accessed via a hinged seat or drawers in each open end.
2. Choose easy-to-clean upholstery
Banquette cushions should have zippers so you can remove the covers for cleaning. Indoor/outdoor fabrics are a great choice for dining chairs of all types: The fabrics resist stains and moisture beautifully, and recent advances in textile technology have made them soft and luxurious.
3. Make sure diners have plenty of space
For dining areas where no traffic passes behind a seated diner, allow at least 32 inches of clearance from the table edge to any wall or other structure; if traffic does pass behind the diner, allow a minimum of 36 inches., but ideally 44 inches, of clearance. And give each diner 24 to 26 inches at the table to allow plenty of elbow room.
4. Mix up the chairs
Instead of the ultra-traditional look of a matching dining set, consider buying your table and chair separately, and combining two or more styles of chair. For example, you might pair a table made from reclaimed wood with cushy upholstered dining chairs, mixing armless side chairs along the lengths of the table and armchairs at either end and using two different upholsteries—leather and fabric, say. Another option is to use similar chairs in a variety of colors, or go completely mismatched with a collection of flea market finds for a more vintage look.
5. Shop for comfort
Whichever style chair you choose, it's important to buy the right size. Armless chairs should be at least 22 inches wide and 20 to 24 inches deep; you can go larger if your table is grand, but any smaller and your guests won't be comfortable. Chairs should be 18" high and be sure to check the drop of the table skirt, if it has one: You need to allow a minimum of 12 inches between the top of the chair seat and the bottom of the table top (or skirt).