Beautiful Builds in Out-of-the-Way Locales
Explore three of our favorite homes built to embrace the landscape
Written by Angela Johnson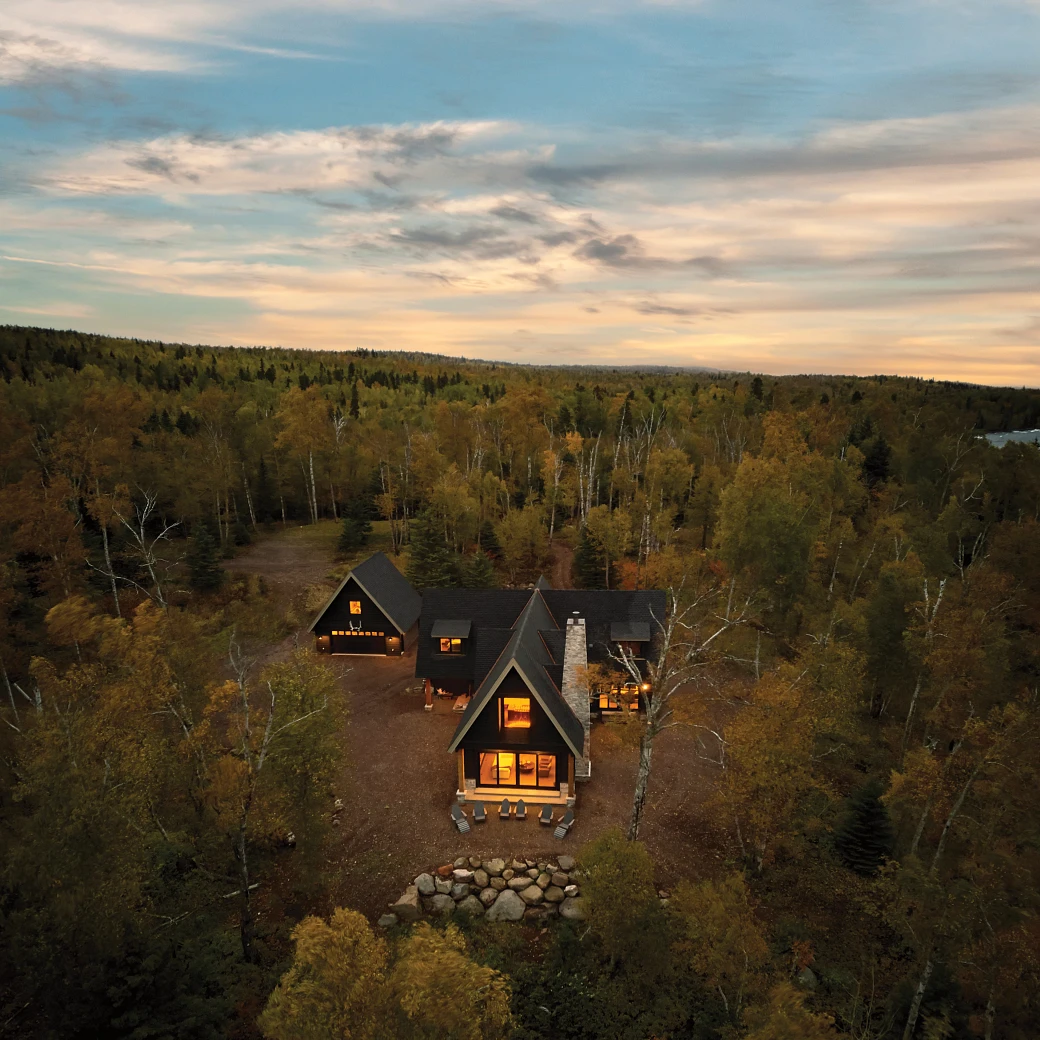 Home designed by Christopher Strom Architects. Photography by Alyssa Lee
Some people need a home that's off the beaten path. Whether it's their primary residence, or an out-of-town escape, life in a remote locale restores them. They can look out any window, step out any door, and feel surrounded by the beauty of nature. And, at times, when the crush of crowds is of concern, it's simply more relaxing to retreat into the wilderness with loved ones, in a well-appointed space, of course.
Feeling inspired to live life out of town? Here are two of our all-time favorite out-of-the-way builds: Meet an architect wrestling with where to site a house on the rugged north shore of Lake Superior. Experience a father passing the baton of building a secluded dream home to his son. Get a taste of their stories, and click through for more details and photography from each of these beautiful houses that are anywhere but near.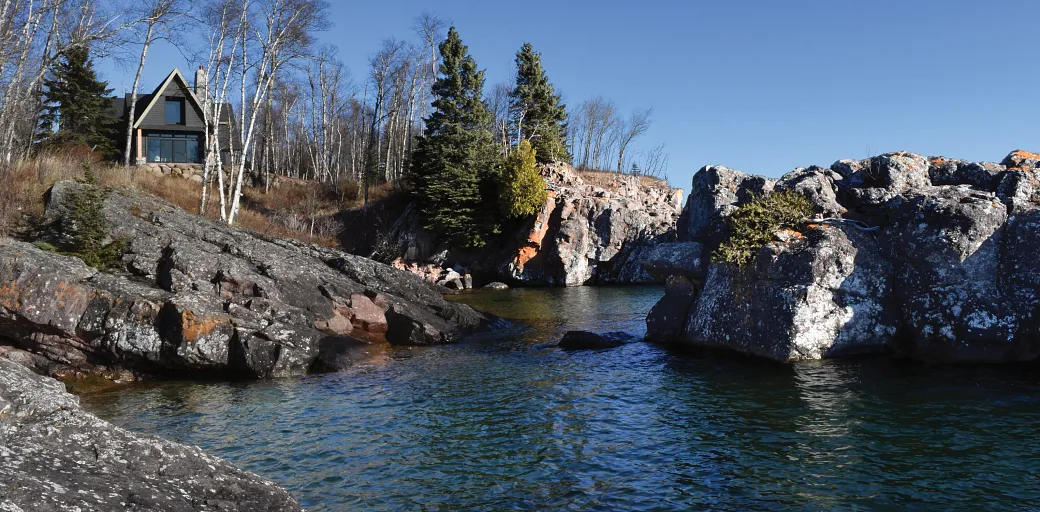 Home designed by Christopher Strom Architects. Photography by Alyssa Lee
One Direction
Christopher Strom, principal architect at CHRISTOPHER STROM ARCHITECTS, has worked on big projects. Among them is a huge convention center in Grand Rapids, Michigan. And his alma mater, St. Olaf College in Northfield, Minnesota, has Strom to thank for the design of its Wellness Center. But Strom says there's nothing so rewarding as seeing a home through from its preliminary design to the day the homeowner moves in. It's something he may have inherited from his grandfather, a home builder.
But, when approached to design a home on the north shore of Lake Superior, Strom would face a dilemma. Would he situate the house so it overlooked the lake to the horizon? Or, would he angle the view along the shoreline, potentially creating an aspect with greater depth?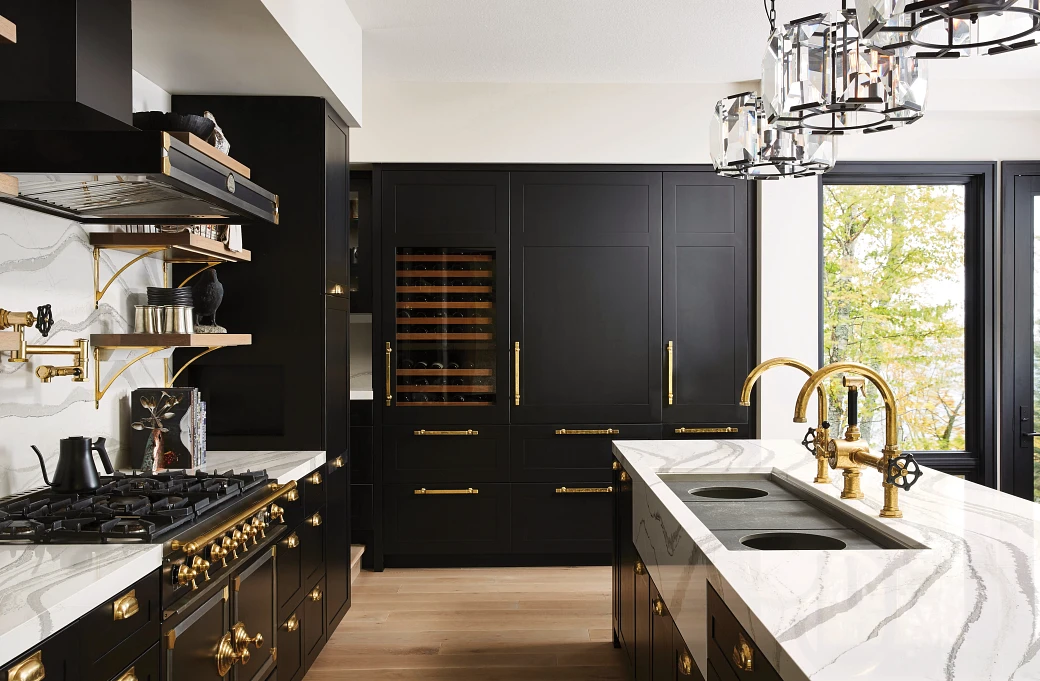 Nature-inspired design elements like the Cambria BRITTANICCA™ countertops and backsplash complement the landscape on view from three sides of this GRAND MARAIS home. Photography by Alyssa Lee
Once that question was answered, the project became a series of experiments in balance. How could Strom guarantee maximum access to the view but still provide the homeowners places to retreat for privacy? What would be the best ways to subtly divide open-concept space while still guaranteeing flow—from the anchor kitchen wall clad in Cambria BRITTANICCA through to the outdoors? Which choices would create harmony between the ruggedness outside and the home's clean-lined interior? Get the answers to all of these questions—not to mention insight into which way Strom would ultimately situate the house—in this Cambria Style feature story.
---
Out-of-the-way Home Two Generations in the Making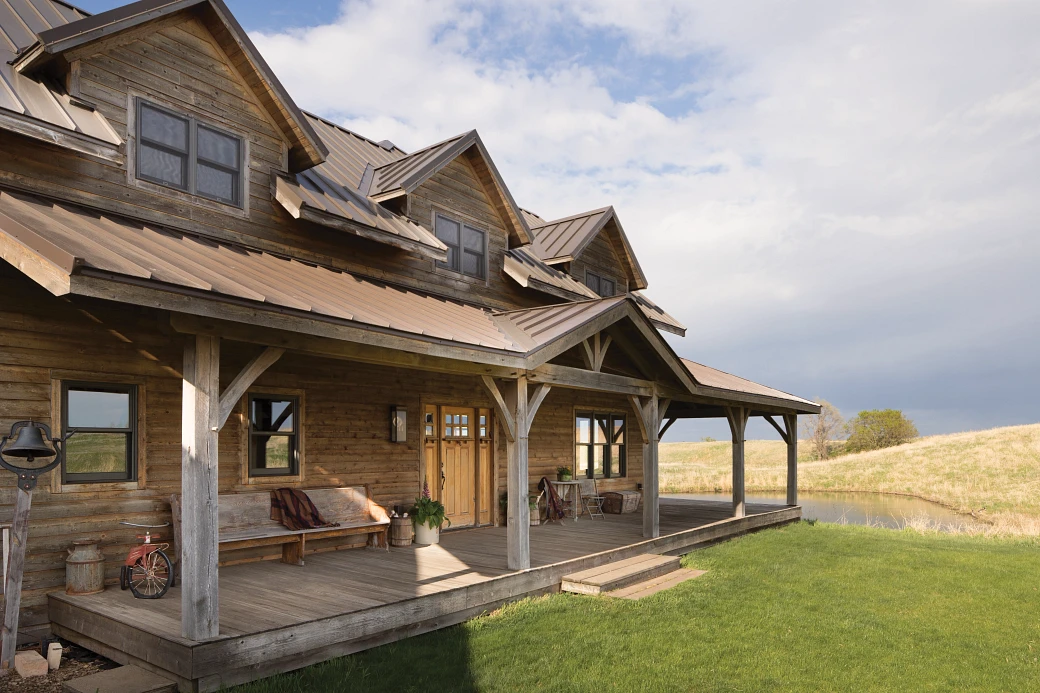 Home by Gunnar Larson. Photography by Steve Henke
Picture the untouched wilderness of Laura Ingalls Wilder's Little House on the Prairie. Just 20 miles from where that beloved author lived in Walnut Grove, Minnesota, lies the plot of land where Glenn Larson decided to build his dream home. A big fan of Western movies, Larson pictured creating something with the flavor of a ranch. Tragically, he passed before he could see this dream become a reality.
However, that's not the end of this story. Larson's son GUNNAR, A BROOKLYN-BASED INTERIOR DESIGNER, decided to see his dad's vision through. He also followed in his father's footsteps by embracing sustainability. Growing up, Gunnar had helped his parents tear down barns to repurpose the wood, and he lived in a house his father had built mostly with recycled material. So Gunnar used materials from a salvaged 1919 schoolhouse as he realized his dad's final design.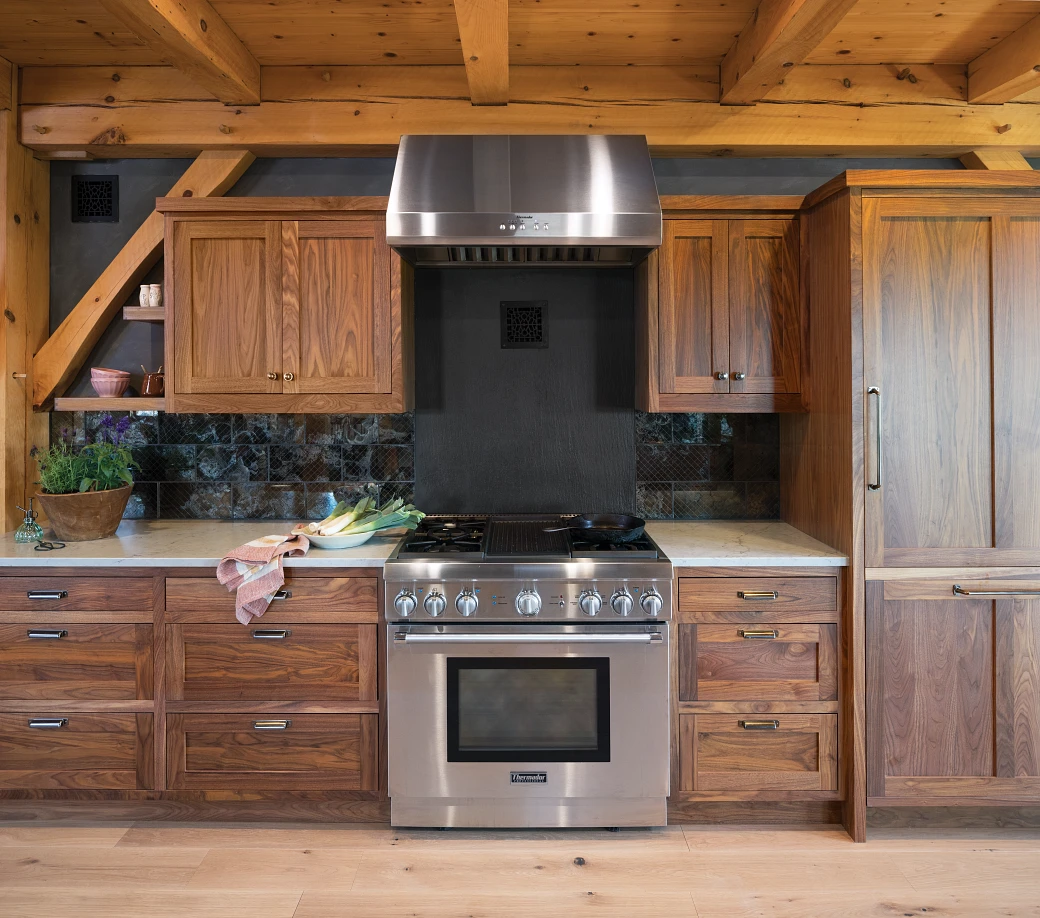 Cambria's WINDRUSH MATTE™ pairs perfectly with this home's custom walnut cabinetry. Photography by Steve Henke
After spending five years on the project, Gunnar and his family can now enjoy the view from its lovely front porch. They can prepare meals in its welcoming kitchen—with a backsplash created from the schoolhouse and counters in Cambria's WINDRUSH MATTE. They can also share fond memories of Glenn under the soaring ceilings of an extraordinary double-height living room. See more of this father-son collaboration in Cambria Style's feature story.
Rustic cabin with luxe design elements. Photography by Steve Henke
What can be done with a lakeside property that contains an outdated house and a handful of cabins? One savvy couple in Wisconsin's Burnett County turned just such a location into a very special kind of off-the-beaten-track escape. The end result offered the luxury of both places to gather communally and discrete spaces for private time. The catch? They didn't realize the transformation would end up taking 10 years!
The order in which the renovations were tackled may surprise: Cabins first. But eventually, the main house. This sad relic of the 1960s with low ceilings and few windows would be updated on exactly the same footprint as the old house because of its ideal lake adjacency. The home that they raised there brought new cohesion to the property by echoing the design of the cabins.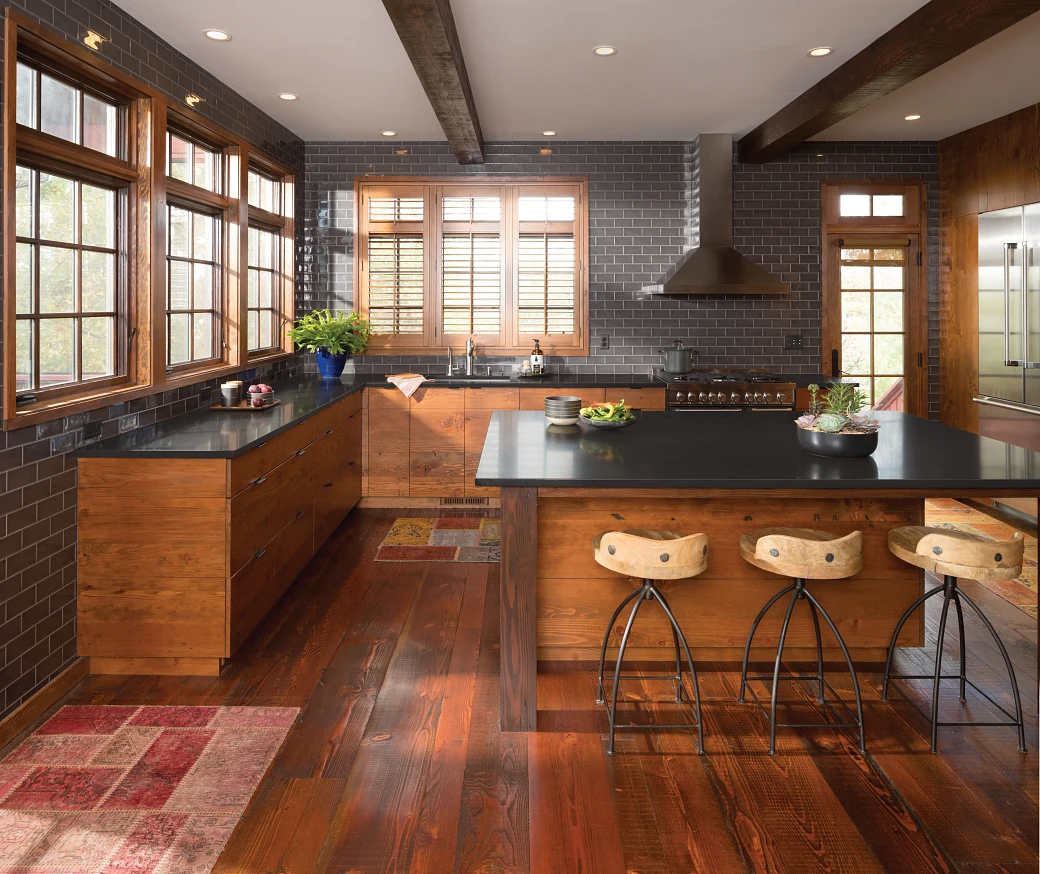 Cambria's Montana Midnight Matte™* countertops complement this combination of natural and industrial elements. Photography by Steve Henke
For even more, meet someone who heads to the mountains to get away from it all in Cambria Style's inspiring story about a QUEEN OF SNOWBOARDING.
Please call 1-866-CAMBRIA (1-866-226-2742) to confirm design availability.