Back to His Roots
TV home-improvement guru Carter Oosterhouse talks about his busy life and career in L.A. and why it's compelled him to launch a new venture—a winery—in his Michigan hometown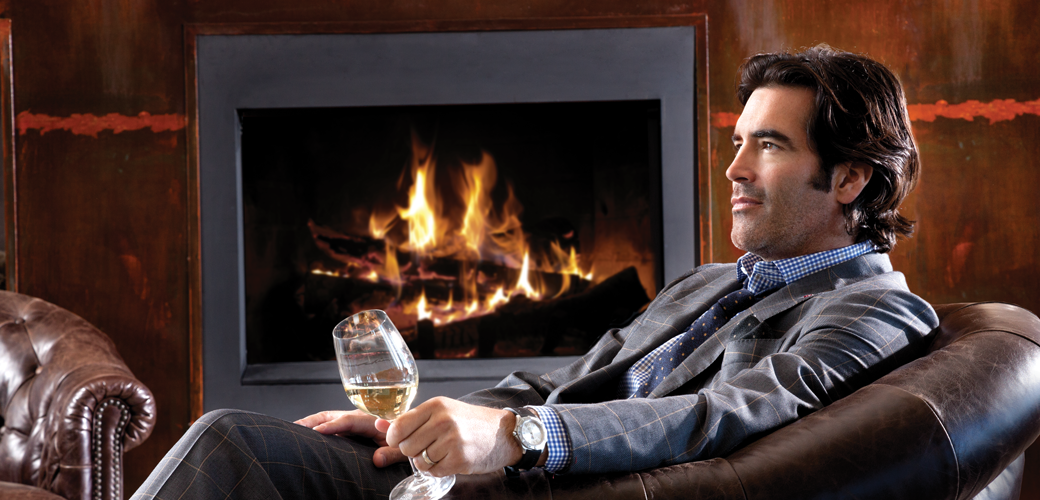 If you catch a glimpse of Carter Oosterhouse relaxing at his elegant Bonobo Winery, which opened late last year near Traverse City in northern Michigan, you might well imagine he's thinking: "Wait...where am I?" A little more than two decades ago, when he was just a 13-year-old local boy who needed a summer job, he worked hot, tiring days picking cherries on this very land. Who would have believed that he'd become a celebrity and entrepreneur, and return home to buy the cherry orchard and transform it to a vineyard and wine-tasting venue?
"Unimaginable," he says with a laugh. But there's a lot unimaginable about the trajectory of Oosterhouse's life. His is the improbable story of a small-town kid who leaves home to fulfill big dreams—but stays so attached to his roots that he connects the two parts of his life, finding a way to live in both.
Oosterhouse's professional life took off in fast-paced Los Angeles. He moved west shortly after graduating from Central Michigan University, and it wasn't long before his good looks and carpentry skills made him the wildly successful host of shows like Trading Spaces, Red Hot & Green, Million Dollar Rooms, Celebrity Motor Homes, Carter Can, and Rowhouse Showdown. He married actress Amy Smart, and the two now have a home base in an upscale West L.A. canyon.
But a piece of his heart stayed in Traverse City, with its rolling hills and down-to-earth vibe. "If you ever sat next to me on a plane, you'd know it's the first thing I talk about," he says. "To me, it's very Americana! It's summer, fresh farm food, sand dunes, the water of Lake Michigan and Grand Traverse Bay. The values we associate with the Midwest—friendship, loyalty, morals—Traverse City has in spades. Even after I left, I always found a way to go back." In fact, about a decade ago, Oosterhouse bought and began renovating a home in the area, a romantic, waterfront Victorian on 13 acres. In his wife, Amy, he found possibly the only Hollywood actress who also had Traverse City roots: although an L.A. native, she'd spent her childhood summers there.
The dream of building and opening a Michigan winery was more recent. In part, says Oosterhouse, the idea grew out of his eternal restlessness and need to work. "I'm not a guy who can sit behind a desk or shoot TV shows 24/7," he confesses. "I love starting businesses and having a lot of different balls in the air."
But the draw of growing grapes also came from Oosterhouse's love for his hometown. "I liked the idea of farming because for me, the beauty of Traverse City is nature and the outdoors, and I'd hate to see the area get gobbled up by homes. I knew if I bought land, I'd have the opportunity to not develop it. My dad also grew up on a farm, and I've always loved working with my hands and getting dirty." Oosterhouse bought the elevated 86 acres where the winery sits for its fertility and views. That the land had held the old cherry orchard where he'd once labored was a happy, small-town coincidence.
The project was a smart business move as well. Since the 1980s, Michigan's exquisitely beautiful Old Mission Peninsula, which extends north from Traverse City, and nearby Leelenau Peninsula, have become a center of regional winemaking and tasting. "We have great well-drained soil and a unique micro-climate," explains Oosterhouse. "The water of Lake Michigan on one side and the bay on the other acts as an insulator. Summer lasts longer, which means a longer growing season; winter isn't as fierce. The wines we produce have a clean taste—the fruit notes really pop."
Oosterhouse calls the winery his "baby," and evidence of his personal touch and values is abundant. He's a passionate advocate of eco-conscious building, so the winery was built with no-VOC paints, energy efficient windows and appliances. And in the kitchen and main tasting room, he, naturally, chose sleek stone countertops by Cambria, which were expertly installed by Lakeside Surfaces from Muskegon. A year ago, Oosterhouse and Amy chose Cambria Torquay™ counters for their Los Angeles kitchen remodel.
LouAnn Haaf, Cambria Style's Director and Editor in Chief, notes that those values are evident from the moment you step into the winery. "You know you have entered a special place," she says. "The wine, the view, the space, and the people—each is as delightful and inviting as the rest. Carter seems to inject each corner of Bonobo with his signature comfortable and effortless style."
Like Cambria, the Bonobo Winery is firmly rooted in local culture. Its wines are made from Traverse City–area grapes, and produced on site. (For now, Chardonnay, Riesling, Pinot Gris, and Pinot Blanc are being made in limited quantity for sale at the winery or online and can be shipped to 26 states.) Employees are locals. Even star chef Mario Batali, who developed the winery's tasting menu, owns a home nearby.
We wanted to create a place where you can enjoy the energy of being in a crowd, but have your own private space," adds Oosterhouse. "A place where you can come in to taste wine—then stay a while, relax, and hang out." Amy agrees, and calls Bonobo "a good first date spot."
As Bonobo grows, Oosterhouse's non-Traverse City life continues at its usual warp speed: He's hosting a new home-makeover TV show on the FYI Network, Home Grown Makeover, that will air in this spring. Three years ago, he released a how-to design book, Carter's Way, and recently completed another volume, this one a storybook for children, The Big Problem. All this means he's on a plane more than ever, but that isn't a problem, he says, since many of those flights take him back to Traverse City.
"I'm a different person here," he says. "More like just a guy. I've always believed in branching out, and that at some point, everyone should move away from the place they grew up. You need to look at other cultures, experience how other people live. But to me, it's just as important to stay in touch with where you're from."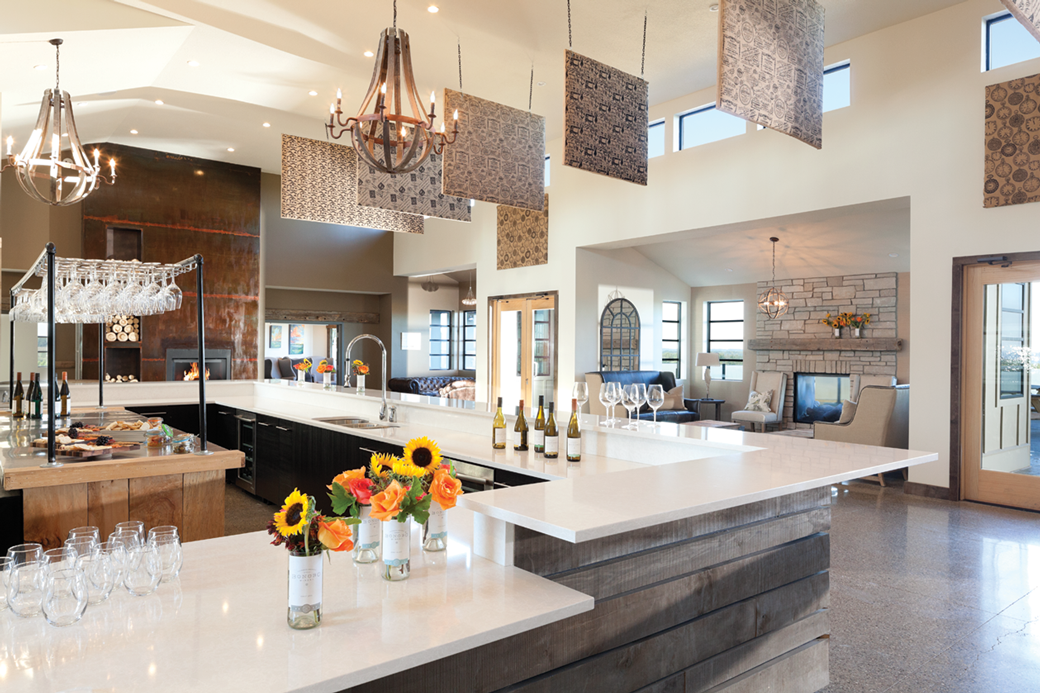 Finishing Touches
Through his years hosting home improvement shows, Carter Oosterhouse says he's seen "just about every building option out there." That's why he picked Cambria counters for the kitchen and tasting bar in his new northern Michigan winery. Cambria, he notes, is a company and product "built on the same Midwestern values that shaped me."
In the Bonobo Winery kitchen, whose heavy sliding doors open to the public on special occasions, such as when celebrity chef Mario Batali or a rising young star is cooking, the choice was Summerhill™ from the Coastal Collection™, with its dramatic light and dark gray accents. Atop the massive tasting bar, Oosterhouse opted for Newport™ from the Marble Collection™, a sophisticated and subtly-shaded white.
Bonobo's a venue that can host several hundred guests a day, so Oosterhouse says he values Cambria's resistance to staining, and the fact that it's nonporous, so there's no bacterial absorption to worry about during food prep. But an equally important consideration was its beauty. In the kitchen, says Oosterhouse, "the Summerhill's wonderful gray veining complements the stainless steel appliances." For the tasting bar, which Oosterhouse made "in my backyard, out of reclaimed maple from three Traverse City barns," the aim was contrast. "I knew I needed something clean and strong for the bar top. The Newport created a perfect juxtaposition: the rough, rustic wood topped with Cambria's crisp lines."