Authentically Beautiful
Hard work and family are the watchwords for the multifaceted success of E! TV personality Maria Menounos so naturally she wanted her new kitchen to accommodate those values as well
Written by CAROL LINN
Photography by STEPHEN BISKEN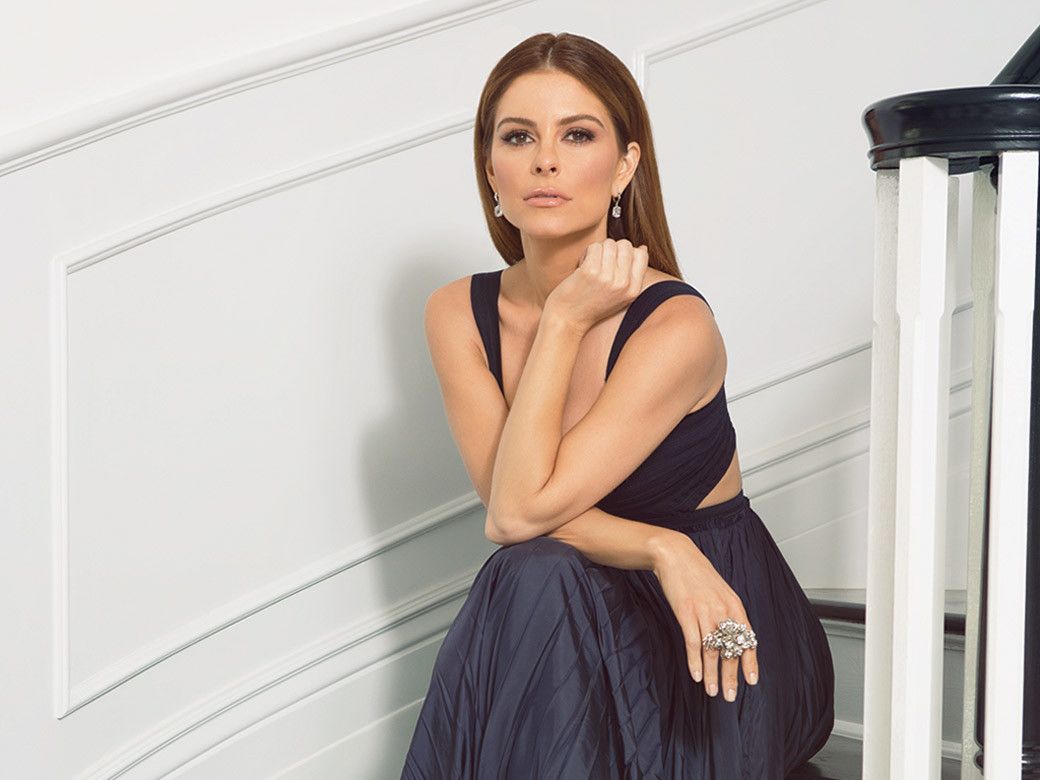 Maria Menounos, the stunning host and producer for E! Entertainment, was in the despair phase of a DIY kitchen remodel when she discovered Cambria—right in the pages of this magazine. It happened the afternoon she and her longtime partner Keven Undergaro were in a kitchen store pondering design choices and she saw Cambria Style's Summer 2014 issue featuring actress Amy Smart.
"I said 'What is this Cambria that so many celebrities are using?'" Maria recalls. "It's gorgeous—I need to find out more!"
A phone call to Cambria got the ball rolling with the right introductions—one of which was a connection to long-standing Cambria fan and interior designer Kelli Ellis—soon that frustrating remodel quickly turned into a stunning success. So much so, that Maria is already at work on another update to her Los Angeles area home—her master suite and guest bath.
Maria says she knew her two-story 1930s white Colonial was "the one" the second she saw it ten years ago. "It was the land—an acre, filled with citrus trees in front, and a huge circular driveway with two magnolias. You don't often get that kind of space in LA. After we'd bought it, I remember saying to my mom 'Remember when I was little and said someday I'd have a house that looked like the White House?'"
The kitchen, however, badly needed updating: in contrast to the rest of the home, it was drab and dark. The long-postponed improvement finally moved to the top of the priority list in 2014, after two of Maria's four beloved rescue dogs succumbed to old age. "To the side of our old kitchen was an area we called 'the dog room,'" she says. "After we lost our German shepherd and standard poodle, it was so sad and empty...We tried rearranging it, which worked for a minute. I couldn't stand it. Out went the dog stuff, and we started the remodel."
Maria knew she wanted natural stone but wasn't interested in the upkeep. Cambria, with its ease of maintenance, was the perfect fit for a kitchen that is headquarters for epic bouts of cooking—regularly occupied by two couples­—Maria and Keven and Maria's parents, Litsa and Constantinos.
"Work hard" is an understatement. Curvy, long-haired and gorgeous, Maria looks like she was born to stand on the red carpet. But beneath that composed exterior is a prodigious work ethic. As a child, she helped her parents on weekends when they did early morning cleanup at a local nightclub. And during her teenage years, she helped support herself in college by working at Dunkin' Donuts. That same work ethic has continued on into her career in broadcasting, where she's often worked on numerous projects simultaneously. Her current resume includes occasional guest-host duties on Live With Kelly and Michael, a stint on Dancing with the Stars, and starring in the reality show Chasing Maria Menounos, which was produced by her own production company. As for the red carpet? Well, she's covered movie premieres and celebrity galas dozens of times in her career for shows like Access Hollywood, Extra, and Today—sometimes attending as many as eight events in one week.
"Maria's commitment to maintaining a dedicated work ethic while cherishing family resonates with Cambria's core values," says Editor in Chief, LouAnn Haaf. "She is the epitome of loving what you do without losing track of what's important. Her commitment to her craft and genuine love and zest for life is infectious."
Maria's busy life extends online as well, where she and Undergaro have a wide digital presence as founders and CEOs of AfterBuzz TV, which offers a kind of "postgame" wrap-up show for popular TV shows, and Black Hollywood Live!, an online network dedicated to African-American entertainment news. Oh, and she serves as a global ambassador for the Special Olympics and has authored two New York Times best-selling books. On any given day, she says, she may be traveling, speaking, interviewing one celebrity or another, pitching a new show idea, or simply "rushing around, attached to my iPhone in the most unhealthy way."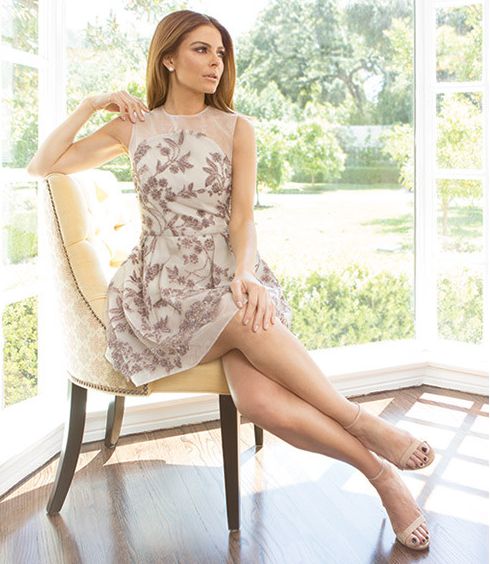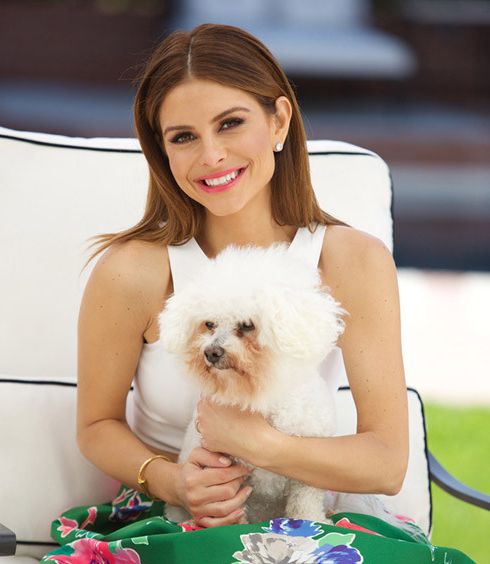 Life at home is another story. Home, she says, is where she has freedom to change from "E!'s Maria Menounos—which is a heightened version of me—to just Maria. My hair goes up in a hideous bun; I wear sweats I've had since high school, a mismatched shirt, and horrible slippers that definitely need a makeover. I play around on the tennis court with my dogs, or catch up on an episode of The Walking Dead."
Showing the private self behind the glamorous public image has always been important to Maria. In the past, she's revealed that she wore metal braces to correct a leg condition as a child, and shared details of her teenage struggles with weight gain. Her book, The EveryGirl's Guide to Diet & Fitness, includes a photo of her at size 14.
"It's not that I'm trying to be 'real,' this is just who I am," she says. "It's important for people to see the reality—to know that the glamour is my work, not me. Don't get me wrong, I enjoy getting dressed up. But if I'm going to do anything, I want it to be authentic. I don't have the energy to not be me."
For "just Maria," family's always been at the center of life. Her parents are Greek immigrants, and she grew up in Medford, Massachusetts, surrounded by a tight-knit clan that included aunts, uncles, and dozens of cousins. She openly adores her parents, whom she calls "unique people, special, tireless; we complete each other."
That bond's been strained only once. At 19, while a student at Emerson College, Maria met Keven. Ten years her senior, he was a head writer for MTV. She fell fast and hard. "He was so handsome! And only a few days after we met, he told me about his journey with his dad, who'd died of cancer a few months before, and how he'd taken a massage therapy class to learn how to ease his dad's pain. I thought He's smart, handsome, successful, and a caretaker, too? That was it."
A crushing split from her parents followed. Maria and Keven ended up living together in a grim basement apartment. The next two years, until she and her parents reconciled, "were the worst time of my life," she says looking back. Now, Litsa and Constantinos happily share the couple's home six months a year, splitting time between Maria's house in California and their home in Connecticut. Maria finds the togetherness deeply gratifying. "Keven's dad died before all his successes. It's magical for my folks, having started their lives in villages with no running water, to realize how far we've come. We eat dinner together as often as we can. My mom cooks all the time. During the remodel, she learned to make lasagna and pizza on the grill."
Ironically, Maria's parents are now the ones pushing Maria and Keven to marry—their "old world" pressure to tie the knot formed one of the central tensions of the reality show. Maria says that she would have been happy to do just that years ago...if only her parents hadn't disapproved. Today, after 17 years of living together and being business partners, marriage seems beside the point, she says. Kids are the latest issue. Maria, 37, says she's acutely aware that "my clock is ticking. My dad pulled me aside recently and said, 'It will kill me if you have kids without getting married.' I told him 'I don't have time to plan a wedding.' So that will be our next battle."
Work on a dozen projects fills Maria's future calendar. The highlights include a collaboration between AfterBuzz and E! on her EveryGirl brand, a cookbook (publication expected spring 2016), and a partnership with Grecian Delight Foods to produce a line of entrees and side dishes branded as Maria's Mediterranean Delights. And of course, Remodel, Act II. (Expect to see the details in an upcoming issue of Cambria Style.)
Meanwhile, it's summer in California, and all the doors are open on her beautiful new kitchen/family room. "Now when one of us is watching football and someone else is cooking and someone else is outside, we will all be in the same place," she says happily. "It's so magnificent, my dream space. I hope to never leave this place."
EXPLORE OUR GALLERY OF INSTALLED CAMBRIA SURFACES FOR MORE INSPIRATION