Art of the Show House
The inaugural Galerie House of Art & Design in Sag Harbor, New York, celebrates creativity from floor to ceiling
Written by Paul Hagen
Photography by GENEVIEVE GARRUPPO
MAKING THE KITCHEN COUNT
"Every room in the Galerie House of Art & Design had its own unique, vibrant energy. We knew we had to be on par when designing the kitchen," explains Bob Bakes, head of design at Bakes & Kropp. He chose Cambria for all surfaces in the kitchen—appreciating the simplicity of Smithfield for the island and Portrush for the full-height backsplash and perimeter, with its navy and gray veins that artfully play off the blue cabinetry.
---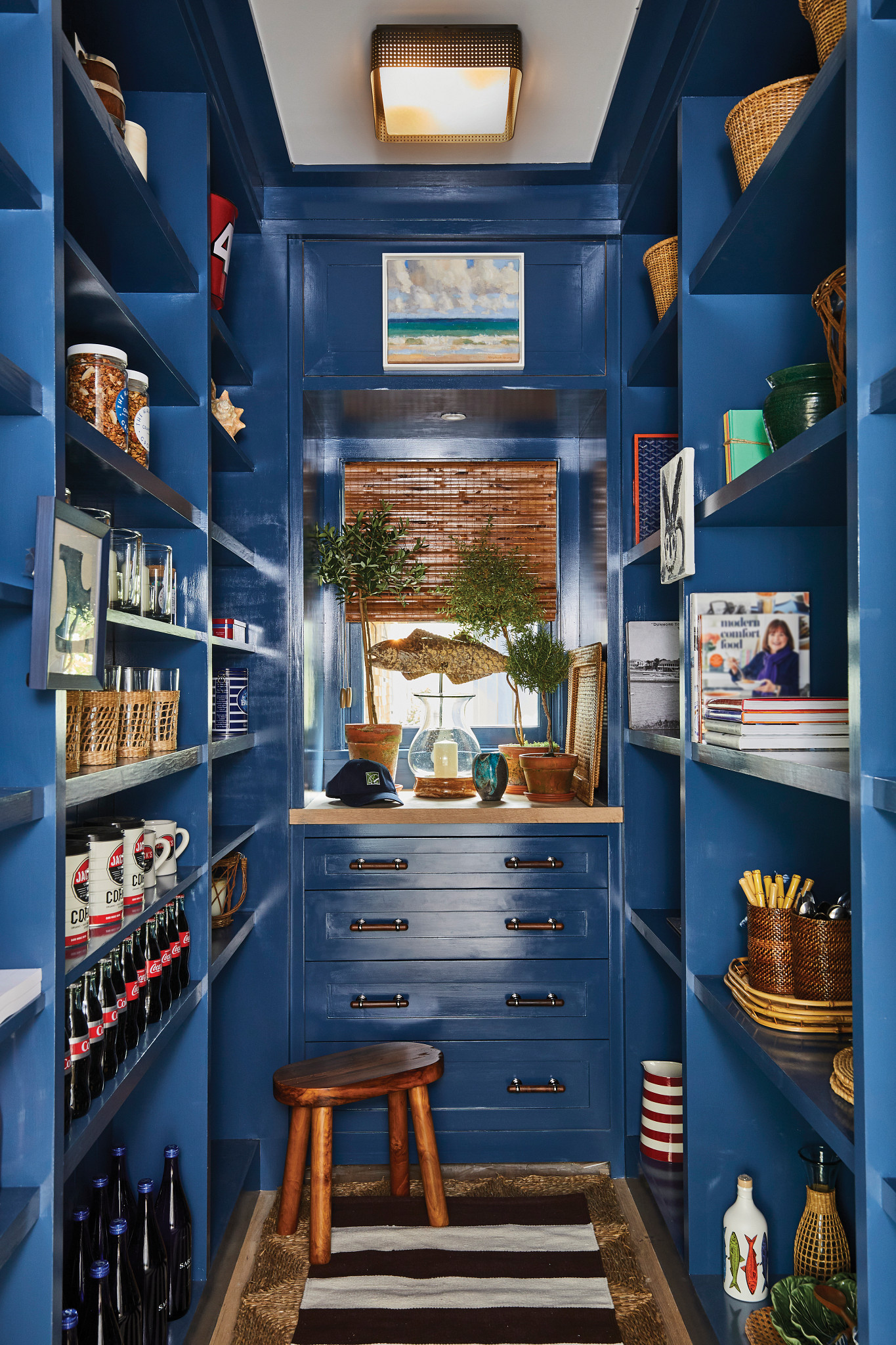 BLUE BEAUTY
Designer Dwyer Derrig's lacquered pantry continues what Kropp calls the kitchen's "earth-tone blue." Here, the usually cool shade offers a sense of warmth that helps it partner with brass hardware and wood.
---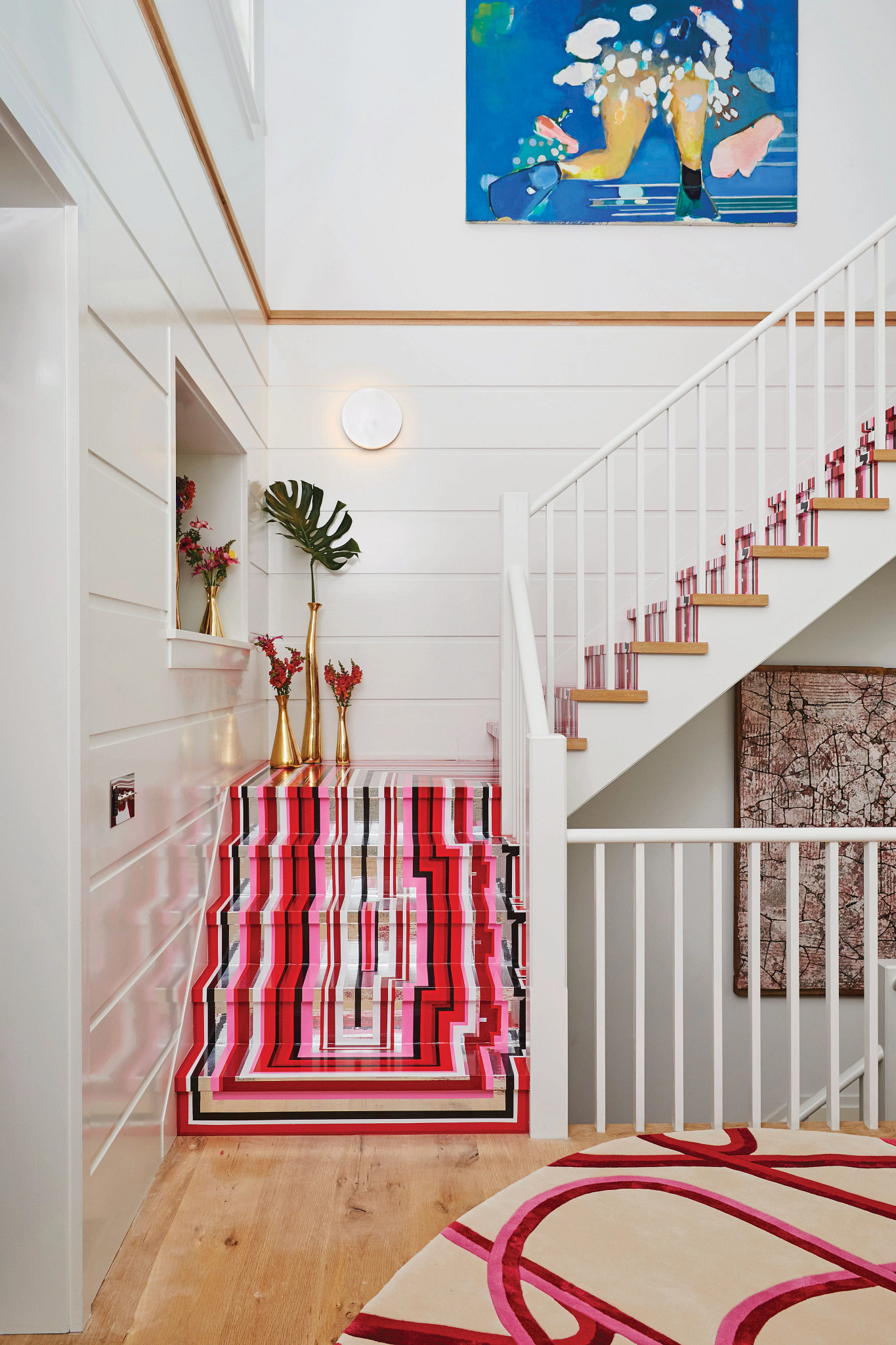 POLITE TO STAIR
A swimmer's legs on Cristina Canale's Merghulo float high above the show house's grand foyer. But it is U.K. artist Jim Lambie's unforgettable art installation in the form of a staircase—a waterfall of red, pink, black, silver, and white—that makes the major statement in this entryway by designer Nicole Fuller. Gold vases by artist Jaimal Odedra add to the sense of royal welcome.
---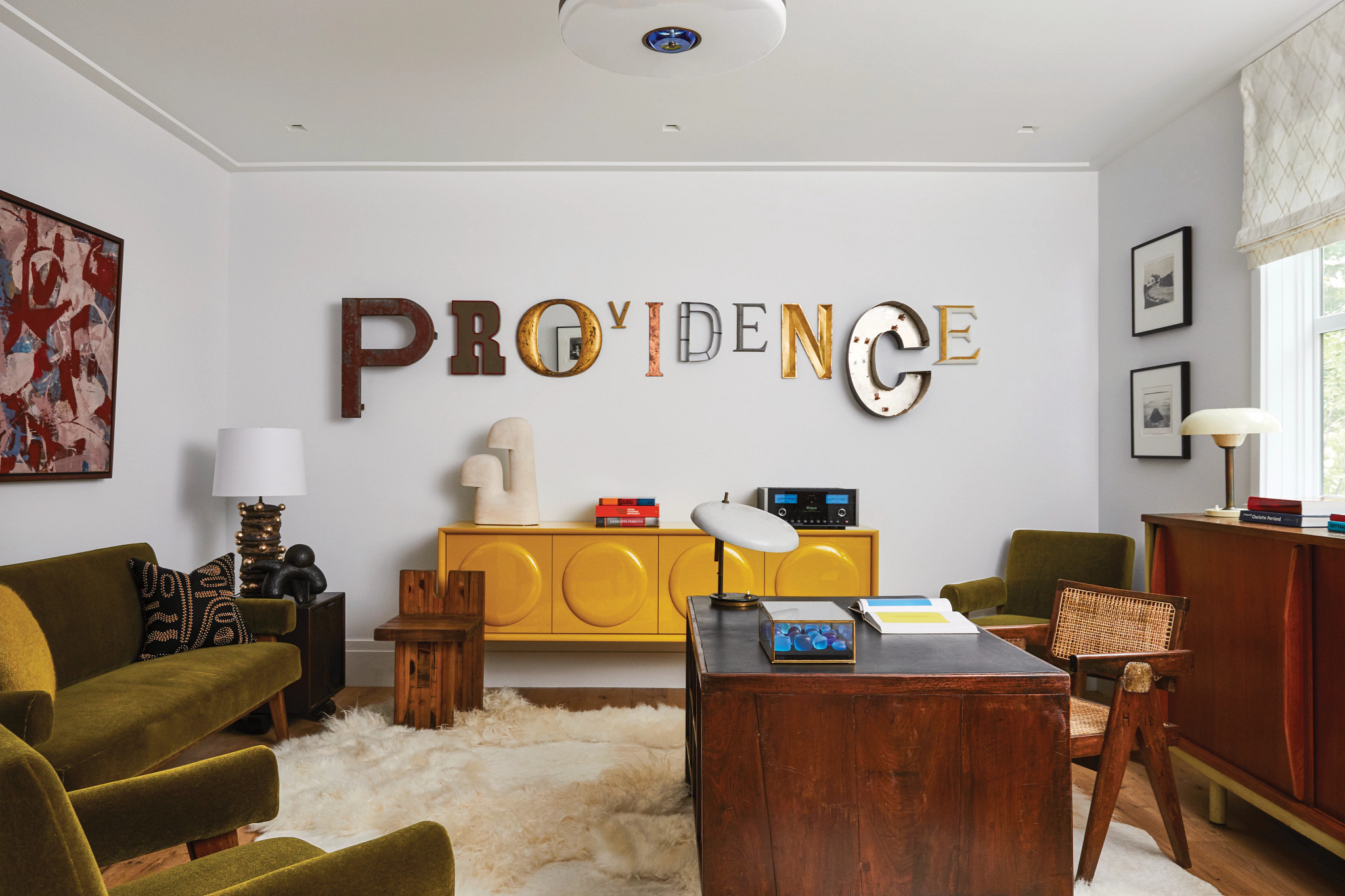 THOUGHT LEADERS
The eclectic lettering of "providence" by Jack Pierson sets the tone for this mix-and-match office from designer Jeff Lincoln. Unique silver-gelatin photographs by Andy Warhol and an untitled abstract by James Brooks are among the host of hangings and objets d'art waiting to inspire anyone sitting down at the desk.
---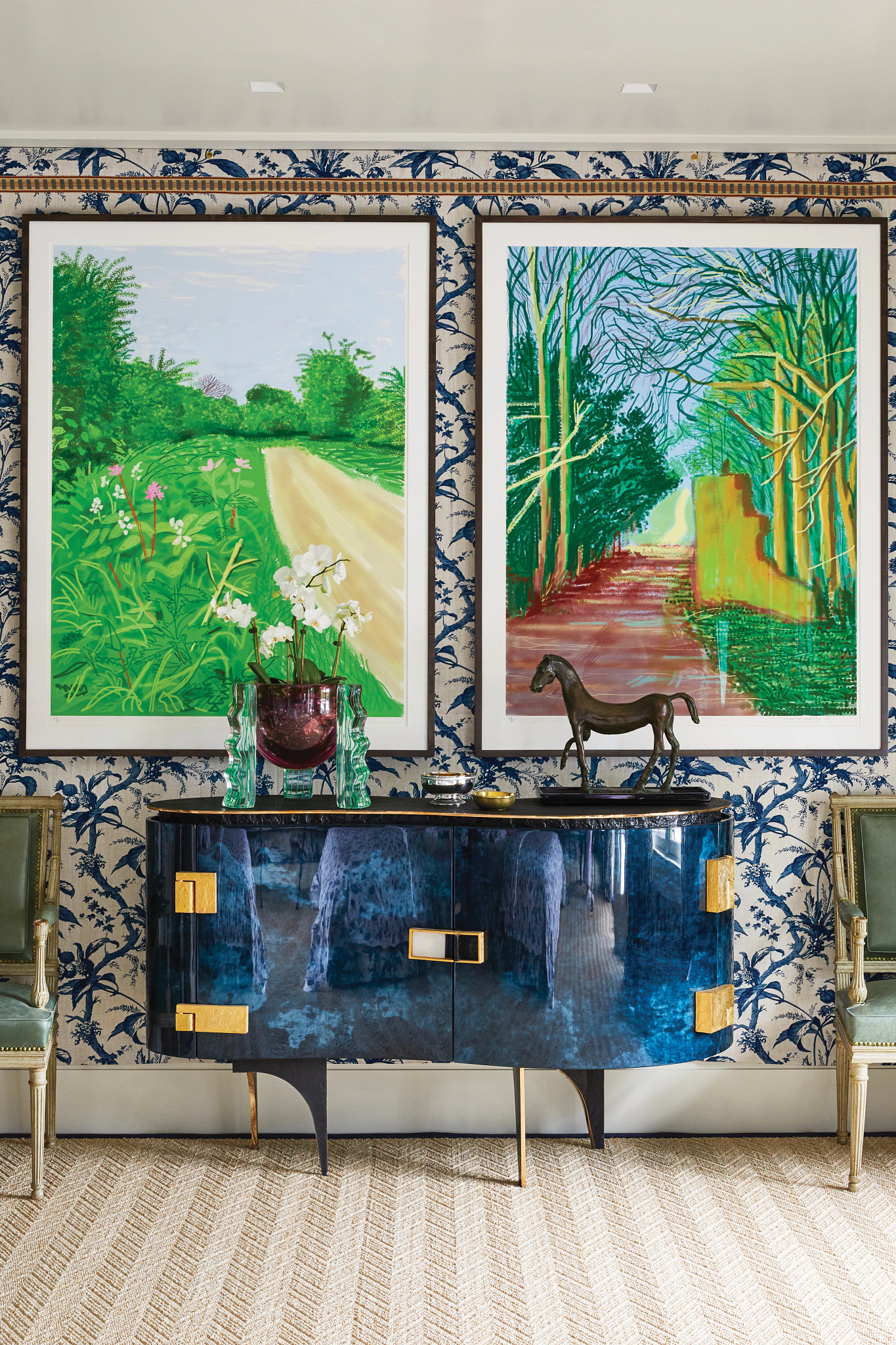 PATTERN-OFF
The paths in this pair of digital artworks by David Hockney appropriately wend their way toward wallpaper alive with leaves and flowers. Meanwhile, a lapis buffet makes an impressive pedestal for Barry Flanagan's playful bronze Small Horse in this bedroom by designer Richard Mishaan.
---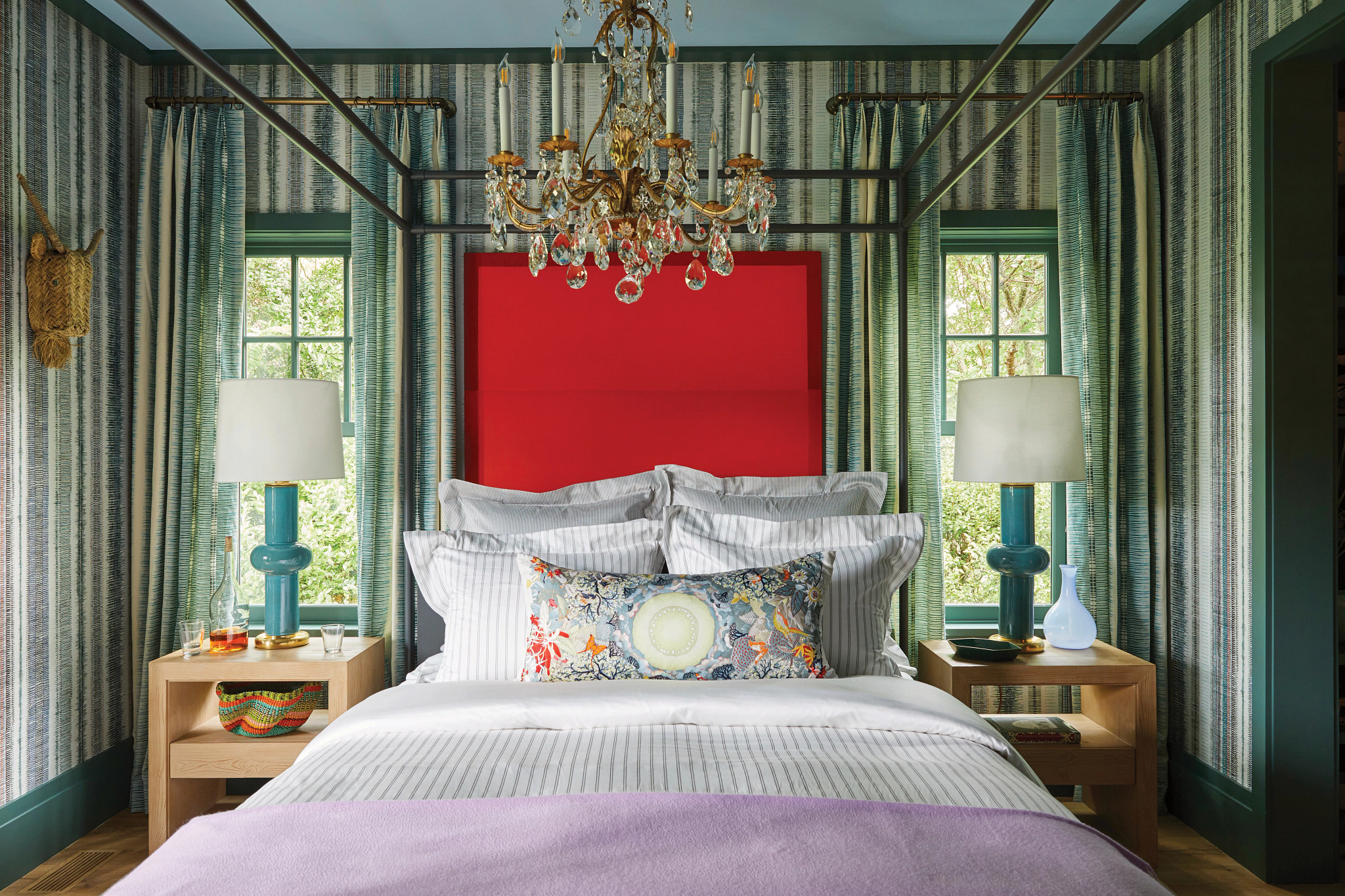 STORY TIME
Brazilian artist Amelia Toledo's Série Horizontes hovers like the red heart of this junior bedroom, in which designer Rayman Boozer largely sought to capture the blues of the Mediterranean. Tying the warm tones of the artwork with the room's cooler palette is a pillow made from vintage Hermès scarf by Aline Honoré called Au Coeur dela Vie.
---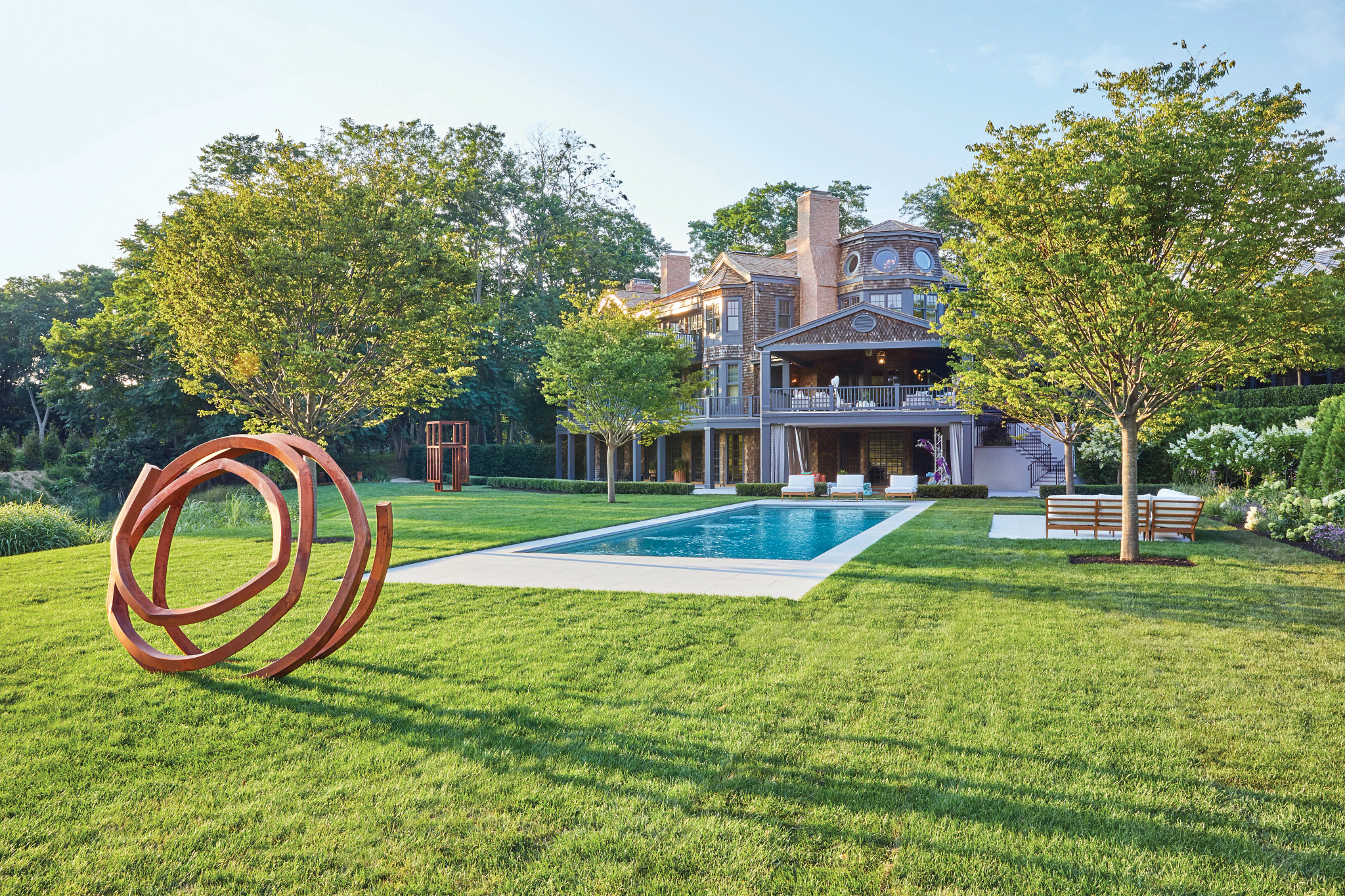 BATTLE ROYALE
Bernar Venet's Indeterminate Lines sculpture series consists of spiraling rolls of steel that represent the battle of wills between the artist and his medium.
---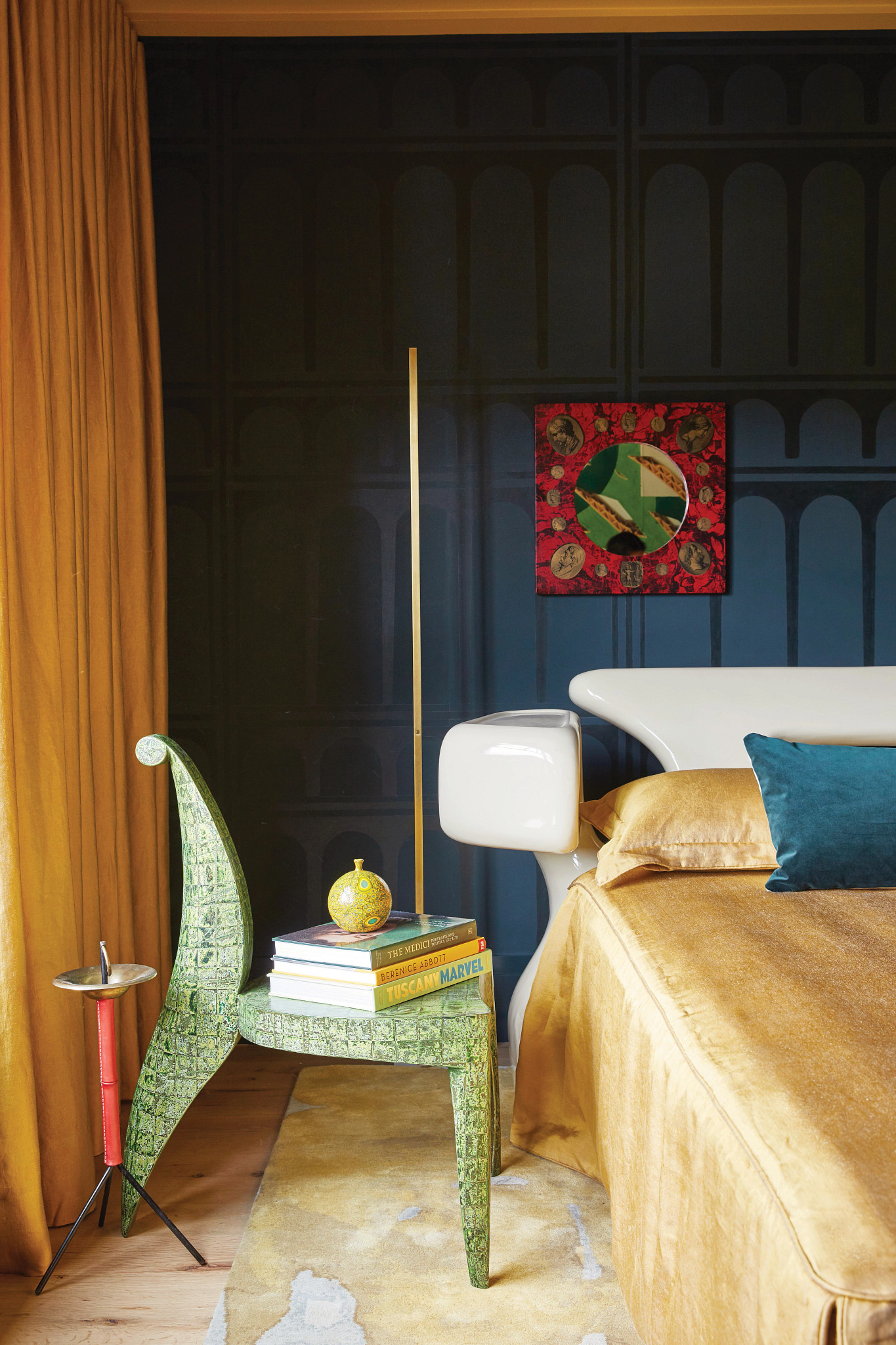 SEA INSIDE
Above the bed, a neoclassical mirror by Piero Fornasetti catches the reflection of another work of art, Ultimos Dias by Cuban artist Alexandre Arrechea, in this deep blue bedroom designed by Geoffrey De Sousa.