A New Leaf
Architect Jed Duhon gives nature her due at his Austin home
Written by Thomas Connors
Photography by ANDREA CALO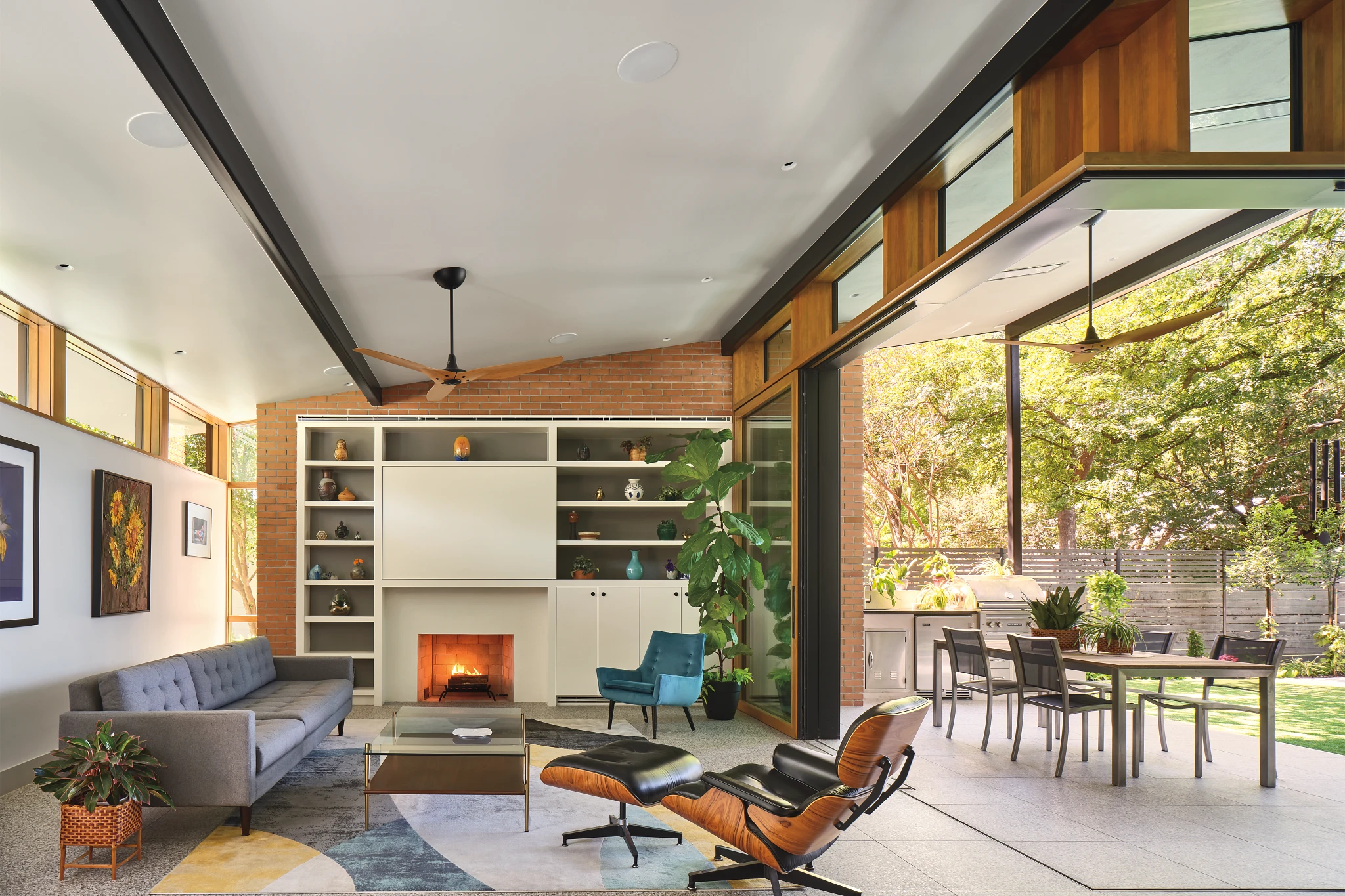 The agreeably proportioned living room with a retractable wall opening to the dining patio epitomizes the indoor-outdoor essence of this Austin home.
Architecture is all about problem-solving. It's about whipping space into shape and manipulating materials to meet the task at hand, whether that's designing a store, a restaurant, or a hotel. And any number of factors, from a client to local zoning restrictions, can send an architect back to the drawing board. When Texas-based architect Jed Duhon of STEINBOMER ARCHITECTURE & INTERIORS decided to create a home for his family in Austin's Allandale neighborhood, he had to answer to a tree.
A fan of the mid-century look, Duhon imagined a low-slung home spreading out in all directions to offer the best in indoor-outdoor living. Yet, the lot that caught his eye had a protected cedar elm standing in the way. He almost rejected the site but, in the end, worked around the mighty tree and fashioned a home true to his aesthetic vision.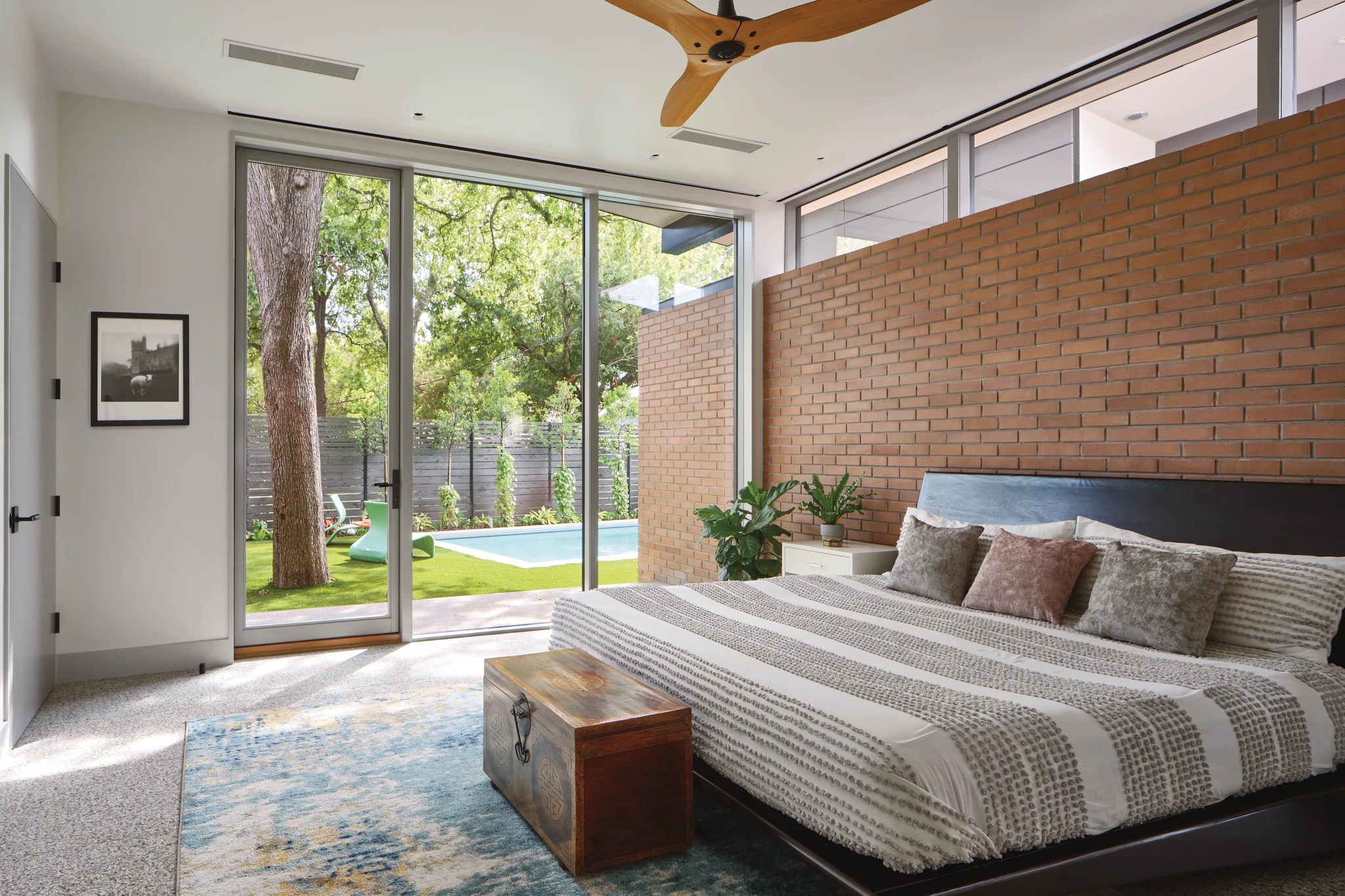 Clerestory windows and large glass sliders give the primary bedroom a distinctive sense of openness.
Most classic mid-century houses are single-story affairs, but in response to that elm, Duhon's home has a second floor. Still, this is no McMansion. With an open floor plan and loads of windows, it rides on a sense of spaciousness, on an engaging flow, not square feet. A porcelain floor with a terrazzo-like pattern anchors the living room, dining room, and kitchen and extends seamlessly to an adjacent patio. The brick wall in the primary bedroom runs past large sliding doors to form a bookend on the little seating area outside, outfitted with iconic butterfly lounge chairs. And from the pitched ceiling in the living room to the soaring double-height volume of the dining room, the home is alive with visual and spatial energy.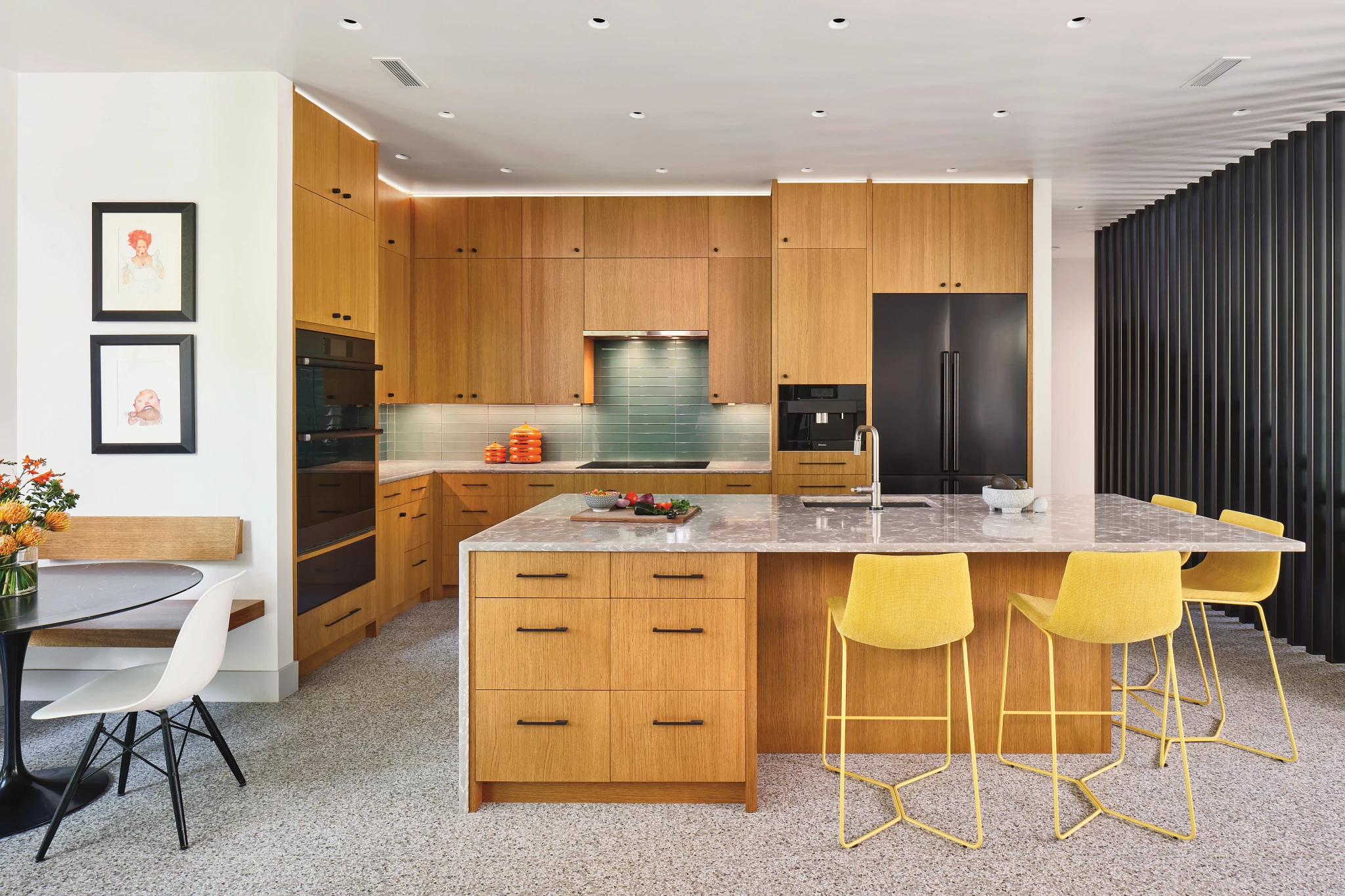 Clad in white oak and topped with the muted gray and white of Cambria's MYDDLETON™, the kitchen island provides plenty of prep and dining space, as well as storage.
Duhon's choice of materials plays a big role, too, in giving the house—which has been recognized and rated by the Austin Energy Green Building Program—that laid-back, mid-century vibe. For that all-essential island in the kitchen, he went for white oak cabinetry and Cambria's MYDDLETON™ with its almost atmospheric merging of soft gray and brushstroke-like patterns of white. "I had a sample of the product sitting on my desk," says Duhon, "and then I started on my place. It's got such a cool look. You can't quite tell if it's modern or from the 1950s."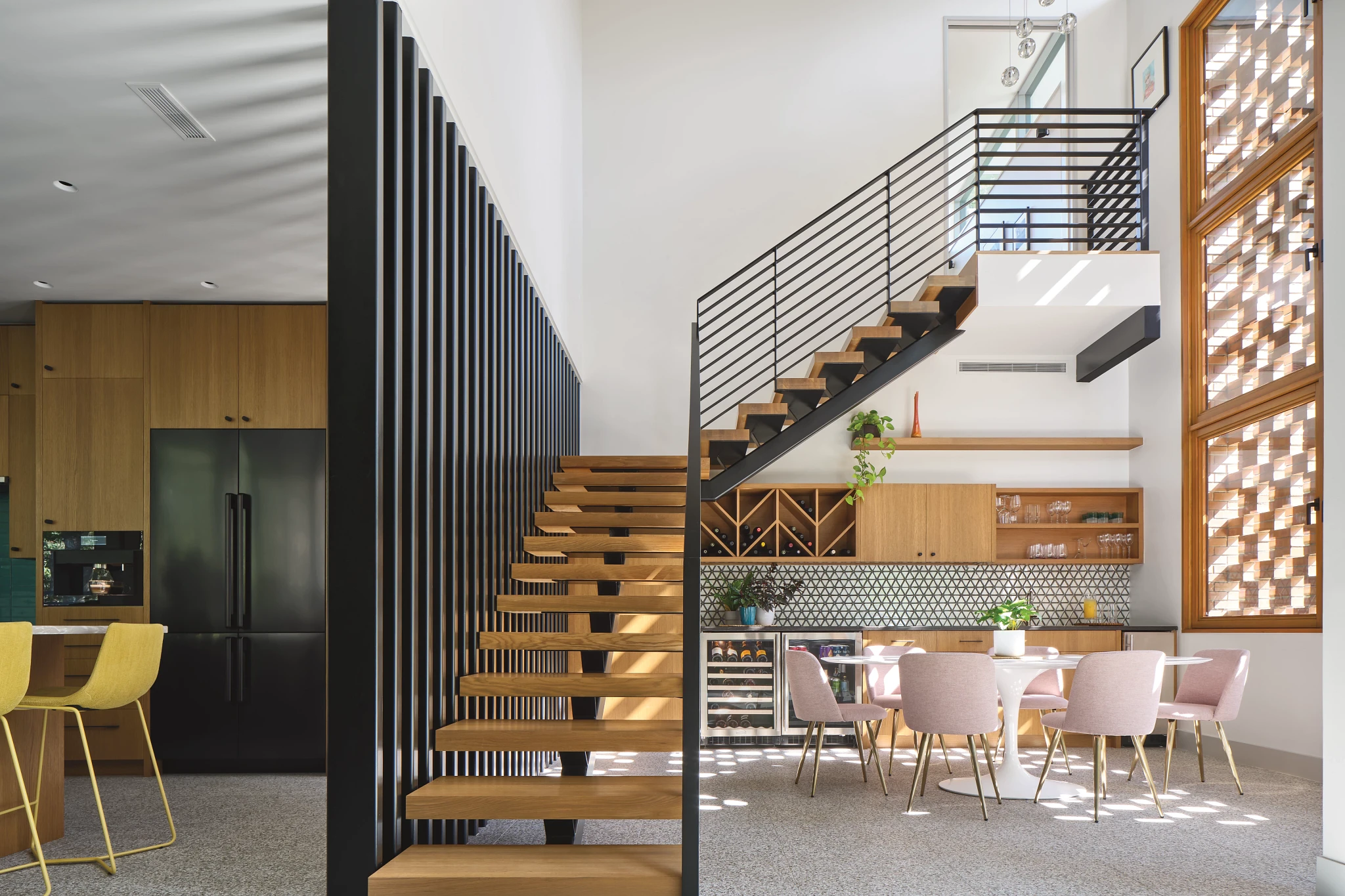 A substantial staircase and 15-foot-tall window amplify the impressive scale of the dining room.
While the elements of the house—glass, wood, brick, and quartz—and its driving concepts—plenty of natural light inside and multiple views to the outdoors—firmly echo the character of classic mid-century modern design, the Duhon residence could never be mistaken for a relic of the Eisenhower era. Its facade is more varied and dynamic than the homes Duhon took inspiration from, and inside, he breaks the rules with a double-height dining room, an impressive volume shaped by an angled, open stairwell and a towering window backed on the exterior by a latticework of brick.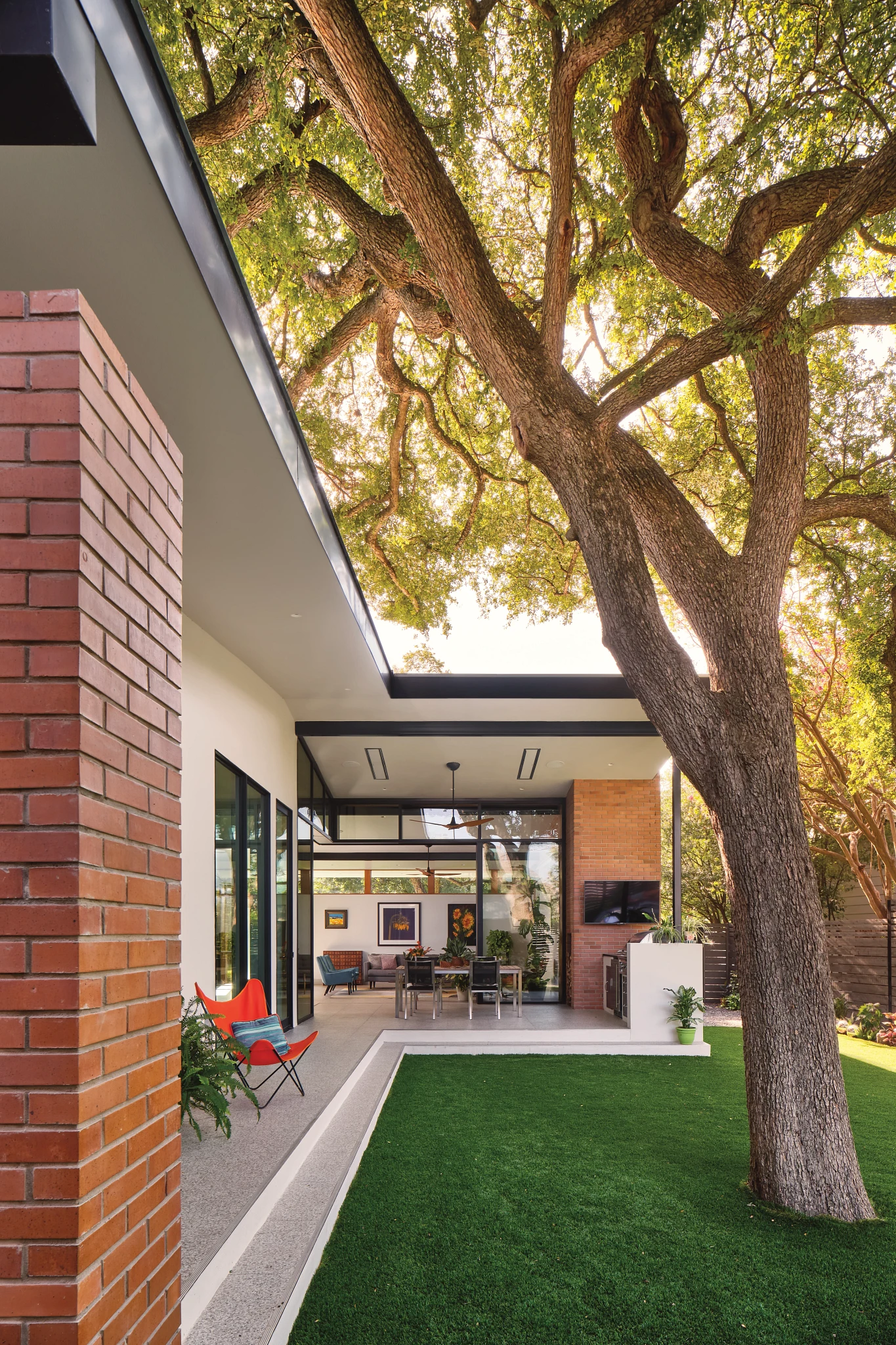 To accommodate the elm tree on the site, Duhon angled the house 21 degrees, a strategy that still allowed him to give all the main rooms—living room, kitchen, office, and primary bedroom—a direct visual or physical link to the outdoors. Even spaces that don't have a view are outfitted with windows. "Natural light is very important to me," says Duhon. "It's good for your health and mood. Every bathroom, every closet gets natural light. In the daytime, this house can fully function with the lights off."
As for that tree, it is hard to imagine this home without it. Tall, with a broad canopy, it really ties this outward-looking residence together. Silhouetted by the sun, or casting a cooling shade poolside, it looks every inch at home.