A Legacy Fulfilled
A Brooklyn-based designer completes his father's dream home in Minnesota
Written by Thomas Connors
Photography by STEVE HENKE
Portions of the wide and welcoming front porch were recycled from the home of Gunnar's great-grandmother.
It may be the land of 10,000 lakes, but in southwestern Minnesota, the vistas evoke visions of the old frontier, where the prairie stretches still with timeless promise. It's here that Glenn Larson raised his family and where he began to design and build a home that could serve as a gathering place for generations to come. Sadly, Glenn passed away before he fully realized this ambition, but the project was in good hands—those of his son Gunnar, a Brooklyn-based interior designer.
Glenn and his wife, Karen, were early adaptors of sustainability and Gunnar remembers helping them tear down barns as a kid to repurpose the wood. "My dad built the house I grew up in, and it was about 80 percent recycled material." When Gunnar stepped in to complete his dad's final design, he incorporated doors and trim from a 1919 schoolhouse his parents had salvaged. The old blackboard even found a spot as a backsplash behind the kitchen stove.
---

"I WANTED EVERYTHING TO HAVE A MEANING AND PURPOSE. I WANTED EVERYTHING TO TELL A STORY." —Gunnar Larson

---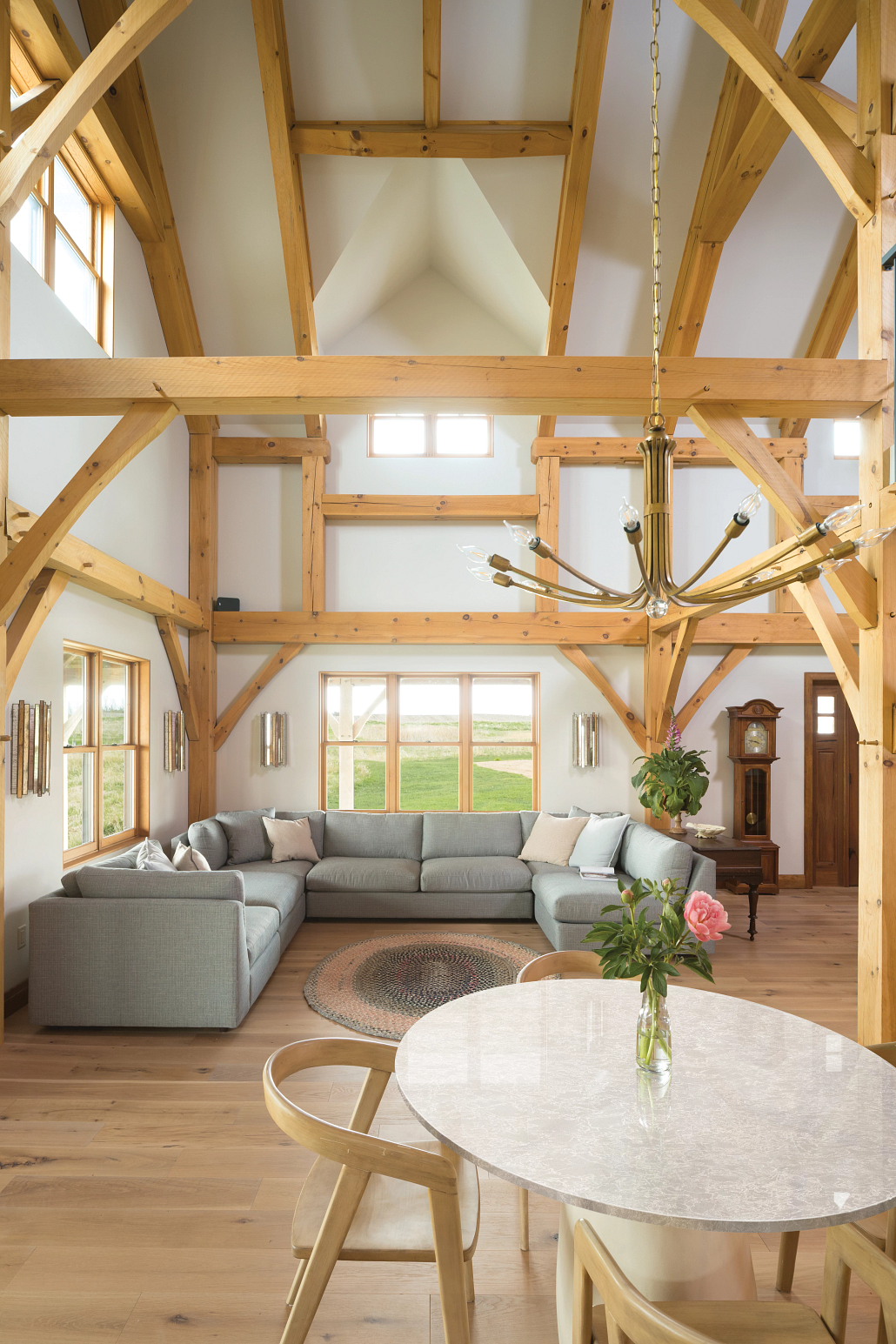 A hook rug—a family heirloom—and a monster, modular sofa from Room & Board epitomize the old and new aesthetic that pervades this prairie-set home. Cambria design shown: BIG SUR MIST™, Gensler Product Design Consultant.
Although the house was framed, partially plumbed, and a good part of the electrical work was done, finishing it was a labor of love. There were floors to lay, cabinets to install, doors to be hung, and sheetrock to be put up. Last March, Gunnar and his wife, Sara, and their two kids climbed into the car and headed west for the home stretch. "We lived in the semi-finished basement with my mom for six months, working full time finishing the house," shares Gunnar.
While impressively scaled, the home is also cozy. Take the kitchen. Although open to the living spaces, the play of oak flooring and walnut cabinetry set it apart and create an unmistakable warmth. Eager to incorporate durable and easy maintenance materials in this high-traffic area, Gunnar turned quite naturally to Cambria, where he found product that dovetailed handsomely with his designs. In the kitchen, the WINDRUSH MATTE™ he used for the countertops paired perfectly with the custom walnut cabinetry. "It's such a beautiful, mellow pattern and feels very natural in this setting," says Gunnar.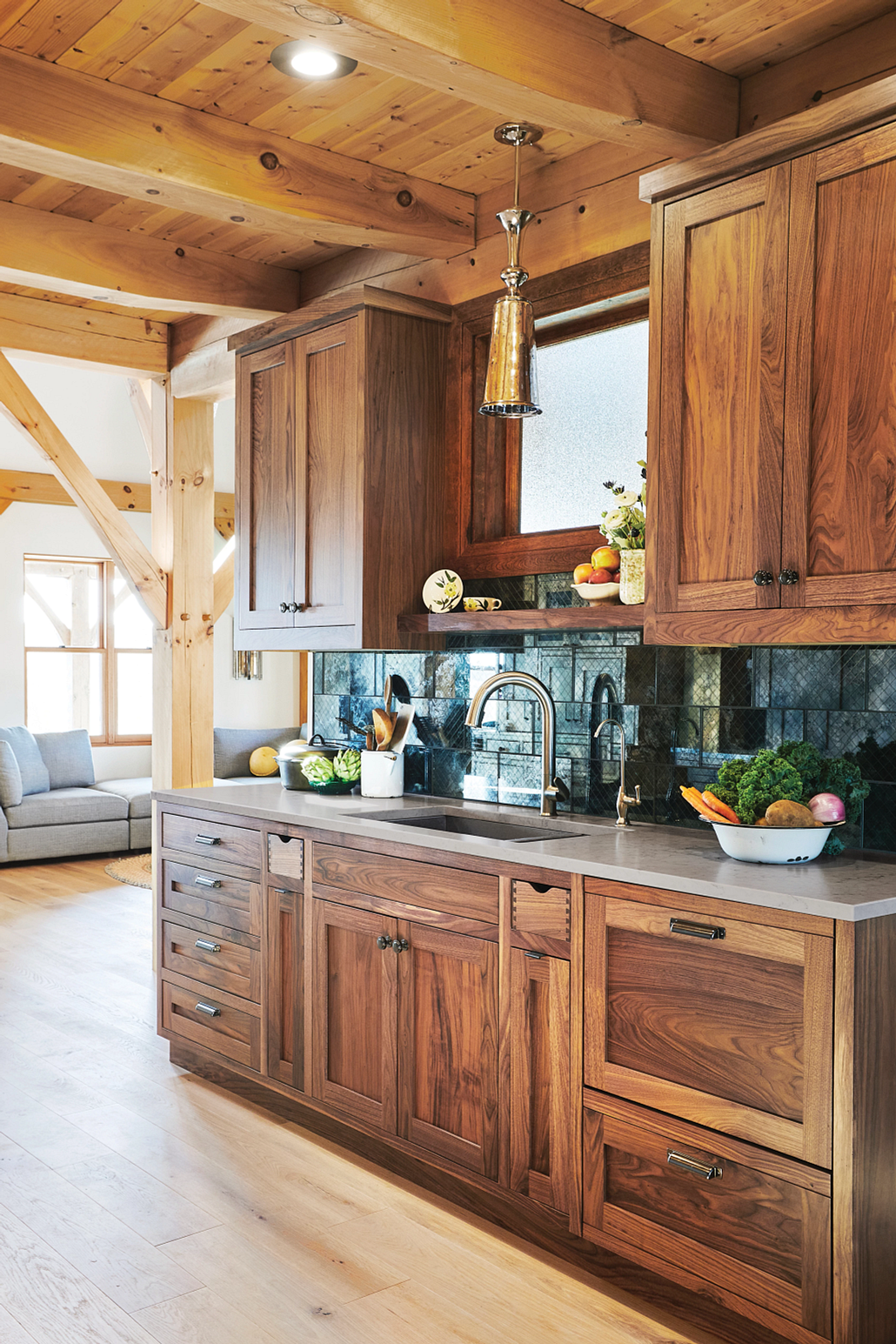 Cambria WINDRUSH MATTE™ countertops work harmoniously with the rich walnut kitchen cabinets. Photo by Cheyenne Ellis
A big fan of Western movies, Glenn fashioned this retreat as a sort of ranch, more Ponderosa than Little House on the Prairie (author Laura Ingalls Wilder lived 20 miles away in Walnut Grove). And from the expansive front porch to its double-height, open-timbered great room, the house definitely projects a lodge-like, escape-from-it-all vibe. There are luxe touches—such as a hammered copper tub and mercury glass lighting fixtures that add a certain sparkle, and five generations of family art and furniture here—rosemaling, an old trunk, a cabinet made by a great-great-uncle who emigrated from Norway in the 1800s. Gunnar's penchant for marrying disparate patterns, shapes, and materials is evident everywhere. A powder room, for example, appears as if it evolved over time, sporting a wainscot of reclaimed wood, brown floral wallpaper, and a floor of Norwegian Rose Marble tile. For the vanity, the Larsons used Cambria's ROSE BAY™ to create a patchwork pattern that suggests the piece was made of repurposed stone.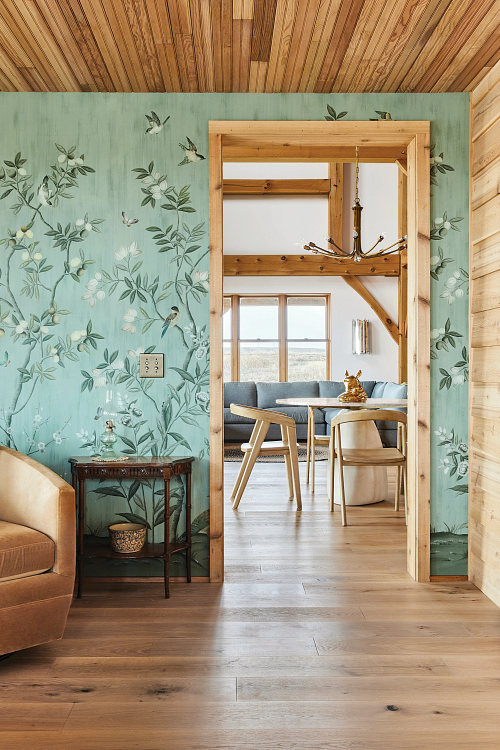 Other elements in the house include sliding industrial-style doors that lead to a simply furnished but roomy bedroom. A bar area that has a quietly chaotic mix of materials and colors. Contemporary touches include furniture from Minnesota-based Room & Board and Blu Dot. The mix of pieces—a rustic cupboard displaying antique crocks and Fiestaware, a sleek leather easy chair perched on slender steel legs—add to the sense of a home that has evolved over time. And although the arrangement of the furnishings reflects careful consideration, there's nothing forced about their placement. Nothing looks staged. Everything seems to be where it naturally ought to be.
Glenn Larson broke ground on the house over a decade ago. After five years devoted to realizing his father's dream, Gunnar and his family, his mother, and his two sisters are enjoying the finished property for the first time this summer. It's been a long journey, but what a homecoming.