6 Kitchen Backsplash Ideas for any Modern Kitchen
Update your kitchen backsplash with these stylish options
Your kitchen counter backsplash primarily serves to protect your walls from damage that can occur from spills, splashes, and spatters—essentially all the things that happen when you cook in your kitchen. But, a backsplash is also a focal point, a décor element that deserves as much attention during the design process as your cabinets and countertops.
Today's backsplash options can seem endless as design trends change and product innovations offer up more improved performance. Let's peruse some of the most popular backsplash ideas sure to make a splash in your new kitchen.
On the grid
A classic grid of square tile offers a retro-inspired vibe that's functional but also allows other design elements to shine. For added interest, consider contrasting or complementary tile colors. For the DIY crowd, installation of basic grid patterned tile is relatively straightforward. You can also turn a grid of square tiles forty-five degrees to create a diamond pattern. But simple perfection can be achieved with a more muted color palette that allows your countertops, cabinetry, and hardware to have the spotlight.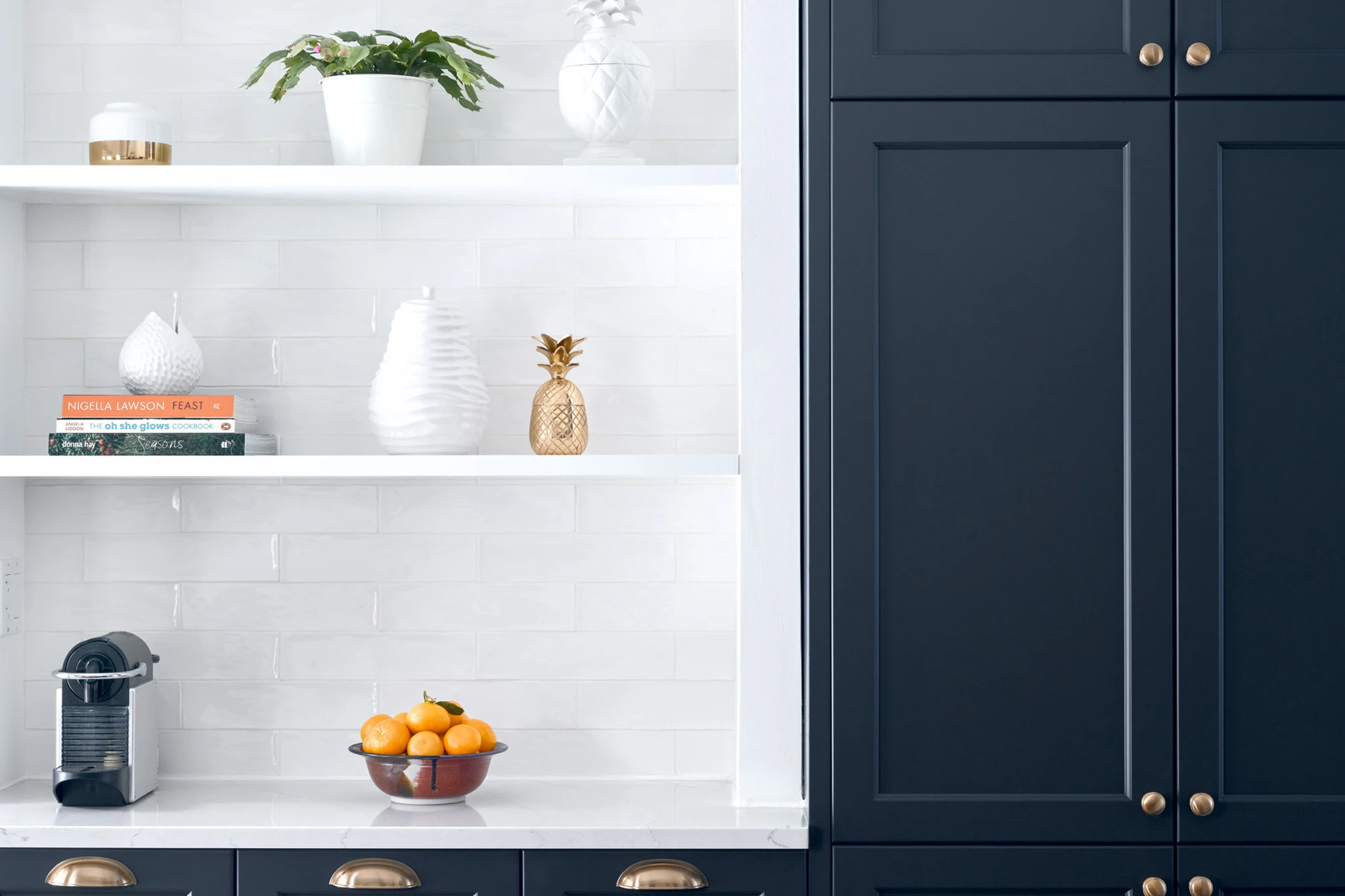 Cambria design shown: Ella™
Brickwork
Another classic backsplash arrangement is the running bond pattern, sometimes also referred to as "brickwork" or simply "brick" and is common in what's often called subway tile. A 50/50 offset lands the end of each tile halfway across its neighbors to create a very regular pattern. However, many people prefer a less even offset, especially when working with longer rectangular tiles. A slightly more irregular pattern looks more natural to some. For example, a 70/30 offset has a more organic feel.
Give it a Tilt
Get a little adventurous with rectangular tiles by creating a herringbone or chevron pattern. Professional installers or more advanced DIYers can even create quilt-like patterns with a variety of tile sizes and shapes for even more visual interest.
Patterned Tile
This can give the effect of a bold, graphic wallpaper in a more durable material. And that's probably what you need to remember most: that it's like wallpaper and installation requires plenty of planning to make sure patterns line up just so. If you like this option, it might be time to decide if this installation process is worth the challenge to your sanity. Or, as with other more adventurous tile patterns, keep a contractor's number handy.
Give Up the Grout
The same beautiful Cambria surfaces available for your countertops can also be installed as a full-height backsplash. This continuity of material is an upscale trend that also delivers higher function without grout lines that attract grime and need to be regularly sealed. Instead, Cambria is a maintenance-free, stain- and scratch-resistant material that makes a stunning focal point in your kitchen. Plus, Cambria's EXPANSIVE DESIGN PALETTE means you'll get exactly what you want—whether that's a perfect match with your counter or a daring contrast. See more Cambria quartz backsplash inspiration HERE.
Where to Stop the Splash
Though we often think of backsplashes as a counter-to-cabinet phenomenon, technically a backsplash can end wherever you want. If you're working your way up a wall, conventional wisdom suggests you bring your materials at least high enough to catch most cooking splatters. But nothing is stopping you from creating a dramatic counter-to-ceiling wall treatment that could even include a Cambria-wrapped range hood for greater impact and additional easy-to-clean surfaces.
Intrigued? See more reasons why Cambria belongs ON YOUR BACKSPLASH.