5 Food Pairings to Satisfy Your Summer Cravings
Written by Cambria USA
Photography by STEVE HENKE
Expert sommelier LESLEE D. MILLER'S recent inspired pairings for recipes showcasing PRESERVED LEMONS left readers hungry for more sunshine-infused bites. So, we asked her to choose five more food and wine combinations to help capture the spirit of summer all year long. From beverage recommendations for scrumptious strawberry hand pies to elevated pairings for classic pizza, Miller's selections will have you raising your glass.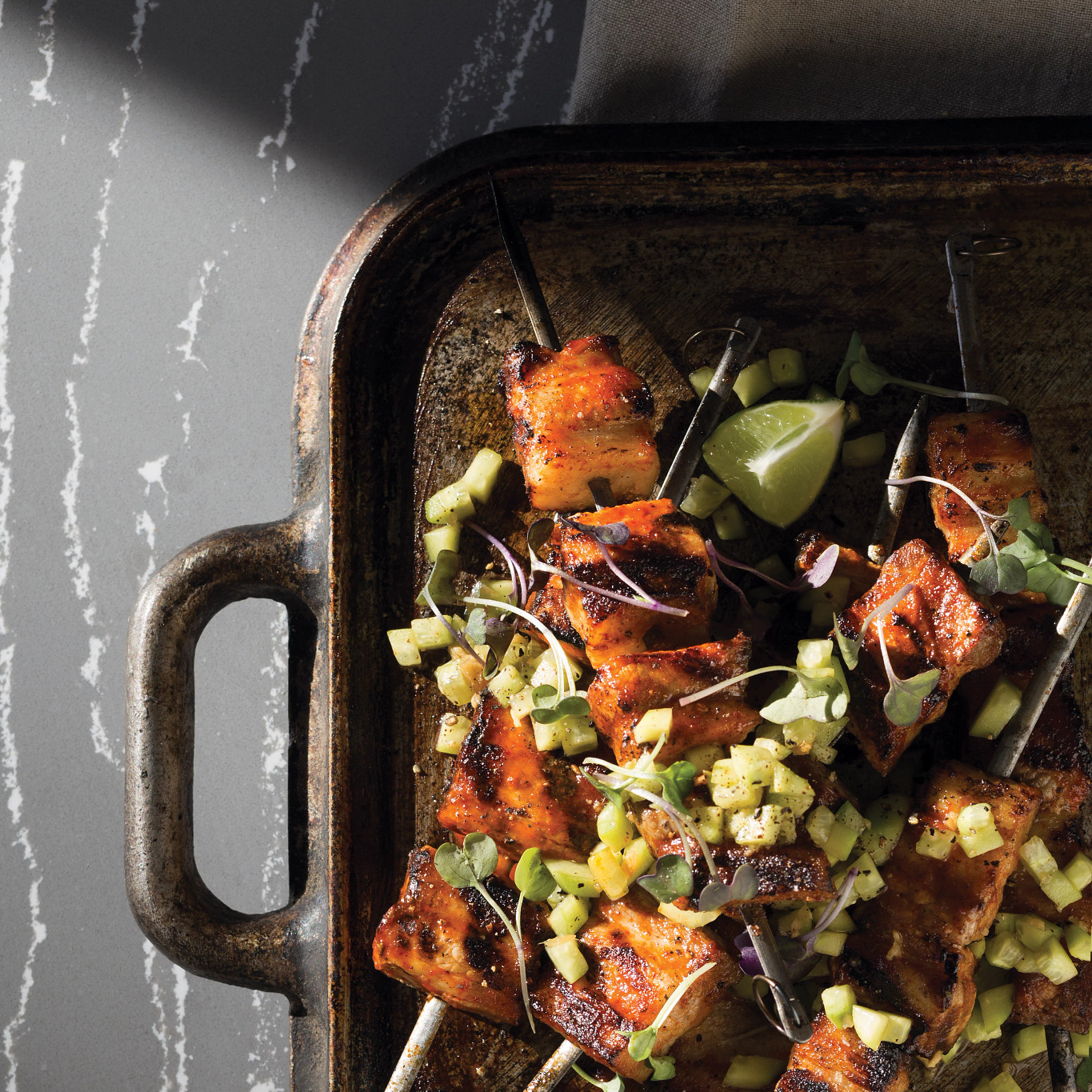 Cambria design shown: Queen Anne™
Pork Belly Skewers and Red Wine
Conventional wisdom tends to pair pork with white wine. But with the right preparation, "the other white meat" can sing in harmony with a red. For example, in OUR RECENT RECIPE POST that included spicy Sriracha Pork Belly Skewers served alongside a cool Cucumber Salad to balance its heat, Miller recommends a 2015 Broc Cellars Love Red. "This California wine is just as its label describes: juicy and lovely with notes of bursting red and blue fruits and just a touch of tobacco," says Miller, who calls this wine "the perfect combination with pork."
---
Pizza and Sangiovese
What says "kick back and relax" better than pizza? How about pairing it with a wine that highlights all of its ooey-gooey goodness? Among Miller's favorite pizza pairings is Stolpman Vineyards Carbonic Sangiovese from Ballard Canyon in Santa Barbara County, California. "A modern twist on a classic varietal," says Miller, "this Sangiovese is electrifying—with notes of fresh cherry, garden-cut herbs, and ripe raspberry." While we're sure the wine would enhance a delivery from your favorite pizza parlor, you can also try making your own, using THIS DELECTABLE RECIPE for Pizza del Arte from Chef Mike Dalton.
---
Strawberry Pie and Lambrusco
When we were in search of something sweet for a perfect picnic, we discovered THIS RECIPE FOR STRAWBERRY-THYME HAND PIES. If you're planning on packing these pies in your basket, Miller suggests bringing a bottle of Cleto Chiarli Lambrusco Grasparossa di Castelvetro Amabile. "This Lambrusco from Emilia-Romagna, Italy, is one dense juice box," says Miller, "loaded with Italian herbs, sweet strawberry and rhubarb fruit notes, and a pinch of pepper."
---
Reuben and a Rosé
If you don't think of wine when it's sandwich time, it might be time to think differently. Miller's list of wines that go well with delicacies from the deli counter includes a 2013 Red Car 'Vin Gris' Rosé from California's Sonoma Coast. Still skeptical? Try it with THIS REUBEN RECIPE, which features homemade Thousand Island dressing.
---
Sangria with Chardonnay
Our final and ultimate summer pairing, since it combines food (in this case, mouth-watering fruit) with wine in one irresistibly refreshing offering, is essentially a punch. This Spanish party pleaser is a blend of wine, fruit, and the kick of an additional spirit like brandy. Though we love a straightforward sangria, we also encourage experimenting with variations by adding tropical fruit for a twist like in the recipe below. We also suggest GRILLING YOUR FRUIT for added depth of flavor. These possibilities will awaken your palate.
INGREDIENTS
For citrus simple syrup
½ cup lemon juice
½ cup orange juice
2 cups granulated sugar
Zest of one orange
Zest of one lemon
For sangria
2 oranges, cut crosswise into half-inch wheels, grilled
2 lemons, cut crosswise into half-inch wheels, grilled
1 cup pineapple, peeled, cored, cut into slices, grilled
1 pear, peeled, cored, halved, grilled
1 apple, peeled, cored, halved, grilled
750mL California Chardonnay
4 ounces Cointreau
4 ounces brandy (something simple like Korbel or Christian Brothers)
2 ounces citrus simple syrup (or to taste)
Ice
Edible flowers for garnish
DIRECTIONS
For citrus simple syrup
Add juice and zest to a medium saucepan. Heat over medium-high heat, stirring a couple of times to dissolve the sugar until the mixture just boils. Remove from heat and cool to room temperature. Transfer mixture to a sealed container—a glass jar works nicely—and store in the refrigerator.
For sangria
Combine everything except the ice in a large pitcher. Chill until cold: 1 to 2 hours. Add ice before serving. Garnish with edible flowers.