BIGGEST, BOLDEST BOOTH EXPERIENCE YET
The 2023 Cambria KBIS experience featured new tones, textures, and timeless aesthetics that pushed the envelope in innovation. Explore the never-before-seen designs and inspiring applications from the show that reimagined design one space at a time.
the spaces
Get acquainted with the trendsetting Cambria booth spaces that are inspiring the future of design.
EXPLORE MORE INNOVATIONS
Keep your creative juices flowing by exploring our exciting booth "extras"—a number of outside-the-box applications
that are pushing the limits of design.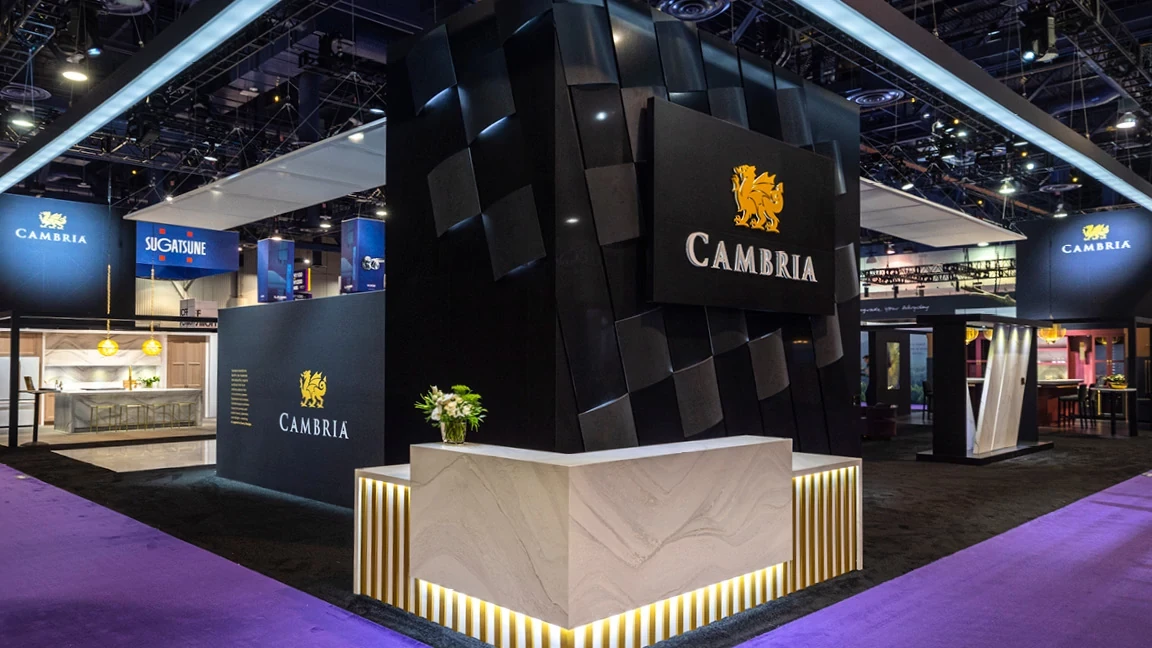 RECEPTION AREA
This striking entrance features the incredible "Weave Wall"—an impressive wall made entirely of Cambria—and the equally stunning Everleigh™-clad reception desk.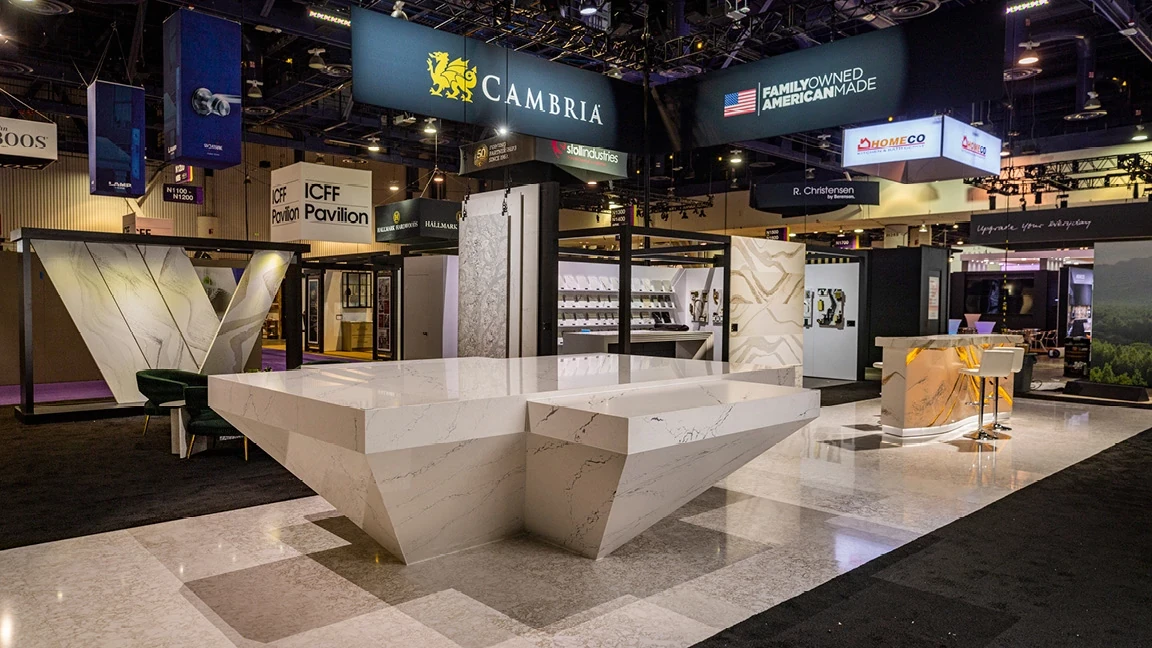 MORE THAN A FLOOR
Cambria's in-booth "runway"—made using the striking Hermitage™—reimagines flooring in a bold new way, showing that the beauty of Cambria can go well beyond the countertop.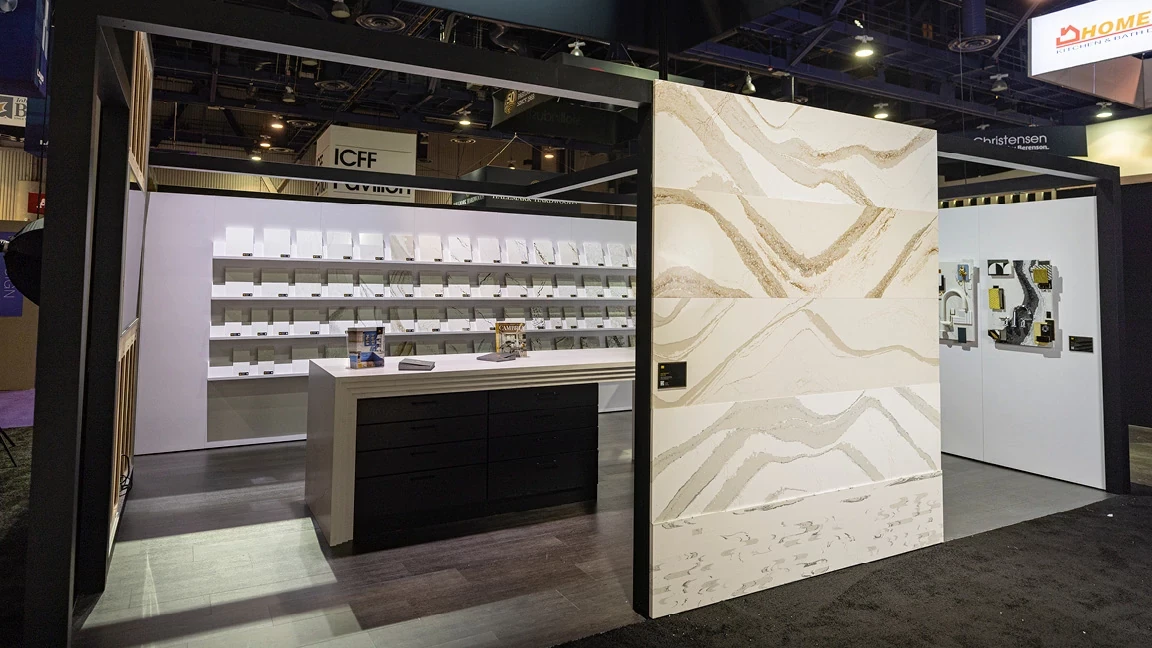 BRITTANICCA™ DESIGNS
Cambria is shining a spotlight on the highly sought-after Brittanicca designs—an enduring palette that offers intriguing movement, rich patterns, and bold—yet classic—design.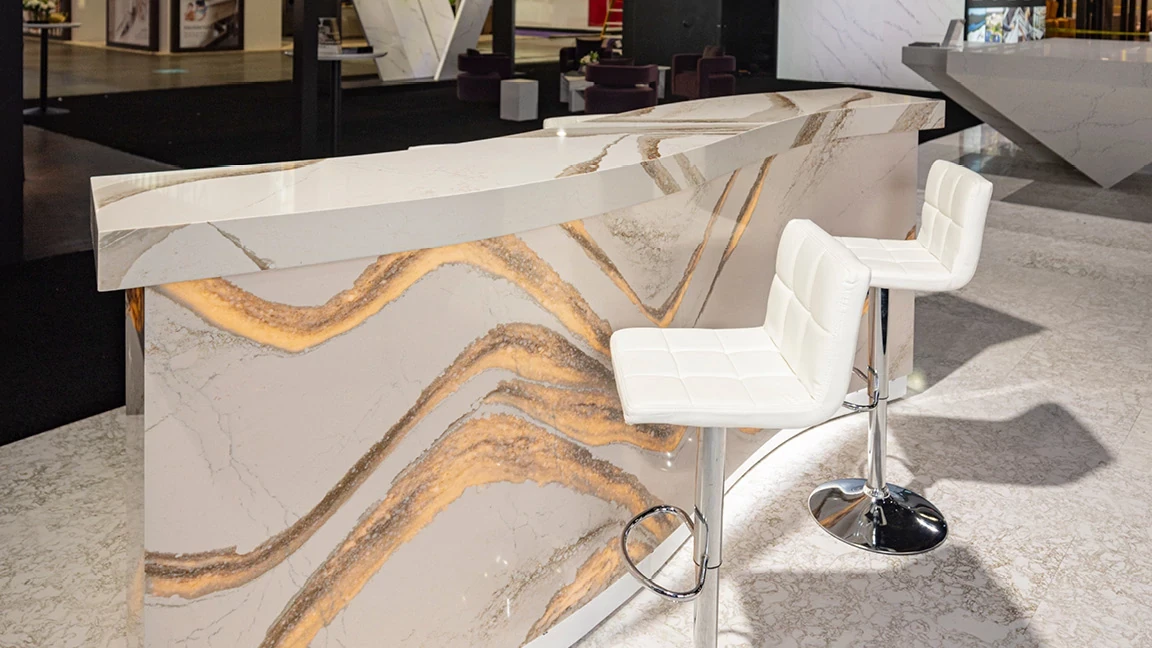 INNOVATIVE LUXURY
Two serpentine-shaped bar counter designs capture the excitement of organic movement, while chic backlighting makes these pieces shine.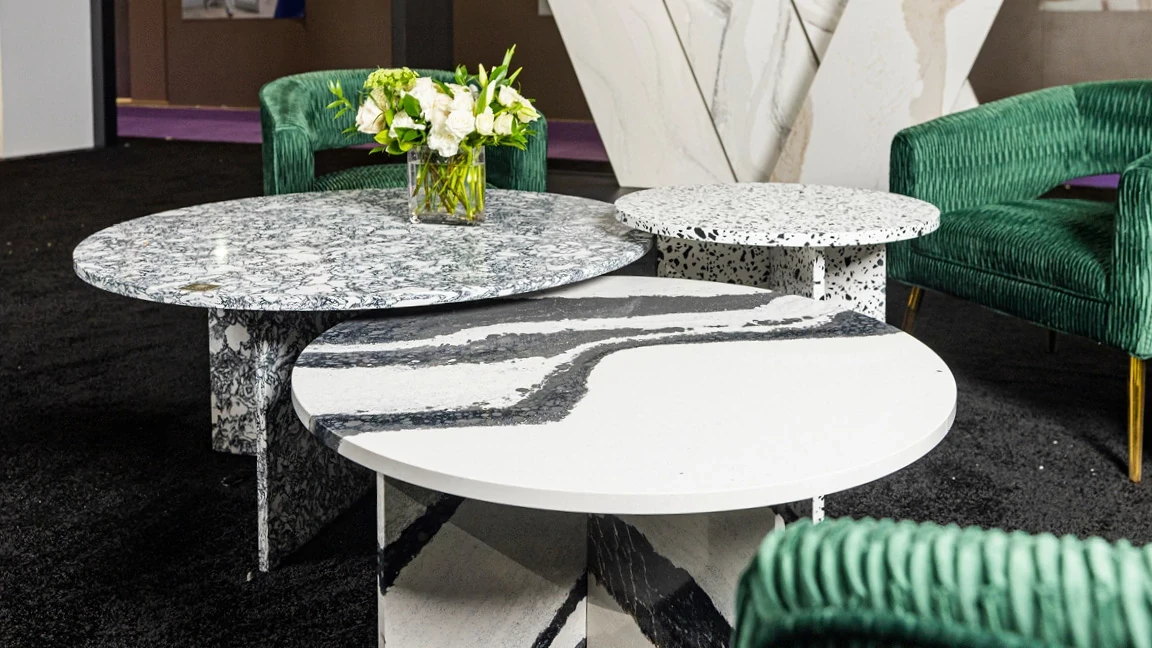 FABULOUS FURNITURE
Cambria furniture embodies both power and practicality—several upscale, enduring accent pieces adorn this year's display.
DISTINCTIVE COLLABORATIONS
A number of industry innovators teamed up with Cambria to feature luxurious Cambria quartz surfaces in their booth. Discover the details of these inspiring installations.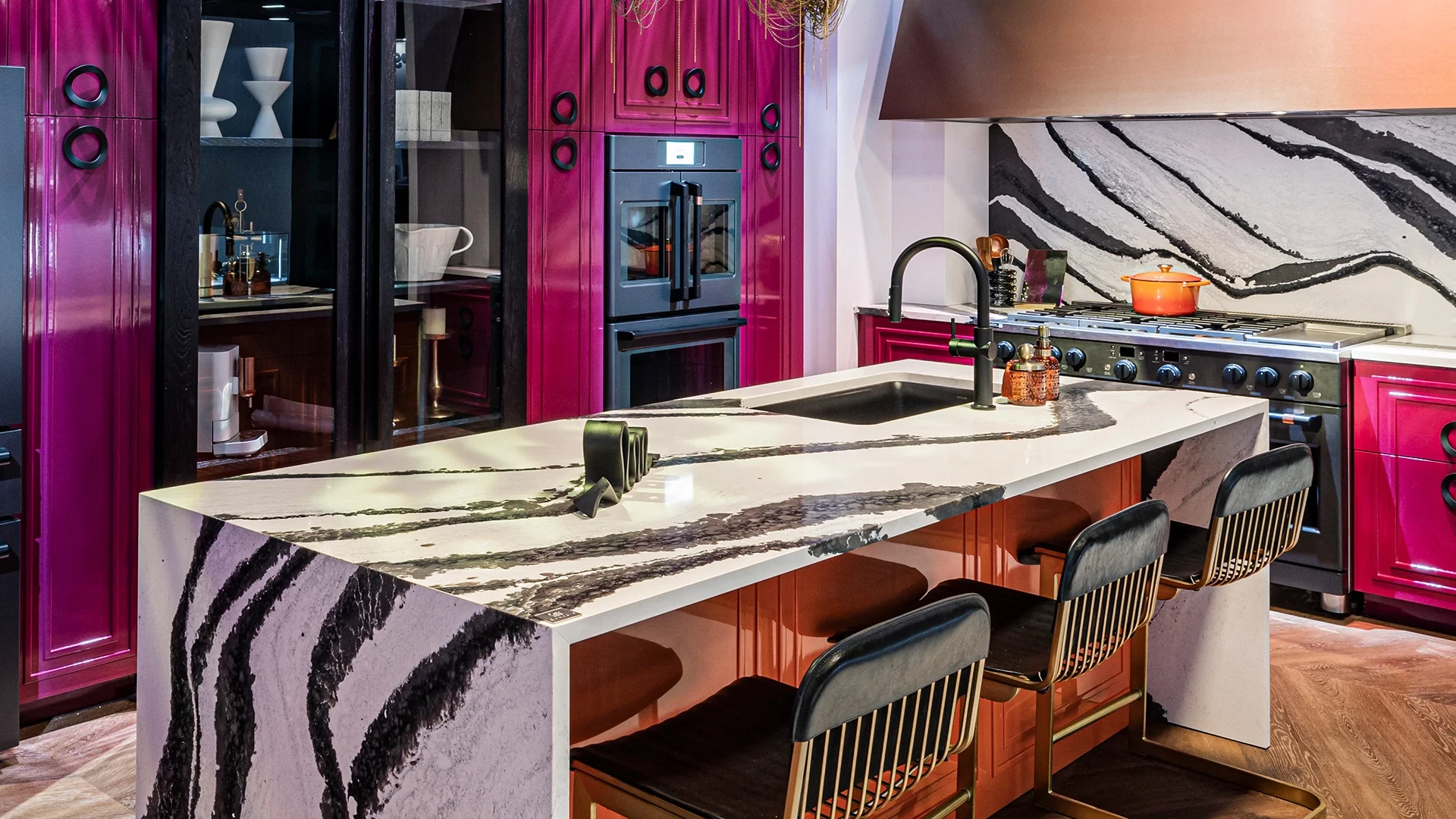 CAFÉ APPLIANCES
Cabinets in the vibrant Viva Magenta—the Pantone Color of the Year—made a splash alongside Bentley™ countertops and a full-height backsplash in the Café appliances booth. This space was inspired by fashion and the resurgence of high-end soirees, truly embodying the poshness of the black-tie affair.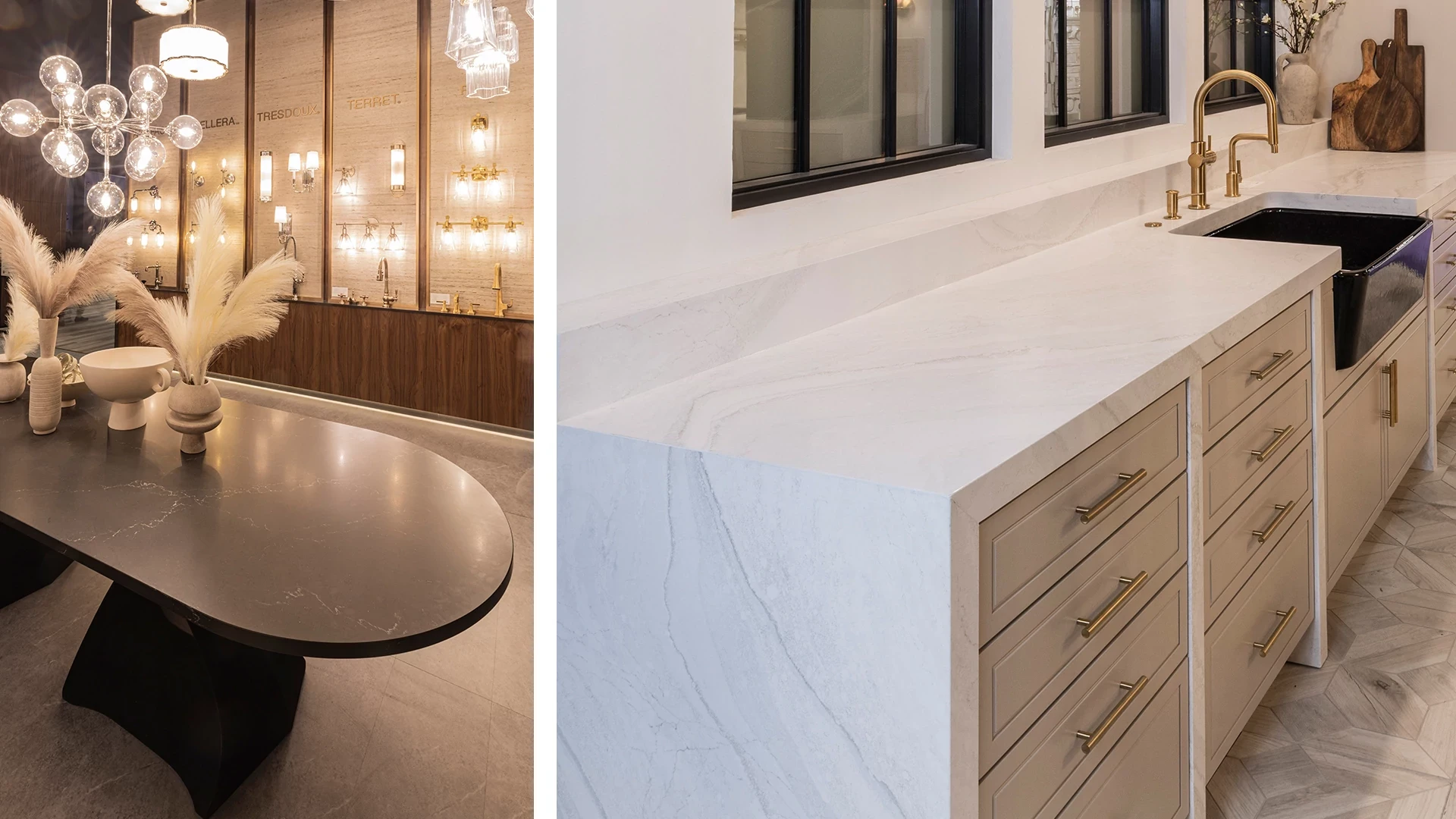 KOHLER
The Kohler booth showcased its detail-driven fixtures for both kitchens and baths. The Cambria Charlestown Matte™ table and Everleigh Matte™ kitchen countertops matched this meticulous, made-for-you mood by incorporating details such as waterfall edges and between-drawer inlays.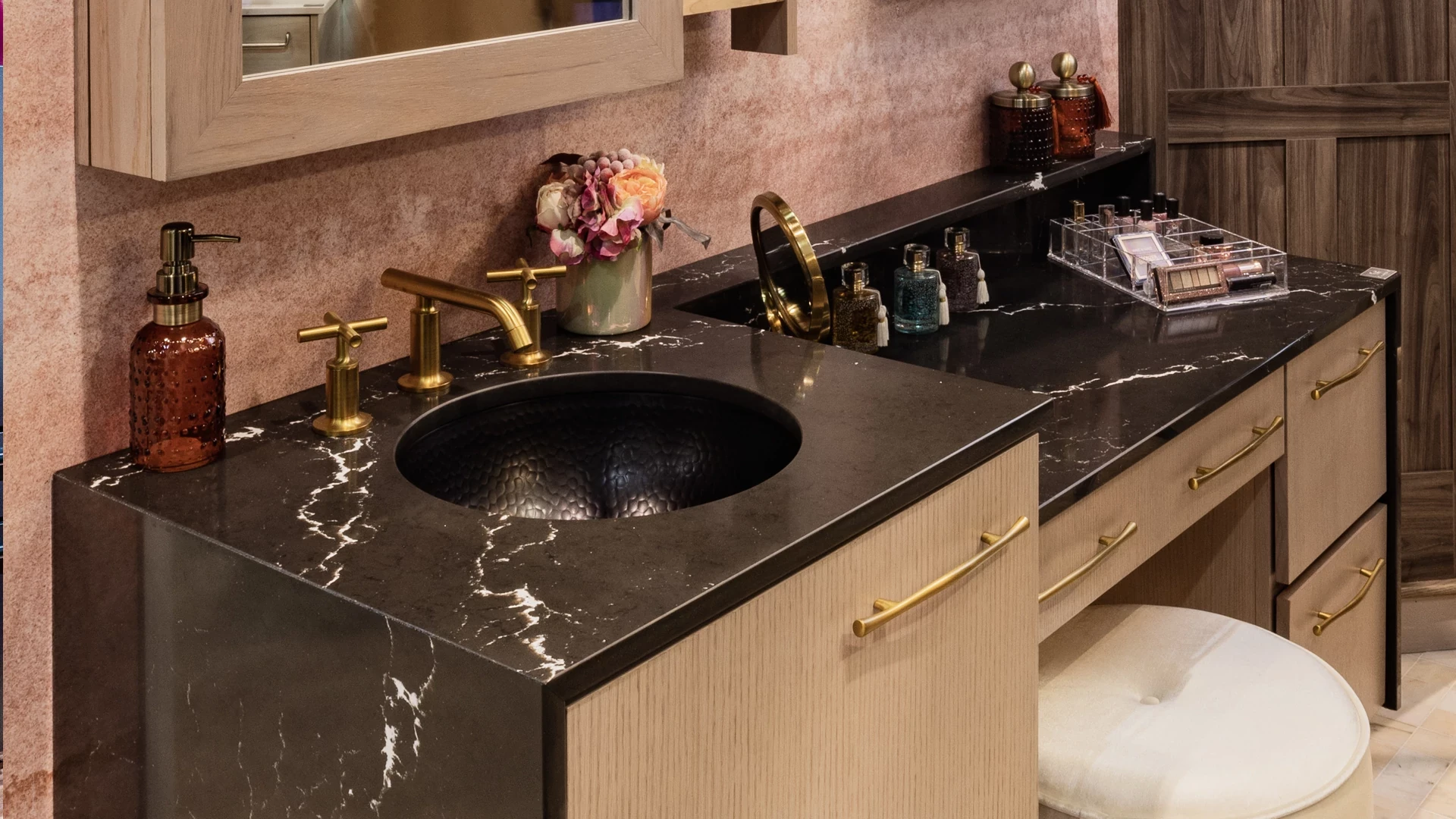 WELLBORN CABINET
The earth-toned cabinets from Wellborn Cabinet paired beautifully with a Cambria Delamere™ vanity top, creating a dramatically elegant, light-meets-dark motif.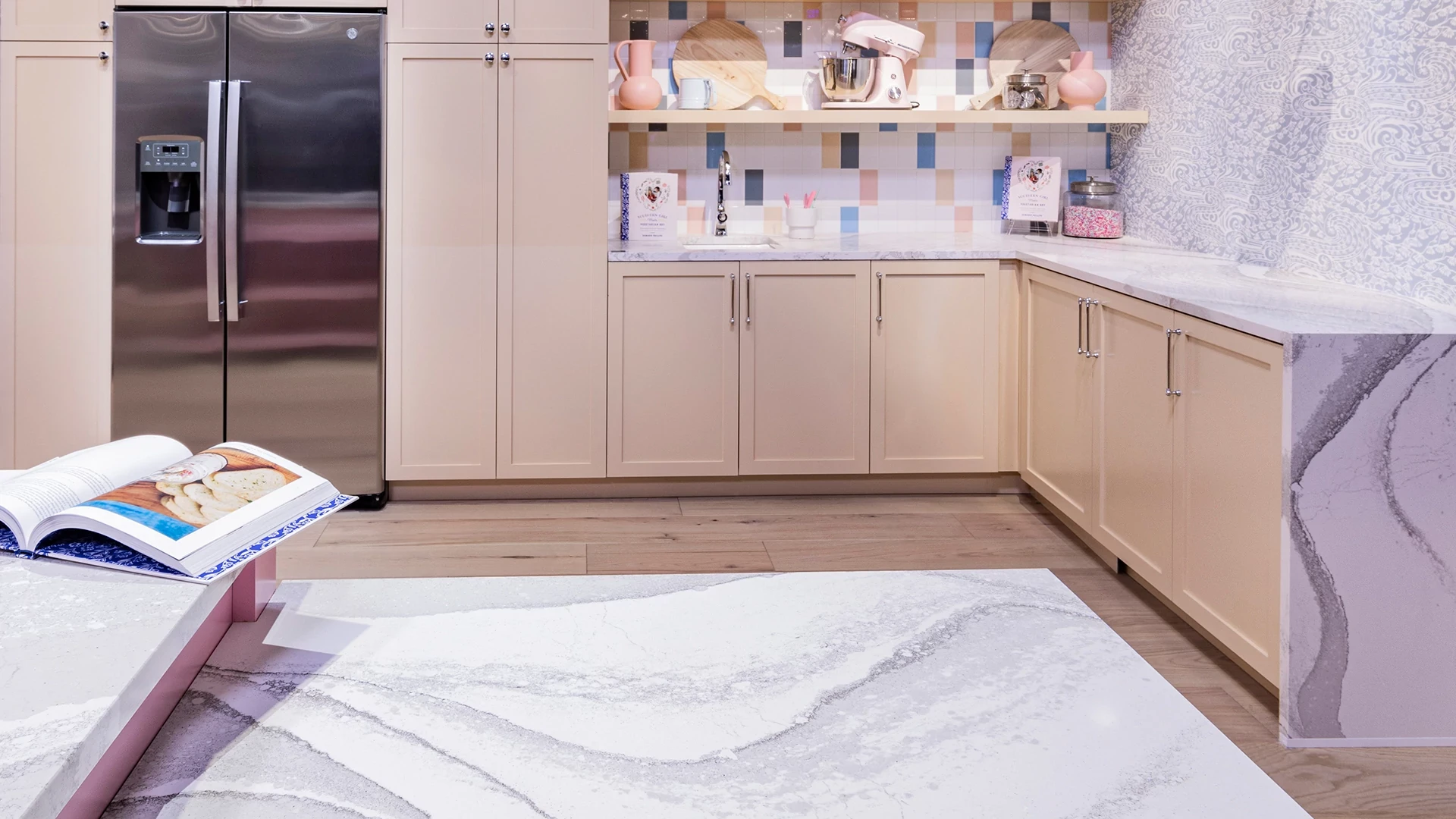 GE APPLIANCES
The innovators at GE Appliances did not disappoint, creating a kitchen space that was not only functional but fabulously designed as well. The Cambria Southport™ countertops, with their organic, soft gray veins, added a coastal-inspired touch to this space.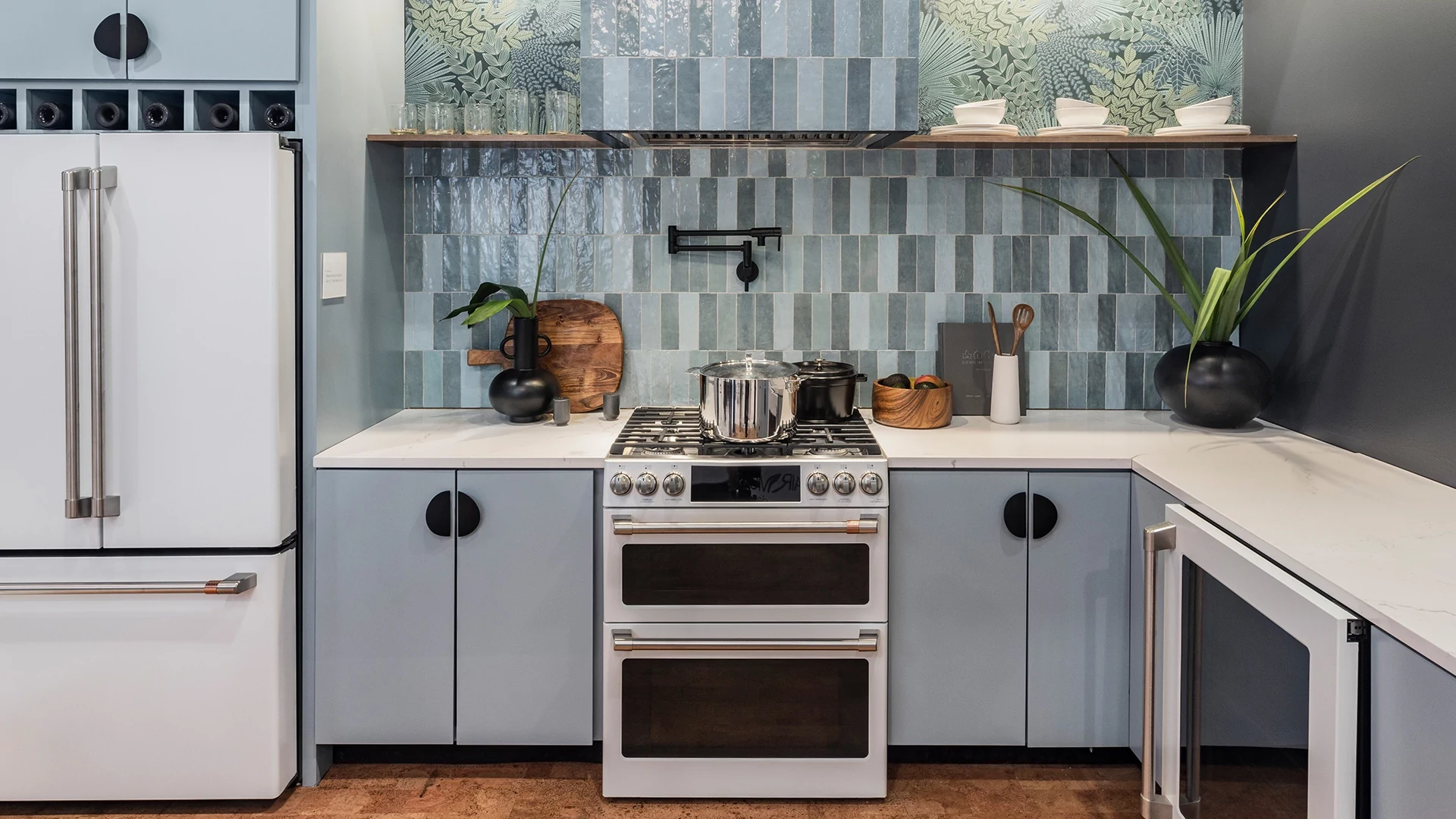 MOEN
The fresh and airy Moen booth was adorned with muted blues and greens—a color palette that played perfectly alongside the soft white appliances and the white, tone-on-tone veining of the Inverness Frost™ countertops.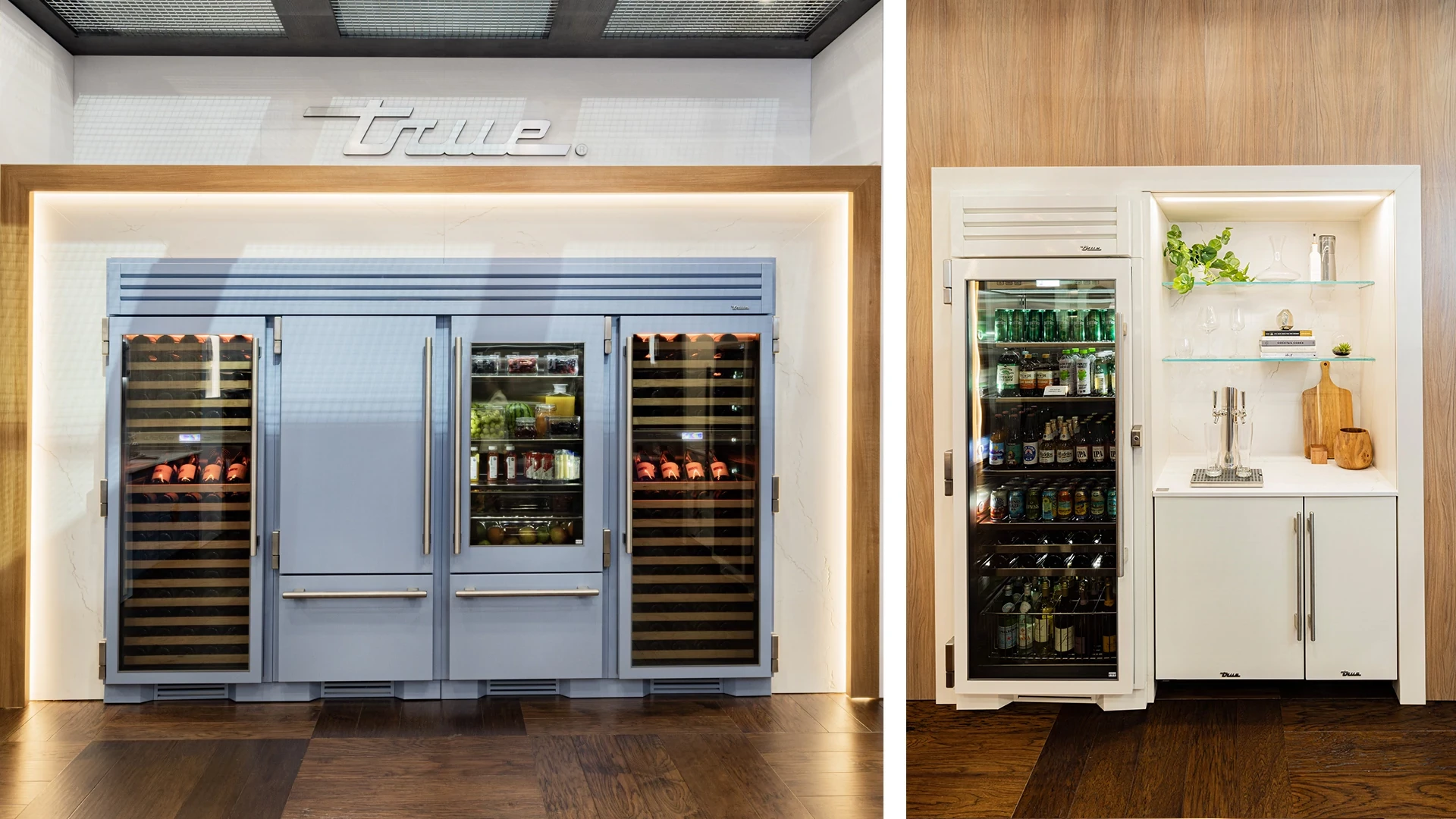 TRUE RESIDENTIAL
True Residential delivered the wow factor in its booth with its expansive, uniquely toned refrigerators, which were beautifully complemented with Cambria Inverness Frost Matte™—seen here on the main fridge surround, bar top, and full-height backsplash.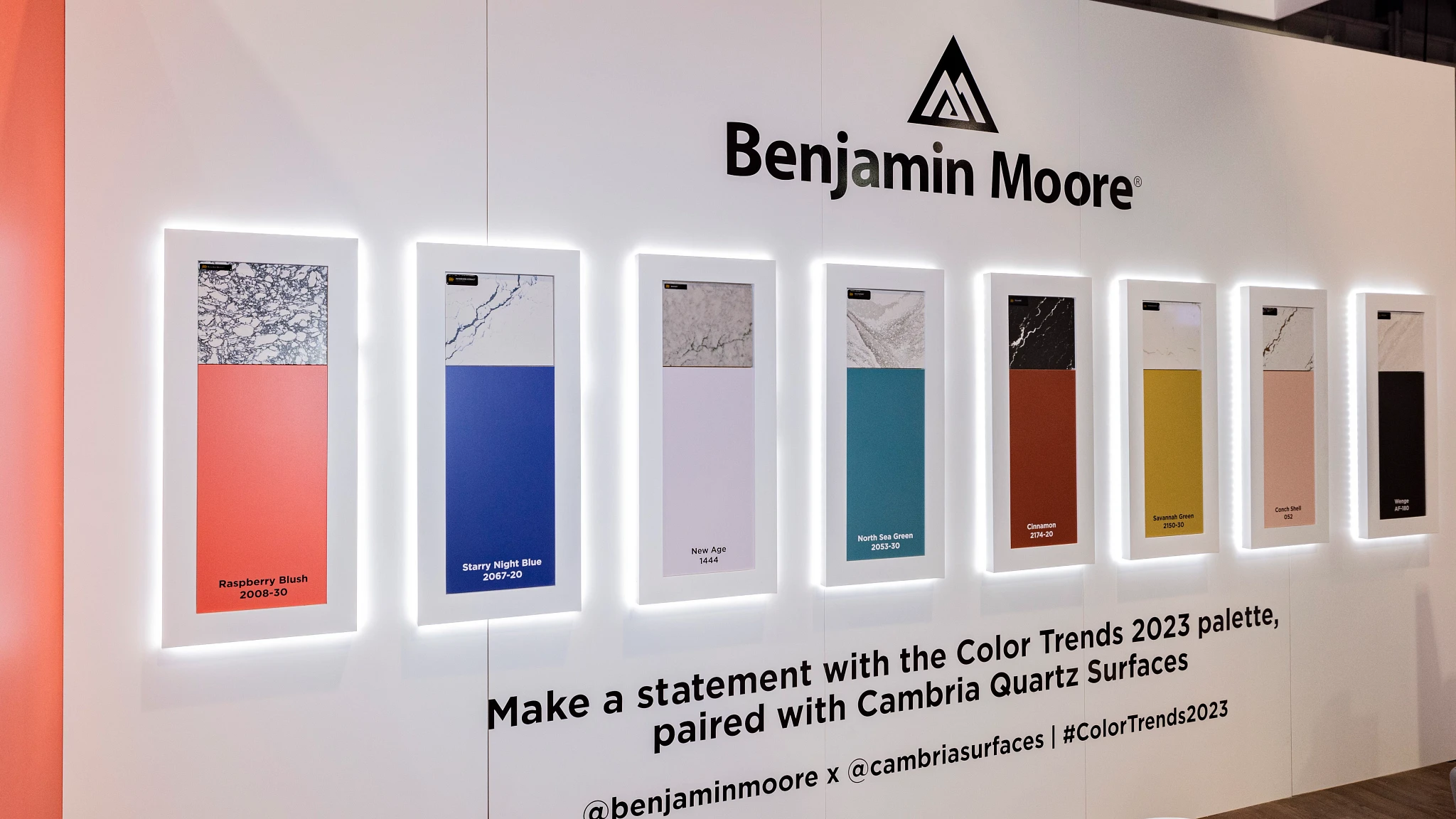 BENJAMIN MOORE
A longtime trendsetter in the premium paint category, Benjamin Moore showcased the numerous pairings that are possible when you match its innovative hues with the rich beauty of Cambria quartz surfaces.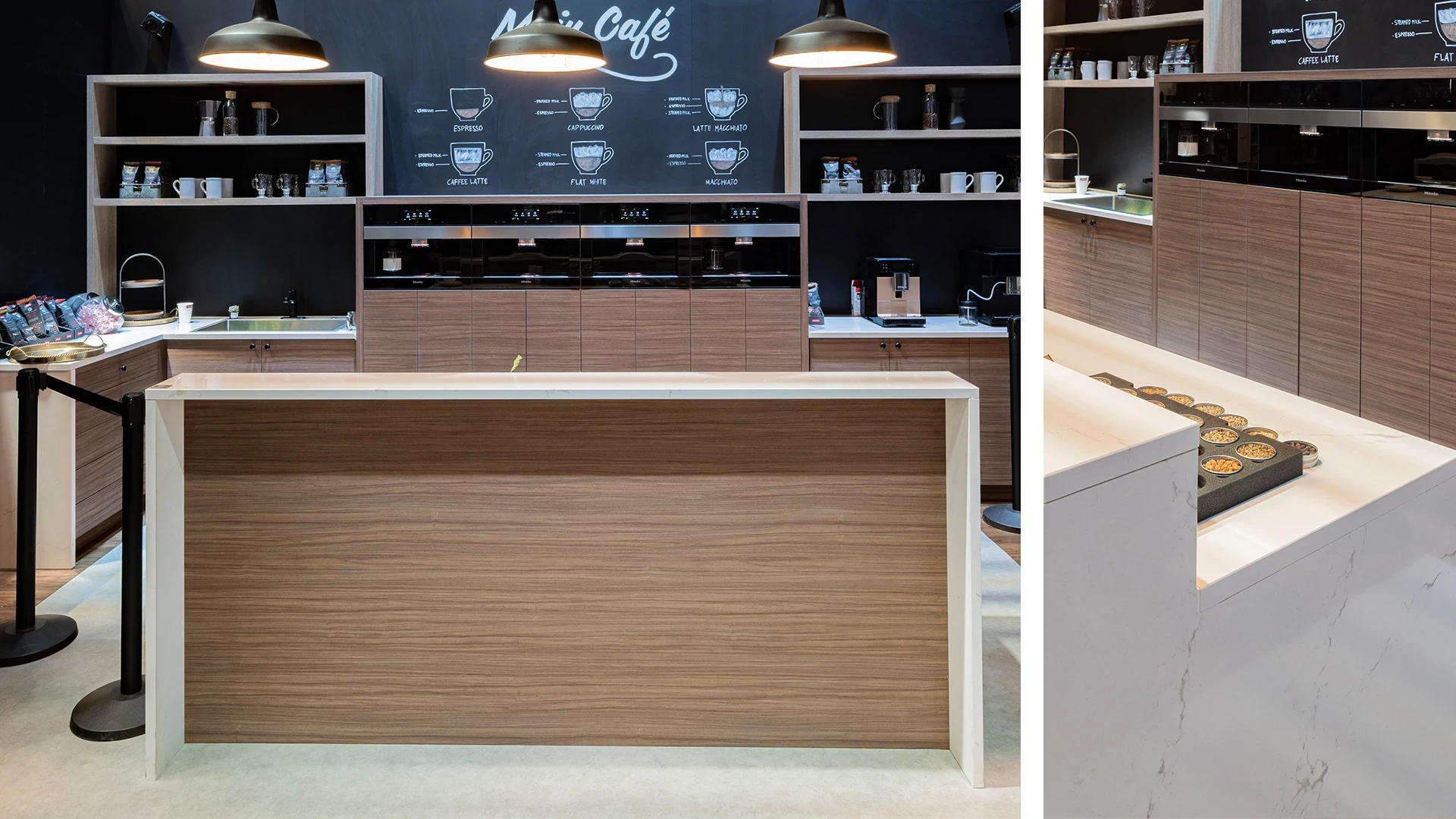 MIELE
Channeling the high-end café experience, Miele showcased some of its sleekest appliances alongside the nature-inspired beauty of Cambria Inverness Frost™ countertops.